Ever wondered what to buy at the Middle Eastern Market?  Wonder no more! Here's my handy Middle Eastern Shopping Guide with everything you need to explore your local Middle Eastern market!!!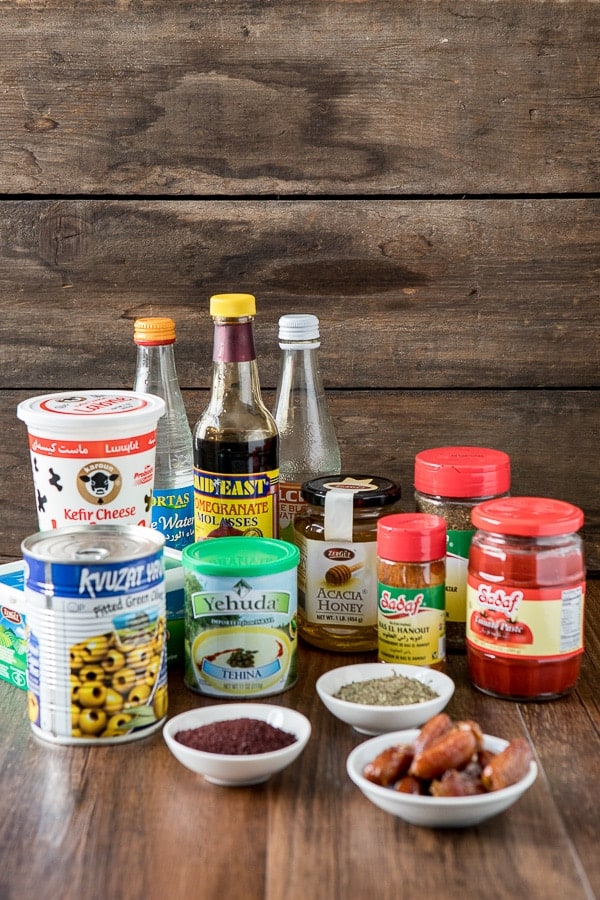 So, what do I buy at the Middle Eastern Market?
Let's take a look and get started!
Dairy Products to buy at the Middle Eastern Market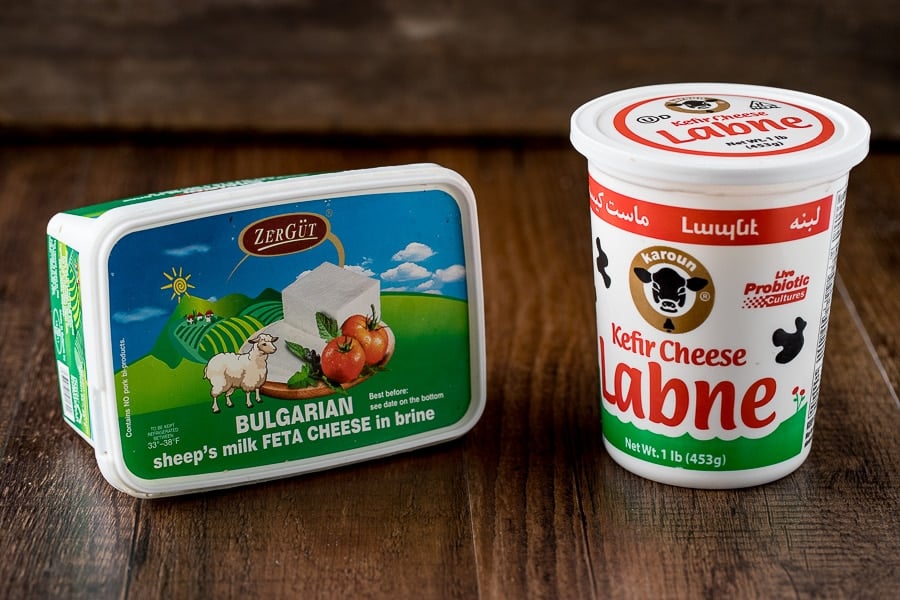 Lebneh – "yogurt cheese", lebneh is plain yogurt that has been strained to remove most of the whey resulting in a thick, spreadable fresh cheese with the consistency of a slightly softened cream cheese. I find mutliple uses for this in my kitchen and happily substitute it for sour cream! I mix  it with  some fresh or dried herbs for a dip, mix it into salad dressings, dollop it  onto salads and grain dishes and use it  in desserts like my Yogurt Cheese Tart with Fresh Berries. 
Feta Cheese By now, just about everyone is familiar with feta cheese. But I'm here to tell you the feta you can buy in a middle eastern market will completely change how you view this salty, crumbly, creamy marvel! Virtually all the feta is sold packed in brine. In most of the markets, you can buy it in the deli section and buy as much, or as little as you want! Or, if you're like me, you buy it in a handy box.
2.- made from ground sesame seeds, tahini paste can be used in dressings, sauces and is one of the main ingredients in hummus.
3.  pomegranate molasses – a syrup made from pomegranate juice and sugar I use this in salad dressings, sauces, cocktails and this  Mahummara dip.
4. Orange Blossom Water – a by product of the distillation of bitter orange blossoms, orange blossom water is used mainly for it's aroma in everything from desserts, cocktails and in this Pomelo, Citrus and Mint Salad.
5. Rose Water – similar to Orange Blossom Water, Rose Water is used in much the same way. I love the floral notes it imparts to dishes and drinks like this Sparkling Rosewater Lemonade.
6. Sumac-a non poisonous herb used in both middle eastern and greek cuisine, sumac adds a tart, sour note to a wide range of savory dishes. Sprinkle it on warmed pita bread brushed with olive oil or in these Turkey Zucchini Sliders.
7. Za-atar– a spice mix used throughout the middle east, it's a combination of sumac, thyme, marjoram, sesame seeds and salt and is delicious sprinkled on vegetables, meats or on pita bread.
8. Feta cheese- although you can buy feta in most major grocery stores, I've found that the feta, which is packed in  brine, is far superior than the plastic tubs I find at my local grocery store.  Feta's tart saltiness can perk up any number of dishes or, when paired with a little marinade and olives makes an easy and delicious appetizer. 
9. Olives – although more and more stores are offering "olive bars" those olives generally come with a hefty price tag. Buying your olives at the middle eastern market will not only save you money, but there is a wide variety of choose from. Delicious on their own, olives add a salty, meaty flavor to savory dishes like this Chicken Stew with lemons, Olives and Artichokes.
10. Pita bread, lavash, sangak – the range of breads alone is worth the trip! Seriously though, my local middle eastern market has so many different breads that it's always hard to choose and the pita bread is far better than anything I can find in my local market.