This simple, homemade raspberry syrup makes a delicious sweetener for drinks and cocktails and is fabulous drizzled over pancakes or waffles. Bursting with berry flavor, this 3 ingredient recipe couldn't be easier- no cooking or chopping required.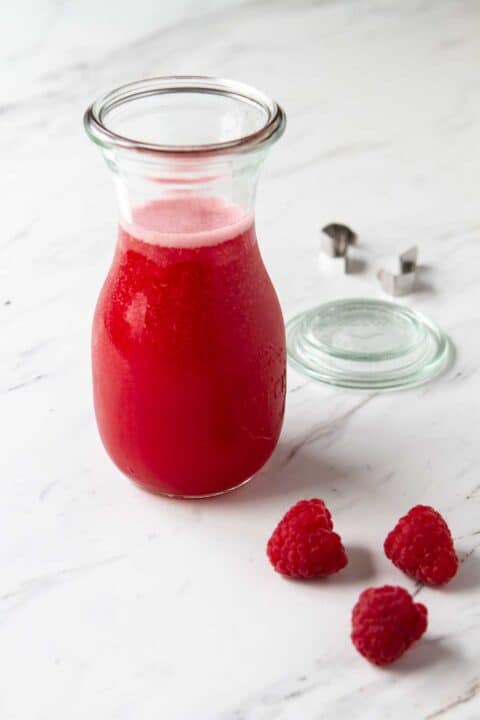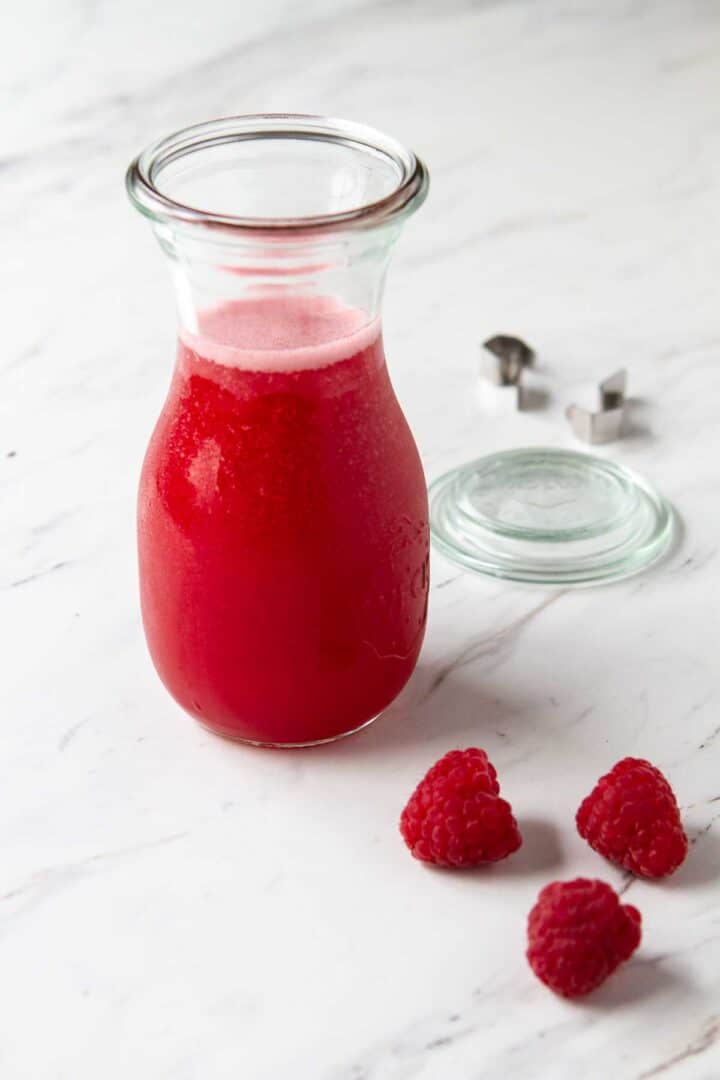 Flavored syrups are one of my favorite things to have on hand. They jazz up easy cocktails like the Clover Club and this Rum Mule. I quickly realized, though, that these flavored simple syrups could be used in so many other ways.
Why you need to make this
This recipe has only 3 ingredients!
You can use this raspberry simple syrup in at least 10 different ways.
This homemade version is much cheaper than buying a store-bought version and tastes so much better!
It's the easiest thing to make.
Ingredients

Raspberries - you can use fresh OR frozen raspberries so use whatever you have.
Sugar - I think the syrup tastes best with white sugar. If you want to use honey or agave, you will need to cook the berries with the water first and then add the sweetener.
How to make it
Most recipes for homemade raspberry syrup cook the berries with sugar and water. This recipe though, requires no cooking!
Combine the raspberries and sugar in a bowl and stir to combine, breaking up the berries until they are crushed. Let sit for 20 minutes or overnight in the refrigerator.
Stir in the water.
Using a fine-mesh strainer, strain the syrup into a clean container, pressing on the berry mixture to extract as much syrup as possible.
If you want to make the syrup with agave or honey, just add the berries and water to a medium saucepan and heat over medium-high heat, crushing the berries with a spoon. Cook for about 15 minutes and then stir in your sweetener of choice. Start with 2 Tablespoons and then adjust as necessary.
Strain the syrup as directed above.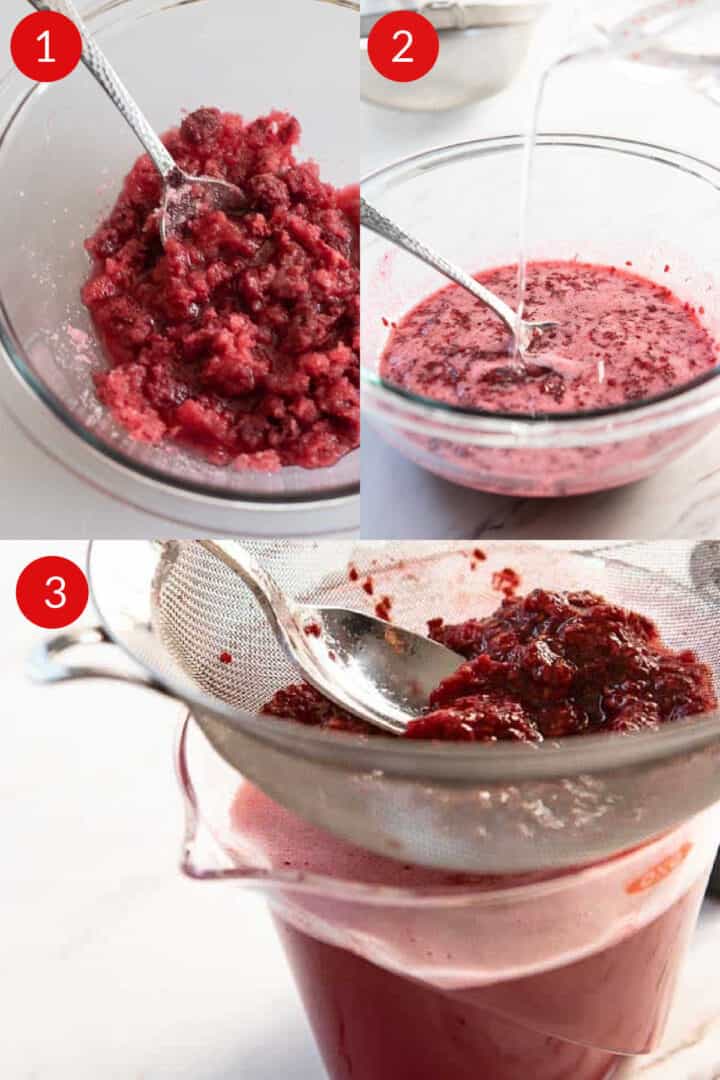 Tips
How do you store Raspberry Syrup?
Like all simple syrups, you need to keep it refrigerated. It will last about 1 to 2 weeks in the refrigerator. If you want to extend the syrup's shelf life, you can add about a 1 tsp. of vodka for every cup of syrup.
Can you freeze raspberry syrup?
Absolutely! After making the syrup you can store the container in the freezer for up to 6 months.
TIP: Since you only need a couple of tablespoons of syrup for drinks, freeze the syrup in ice cube trays and only defrost what you need!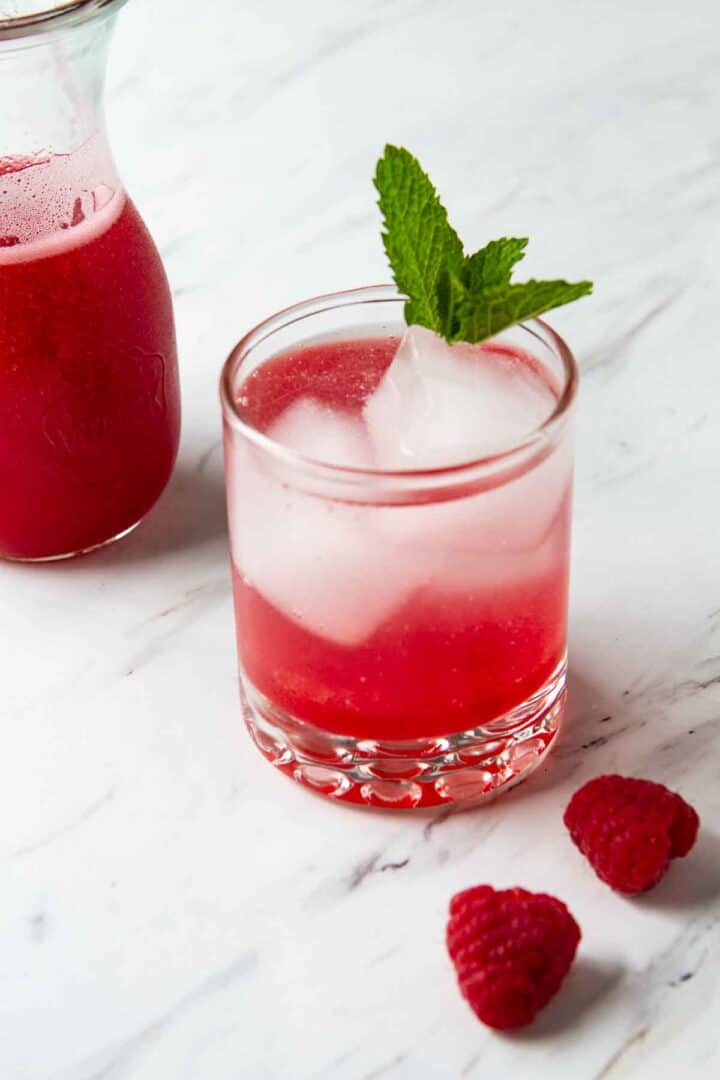 How to use it!
I first made this raspberry-flavored simple syrup to make a cocktail but soon realized how many ways I could use it! Here are some great ideas!
Use it in this festive Vodka Spritzer.
Drizzle it over your favorite chocolate dessert or cheesecake.
Swap it for the sugar in lemonade or iced tea.
Swirl it into over plain greek yogurt.
Use it to make Eton Mess.
Mix with sparkling water.
Mix with vinegar and oil for a raspberry dressing.
Drizzle it over vanilla or chocolate ice cream.
Pour it over pancakes, waffles or french toast.
Mix with softened butter to spread on toast or muffins.
Stay in touch!
Get my newsletter and follow along on Pinterest and Facebook for more fabulous recipes and tips from A Communal Table!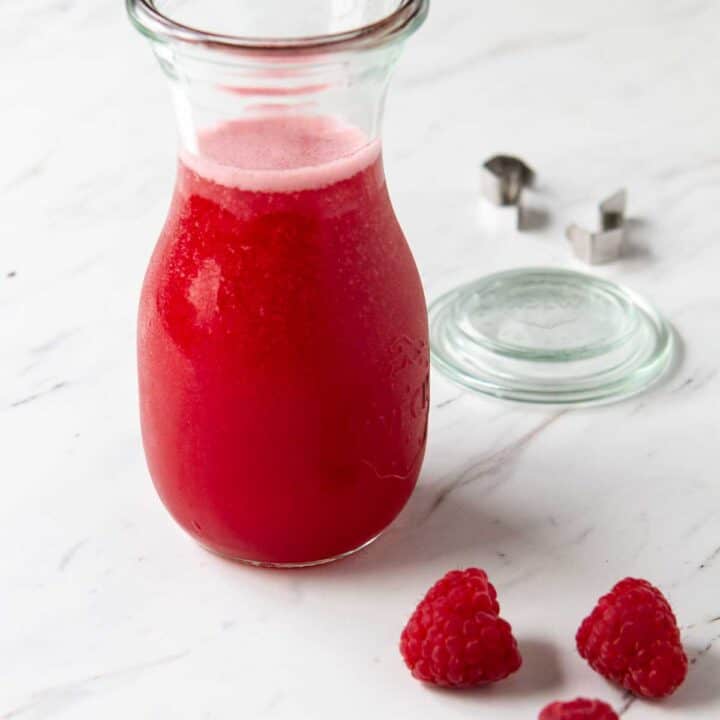 Ingredients
2

cups

fresh or frozen raspberries

1

cup

granulated sugar

¼

cup

water
Instructions
In a medium bowl, add the raspberries and sugar.

Stir to combine, crushing the raspberries into a coarse mixture.

Allow the raspberries to sit for 20 minutes or overnight in the refrigerator.

Pour through a fine mesh strainer, pressing on the raspberries to extract as much juice as possible.

Transfer to a clean, lidded container and refrigerate if not using immediately.
Recipe Notes
Raspberries - you can use fresh or frozen raspberries in this recipe. If you are using frozen raspberries, thaw them in the microwave, on the counter or overnight in the refrigerator. You can also thaw the raspberries in the package by placing the bag into a bowl and running cool water over it.  Storage - The syrup needs to be stored in the refrigerator in a jar or covered container. The syrup will last for 1 - 2 weeks. To extend its shelf life you can either add 1 teaspoon of vodka (which helps inhibit mold) or you can freeze the syrup. Freezing instructions: The syrup can be frozen. To thaw, follow the instructions for frozen berries. TIP: if you know you'll only need a tablespoon or two, pour the syrup into an ice cube tray and freeze. When the syrup is frozen, pop the cubes out and store in a plastic bag in the freezer. 
Nutrition
Calories:
45
kcal
|
Carbohydrates:
11
g
|
Protein:
1
g
|
Fat:
1
g
|
Saturated Fat:
1
g
|
Sodium:
1
mg
|
Potassium:
18
mg
|
Fiber:
1
g
|
Sugar:
11
g
|
Vitamin A:
4
IU
|
Vitamin C:
3
mg
|
Calcium:
3
mg
|
Iron:
1
mg