We all have them – you know, those dreams where you show up to class and it's the final – and you haven't been to class all semester. And then you wake up, relieved to find that yes you did graduate and you did not flunk the final.
For me those dreams are a little different. In my dreams, instead of showing up to class for the final, in my version it's people who show up for dinner that I have invited … and not prepared for.
EEEK!!! Yes, it is my own, personal version of the dream!
I had that dream the other night and it got me thinking. What would I do if that really did happen? Of course the answer depends upon lots of things – what's in the fridge, freezer and pantry and how good the local take out is! But just for grins (because I've been a little bored lately!) I decided to take a look through said fridge, freezer and pantry and see what I could come up with.
And to bolster my courage I did what any self respecting "foodie" would do- I started with dessert first! I figured if I could nail that, the rest would be a piece of cake (no pun intended!).
My search led me to some unusual unlikely ingredients. I had some canned blackberries, a small box of fresh blackberries and a carton of cream. So what to do with these things? Well, I could make a pie or ice cream – but in the interests of my little experiment I thought I should stick with something quicker and easier – because if I really did have people over, waiting 4 hours for ice cream to harden up probably wouldn't go over real well. Ah, I thought, how about a fool?
It was perfect – the dish and of course, the name! Seems I have a thing for recipe titles this month – first Butcher Shop Bolognese and now Blackberry Fool.
And yes, this does have me a bit worried. But back to the fool.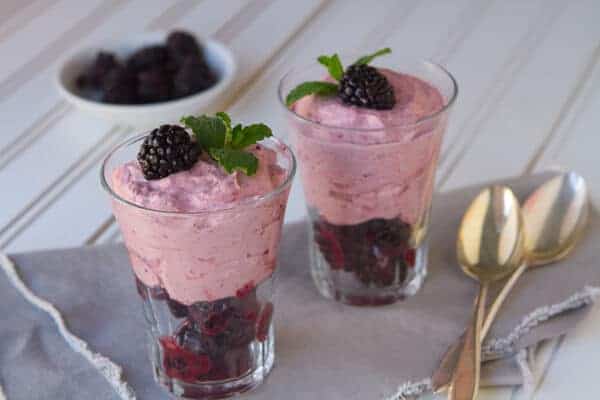 If you aren't familiar with it, fools are probably one of the easiest desserts on the planet and require only three ingredients – fruit, a little sugar and heavy whipping cream. Puree the fruit, add a little sugar if needed, whip the cream and stir the whole lot together.
Which is pretty much what I did – with a couple of small tweaks – namely cooking down the canned berries and adding a healthy dose of Chambord to them.
So, if this dream (or nightmare in my case) actually happens, I've got the perfect dessert… with the perfect name!!!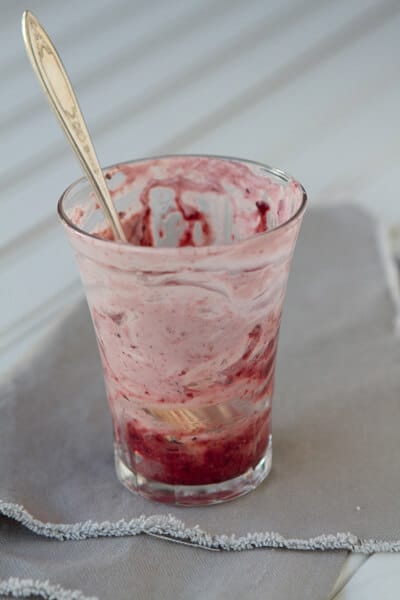 Blackberry Fool
As you can tell, this recipe is very flexible. It easily could be made with strawberries, raspberries, blueberries or peaches! If using canned berries, you could also just drain them and skip reducing the syrup if you are pressed for time.
Print
Rate
Add to Collection
Go to Collections
Ingredients
2

cups

canned

frozen or fresh blackberries (if using canned, this is about 2 - 15 oz. cans)

3/4

cup

fresh blackberries

optional

2

cups

heavy whipping cream

1/2

cup

sugar or to taste

2 1/2

Tbsp.

Chambord or 1 tsp. vanilla

fresh mint for garnish

optional
Instructions
Combine 1/2 cup fresh blackberries with one half tablespoon of Chambord (if using) and 2 tsp. of sugar and set aside.

If using canned berries, place berries with the syrup in a medium saucepan. Bring berries to a boil and reduce to a simmer. Simmer for about 15 minutes or until the syrup is reduced by half. Cool and then puree.

If using fresh berries, place in a blender and puree. If using frozen berries, defrost the berries first and then puree in a blender. Once the berries are pureed, add sugar by tablespoons until they are sweetened to your taste. Add 2 Tbsp. Chambord if using or the vanilla extract. Push pureed berries through a sieve into a small bowl. Discard the seeds.

In the bowl of a large mixer, whip the cream until stiff peaks form. Carefully fold in the berry puree mixture until thoroughly combined.

Place a spoonful of the fresh berries in the bottom of 6 small dessert bowls, glasses or goblets. Spoon the fool on top, dividing equally between the bowls. Garnish with additional fresh blackberries and fresh mint if desired.

This can be made two hours ahead and refrigerated. Remove from the refrigerator about 15 minutes before serving!