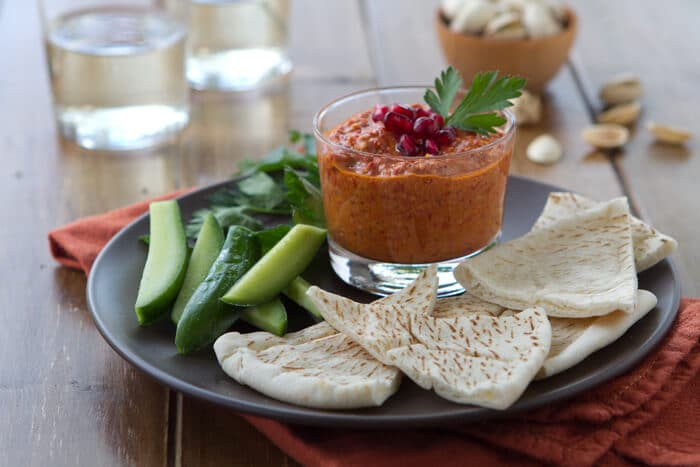 Are  you ready for some football??
Sunday is the "big day" but  even if you aren't a Patriot or Giants fan (or even a football fan!) it's a fun day to hang out with your friends and family and a great excuse to relax and eat. And since we haven't really done that in about a month,  to my way of thinking we are definitely overdue!
So what is on your Superbowl menu? I've found that people are just as passionate about their Superbowl party fare as they are about their favorite team. For some folks, it is all  about the wings and for others – well, you better have that hot dip or you can just forget about it. Fortunately for me, my crew isn't very demanding .  But, with a nod to tradition,   I've got a great dip to share. A little different than the usual spinach or artichoke dips, but just as tasty!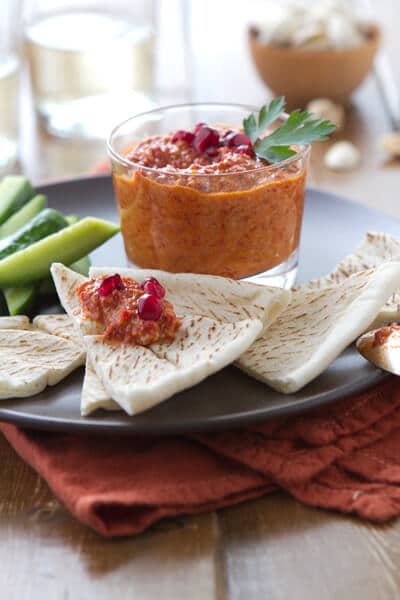 Mahummara is a common dip throughout the middle east – and it seems folks are just as passionate about what is a "true" Mahummara and what isn't as folks are about whose team is better.  In researching this recipe, I found hundreds of variations – so in the interests of full disclosure, I am not claiming this is a "true" Mahummara. What I will claim is that it is really good, and really easy!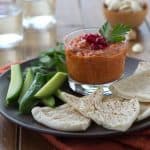 Mahummara Dip
Pomegranate molasses and Aleppo pepper can both be found in Middle Eastern markets. The dip can be made up to a day ahead. If making ahead, refrigerate and let come to room temperature before serving!
Ingredients
1

cup

roasted red bell peppers

1/3

cup

toasted walnut pieces

1/2

pita bread

torn (slightly stale is good!)

2

cloves

garlic

chopped

2

Tbsp.

fresh lemon juice

1

Tbsp.

pomegranate molasses

large pinch of aleppo pepper or red chile flakes

pomegranate arils and italian parsley to garnish

optional

1

package pita bread for serving
Instructions
In the bowl of a food processor or in a blender jar combine the roasted bell peppers, walnuts, 1/2 pita bread, garlic, lemon juice, pomegranate molasses and pepper. Mix until a thick puree forms, scraping down the sides of the bowl/jar as needed. With the machine running slowly drizzle in the olive oil. Taste and adjust seasoning

Garnish with pomegranate arils and italian parsley. Serve with pita bread triangles, small cucumbers, pepper strips and/or celery.
Recipe Notes
This is great with pita and is also good as a pita sandwich spread. Smear some on the inside of the pita bread and fill with cucumbers, tomatoes and onions and drizzle with a little plain yogurt!