This Green olive, Tomato and Pomegranate Salad seems like an odd combination..until you think about it. Salty, sweet and sour is always a winner and this salad captures that combination beautifully. Simple to prepare and incredibly versatile, it is just the thing for exhausted tastebuds.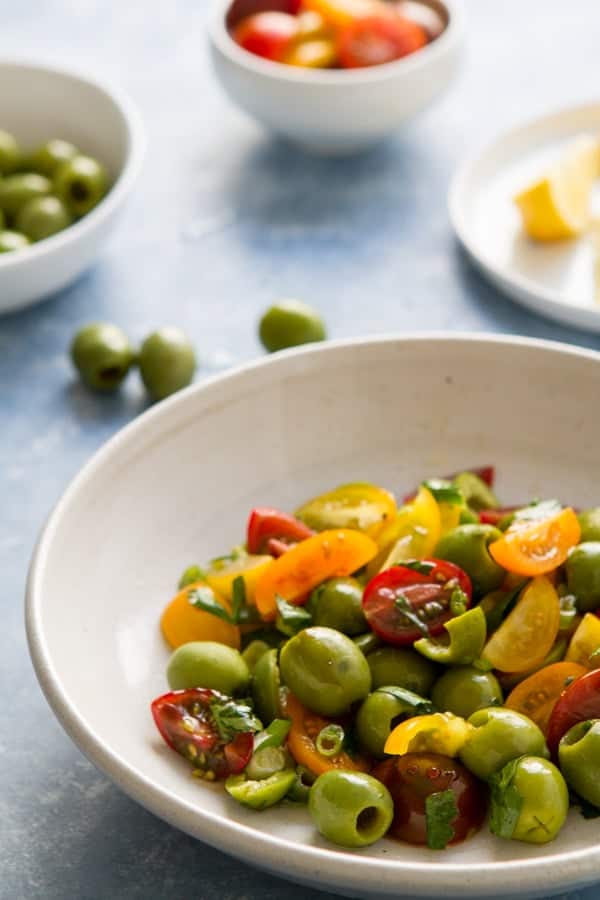 This Green Olive, Tomato and Pomegranate Salad or Nar Eksili Yesil Zeytin Salatasi, is a Turkish dish and one of my favorites from my newest cookbook acquisition "Istanbul and Beyond, Exploring the Diverse Cuisines of Turkey" by Robyn Eckhardt. Robyn and her photographer husband, David Hagerman, have traveled extensively through Turkey, having fallen in love with both the food and the culture. This book focuses on the eastern half of the country, where their travels revealed not only a beautiful landscape, but also rich and diverse regional cuisines. Luckily for us, they have documented their journey with an incredible array of delicious dishes and mouth watering photographs.
To say that I am a fan of this cookbook would be an understatement. After going through almost an entire pad of post it notes marking recipes I wanted to make, I finally gave up - "who am I kidding? I'm going to make everything!!".
Choosing the first recipe was an almost impossible task, but I settled on this Green Olive, Tomato and Pomegranate Salad that I tasted at Melissa's Produce. After almost a week of holiday indulgence, I was craving something lighter with a more vibrant taste and this salad delivered. Salty olives, juicy tomatoes, a little heat from chiles all wrapped in a lemon and pomegranate molasses dressing.. is your mouth watering yet??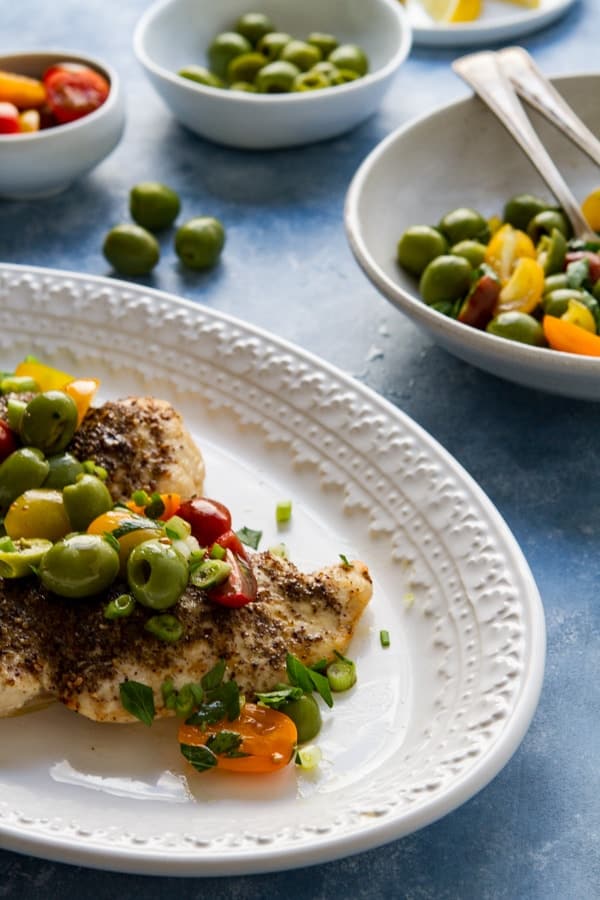 Robyn notes that this salad works equally well as an appetizer nibble or mezze or as part of a breakfast spread, as it is eaten in Turkey.
I discovered it's also fabulous spooned over some chicken breasts I'd roasted with za'atar but it would also be good over just plain roasted chicken... or on top of a nice helping of salad greens.. or.. well, let's be honest, it's just delicious no matter when or how you eat it!!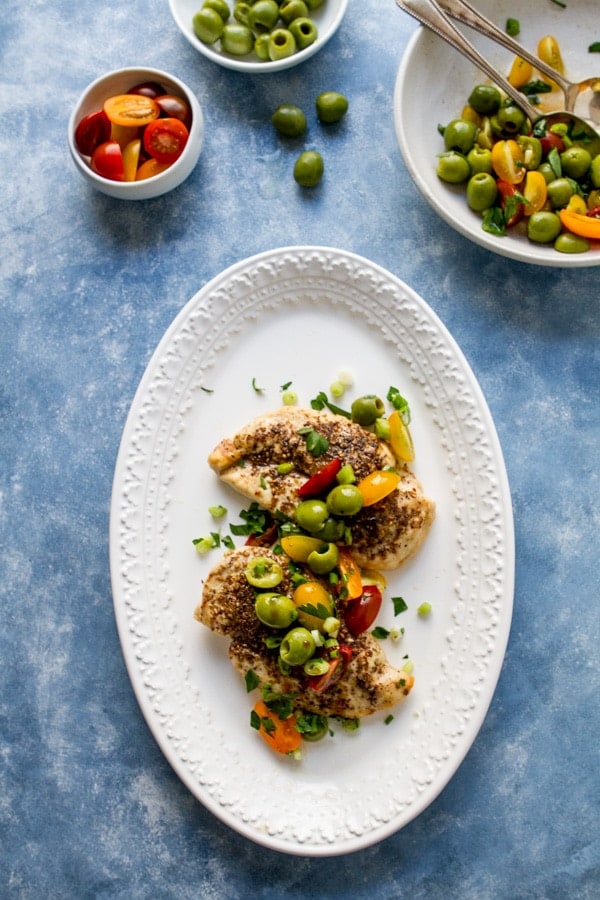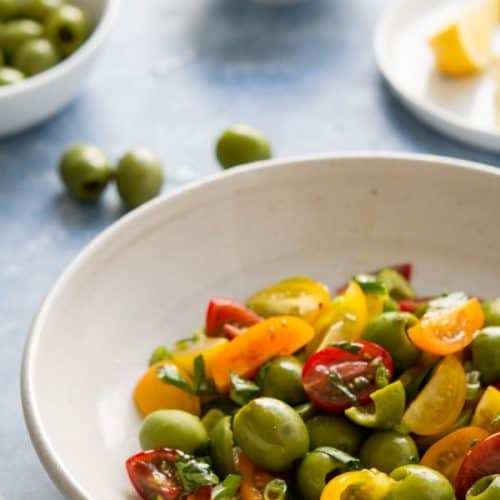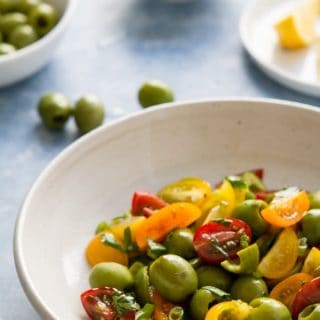 Ingredients
½

cup

fruity green olives

I used castelvetrano olives

3

green onions, thinly sliced

2

long sweet or hot red chiles, stemmed, seeded and thinly sliced

holland or cayenned

¼

cup

fruity olive oil

1

Tablespoon

fresh lemon juice

1

Tablespoon

Pomegranate molasses

¼

cup

loosely packed coarsely chopped fresh parsley leaves

5

cherry tomatoes, cut into quarters
Za'atar Roasted Chicken Breasts
¾

pound

skinless, boneless chicken breasts or thighs

2

Tablespoons

olive oil

1

Tablespoon

za atar spice blend
Instructions
Taste the olives. If they are very salty, drain, place in a medium bowl, cover with cold water and set aside for an hour. Drain and pat dry with paper towels.

Place the olives in a medium bowl and add the green onions and chiles. Add the olive oil, lemon juice and pomegranate molasses.

If the olives contain pits, slice and remove the pits.

Toss and adjust the seasoning with more lemon juice, molasses and/or salt.

Refrigerate until ready to serve. Bring to room temperature and add the tomatoes and parsley. Stir and serve!
Roasted Za 'atar chicken breasts
Pre heat oven to 375 degrees. Line a sheet pan with foil.

Add the chicken breasts and drizzle with 2 Tablespoons olive oil. Sprinkle Za 'atar over chicken breasts.

Add the chicken breasts and drizzle with 2 Tablespoons olive oil.

Place in the oven and cook for 20 - 25 minutes until the chicken is cooked through and registers 165 degrees on a meat thermometer.

Remove from the oven and serve with the Cherry Tomato Green Olive Salad.
Nutrition
Calories:
1346
kcal
|
Carbohydrates:
34
g
|
Protein:
76
g
|
Fat:
102
g
|
Saturated Fat:
14
g
|
Cholesterol:
217
mg
|
Sodium:
1485
mg
|
Potassium:
1916
mg
|
Fiber:
7
g
|
Sugar:
17
g
|
Vitamin A:
3415
IU
|
Vitamin C:
187.3
mg
|
Calcium:
187
mg
|
Iron:
9.8
mg