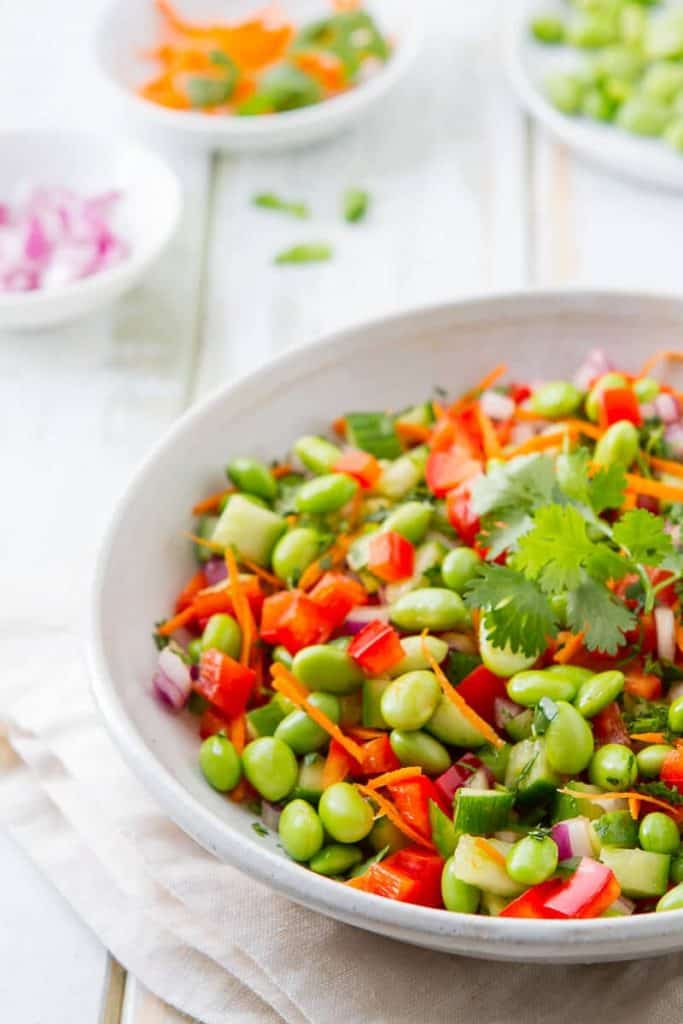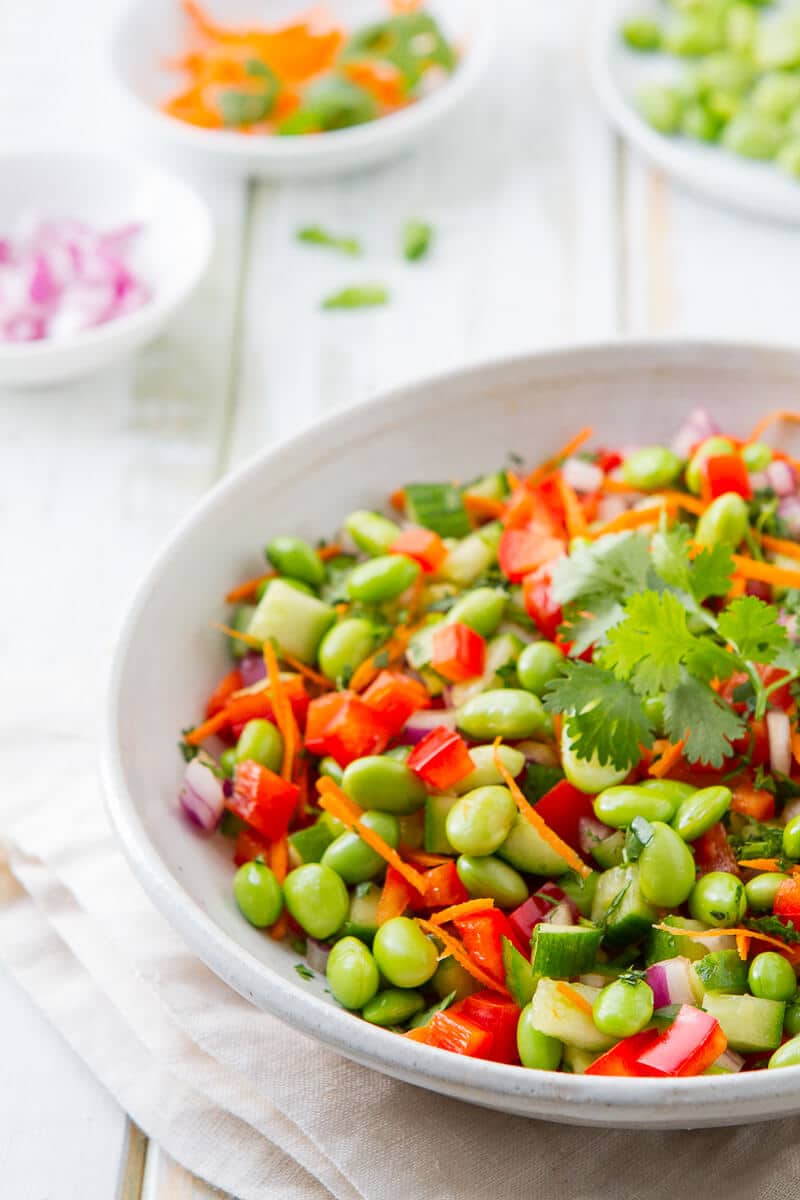 Asian Edamame Salad with Ginger Vinaigrette
The internet has been all abuzz lately with stories about back to school – which of course includes school lunches.
Don't worry – this post isn't about school lunches!!
But the subject got me thinking about my own lunches – which are not always the most balanced. Sometimes I get so busy I forget to eat (I know, I know, HOW is that possible??) and sometimes I grab whatever is easiest – when I'm "on my game" that generally means some homemade hummus or a salad – when I'm not, well it's generally a piece of cheese and a piece of fruit. So, I thought I'd come up with a new salad to add to the "rotation" and this Edamame Salad with Ginger Vinaigrette was the result. The calendar is getting busier and so having things in the fridge that I can just grab and eat is more important than ever!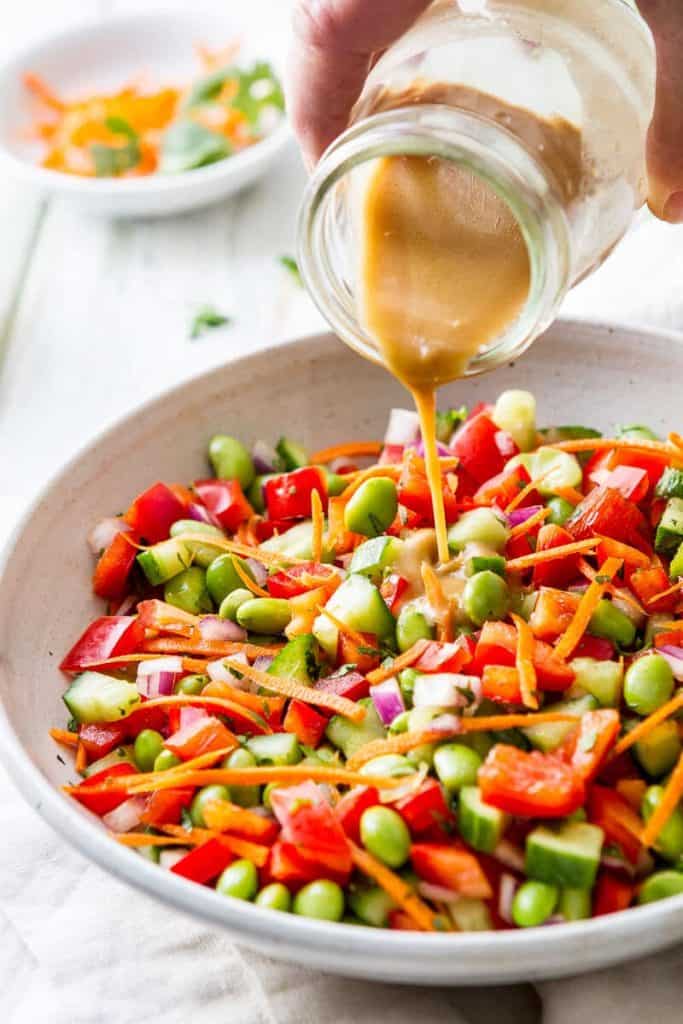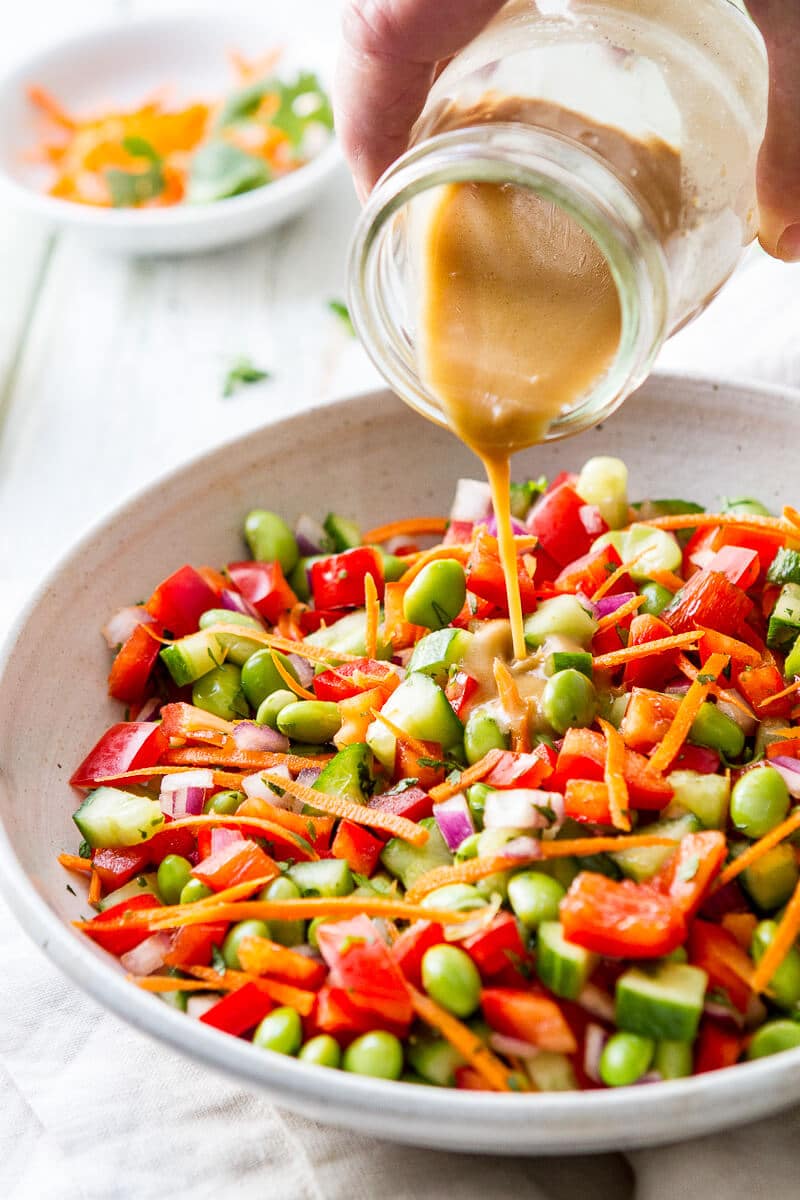 Like just about everyone else, I am trying to work more and more vegetables into my diet and this Edamame Salad with Ginger Vinaigrette is chock full of them.
Tips for making this Asian Edamame Salad with Ginger Vinaigrette:
This salad is great "as is" but feel free to toss it with greens – it's delicious!
It's also terrific with leftover roasted chicken for an additional protein boost.
Using a blender is the critical for a smooth dressing.
Yields 4 servings
Edamame Salad with Ginger Vinaigrette
20 minPrep Time
20 minTotal Time
Ingredients
Dressing:
3 Tbsp. low sodium soy sauce
2 Tbsp. fresh orange juice
1 Tbsp. rice wine vinegar
1 Tbsp. sesame oil
1 Tbsp. honey
2 garlic cloves
1 Tbsp. chopped ginger
1/4 cup canola oil
Salad:
2 cups shelled edamame
1/2 cup diced red onion
1/2 cup diced persian cucumber
1 cup diced red bell pepper
1/2 cup shredded carrots
1/4 cup minced fresh cilantro
1/4 tsp. szechwan pepper Or red pepper flakes
Instructions
In a blender combine all the dressing ingredients except the canola oil. Blend until the ginger and garlic are finely minced. Slowly drizzle in the canola oil. Taste and adjust the seasonings.
Combine all the salad ingredients in a bowl. Drizzle with the dressing and toss to combine.
7.6.4
96
https://www.acommunaltable.com/edamame-salad-with-ginger-vinaigrette/