Happy 2013!!!
I hope you all had a wonderful holiday season! As you may have noticed, I took the holidays  off – immersing myself fully in the season and luxuriating in spending time with my family and friends. But the holidays are over  and  now  I'm back – ready and raring to go into 2013!!! And at the top of my list for 2013 is…eating more fruits  and vegetables like this Carrot Salad with Moroccan Spices.
As a rule, I am not a big on making "New Year's Resolutions" – but I do  sit back and take stock of where I am and what I'd like to accomplish in the New Year.  How about you? did you make any resolutions?
If you did, I am willing to bet that in there somewhere is one about "eating better" or "eating more  fruits and vegetables" – various reports cite this goal as one of the top 5 that people make. It makes sense since we are continually reminded that we don't consume enough fruits and vegetables – and I count myself among this group despite being a "nutritional professional" and avid cook!! So for 2013, in addition to becoming more organized and traveling more (fingers crossed on this one!) I will be  including  more fruits and vegetables in my diet.. which I know is easier said than done.
But I've got a couple of things to help with that…like this Carrot Salad with Moroccan Spices. Sweet, sour, crunchy and a little spicy it goes great with a sandwich for lunch… or with some hummus and pita bread.. or alongside a piece of roast chicken… or just by itself as snack… and yes, it is that good! Made from pantry staples, it's one of those salads you can pretty much make anytime – and you can even make it a couple of days ahead of time so it's perfect for packing in lunches or as a side for a quick weeknight meal!
And speaking of good, Melissa's Produce (which supplies lots and lots of fabulous fruits and vegetables!!!) has a NEW cookbook out which features… you guessed it – the "50 Best Plants on the Planet" !!  Melissa's graciously provided me with an advance copy of the book and I've been  happily reading and cooking from it over the last several weeks and I think this might be my favorite Melissa's cookbook. Not only is the nutritional information provided for each fruit and vegetable, but availability, storage and quick cooking tips are also included along with delectable recipes by Cathy Thomas. Melissa's 5o Best Plants on the Planet" definitely warrants space on your bookshelf – especially if, like me, you want to include more fruits and vegetables in your diet!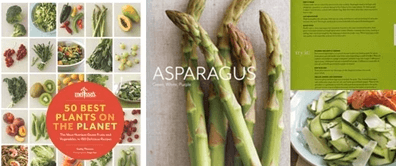 Yields 4 to 6 servings
Carrot Salad with Moroccan Spices
15 minPrep Time
15 minTotal Time
Ingredients
1 lb. carrots, peeled and grated
2 Tbsp. chopped preserved lemons cut into 1/4 inch dice
1/4 cup chopped fresh parsley
Dressing:
2 Tbsp. fresh lemon juice
1 Tbsp. white wine vinegar
2 tsp. honey
1/4 tsp. garam masala
1/8 tsp. smoked paprika
1/8 tsp. white pepper
1/4 tsp. salt
2 Tbsp. olive oil or canola oil
Instructions
In a small bowl combine the lemon juice, white wine vinegar, garam masala, paprika, salt and white pepper. Add the honey and whisk to combine. Drizzle in the olive or canola oil and whisk until dressing emulsifies. Taste and adjust seasonings. Set aside.
In a large bowl, combine the carrots and the preserved lemon. Drizzle the dressing over and toss. Sprinkle the parsley over and toss again. Taste and adjust seasonings.
7.6.4
168
https://www.acommunaltable.com/carrot-salad-with-moroccan-spices/