The Gin Mule – a combo of gin and ginger beer that's a little sweet, a little spicy and one of the easiest drinks you'll ever make. A variation of the classic Moscow Mule cocktail, this recipe is popular even among those who don't love gin!
And if you do love gin, you will absolutely love this refreshingly delicious sipper!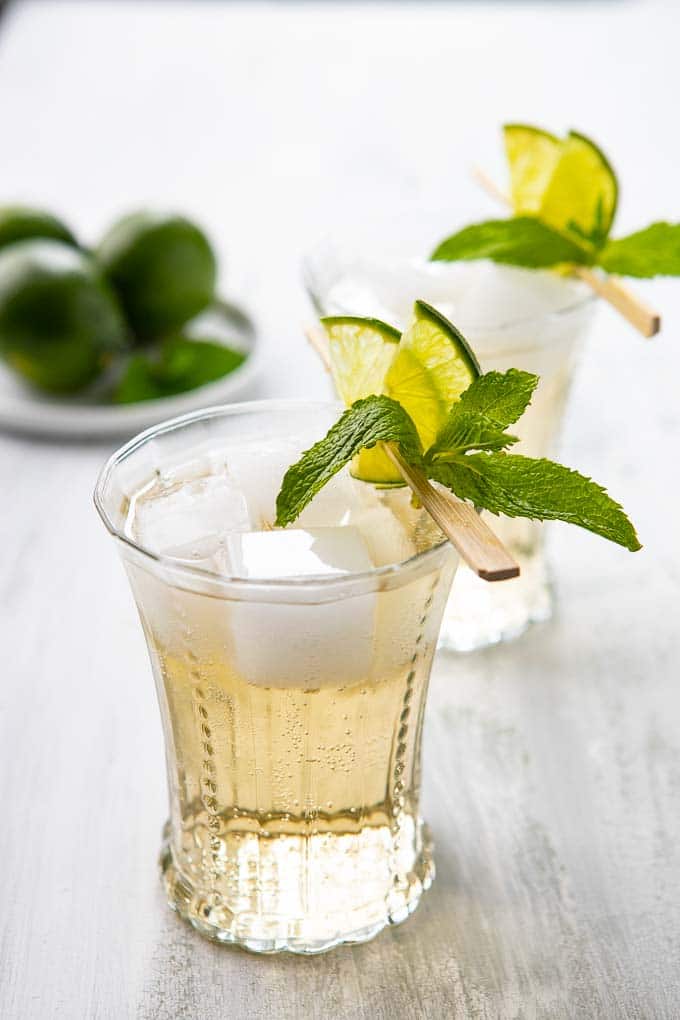 It's no secret that I'm a huge fan of ginger beer. It's bright snappy flavor and subtle sweetness make it the perfect cocktail mixer. Plus, you get a lot of flavor for very little effort which is always a win in my book!
Low effort food and drinks are a favorite here at ACT. So it's probably no surprise that ginger beer cocktails, like this riff on the classic Moscow Mule, are on frequent rotation around here.
Which brings me to my new favorite… the Gin Mule!
What is a Gin Mule?
Gin and ginger beer, aka the Gin Mule, is a twist on the classic Moscow Mule The cocktail was created by Audrey Saunders of the Pegu Club. The drink consisted of homemade ginger beer, lime juice, simple syrup, and gin.
Swapping gin for vodka was absolutely brilliant. The ginger highlights gin's citrus and spice botanicals and gives the drink a more complex flavor.
Ingredients for this Gin and Ginger Beer Drink
Gin – Use a traditional London Dry Gin like Sipsmith (my personal favorite!) or Tanqueray. Why? Simple. The flavors of a London Dry gin won't get lost and can stand up to the lime, ginger, and mint in the drink! Bonus points since you won't need to add another bottle of gin to your bar!
Ginger Beer – Since ginger beer is a key ingredient in this cocktail, the type of ginger beer you use matters. You want one that has a good spicy kick to help balance all the other flavors. I used my favorite, Fever-Tree. Thanks to the popularity of the Moscow Mule, there are a number of brands on the market and the selection is better than ever. If you're really ambitious, homemade ginger beer would be amazing in this drink. Please don't use ginger ale – it's doesn't have enough of a ginger kick for this cocktail!!
Fresh lime juice – This drink has only a few ingredients so each one really does matter! Fresh lime juice tastes so much better than bottled so you definitely want fresh limes for this drink.
Simple syrup – you may or may not need this – it all depends on how sweet your ginger beer is and how sweet you like your cocktail.
Fresh mint leaves
Garnish – lime wedge or slices and a mint sprig.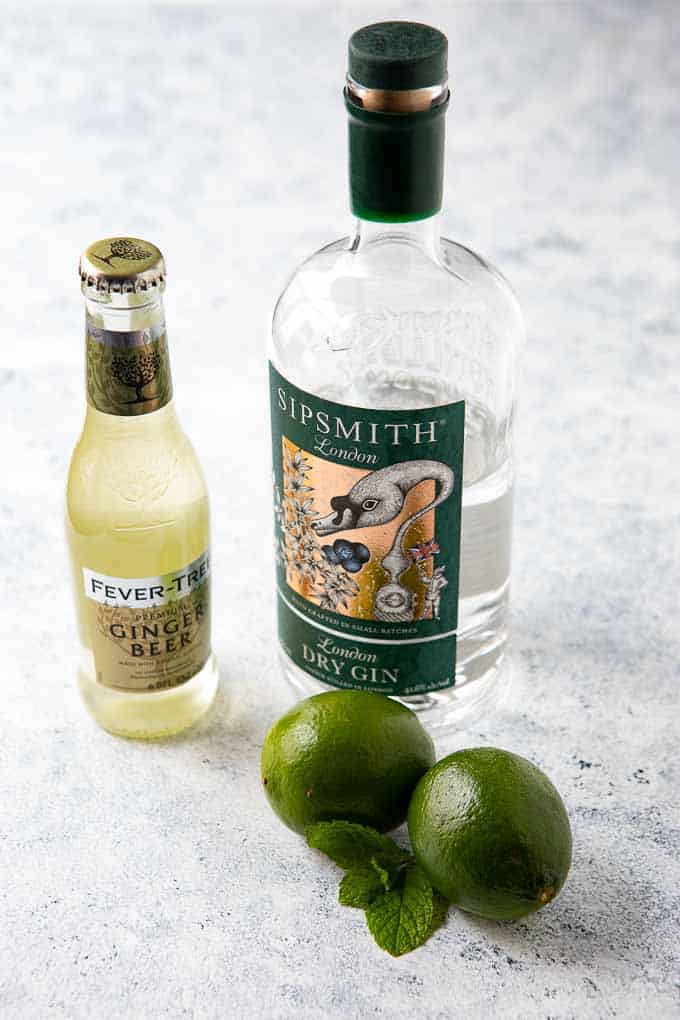 How to make a Gin Mule
In a shaker tin, muddle the lime juice, mint leaves, and simple syrup together.
Add the gin.
Fill the shaker two thirds full with ice and shake for 10 seconds.
Strain over ice into either a copper mug or a highball glass.
Garnish with lime wedges and a sprig of mint.
Other Ginger Beer Cocktails you may enjoy!
If you enjoyed this recipe, please give it a 5-star rating! Cheers, Nancy!