If your not a fan of stuffing, this is the dish for you! Easy cheese and herb bread pudding is just what it sounds like – easy and cheesy, it's a great side dish for the holidays!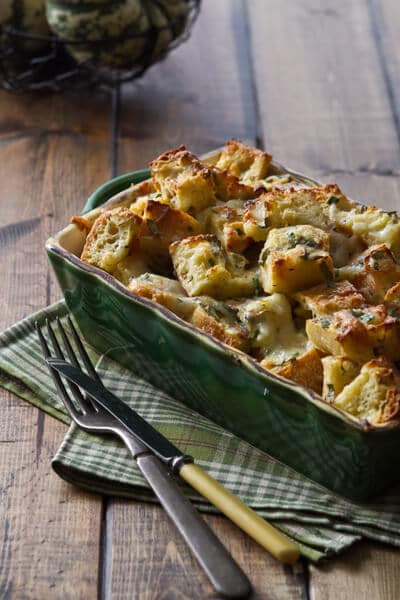 We are on the official countdown to my favorite holiday of the year – Thanksgiving with this Easy Cheese and Herb Bread Pudding.
So, I thought I'd start things off by tackling the tough things first. Stuffing, or in my case, this Easy Cheese and Herb Bread Pudding – but more on that in a minute!
I know, it's a pretty controversial topic – cooked in or out of the bird? Packaged mix or homemade – Grandma's standard recipe or something new?
In my family, the answer to that question was always easy. We did not have stuffing. Since my grandparents were immigrants, Thanksgiving was a new holiday for them and although my Gran happily made a turkey with gravy, cranberry sauce and potatoes, she was NOT going to make stuffing.. or a pumpkin pie for that matter..
So, for me, stuffing was never an issue – until I was in college – and had stuffing for the first time.
It was not a memorable occasion. In all honesty, I couldn't see the appeal – salty, mushy and grayish brown in color I honestly couldn't understand why someone would allot valuable stomach room to it. But as the the years passed I had different versions – some made with bread, and some made with rice and all sorts of delicious ingredients. Now this was something I could definitely devote some tummy space too!
This Easy Cheese and Herb Bread Pudding definitely falls into that category. Technically, it's not really a "stuffing" – there is no chicken stock in sight. Instead, it's made with half and half and cheese (I know, need I say more??) and it goes beautifully with turkey. Yes, it's a bit rich but as they say "it's the holidays!!"
Looking for even more ways to make Thanksgiving easier? Check out my Ten Tips for Surviving Thanksgiving!
Easy Herb and Cheese Bread Pudding
Easy cheese and herb bread pudding is just what it sounds like - easy and cheesy, it's a great side dish for the holidays!

Ingredients
1/4

cup

butter, unsalted

2

shallots, sliced

1/2

cup

dry white wine

6

large

eggs

2 1/4

cups

half and half or heavy cream

2

teaspoons

salt

1

teaspoon

white pepper

1 1/4

cups

Gruyere cheese, shredded

1 1/4

cups

swiss cheese, shredded

1/4

cup

fresh chives, minced

1/4

cup

fresh sage, minced

1

Tablespoon

Herbs de Provence

1

pound

day old baguette

cut into 1/2 inch pieces
Instructions
In a small saute pan melt the butter over medium heat. Cook the shallots until they are soft and translucent. Add the wine and simmer for 3 - 5 minutes until wine is reduced to approximately 2 Tbsp. Set aside.

In a large bowl, whisk the eggs, half and half, salt and pepper together. Add the herbs and the shallot/wine mixture. Stir to combine. Stir in the cheese. Fold in the bread cubes. Let sit for an hour (or refrigerate overnight in the refrigerator).


Pre heat the oven to 350 degrees. Pour the mixture into a greased 9 x 13 inch casserole. Bake the bread pudding for 40 minutes until the pudding is golden and puffed, about 40 minutes. Cool 10 minutes and serve.
Nutrition
Calories:
518
kcal
|
Carbohydrates:
35
g
|
Protein:
22
g
|
Fat:
30
g
|
Saturated Fat:
17
g
|
Cholesterol:
218
mg
|
Sodium:
1164
mg
|
Potassium:
274
mg
|
Fiber:
2
g
|
Sugar:
1
g
|
Vitamin A:
21.8
%
|
Vitamin C:
2.9
%
|
Calcium:
51
%
|
Iron:
19.4
%