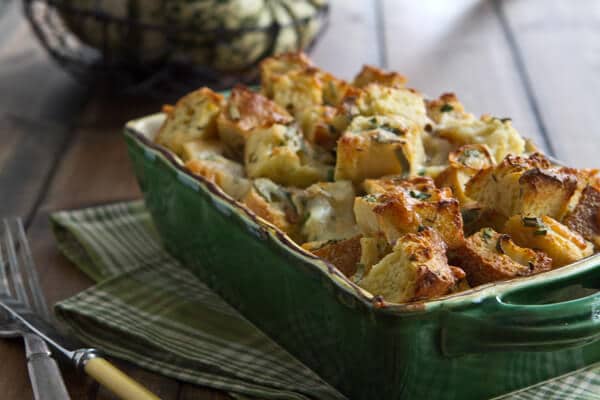 We are on the official countdown to my favorite holiday of the year – Thanksgiving!!
So, I thought I'd start things off by tackling the tough things first. Stuffing.
I know, it's a  pretty controversial topic – cooked in or out of the bird? Packaged mix or homemade – Grandma's standard recipe or something new?
In my family, the answer to that  question was always easy. We did not have stuffing. Since my grandparents were immigrants, Thanksgiving was a new holiday for them and although my Gran happily made  a turkey with gravy,  cranberry sauce and potatoes, she was NOT going to make stuffing.. or a pumpkin pie for that matter..
So, for me, stuffing was never an issue – until I was in college – and had stuffing for the first time.
It was not a memorable occasion. In all honesty, I couldn't see the appeal –  salty, mushy and grayish brown in color I honestly couldn't understand why someone would allot valuable stomach room to it. But as the the years passed I had different versions – some made with bread, and some made with rice and all sorts of delicious ingredients.  Now this was something I could definitely devote some tummy space too!
This bread pudding definitely falls into that category. Technically, it's not really a "stuffing" – there is no chicken stock in sight.  Instead, it's made with half and half and cheese  (I know, need I say more??) and it goes beautifully with turkey. Yes, it's a bit rich but as they say "it's the holidays!!"
Yields 8 servings
Easy Cheese and Herb Bread Pudding
30 minPrep Time
30 minCook Time
1 hrTotal Time
Ingredients
2 Tbsp. unsalted butter
2 shallots, peeled and sliced
1/4 cup dry white wine or sherry
6 eggs
2 1/4 cups half and half
2 tsp. salt
1 tsp. white pepper
1 1/2 cups grated Gruyere cheese
1 1/2 cups grated Swiss cheese
1/4 cup minced fresh chives
1/4 cup minced fresh sage
1 Tbsp. herbs de Provence
1 lb. day old sourdough baguette, cut into 1/2 inch pieces
Instructions
Pre heat the oven to 350 degrees.
In a small saute pan melt the butter over medium heat. Cook the shallots until they are soft and translucent. Add the wine and simmer for 3 - 5 minutes until wine is reduced to approximately 2 Tbsp. Set aside.
In a large bowl, whisk the eggs, half and half, salt and pepper together. Add the herbs and the shallot/wine mixture. Stir to combine. Stir in the cheese. Fold in the bread cubes. Let sit for an hour (or refrigerate overnight in the refrigerator).
Grease a 9 x 13 inch casserole dish and pour bread mixture in. Bake bread pudding for 35 - 40 minutes until it is puffed and golden. Cool for 10 minutes. Serve
7.6.4
107
https://www.acommunaltable.com/easy-cheese-and-herb-bread-pudding/