Herb hummus is the perfect hummus recipe!! This addictively good hummus has two "secret ingredients" that take it over the top!
And I don't say that lightly.
I am somewhat of a  hummus officionado, having first tried it years ago in a Vegetarian cooking class and found it's earthy and slightly tart taste addictive.  I  frequently order it as an appetizer. Sometimes it's good and sometimes, well, it would probably work better as wallpaper paste.
So, last week my cousin and I met for lunch - I was eager to try a relatively new restaurant in our area - True  Food Kitchen. This "green"  restaurant focuses on fresh, local and sustainable food choices and the  menu is  based upon  Dr. Weil's  anti - inflammatory diet.  Since my cousin has some food allergies I knew that the menu would offer her plenty  of dishes to choose from.
We weren't disappointed. In fact, everything on the menu was appealing - as was every dish I saw coming out of the kitchen. Deciding on what to order is definitely  a challenge when what you really want is one of  one of everything!
Naturally, we started off with the herb hummus.. but this, my friends in no ordinary hummus.
No, It  is the best hummus I've ever had.
Period.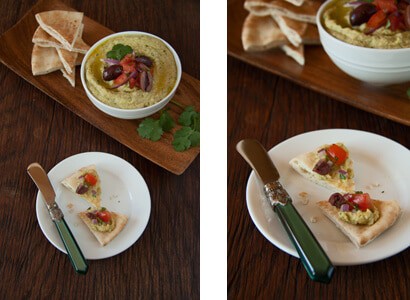 Creamy, tart and spicy with  just a touch of sweet and salty it hits all your taste receptors with the perfect balance. Paired with warm pita bread I could have happily made a meal just on that.
But of course, I didn't.
Each of us ordered a salad and they were equally delicious - and so it looks like I will be returning to True Food Kitchen soon because I still want "one of everything"!!
Lucky for you (and definitely for me) the recipe for this perfect hummus can be found  on Dr. Weil's site and I have included it here as well - you know, just to tide you over until a True Food Kitchen opens in your neighborhood.
Note: I was not paid to write this and although I don't typically do "restaurant reviews" I enjoyed my experience so much (to say nothing of the hummus!!) I just had to share it here at the Table!!
📖Recipe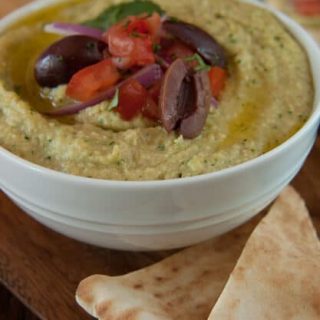 Ingredients
4

cups

cooked chickpeas

¼

cup

tahini paste

¼

cup

fresh lemon juice

1

tsp.

ground cumin

⅓

cup

extra virgin olive oil

1

tsp.

chopped fresh jalapeno

½

bunch cilantro

chopped

1

tsp.

chopped garlic

1

Tbsp.

agave nectar

1

Tbsp.

salt

Topping:

¼

cup

liced kalamata olives

optional

¼

cup

diced fresh tomatoes

optional

¼

red onion

peeled and thinly sliced (optional)

Pita bread

whole wheat crackers and/or vegetables for dipping
Instructions
Place the chickpeas, tahini and lemon juice in bowl of a food processor and process until smooth. Add the remaining ingredients and process until the mixture is smooth. Taste and adjust seasonings. Garnish with the kalamata olives, tomatoes and red onion if desired
Nutrition
Calories:
1722
kcal
|
Carbohydrates:
126
g
|
Protein:
45
g
|
Fat:
123
g
|
Saturated Fat:
16
g
|
Cholesterol:
0
mg
|
Sodium:
8113
mg
|
Potassium:
1499
mg
|
Fiber:
34
g
|
Sugar:
14
g
|
Vitamin A:
725
IU
|
Vitamin C:
40.7
mg
|
Calcium:
378
mg
|
Iron:
14.4
mg