Chicken Contadina - a classic, country-style chicken recipe of crispy chicken bathed in a fragrant white wine sauce with tomatoes and fresh herbs!
This stew-like dish has plenty of sauce to top pasta or to sop up with some crusty bread. A simple and hearty dinner you can get on the table in less than 30 minutes!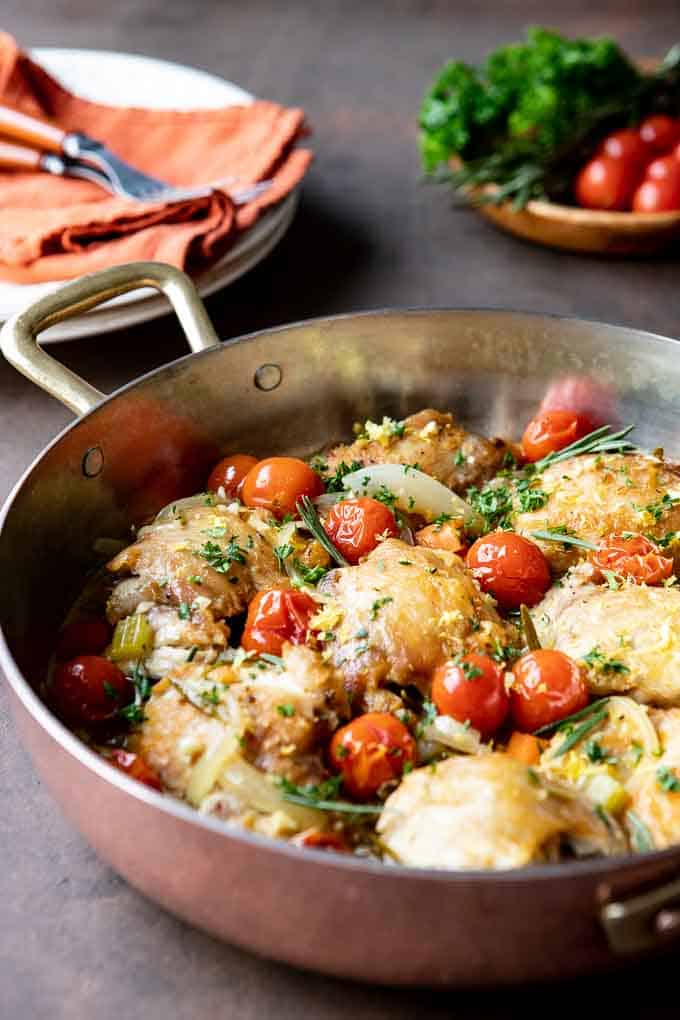 Chicken Contadina
Chicken Contadina or Pollo alla contadina is hearty, rustic and absolutely delicious. Like Chicken Scarpariello, Chicken Contadina is an Italian American recipe - inspired by Italian country cooking, it makes the most of simple and humble ingredients.
This is the kind of recipe you can almost make on the spur of the moment. With a short ingredient list, it's weeknight-friendly but flavorful and pretty enough for a crowd!
Ingredients you will need to make it!
Like many classic Italian recipes, this chicken dish is extremely flexible and is designed around the idea of using what you have. Feel free to adapt it to what's in your fridge and pantry!!
Chicken thighs - I use boneless, skinless thighs, but you could use almost any piece of chicken - drumsticks, breasts, legs, bone-in and/or skin on or off!
Onions - I used yellow onions, but both red and white would work!
Carrots
Celery
Garlic
White wine - I used dry white wine. For those who don't drink, 1 to 2 Tablespoons of fresh lemon juice is a great substitute.
Chicken Stock - I used Better than Bouillon (my go-to) but use any chicken stock that you normally use.
Tomatoes - I used cherry tomatoes since that's what I had almost any kind of tomatoes will work. Canned (whole or diced) fresh or even dried tomatoes would all be delicious!
Fresh Herbs - I used rosemary since it's in my garden, you could use fresh parsley or oregano. Don't have fresh herbs? Substitute a teaspoon of Italian seasoning, basil and/or oregano instead.
Lemon zest - OPTIONAL but a little bit of zest brightens the flavors.
Fresh Parsley - OPTIONAL but parsley adds color and freshness.
Salt, pepper & olive oil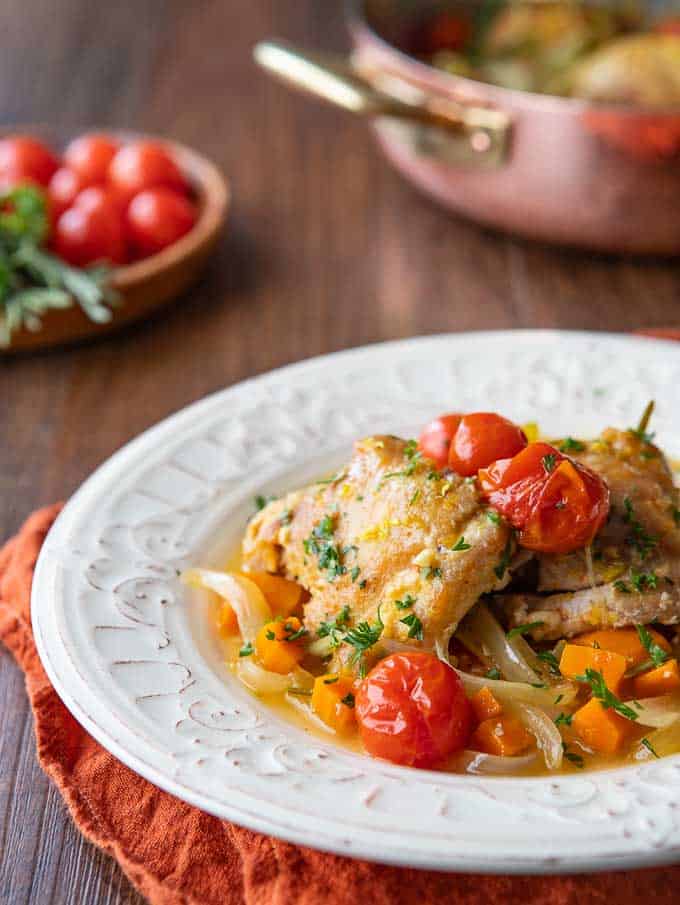 How to Make this Chicken Contadina Recipe
Season the chicken with salt and pepper. I generally use a large pinch of salt since stock can be salty! You can always add more salt - but you can't take it out!
Use a large skillet (with a lid) or a dutch oven and heat it over medium heat and add the olive oil.
Sear the chicken until it's golden brown.
Remove the chicken and add the onions, carrots, celery, herbs and garlic. Let cook, stirring occasionally, scraping up the brown bits on the bottom of the pan.
Add the wine and cook until the wine has almost evaporated and continue to scrape the pan. I like to use a rubber spatula or wooden spoon for this!
Add the chicken, stock and tomatoes and bring to a boil. Reduce the heat to a low simmer and cover the pan with a lid.
Cook until the internal temperature reaches 165 degrees.
Garnish with fresh parsley and lemon zest if you're using it and serve!
Mince the garlic with a little salt!

Sear the chicken

Add the veggies

Add stock and tomatoes.
TIP
You don't need to wash your chicken before cooking! Just remove it from the package and blot the chicken pieces dry with a paper towel. The 'secret" to getting a nice, golden brown sear on chicken (or any meat!) is to have as dry a surface as possible!
What to serve with this Italian Chicken Recipe
This rustic Italian chicken recipe not only has flexible ingredients but is also really flexible in terms of side dishes as well! Pasta is a natural "go with" but there are lots of other side dishes that pair really well!
Other Boneless, Skinless Chicken Thigh Recipes
If you enjoyed this recipe, I would LOVE for you to give it a 5-star rating! Cheers! Nancy
📖Recipe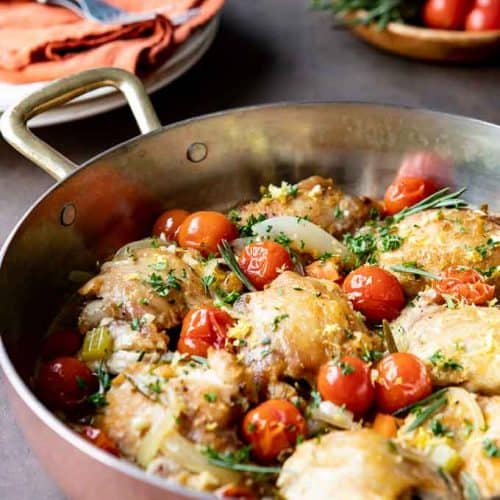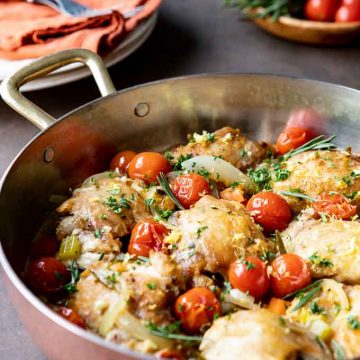 Ingredients
2

lbs.

chicken thighs

skinless, boneless

1

Tablespoon

olive oil

1

onion

diced

1

carrot

diced

1

stalk

celery

diced

2

cloves

garlic

minced with salt

4

sprigs

rosemary

OR parsley or 1 teaspoon Italian seasoning

½

cup

dry white wine

1

cup

chicken stock

2

cups

cherry tomatoes

or other fresh or canned tomatoes

3

Tbsp.

Italian parsley

minced

1

lemon

zested

salt

pepper
Instructions
Blot the chicken dry with paper towels.

Lightly season the chicken with salt and pepper and set aside.

Cut onion into ¼ inch slices.

Peel and dice the carrot into ½ dice.

Slice the celery into ½ dice.

Mince the garlic with a little salt. This helps break down the garlic so that it melts into the sauce.

Heat a large skillet with a lid over medium-high heat.

Add the olive oil and swirl to coat the pan.

Add the chicken and cook for 4 - 5 minutes until the chicken easily lifts from the pan and is golden brown.

Turn the chicken over and cook for another 2 - 3 minutes.

Remove the chicken from the pan and set aside.

Add the onion, carrots, celery, and herbs and cook for about 2 - 3 minutes scraping up the browned bits on the bottom of the pan.

Add the garlic and continue to cook for another 3 -4 minutes.

Add the wine and stir, scraping up the bottom of the pan.

Continue to cook until almost all the wine has evaporated.

Add the chicken back to the pan (with any accumulated juices), the stock and the tomatoes.

Bring the mixture to a boil and then reduce to a simmer.

Cover the skillet and continue to simmer for another 10 - 15 minutes our until the chicken reaches an internal temperature of 165 degrees.

If using fresh herbs, remove any stems. Taste and adjust the seasoning if needed. Sprinkle the lemon zest and parsley on top and serve.
Recipe Notes
INGREDIENTS:
Chicken - I used skinless, boneless chicken thighs for their richer flavor, but feel free to use any chicken pieces that you have/enjoy. NOTE: if you use bone in chicken, the cooking time will be longer! 
Tomatoes - as I mentioned, you can use almost any type of tomatoes in this recipe. Fresh or canned both work! If using canned tomatoes, drain them before adding to the recipe. 
Herbs - I love using  fresh herbs in this dish, but if you don't have them on hand, dried herbs work well. Italian seasoning or a combination of basil/rosemary, oregano all work really well. If you have an mediterranean herb blend that you like, feel free to use that as well. 
Wine - wine adds a depth of flavor and some needed acidity to this dish. If you don't drink (or don't have wine on hand!) use 1 to 2 Tablespoons of fresh lemon juice. I would start with 1 tablespoon. Before serving, taste the sauce and if it seems a little bland, add more lemon juice to taste. 
TIPS: 
Mincing garlic with just a pinch of salt helps to break down the garlic so that it almost dissolves during cooking. This is one of my favorite techniques for avoiding chunks of garlic in a dish! 
STORAGE:
This recipe can be made a day ahead of time. Let the chicken cool and then cover and refrigerate. 
To reheat: cover the dish with a lid or foil and re heat in a 350 degree oven. 
This recipe also freezes well. Cover and freeze up to 2 months. To re heat, thaw in the refrigerator overnight and then re heat in a 350 degree oven. 
Nutrition
Calories:
620
kcal
|
Carbohydrates:
15
g
|
Protein:
40
g
|
Fat:
42
g
|
Saturated Fat:
11
g
|
Cholesterol:
224
mg
|
Sodium:
297
mg
|
Potassium:
925
mg
|
Fiber:
3
g
|
Sugar:
6
g
|
Vitamin A:
4068
IU
|
Vitamin C:
50
mg
|
Calcium:
69
mg
|
Iron:
3
mg