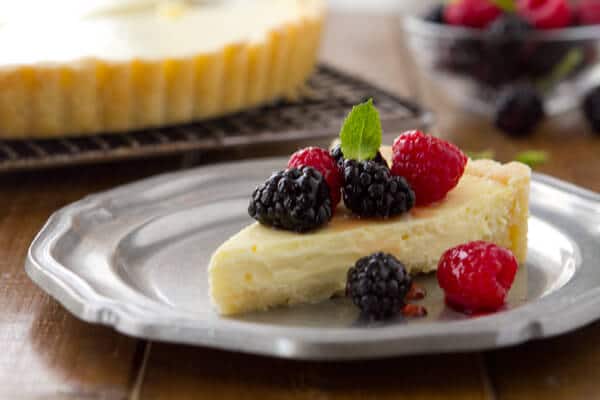 Summer has arrived!!! Backyard barbeques, dinners alfresco, showers and parties –  all of which require… the perfect summer dessert. And I have the perfect summer dessert for you – a creamy, luscious Yogurt Cheese Tart with Fresh Berries.  A fancy tart is "the perfect summer dessert??" R-i-i-i-g-h-t. Seriously though, I think it's the perfect summer dessert – it's got a "no roll" crust and a filling that has only 5 ingredients which you probably already have in your fridge! Although it's delicious on it's own, I like it topped with berries, but it would be good with almost any fruit you happen to have around – peaches, apricots, nectarines or plums would all be delicious too.
"It's "all good" as they say.
But if you're lactose intolerant  you're probably thinking "but not "good" for me."
But I have news for you… in fact it's great news- you probably can enjoy this tart even if you are lactose intolerant
And yes, it includes "dairy".
And no, I have not lost my mind.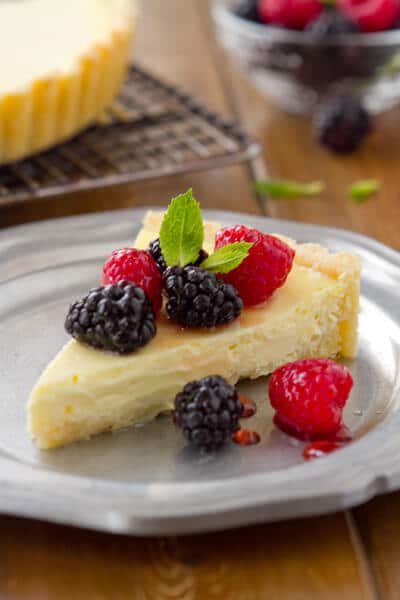 As I talked about in my Roasted Strawberry Sherbet post, there is a lot of confusion about lactose intolerance – and one of the "biggies" is that people who are lactose intolerant can't have dairy.
But the truth of the matter is, most people who are lactose intolerant can have some dairy .
Let me say that again. Most people who are lactose intolerant can have dairy! Even those who are lactose intolerant do produce lactase – the enzyme required to break down lactose. The problem of course is that they don't produce  enough lactase  to digest unlimited amounts of dairy.  So, the "trick" is choosing what kind of dairy and what quantity can be tolerated.  I can tell you from personal experience that it is more "art" than "science" – everyone is different and it does take some trial and error to find what works best. With my son "C" I started him off very slowly and started him with dairy products that contained small amounts of lactose such as aged, hard cheeses and yogurt which contains live and active cultures that actually help with the digestion of lactose! I also didn't give him dairy on an empty stomach – I generally would give him something with dairy later in the meal or for dessert –like this Cheesecake Tart with Fresh Berries.  This Yogurt Cheese Tart with Fresh Berries is a great choice to start introducing dairy since it's made with Lebne (aka yogurt cheese). Due to the active cultures in yogurt, even those who are lactose intolerant generally can have yogurt. So, what is Lebne or "yogurt cheese"? It's just Greek style plain yogurt that has been drained. You can buy Lebne in Middle Eastern markets or in some larger grocery stores or you can make your own from plain Greek yogurt (as I did for this tart). Simple, summery and oh- so-tasty – even for those who "can't have dairy!"
This post was written while participating in my partnership with the National Dairy Council but as always, the opinions expressed are my own.
If you'd like to learn more about lactose intolerance and how to introduce dairy into your diet, the  National Dairy Council is a great place to start! Also, this Newsletter from the National Dairy Council has some great information specifically dealing with lactose intolerance.
Yields 6 - 8 servings
Cheesecake Tart with Fresh Berries
The filling is adapted from Alice Medrich's book Pure Dessert.
1 hrPrep Time
45 minCook Time
1 hr, 45 Total Time
Ingredients
Filling:
3 large eggs
1/4 cup sugar
1/8 tsp. salt
1 tsp. vanilla
1 1/2 cups lebne or drained, greek yogurt
Berries:
1/2 pint fresh blackberries or blueberries
1/2 pint raspberries or strawberries, hulled and sliced
4 Tbsp. sugar
2 tsp. Chambord Liqueur (optional)
Instructions
Prepare the crust as per the instructions. Let cool.
Pre heat the oven to 300 degrees.
In a large bowl, combine the eggs, sugar, salt and vanilla until thoroughly mixed. Add the lebne and whisk until thoroughly combined and smooth. Fill the tart shell with the lebni mixture and bake for 15 - 20 minutes or until the edges are set but the interior is still a bit jiggly. Remove from oven and let cool.
For the berries: Combine the berries with 2 - 4 Tbsp. sugar (depending on how sweet they are). and add 2 tsp. Chambord. Toss to combine.
To serve, cut slices of the tart and top with the berry mixture.
7.6.4
194
https://www.acommunaltable.com/yogurt-cheese-tart-with-fresh-berries/