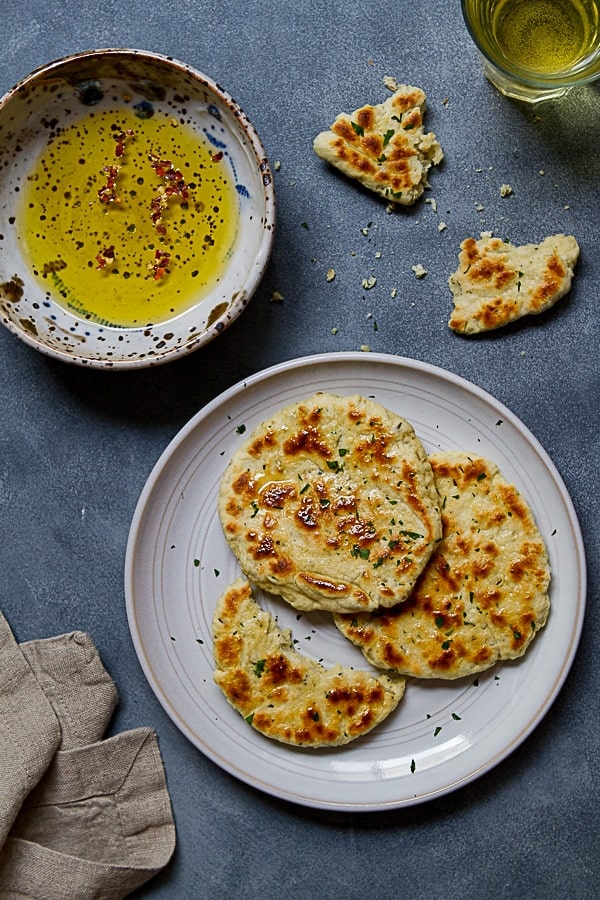 Tender, moist and flavorful these incredibly easy, 30 minute no yeast Yogurt Flatbreads go with just about everything!
Which is fabulous because I always forget about the bread.
It's not that I don't love bread – I do – especially homemade bread.
And that's the problem. I always "think" I am going to make homemade bread to go with the soup or the salad I am making for dinner. But somewhere between "thinking" and "doing" life seems to happen and all of sudden it's 5:00 and I haven't made the bread. In fact, I haven't even started it.
Oops.
So, I pretty much have resigned myself to buying bread.. which is not always a bad thing since I live in an area where I can buy pretty darn good bread… but I'm not always in the part of town that has good bread when I need it and sometimes, after hitting 3 stores, well I am just not in the mood to hit another store.
But I have found salvation (in the bread sense, at least!) – yogurt flatbreads. I am not kidding …-even if I wait until 5:00 I can still have fresh , homemade bread. Ok, so it isn't the puffy, fluffy variety, but it's bread – and it's absolutely delicious and I pretty much always have the ingredients needed for it on hand. And I can add just about any flavoring to it I want. Which makes compromising on the fluffy and puffy part not so bad. At all.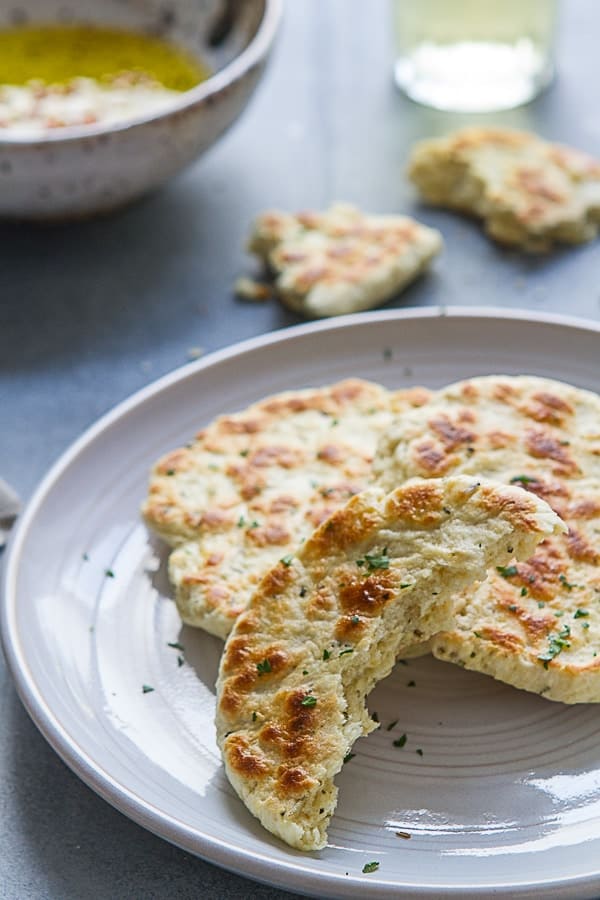 These yogurt flatbreads are terrific with soups and salads and make a nice little appetizer served as part of a mezze platter or served with any number of spreads to slather on them – think goat cheese, herbed ricotta, tapenade or my tomato chutney.
Yogurt Flatbreads
Tender, moist and flavorful these incredibly easy, 30 minute no yeast Yogurt Flatbreads go with just about everything!

Ingredients
1 1/2

cups

or more unbleached all purpose flour or whole wheat flour

2 1/2

tsp.

herbs de Provence

or any herbs you like - basil, oregano, thyme, etc.

1 1/2

teaspoons

baking powder

3/4

teaspoon

salt

1/2

teaspoon

baking soda

3/4

cup

low fat or non fat plain greek yogurt

2

Tbsp.

canola oil
Instructions
In a large bowl combine the flour with the herbs, baking powder, salt and baking soda. Stir to combine. Add the yogurt and mix until all of the flour is mixed in (the mixture will appear shaggy).

Dust a cutting board with a little flour and dump the mixture out. Knead the dough until it is smooth and not sticky, adding a little flour if necessary. Divide dough into 8 pieces and roll into balls.

Using a rolling pin, roll out each ball until the dough is about 1/4 inch thick.

Heat a griddle over medium high heat and brush with the canola oil. When the pan is hot (but the oil is not smoking) add the dough and cook, turning after 3 -4 minutes or when the bottom is golden brown. Cook for another 3 - 4 minutes until golden brown. Serve warm with a little butter or brushed with a little olive oil.
Notes
I have made these with both all purpose and whole wheat flour. When using whole wheat flour you may need to add a bit more yogurt to the dough if it is too dry. I used dried herbs in these but feel free to use fresh herbs - start with 2 Tbsp. and see how you like the flavor. As to herbs, you can use any combination of herbs/spices that you like and that compliment whatever you are serving them with!
Nutrition
Calories:
134
kcal
|
Carbohydrates:
19
g
|
Protein:
4
g
|
Fat:
4
g
|
Sodium:
295
mg
|
Potassium:
139
mg
|
Fiber:
1
g
|
Vitamin A:
1.2
%
|
Vitamin C:
0.9
%
|
Calcium:
8.6
%
|
Iron:
17
%