This Coffee and Spice Rubbed Sirloin Roast recipe is smoky, sweet, a little spicy and appeals to everyone – even those who don't like coffee!! An oh so easy beef rub delivers up a roast that is juicy, tender and packed with flavor! Make this recipe for a weeknight or at the weekend for friends – they will be forever grateful!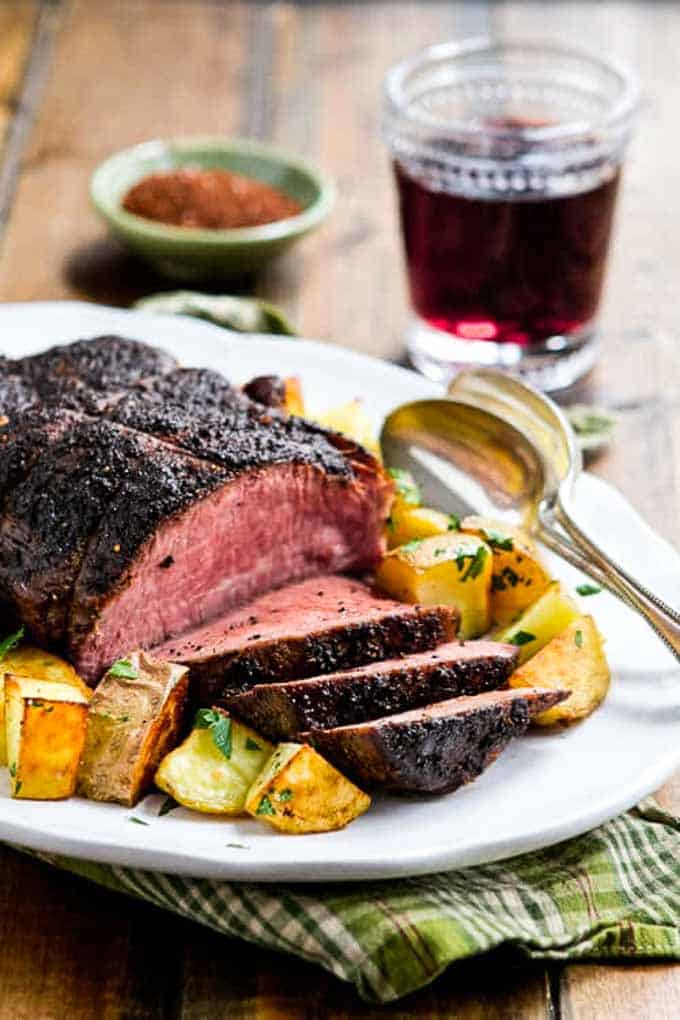 Beef roasts are one of the unsung heroes of cooking, IMHO. From an almost effortless Eye of Round Roast to this Provencale Top Round Roast, these beefy main dishes work great for weeknights, weekends and for feeding a crowd.
They also make glorious leftovers – and who doesn't love that?
Which brings me to this Coffee and Spiced Rubbed Sirloin Roast recipe. Hands down one of the easiest beef dishes I've made – mix the rub, tie and sear the meat, slather it on and pop it in the oven. Dinner. Done.
Sirloin Roast FAQ's
What is a sirloin roast?
Roasts that are cut from the sirloin include Coullote, Tri tip and petit sirloin. Want to learn more about beef cuts? This chart from the Cattlemen's Beef Board lists a variety of beef cuts and where they come from!
Why use a rub?
Rubs are quick, easy and add another level of flavor and are great to use on roasts!


What is the correct internal temperature for a roast?
That depends upon how you like your beef! For medium rare, I like to cook my roast to an internal temperature of 130 degrees. The meat is pink inside and tender but not bloody.
Are sirloin roasts tender?
Although cut from the sirloin, if you cook a sirloin roast properly, and slice them thinly, they are incredibly tender and delicious.
What is the best way to cook a sirloin roast?
They can be braised or roasted. I think sirloin roasts taste best with a good rub and roasted uncovered in the oven.
How to cook this beef roast:
Mix the Rub ingredients together and set aside

Tie the roast with butcher's twine

Sear the roast in a heavy skillet

Slather the meat with the wet rub

Roast in the oven, rest and slice!
Tips for making a Sirloin Roast:
The rub can be made up to a week in advance. The meat can be tied and seasoned up to two days in advance.
Remove the roast from the refrigerator an hour before you plan to cook it.
Use a calibrated meat thermometer to check the internal temperature of the meat.
Unlike most recipes, this one uses a relatively low temperature. This keeps the roast juicy and tender.
Potatoes are a natural side dish – I love serving this roast with Easy Cheesy Potato Casserole or Potatoes Hashed in Cream.
Coffee and Spice Rubbed Sirloin Roast Recipe:
Coffee and Spice Rubbed Sirloin Roast
This easy,Coffee and Spice Rubbed Sirloin Roast recipe is an ideal make ahead dinner. Slow roasted in the oven, it comes out juicy and tender.

Ingredients
2

Tablespoons

finely ground coffee

I used Starbucks Veranda blend

1

Tablespoon

dark brown sugar

1 1/2

teaspoons

smoked paprika

3/4

teaspoon

salt

3/4

teaspoon

pepper

1/2

teaspoon

onion powder

4

Tablespoons

canola or other neutral flavored oil

1 – 2

lb.

Beef sirloin tip roast

salt

pepper
Instructions
To make the rub, combine the coffee, sugar, smoked paprika, salt, pepper and onion powder in a small bowl and stir to combine. Set aside.

Using butcher's twine,

tie

the roast. Season generously with salt and pepper.

Wrap and refrigerate overnight.

Pre heat the oven to 225 degrees.

Remove the roast for the refrigerator.

Pat dry with a paper towel.

Add 2 tablespoons of oil to a heavy bottomed skillet, such as cast iron over medium high heat.

Let the pan heat until the oil begins to shimmer.

Add the roast and let cook for 3 – 5 minutes until the roast easily releases from the pan when pulled and the bottom of the roast is a nice caramelized brown.

Turn the roast over and repeat.

Remove the roast from the heat and let cool.

Line a sheet pan with foil and place a rack inside.

Place the roast on the rack.

Add the remaining oil to the rub and stir to make a paste.

Rub the paste liberally over both sides of the roast.

If not cooking immediately, cover and refrigerate.

If you've refrigerated the roast to this point, remove from refrigerator 1 hour before cooking.

Place roast in the pre heated oven and cook until the internal temperature reaches 135 for medium – about 1 1/2 hours depending upon how thick your roast is.

Note: I begin checking the roast after 1 hour of cooking to get a sense of where the temperature is.

Once the roast reaches the desired internal temperature, remove from the oven and cover with foil.

Let rest for 30 minutes.

Remove foil from roast and place under the broiler for 5 minutes to crisp the outside.

Slice into 1/4 inch slices and serve.
Notes
Notes: if serving more than 6 people I would recommend buying several roasts rather than 1 large one as it will reduce your cooking time. Cooking at this low temperature is imperative to keep the meat tender!!
Ag" frameborder="0″ allow="accelerometer; autoplay; encrypted-media; gyroscope; picture-in-picture" allowfullscreen>
Nutrition
Calories:
92
kcal
|
Carbohydrates:
2
g
|
Protein:
0
g
|
Fat:
9
g
|
Saturated Fat:
0
g
|
Cholesterol:
0
mg
|
Sodium:
291
mg
|
Potassium:
11
mg
|
Fiber:
0
g
|
Sugar:
2
g
|
Vitamin A:
4.9
%
|
Iron:
0.6
%