Last updated on March 26th, 2018 at 01:55 pm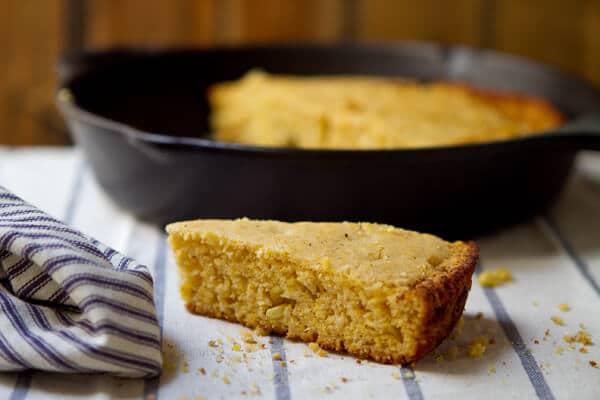 "Necessity is the mother of invention". Which is how this Browned Butter Cornbread Recipe came about! 
And sometimes, accidents are too.
Because it is solely by accident that this Browned Butter Cornbread Recipe came about. The other night I decided to make a quick skillet cornbread to go with a Tanjin crusted chicken and salsa  that I was making for dinner. Like most cornbread recipes, it's very easy.  Pre heat the oven, plop a cube of butter in a cast iron skillet  and let it melt in the oven while you assemble the dry and wet ingredients.
Easy peasy, right? So easy it sort of got away from me. There I was in the kitchen happily assembling my ingredients, catching up with my husband on the events of the day and … forgot about the butter.
Oops! But I was in luck …. it hadn't burned but browned and although the idea hadn't occurred to me I thought "hmmm… this could be good!" (Duh… when is brown butter NOT good??) So I pulled the skillet out of the oven,  finished assembling the wet ingredients (to which I added a healthy dollop of some good bourbon) stirred it into the dry ingredients , poured it into the skillet and popped it back in the oven.
About 30 minutes later, out came this Browned Butter Cornbread … and oh, the smell!! Sweet corn with an underlying nuttiness….  my fingers were crossed that it would taste as good as it smelled!!!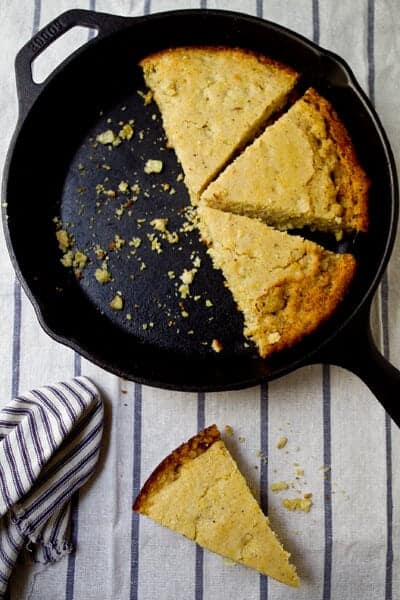 The verdict was… "oh yeah".. and a new favorite browned butter cornbread recipe has been crowned!!!
Looking for something to serve this Browned Butter Cornbread Recipe  with? It would be great with..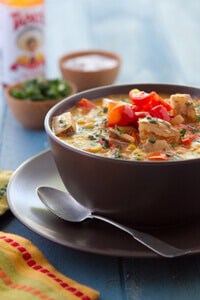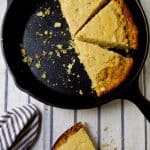 Print Recipe
Browned Butter Cornbread Recipe
This Browned Butter Cornbread Recipe is sweet, nutty and will make you swear off box mixes forever! Just as easy but so much better!!!

Ingredients
1/2

cup

unsalted butter

1 cube

1

cup

coarse ground cornmeal

I use Bob's Red Mill

1

cup

all purpose flour

1

Tbsp.

baking powder

1

tsp.

salt

3/4

cup

fresh or frozen corn kernels

1

cup

whole milk

1/2

cup

honey

1

Tbsp.

good bourbon

optional

1

large egg
Instructions
Pre heat the oven to 400 degrees. Place the cube of butter into a 10 inch cast iron skillet and place in the oven. Let butter melt and brown - about 7 - 8 minutes for cold butter (if your butter is at room temperature, it will take a bit less time). While the butter is browning, combine the flour,cornmeal, baking powder and salt in a medium sized bowl. Stir. Add the corn and toss with the dry ingredients (this helps the corn from sinking to the bottom of the pan). In a small bowl, combine the milk, honey, egg and bourbon. Stir until combined. When the butter is finished browning, remove skillet from the oven. Pour all but two tablespoons of the browned butter into the wet ingredients and stir. Quickly add the wet ingredients to the dry, stirring until just combined. Pour the batter into the skillet and place back in the oven. Bake for 25 - 30 minutes until the cornbread is brown around the edges and a cake tester inserted in the center comes out with small crumbs attached. Remove skillet from oven and let cool for 10 - 15 minutes. Serve warm or at room temperature.
Nutrition
Calories:
345
kcal
|
Carbohydrates:
49
g
|
Protein:
5
g
|
Fat:
14
g
|
Saturated Fat:
8
g
|
Cholesterol:
54
mg
|
Sodium:
265
mg
|
Potassium:
357
mg
|
Fiber:
2
g
|
Sugar:
19
g
|
Vitamin A:
9.4
%
|
Vitamin C:
1.1
%
|
Calcium:
12.5
%
|
Iron:
9.6
%