Pan Seared Steak with Bercy Butter Sauce. Simple, delicious and quite possibly the easiest and quickest "fancy" dinner around!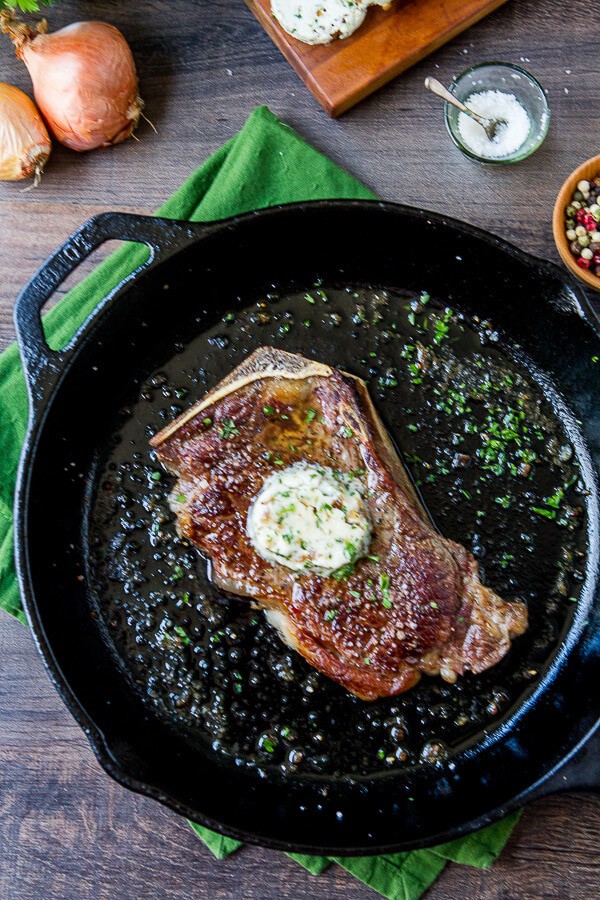 Pan Seared Steak with Bercy Butter Sauce. Simple, delicious and quite possibly the easiest and quickest "fancy" dinner around!
Which is why I chose to serve this Pan Seared Steak with Bercy Butter Sauce  at a French themed dinner party I hosted a few weeks ago. Despite the "fancy" title, it's incredibly easy and fast to make.
The secret? Compound butter or Beurre Compose. Compound butters like this Bercy Butter have  been a standard in french kitchens since the middle ages – and for good reason. these butters are truly a  cooks secret weapon. They can be flavored in infinite ways and used on just about anything – steaks, chicken, pork, seafood, pasta,vegetables or even bread. … the possibilities are truly endless!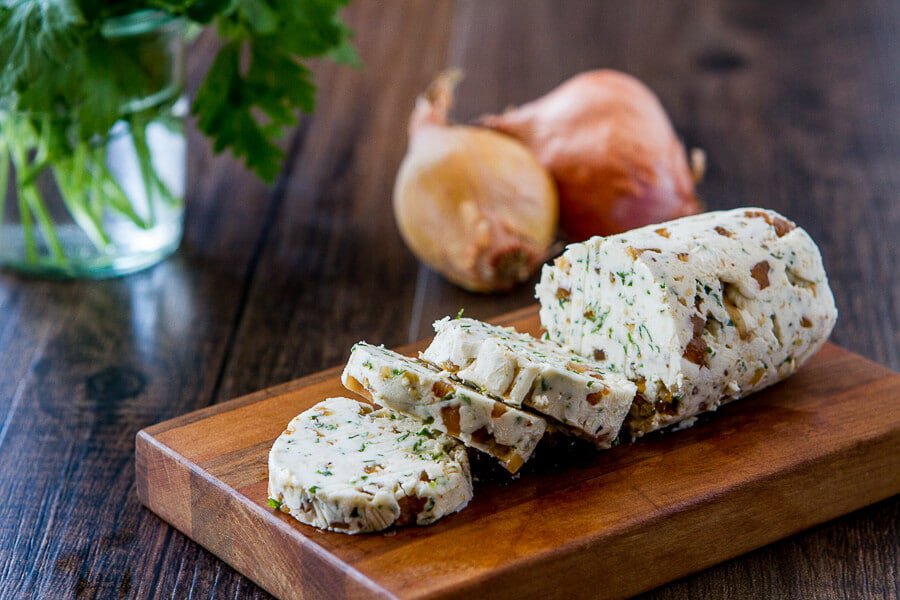 Used on their own or to flavor a sauce, they are not only easy to make, they are infinitely customizable – and  you can stash them in the freezer to pull out at a moment's notice.
A classic compound butter, Bercy Butter  is made with a  wine, beef stock and shallot reduction (a fancy word for simply boiling the mixture down)  and then stirred into softened butter and  flavored with fresh parsley. A decent sized pat on top of a juicy, pan seared steak makes a luscious sauce that elevates this Pan Seared Steak with Bercy Butter  into something worthy of company – even on a weeknight!
With a show stopping main dish like this, you can keep the sides simple. Lemon and Oregano Potatoes ,  Romaine Salad with Blue Cheese Vinaigrette and maybe this Fig Cake with Ginger Syrup for dessert.
Simple and easy!
Never pan seared a steak before? Read on for my tips!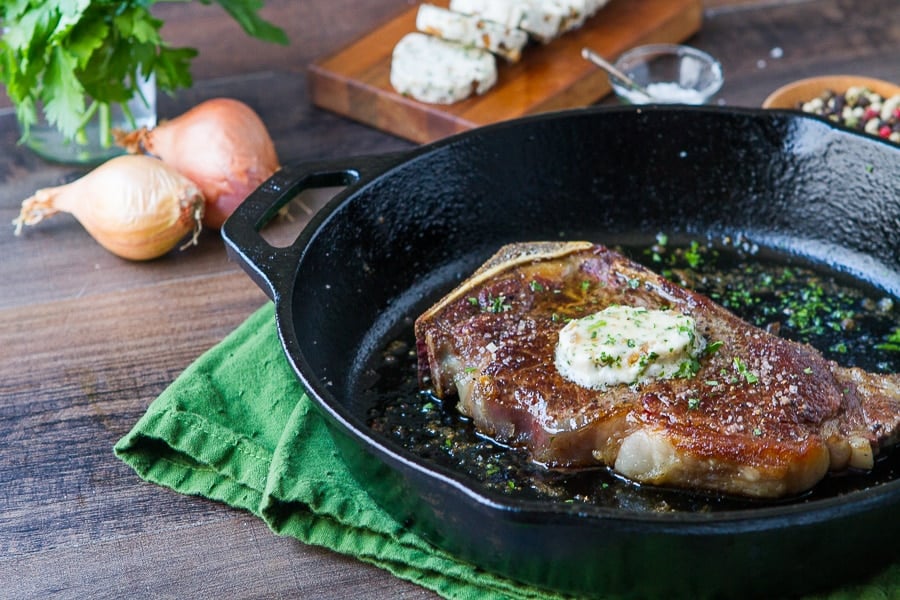 Secrets to a Perfectly Pan Seared Steak with Bercy Butter Sauce:
Pan searing steaks is easy and results in a juicy and delicious steak. Here are some tips for mastering this simple technique:
Use a heavy, well seasoned skillet – cast iron preferably. Don't use a non stick pan!
Let your steaks come to room temperature before cooking. Leave them out at least 40 minutes before cooking for optimal results.
Thicker steaks work better – ideally 1 1/2 inches thick.
Use a high smoke point, neutral flavored oil to the skillet.
Heat the skillet until the oil is almost smoking.
Pat the steaks dry with a paper towel and season liberally with salt and pepper.
Ingredients
Four 8 oz. rib eye, porterhouse or New York strip steaks, room temperature
1 Tablespoon vegetable oil
salt (preferably Maldon sea salt or Fleur de Sel)
freshly ground pepper
Bercy Butter
1/2 cup butter, softened
2 Tablespoons minced fresh parsley
1 small shallot, minced
1/4 cup dry white wine
1/2 cup beef stock
Instructions
For the Bercy Butter:
Add the shallots, beef stock and wine to a small saucepan. Over medium high heat, bring the mixture to a boil. Reduce the heat and simmer until it's reduced to 1 1/2 Tablespoons. Cool.
Add softened butter to a small bowl. Add the reserved shallot and wine mixture. Add the parsley and stir to combine.
Place mixture on a piece of platic wrap and form into a log. Wrap in plastic and refrigerate until firm or freeze for later use.
For the steaks :
Pat the steaks dry and season with salt and pepper.
Heat a heavy bottomed skillet (preferably cast iron) over high heat.
Add the vegetable oil.
When the oil is shimmering, add the steaks.
Cook for 3 - 4 minutes.
Turn.
Cook for another 3 - 4 minutes.
Turn and cook for another 2 - 3 minutes.
Remove the steaks and add 1 Tablespoon of the Bercy Butter to each steak and serve.
7.6.4
260
https://www.acommunaltable.com/pan-seared-steak-bercy-butter-sauce/