A rich brown sauce is key to this Chasseur Style Beef Stew.  Using a simple technique you can get hours simmered flavor in a fraction of the time, even if you don't have an Instant Pot!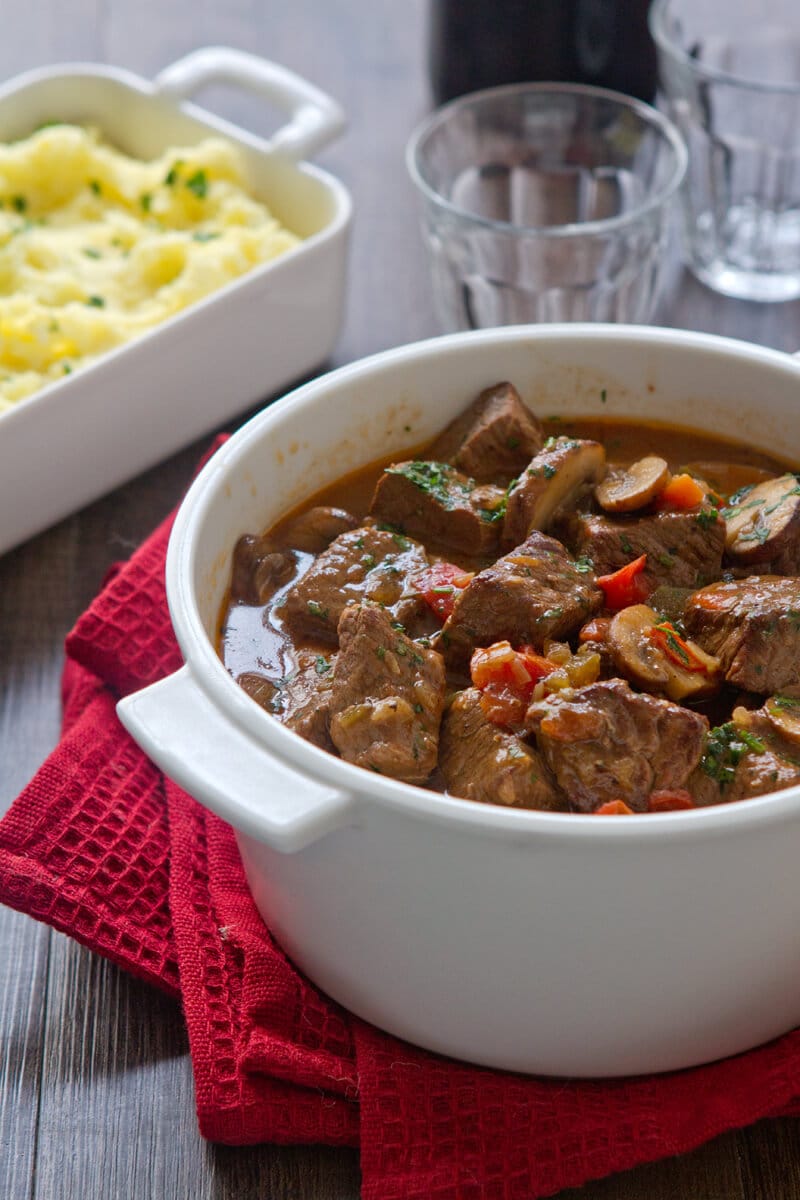 Chasseur Style Beef Stew and a review of Revol's newest Revolution 2 Cocotte!
Now that the leaves have turned, I'm craving soups and stews. So, when Revol sent me this adorable little Cocotte  from their new Revolution 2 ceramic cookware line, I knew exactly how I was going to "put it through it's paces". I'd been toying with a Chasseur style beef stew idea and knew it would be the perfect dish to try out in my new little cocotte. Doesn't cocotte sound much more  chic than "dutch oven"?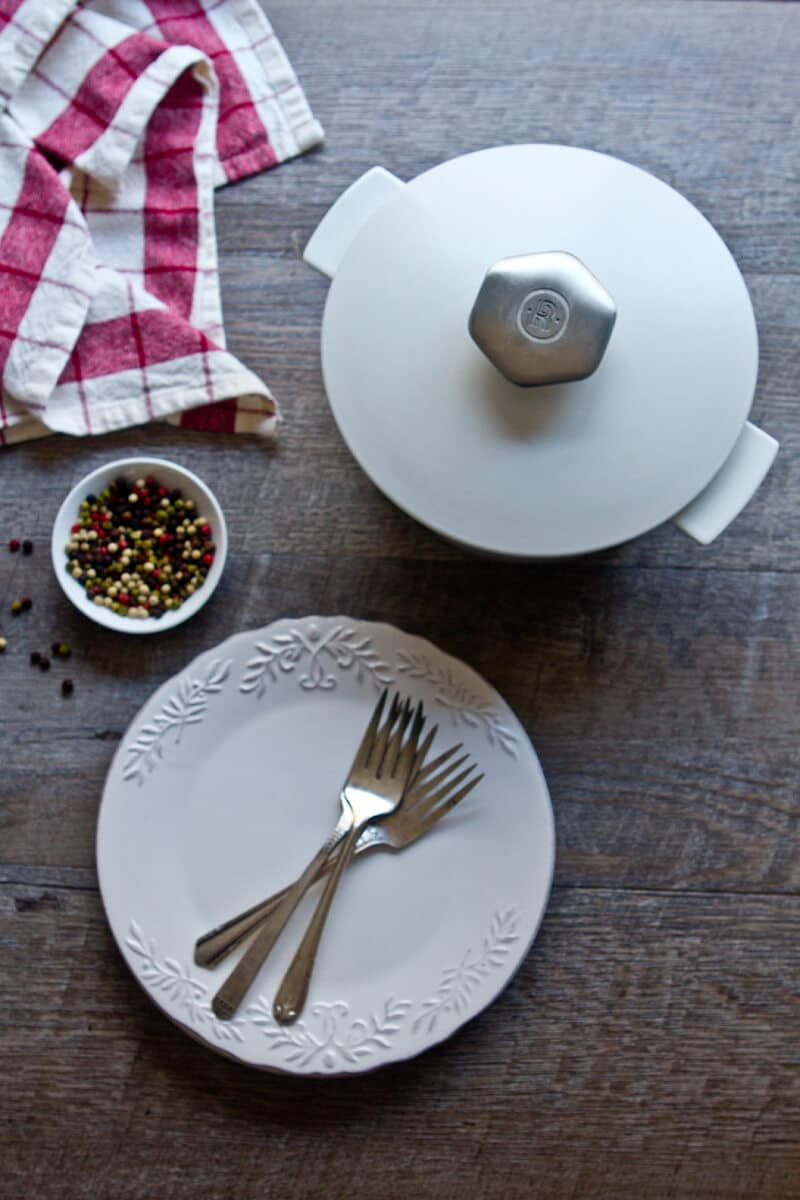 Ah, but this cocotte, from Revol's new Revolution 2 line is no simple dutch oven!  Made entirely from ceramic, it's significantly lighter than my cast iron ones. Like other dutch ovens, it can be used  on the stovetop (gas, electric OR induction) in the oven, in the freezer, or even in the microwave… and it's beautiful enough to bring straight to the table for serving!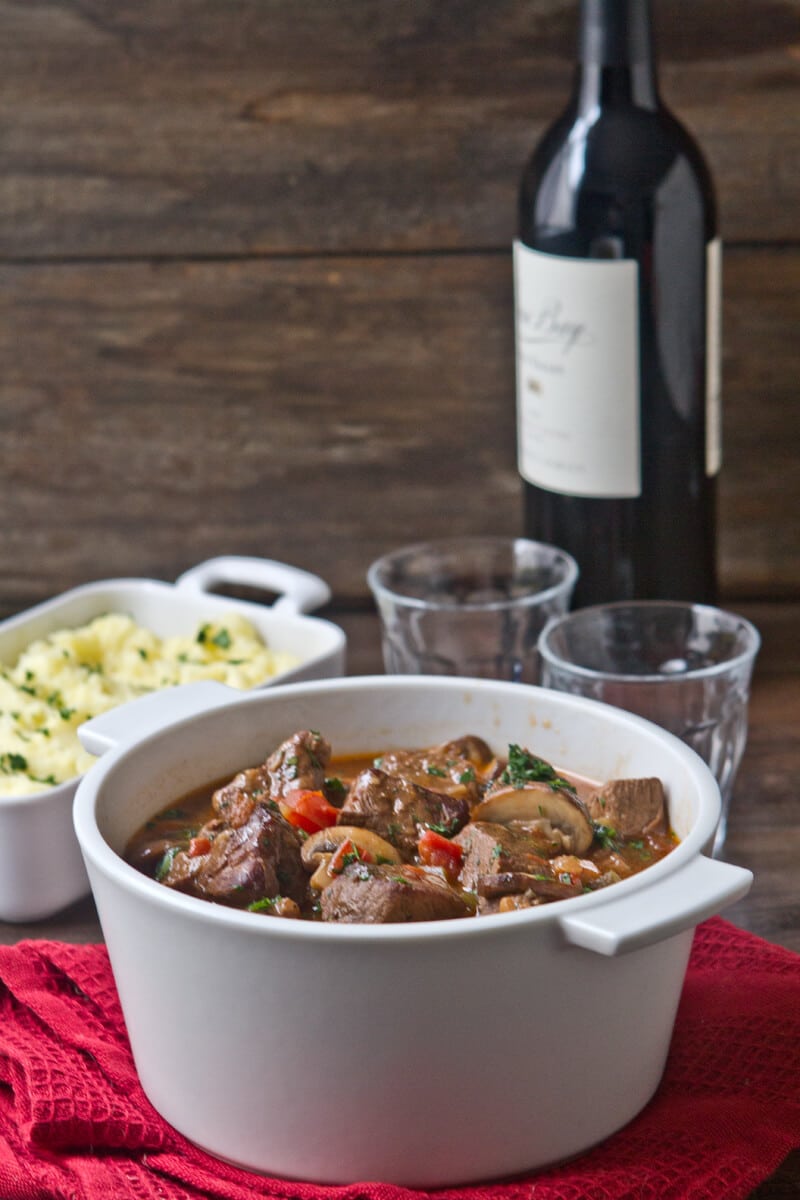 Which is exactly what I did when I made this Chasseur Style Beef Stew!  A childhood favorite,  the french Chasseur sauce is made with a rich brown sauce (demi glace or espagnole)  mushrooms, shallots, white wine and tomatoes. The key to this sauce is  of course, the rich brown sauce!!
And there is the rub! Brown sauce is amazing, but also time consuming which is one of the reasons I don't make Chasseur Sauce very often anymore. But I really wanted to see how if I could get the same flavor of the sauce by making a stew – and I am quite happy with the results – and happier still that this stew was done in just under two hours!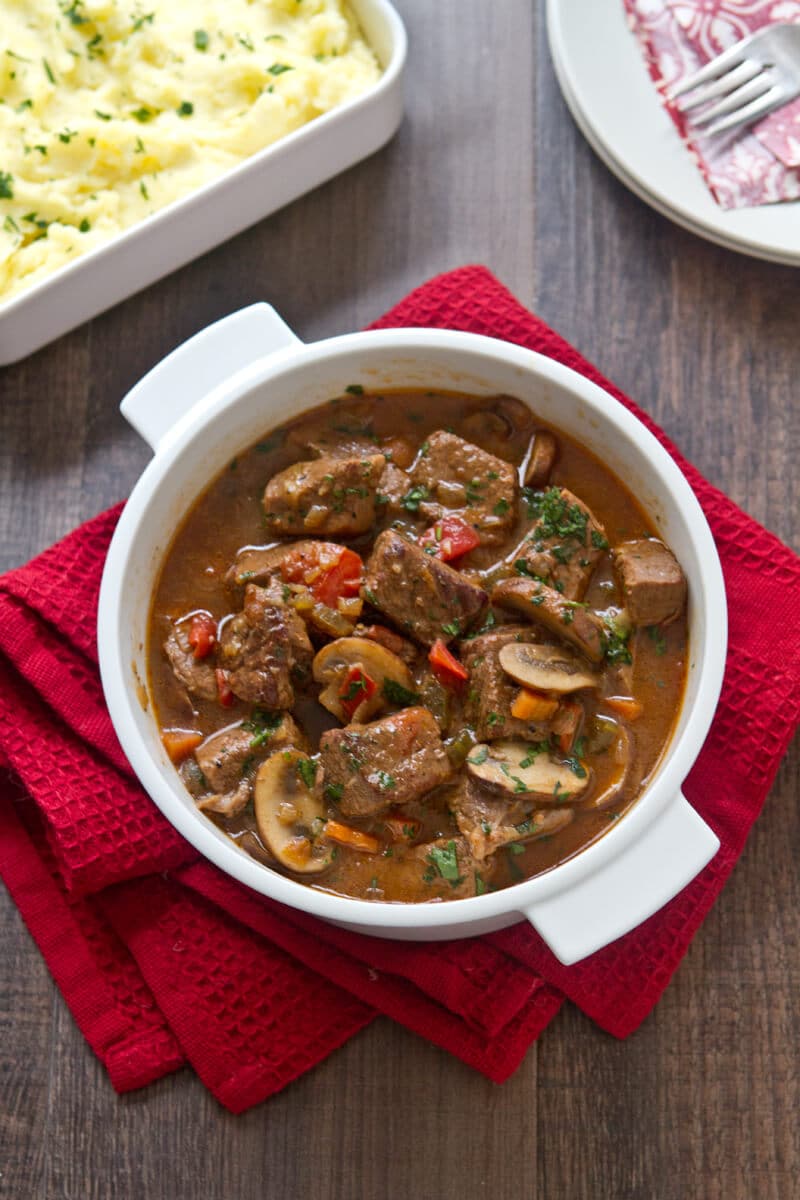 Key Steps to Chasseur Style Beef  Stew
The keys to this Chasseur Style Beef Stew
 Brown the beef in the same pot you cook the stew in and add in a bit of miropoix and tomato paste. To be honest, I wasn't sure how the Revol Revolution 2 cocotte would do on top of the stove, but it worked incredibly well. The beef browned evenly and developed a beautiful fond on the bottom of the cocotte even though I used less oil than I do with my cast iron dutch ovens. For anyone pursuing a healthier lifestyle, the Revolution 2 line is truly ideal – gorgeous results with less added fat!  As for clean up, this, to me was a true game changer! Unlike my  other dutch ovens, cleaning the cocotte was a breeze – no scrubbing required! Given how versatile and easy the cocotte  was  to use, it will definitely be getting quite a workout in my kitchen this winter – soups, stews, braises and yes, even casseroles are all going to be keeping company with this lovely little dutch oven. Since the Revolution 2 line needs less fat With the holidays approaching, these lovely dutch ovens from the Revol Revolution 2 line would make a fantastic gift for any cooks on your list – and especially for those who are pursuing a healthier lifestyle!!!
RevolUSA graciously provided the products featured in this post. All opinions are, as always, mine and mine alone.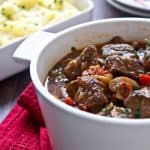 Chasseur Style Beef Stew
Ingredients
2

Tbsp.

vegetable oil

1

lb.

beef stew meat

cut into 1 1/2 inch pieces

3

Tbsp.

butter

softened

2

Tbsp.

flour

1

cup

sliced cremini mushrooms

½

cup

shallots cut into ½ inch dice

¼

cup

carrots

¼

cup

celery

1

bouquet garni

1

cup

dry white wine

1 ½

cups

beef stock

1

cup

canned

diced tomatoes, drained

1/4

cup

minced parsley
Instructions
Pre heat the oven to 350 degrees.

Combine 2 tablespoons butter and 2 tablespoons flour in a small bowl and stir until thoroughly combined. Set aside.

Blot the stew meat dry and season with salt and pepper.

Heat 2 Tablespoons vegetable oil in the cocotte over medium high heat.

When the oil is hot (it should shimmer) add several pieces of the stew meat, being careful not to crowd the pan.

Cook, browning the meat until the meat easily releases from the pan.

Remove the meat pieces to a plate and repeat with the remaining meat.

Add the remaining 1 tablespoon butter to the cocotte.

Saute the mushrooms for approximately 3 minutes until the mushrooms are golden.Remove the mushrooms and set aside.

Add the shallots, carrots and celery and cook over medium high heat until the vegetables begin to soften an the shallots are golden - about 5 minutes.

Add the wine and cook, scraping the bottom of the pan.

Add the meat back to the pan and pour in the beef stock.

Add the tomatoes, bouquet garni and bring the mixture up to a boil.

Cover the cocotte and place in the oven.

Bake for 1 1/2 hours or until the beef is tender

Remove stew from the oven.

Remove the cover and stir in the flour/butter mixture.

Add the mushrooms and stir to combine.

Divide stew among 4 bowls and sprinkle with parsley.
Nutrition Facts
Chasseur Style Beef Stew
Amount Per Serving
Calories 1907
Calories from Fat 927
% Daily Value*
Total Fat 103g 158%
Cholesterol 449mg 150%
Sodium 803mg 33%
Potassium 2138mg 61%
Total Carbohydrates 65g 22%
Protein 135g 270%
* Percent Daily Values are based on a 2000 calorie diet.
Save
Save
Save
Save
Save
Save