Easy Rice Pilaf with Orzo is deliciously simple to make and beats anything out of a box! This "go-with-almost-everything" side dish of tender white rice and golden orzo pasta is infinitely versatile and an always popular choice!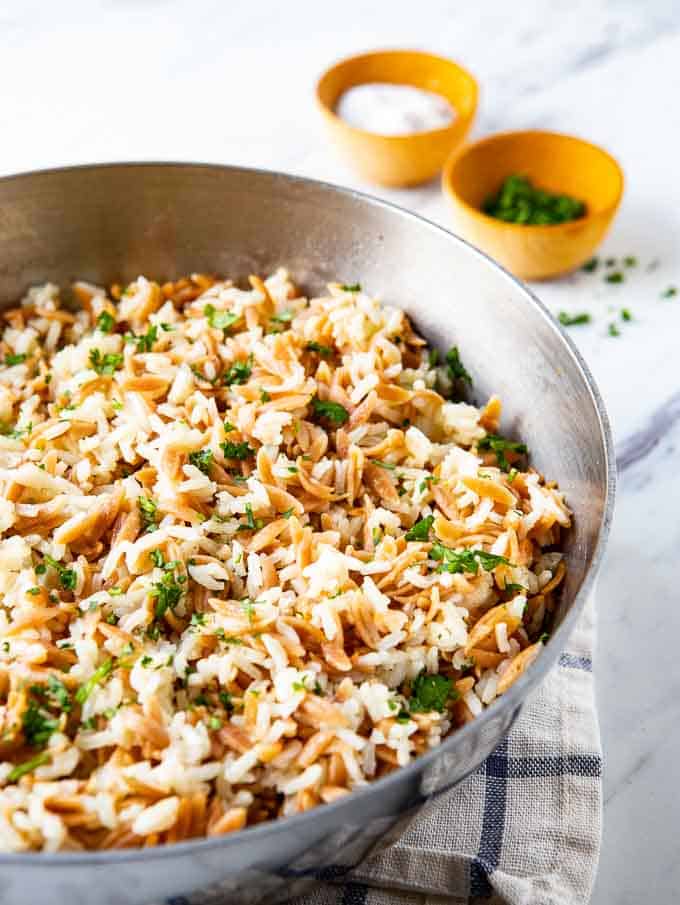 Easy Rice Pilaf
Next to Parmesan Risotto, Rice Pilaf is my favorite side dish! Growing up, this pilaf with orzo was frequently on the menu. Since my Mum wasn't a fan of packaged foods, she always made it from scratch!
Fluffy, nutty and comforting, this version doesn't take any more time than the boxed variety but tastes so much better! This easy rice pilaf is the"go with almost anything" side that I make again and again – comfort food at it's best!
Orzo Rice Pilaf FAQ's
Is Orzo pasta or rice?
Orzo is a rice shaped, short cut pasta. Because of its small size, it cooks quickly and is the perfect pasta component for this pilaf.
What is rice pilaf made of?
The basic recipe is made of rice, pasta (orzo or vermicelli), butter and chicken stock.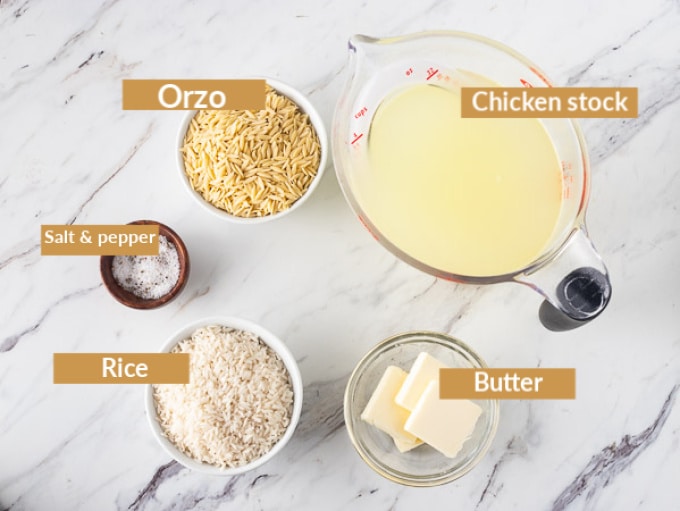 What do you eat with rice pilaf?
Just about anything and everything! You can pair it with dishes like Yogurt Marinated Chicken, Moroccan Chicken or these Lamb Skewers with Chermoula Sauce. Beef, pork, seafood, as well as vegetarian dishes all go really well with orzo rice pilaf!
Can you make homemade rice pilaf ahead of time?
Yes, you can! Let the pilaf cool and then cover and refrigerate. Then reheat it in a microwave safe bowl, or in a 350-degree oven in a covered casserole dish.
Homemade Rice Pilaf – Tips
Rice matters! I used extra long grain white rice. Basmati rice produces a wonderfully fluffy pilaf but it's not as easy to find and it's more expensive which is why I used basic white rice.
Stock – I used chicken stock, but you could use vegetable stock or even water in this recipe. Taste your stock before using since the salt content of stocks varies. If it's too salty, dilute it with some water
To rinse or not to rinse – rinsing the rice before adding it to the pilaf definitely helps with the fluffiness factor. You can rinse the rice in a bowl or put it in a fine mesh strainer and rinse under the faucet.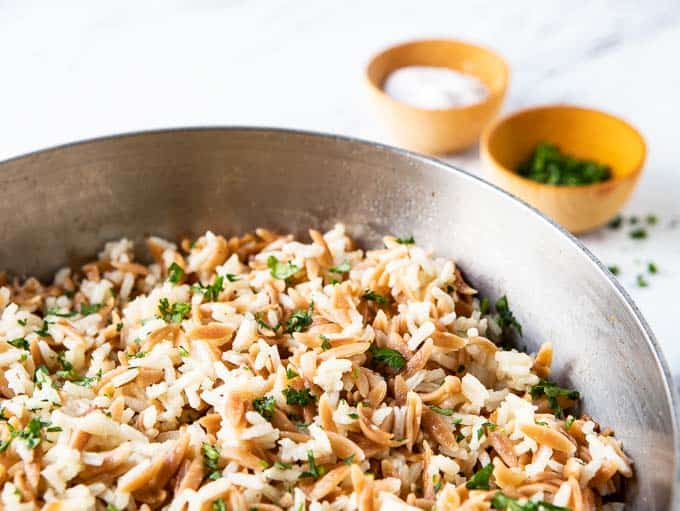 Rice Pilaf Variations:
As I said, this is a very basic recipe – which means you can change it up in a number of delicious ways! Here's some ideas to get you started:
Garlic and onion: Saute ¼ of a cup of minced onion and 2 to 3 garlic cloves with the orzo.
Parmesan: Stir in ½ cup freshly grated Parmesan before serving.
Lemon and Herb: Stir in the zest of 1 lemon and 3 tablespoons of chopped fresh herbs like parsley and thyme just before serving.
Vegetable: Saute ¼ cup each finely chopped carrot, celery, red or orange bell pepper and onion and/or leeks with the orzo.
Complete the meal by also making
I hope you enjoy this Easy Rice Pilaf with Orzo and I would love for you to give it a 5 Star rating! Cheers! Nancy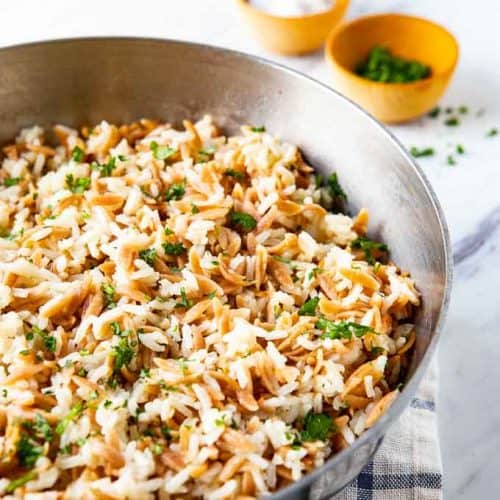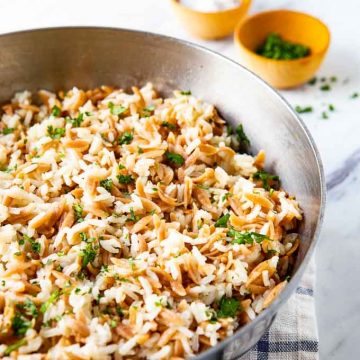 Ingredients
2

Tablespoons

unsalted butter

½

cup

orzo pasta

1

cup

extra long grain white rice

3

cups

chicken stock

salt and pepper to taste
Instructions
Rinse the rice in a bowl or in a colander under running water. Drain and set aside.

In a medium sized saucepan, melt the butter over medium heat.

Add the orzo and cook, stirring frequently until the orzo is golden brown.

Add the rinsed rice and stir for about 2 minutes, until the grains are coated with the butter.

Add the stock and stir. Bring to a boil.

Cover the saucepan and reduce the heat to a low simmer.

Simmer the rice pilaf for 15 minutes.

Remove the lid and check for doneness.

Season with salt and pepper.
Recipe Notes
For a vegetarian version, substitute olive oil for the butter and use vegetable stock.
The pilaf can be made several hours ahead of time. Cool, lightly cover and refrigerate.
Reheat the pilaf in a microwave or at 350 degrees in a covered dish in the oven. 
Freeze: Yes, you can freeze pilaf! Place in freezer safe dish. Defrost in the refrigerator and then re heat as outlined above. 
Nutrition
Calories:
236
kcal
|
Carbohydrates:
38
g
|
Protein:
7
g
|
Fat:
6
g
|
Saturated Fat:
3
g
|
Cholesterol:
14
mg
|
Sodium:
174
mg
|
Potassium:
189
mg
|
Fiber:
1
g
|
Sugar:
2
g
|
Vitamin A:
115
IU
|
Vitamin C:
0.2
mg
|
Calcium:
15
mg
|
Iron:
0.7
mg