Last updated on December 2nd, 2018 at 06:43 pm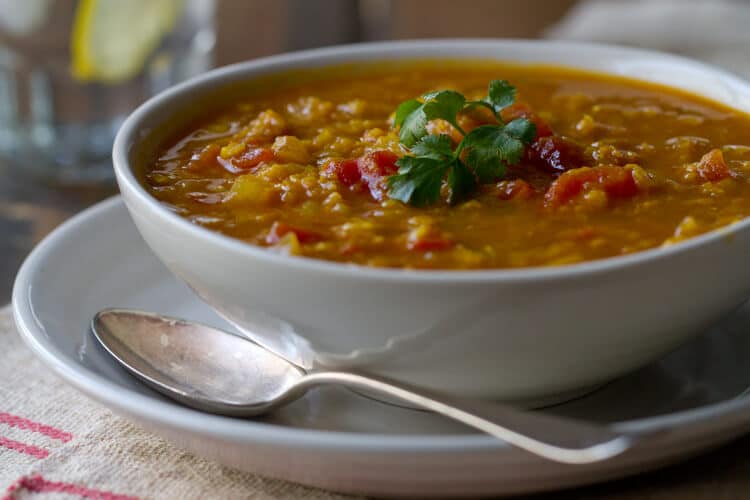 Indian Spiced Red Lentil Soup is short on ingredients but long on flavor. Soothing and simple to make are just two of the reasons to love this warming winter soup.
I love winter. To me there is nothing better than curling up by a fire with a good book and a steaming bowl of really good soup. This winter, in keeping with my goal of eating more vegetarian dishes, I've naturally included a lot more soups in my rotation. Soups like this Indian Spiced Red Lentil Soup and my White Bean Chowder are easy enough for a weeknight and are flavorful enough to keep my tastebuds interested.
And I pretty much always have enough items on hand to make a batch of soup.
Which comes in handy when 5 o'clock rolls around and I realize I haven't given a thought to dinner.
Reason #1 why I love this Indian Lentil Soup – I can make it in 30 minutes but tastes like it took much longer.
Don't you love dishes like that?
So, what's the "secret" to the deep flavor of this soup? Two things really. One, cooking the lentils by themselves in vegetable stock instead of cooking them along with all the other ingredients which is what I typically do.
Believe it or not, this makes a world of difference to the flavor of  the soup. Since  this soup uses red lentils, the cooking time is short and I can have everything else ready to go when the lentils are done.
Second "secret"? Cooking the spices, ginger, garlic and onions together to really develop those flavors before adding any liquid.
The result? A rich, warmly spiced, hearty vegetarian lentil soup.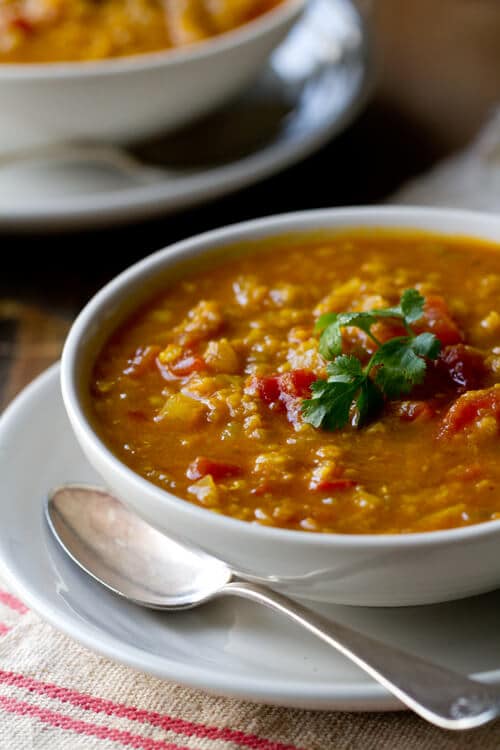 Now all you need is a fire and a good book!
If you love soup, you may enjoy: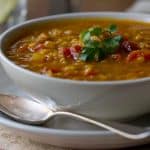 Print Recipe
Indian Spiced Red Lentil Soup
Using an easy technique, this Indian Spiced Red Lentil Soup boasts long simmered flavor in under 30 minutes. Perfect for vegetarians and vegans alike, it's a hearty and warming soup.
Ingredients
1

cup

red lentils

6

cups

vegetable stock

divided

2

Tablespoons

canola oil

2

Tablespoons

ginger and garlic paste**

1

small onion

cut into 1/4 inch dice

1

fresh serrano chile

seeds removed and minced

1

teaspoon

ground turmeric

1 1/2

teaspoons

garam masala

1/2

teaspoon

ground cumin

1/2

teaspoon

ground coriander

1

teaspoon

salt

one 14.5 oz. can diced tomatoes
Instructions
Rinse the lentils several times until the water is clear. Transfer the lentils to a small saucepan.

Add 3 cups of vegetable stock. Over medium heat, bring the lentils to a simmer and cook for 15 minutes until the lentils are tender the stock has been absorbed.

Set aside.

In a large soup pot, heat the 2 Tablespoons canola oil over medium high heat. Add the ginger and garlic paste and cook for 1 minute. Add the onion and saute for 2 - 3 minutes, being careful not to brown the onion. Add the chile and spices and cook for another two the three minutes until the spices are fragrant.

Reduce the heat to medium low, cover the pan and cook for 10 - 15 minutes, stirring occasionally until the onions are tender.

Add the canned tomatoes, remaining 3 cups vegetable stock and lentils. Stir to combine.

Increase the heat to medium high and bring the soup to a simmer. Cover the pot and simmer for 10 minutes to allow all the flavors to blend.

** for the ginger garlic paste, you can purchase ginger garlic paste in indian markets or buy individual containers of ginger paste and garlic paste in your local supermarket. But the easiest thing to do is to add 1/4 cup peeled, chopped ginger and 1/4 cup peeled garlic cloves to a small food processor and process until a paste is formed. Paste will keep about 4 -5 days in the refrigerator.
Nutrition
Calories:
259
kcal
|
Carbohydrates:
35
g
|
Protein:
12
g
|
Fat:
7
g
|
Saturated Fat:
0
g
|
Cholesterol:
0
mg
|
Sodium:
1996
mg
|
Potassium:
518
mg
|
Fiber:
14
g
|
Sugar:
5
g
|
Vitamin A:
17.5
%
|
Vitamin C:
24.5
%
|
Calcium:
3.2
%
|
Iron:
21.9
%