Indian Spiced Red Lentil Soup or Masoor Dal as it's known in India, is short on ingredients but long on flavor. Soothing and simple to make are just two of the reasons to love this warming soup recipe.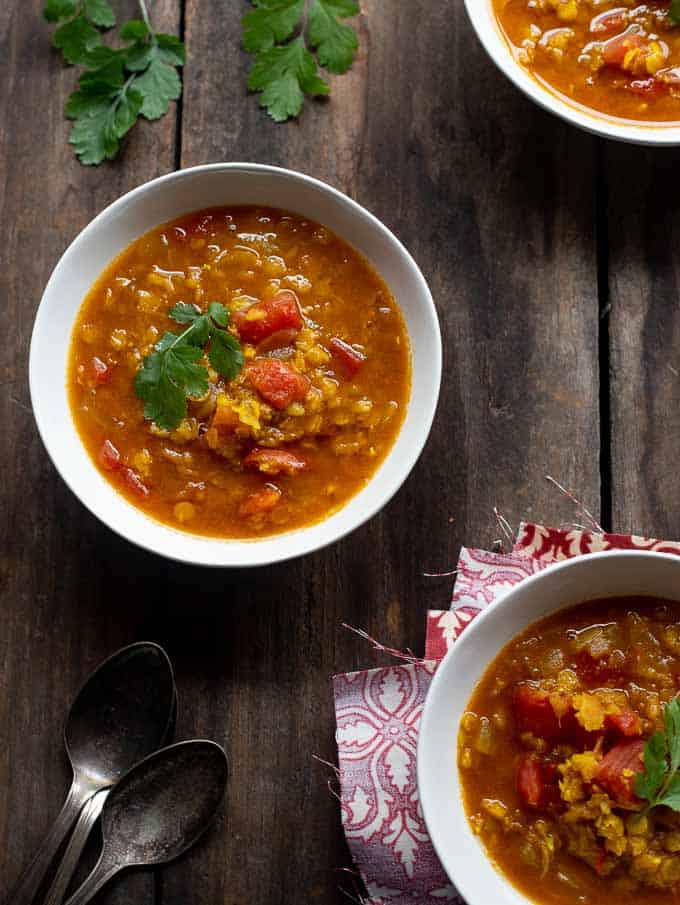 I love winter. To me, there is nothing better than curling up by a fire with a good book and a steaming bowl of Cock -a Leekie soup, Thai Hot and Sour Soup. or this classic red lentil soup.
Lentils are a staple in Indian cuisine and for good reason. Nutritious and quick cooking, they are a blank slate that you can flavor with an almost unlimited variety of herbs and spices!
Ingredients and equipment needed:
red lentils
vegetable stock
ginger and garlic paste
onions
canned tomatoes
serrano or jalapeno chile
dried spices - turmeric, cumin, garam masala, and coriander.
Equipment - knife,f cutting board, small saucepan, large dutch oven or pasta pot.
Red Lentils
What are red lentils?
Red lentils are part of the legume family (Lens culinaris or Lens esculenta) The seeds are small, round and flat shaped and grow on annual plants that grow to about 16 inches in height.
Do you have to soak red lentils?
One of the best things about red lentils is that you don't need to soak them and that they cook quickly.
Is red lentil soup good for you?
This spicy lentil soup is very good for you! It's low in fat and calories and high in fiber as well as being a good source of protein when served with flatbreads or rice.
How to make Red Lentil Soup:
Rinse the lentils - rinsing removes any dirt and debris.
Cook the lentils- cooking the lentils in the stock allows them to really absorb the flavor of the stock.
Cook the garlic and ginger paste - cooking the ginger and garlic paste is a common Indian technique and really allows those flavors to develop.
Cook the onion, chile and spices - cooking the spices in oil is also another common Indian cooking technique that really helps draw out the flavor and aroma of the spices.
Simmer the soup, - add the rest of the ingredients, including the lentils and simmer for 10 - 15 minutes.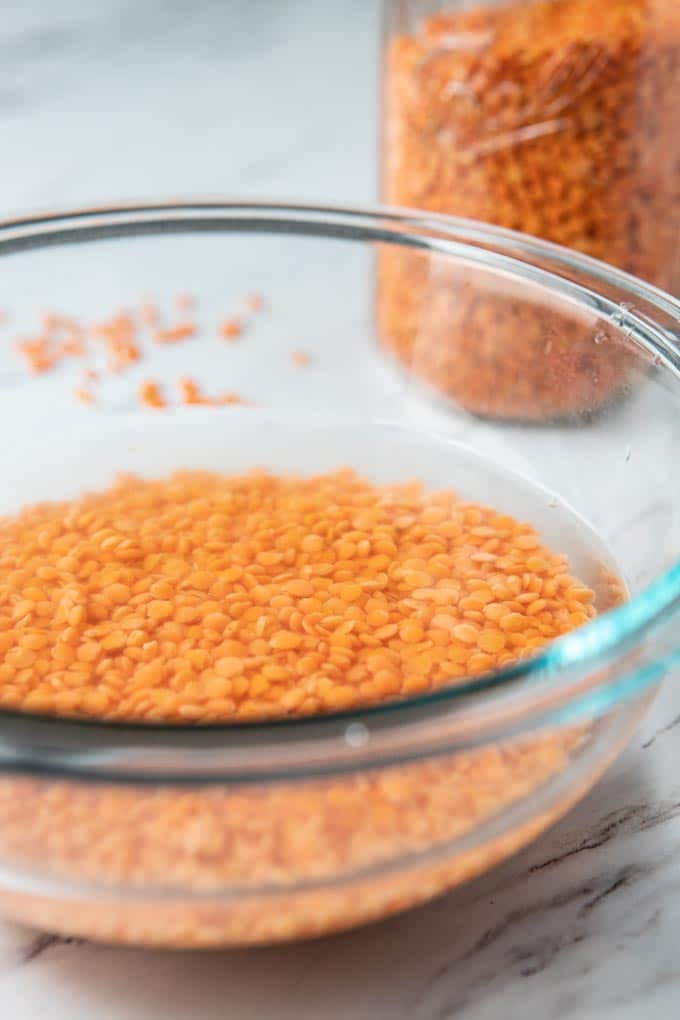 Tips for making Red Lentil Soup:
To get that "long simmered" flavor in a fraction of the time, cook the lentils separately in vegetable stock! The lentils absorb the flavors of the stock without being overcooked!
You can make this vegetarian lentil soup ahead of time because it re heats beautifully.
If you're not a fan of spicy foods, start with ¼ of a chile. After sauteing the onions, taste the mixture and if you'd like more spice, add more chile!
Definitely, don't skip sauteing the onions and spices and letting them cook on their own. This helps give this Indian lentil soup it's long-simmered flavor!
Now all you need is a fire and a good book!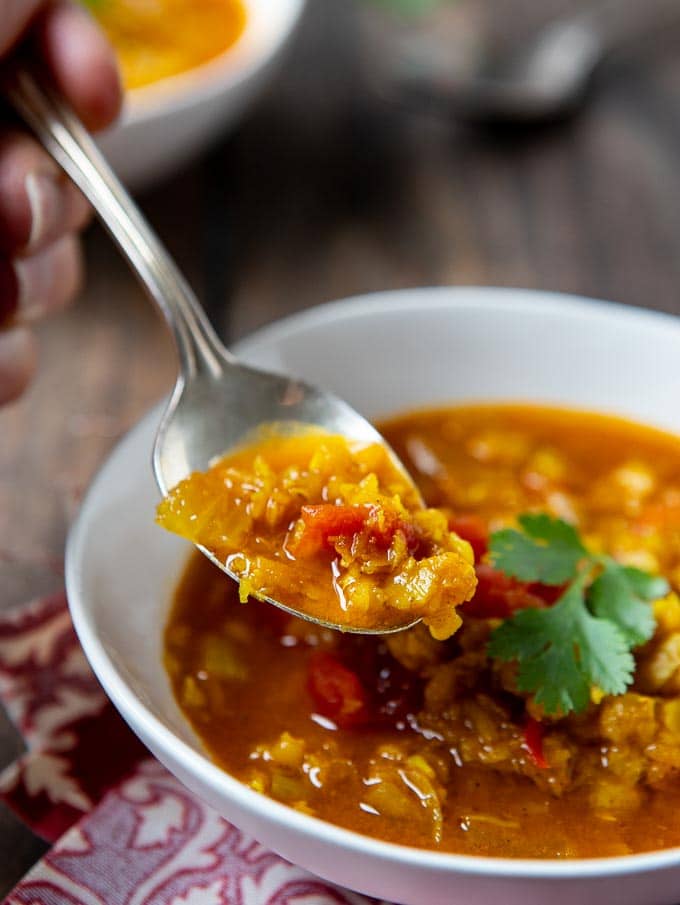 Other Soup Recipes you may like:
📖Recipe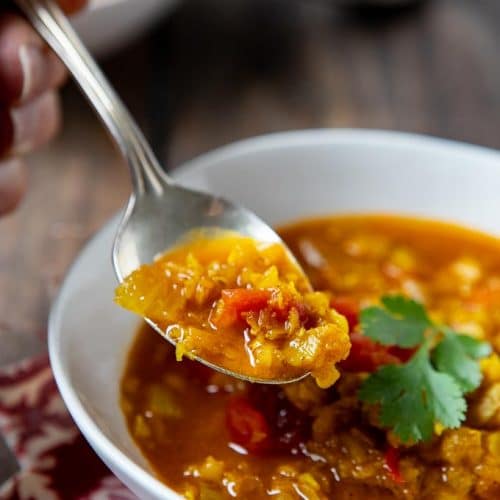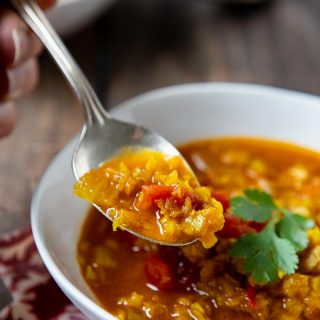 Indian Spiced Red Lentil Soup
Using an easy technique, this Indian Spiced Red Lentil Soup boasts long simmered flavor in under 30 minutes. Perfect for vegetarians and vegans alike, it's a hearty and warming soup.
Print
Pin
Rate
Add to Collection
Go to Collections
Ingredients
1

cup

red lentils

6

cups

vegetable stock

divided

2

Tablespoons

canola oil

2

Tablespoons

ginger and garlic paste**

1

small onion

cut into ¼ inch dice

1

fresh serrano chile

seeds removed and minced

1

teaspoon

ground turmeric

1 ½

teaspoons

garam masala

½

teaspoon

ground cumin

½

teaspoon

ground coriander

1

teaspoon

salt

one 14.5 oz. can diced tomatoes
Instructions
Rinse the lentils several times until the water is clear. Transfer the lentils to a small saucepan.

Add 3 cups of vegetable stock. Over medium heat, bring the lentils to a simmer and cook for 15 minutes until the lentils are tender the stock has been absorbed.

Set aside.

In a large soup pot, heat the 2 Tablespoons canola oil over medium high heat. Add the ginger and garlic paste and cook for 1 minute. Add the onion and saute for 2 - 3 minutes, being careful not to brown the onion. Add the chile and spices and cook for another two the three minutes until the spices are fragrant.

Reduce the heat to medium low, cover the pan and cook for 10 - 15 minutes, stirring occasionally until the onions are tender.

Add the canned tomatoes, remaining 3 cups vegetable stock and lentils. Stir to combine.

Increase the heat to medium high and bring the soup to a simmer. Cover the pot and simmer for 10 minutes to allow all the flavors to blend.

** for the ginger garlic paste, you can purchase ginger garlic paste in indian markets or buy individual containers of ginger paste and garlic paste in your local supermarket. But the easiest thing to do is to add ¼ cup peeled, chopped ginger and ¼ cup peeled garlic cloves to a small food processor and process until a paste is formed. Paste will keep about 4 -5 days in the refrigerator.
Recipe Notes
Notes:
The keys to making this soup are to cook the lentils separately in the stock! Yes, I know it's an extra step, but the difference is worth it. The lentils aren't over cooked!!! 
This soup is on the thinner side. If you like a thicker, chunkier soup, reduce the added vegetable stock by 1 to 1 ½ cups. 
Since chiles differ in how hot they are, I usually start with about ½ of a chile. After sauteing the onions and spices (with the chile!) I give it a little taste. If you think it needs more chile, add a bit more. Definitely easier to add more than to try and make it milder! 
This Indian lentil soup makes a terrific dinner or lunch. Serve with a side of rice or naan bread and a salad or vegetable side dish. 
You can definitely freeze this soup - it reheats beautifully!
Nutrition
Calories:
259
kcal
|
Carbohydrates:
35
g
|
Protein:
12
g
|
Fat:
7
g
|
Saturated Fat:
0
g
|
Cholesterol:
0
mg
|
Sodium:
1996
mg
|
Potassium:
518
mg
|
Fiber:
14
g
|
Sugar:
5
g
|
Vitamin A:
875
IU
|
Vitamin C:
20.2
mg
|
Calcium:
32
mg
|
Iron:
3.9
mg