This Pork Ragu sauce is something you should have at least once in your lifetime. Tender, melt-in-your-mouth braised pork shoulder in a luscious tomato sauce ladled over polenta or pasta! The ultimate "comfort food meal" that will warm you up on even the coldest night!
This Italian ragu is the stuff dreams are made of and couldn't be easier to make!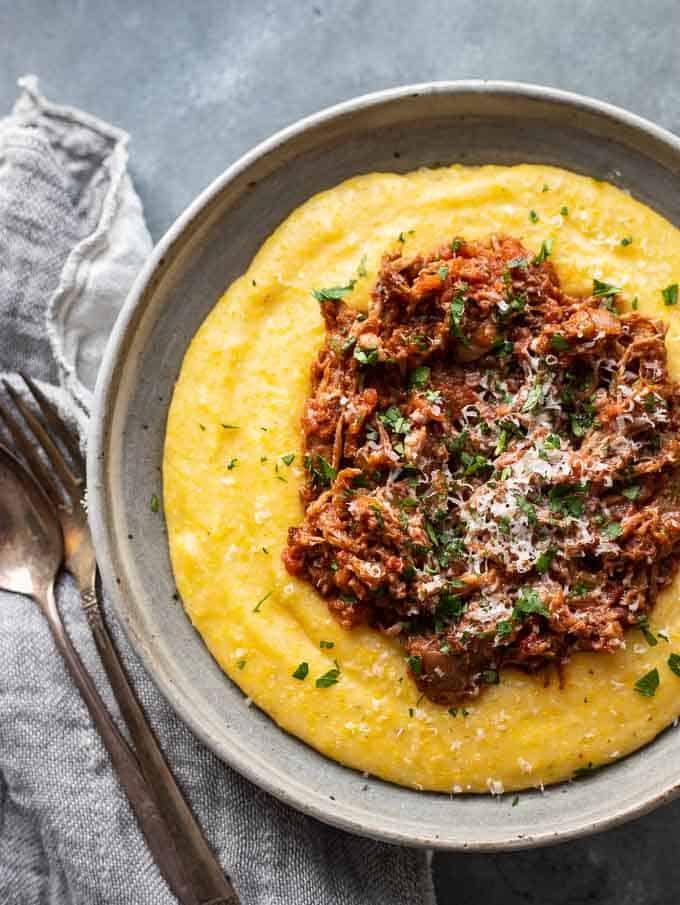 First Published: November 2015 Last Updated: September 2019
When it comes to comfort food, it's Italian recipes that I crave. Between my Mom's Meat sauce, and this Orecchiette Pasta nothing beats a bowl of tender pasta noodles lashed with a fabulous sauce, right?
But not all pasta sauces are created equal, as I've learned. I tried this dish at a local restaurant and.. it was bland and oily and dull!! I was dumbfounded – and determined to make a ragu sauce that was everything it should be – luscious and richly flavorful!
This isn't a hard sauce to make at all and doesn't require hard to find or fancy ingredients!
What you need to make this Pork Ragu Recipe
Pork Shoulder – pork butt also works well in this recipe.
Onions
Canned tomatoes – Crushed tomatoes are what you want here. If you only have whole tomatoes, put them in the blender and roughly puree them. If you have access to an Italian Market or are an Amazon shopper, it's definitely worth buying Italian canned tomatoes. American brands can't come close! I buy mine at a small Italian market nearby and they are actually cheaper than the ones in my local grocery store!
Garlic
Italian Seasoning – or use a combination of dried rosemary, oregano, thyme, and sage
Dry red wine – ideally, use a dry Italian red such as a Sangiovese.
Tomato Paste – Italian tomato pastes have a better flavor IMO, but a high quality store brand works as well!
Olive Oil
Salt and Pepper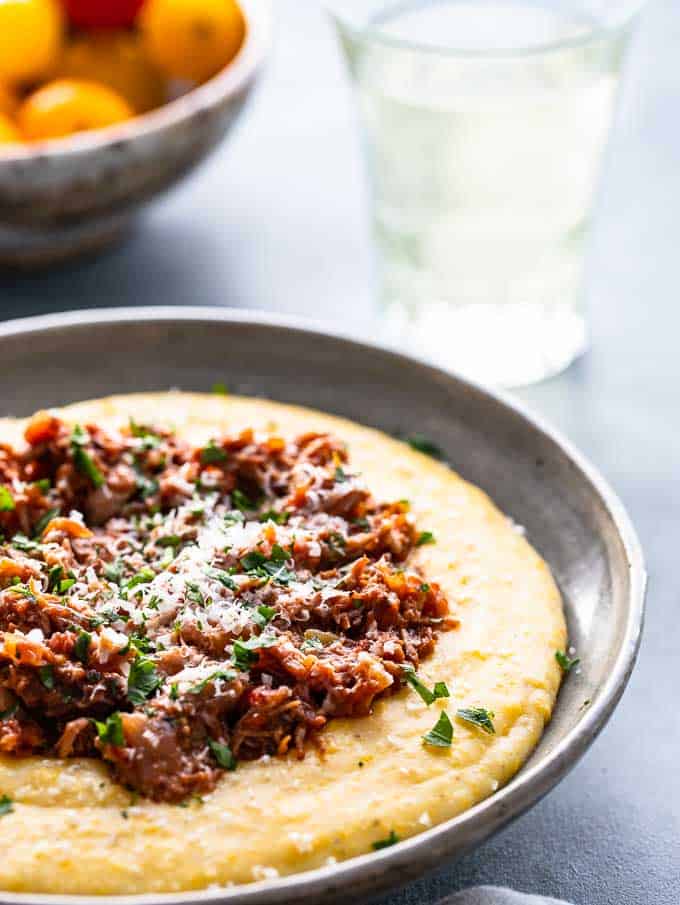 What is Ragu?
Traditionally, a thick and chunky sauce typically made from meat (generally beef and/or pork) in a tomato-based sauce. Like all Italian dishes, recipes vary from family to family!
What's the difference between a Ragu sauce and a Bolognese sauce?
Bolognese sauce is a ragu that is named for the region it came from – Bologna. A Bolognese sauce can be made from a wide variety of meats including beef, pork, venison, and chicken. Typically, bolognese sauce is made with a small amount of tomato and uses white versus red wine, and is finished with cream. Marcella Hazan's recipe is the most well known and definitely worth making!
Is Ragu Italian or French?
Ragu is thought to be based on the French ragout, which was introduced to Italy by Napoleon. However, there is evidence that this sauce predates Napoleon's arrival by hundreds of years!
How to Make Braised Pork Ragu
Sear the pork: Use a large, heavy bottomed pot or a dutch oven. The key to getting a good sear on any meat is to blot the meat dry with a paper towel and to add the meat when the oil is hot!
Saute the vegetables: After searing the pork, add the vegetables and cook until they are tender. Although many recipes call for carrots I think the sauce is sweet enough without them.
Add the tomato paste: You need to cook the tomato paste for a good 3 – 4 minutes. Cooking caramelizes the sugars in the tomato paste and results in a deeper flavored sauce.
Add the wine: Once you've add the wine and cook it down, use a large wooden or metal spoon to stir the pot., Make sure to scrape the bottom and release the fond – that lovely dark brown residue on the bottom that contains so much flavor!
Add the pork and tomatoes and stir: If the sauce doesn't cover the pork, spoon some of the sauce on top. Place a lid on the dutch oven and bake.
Shred the meat: When the meat is done, it should almost fall off the bone and be easy to pull apart. If it doesn't, return it to the pot and bake for another 15 – 30 minutes.
Degrease the sauce: There are two ways to degrease the sauce. If making the sauce a day ahead, refrigerate the meat and sauce. The fat will rise to the top and solidify and you can easily scrape it off. If you can't wait that long, place a spoon parallel to the pot bottom on top of the sauce. Press down lightly and the fat should pool into the spoon. Repeat as needed.
Combine the meat and sauce: Combine the meat and sauce and reheat, stirring occasionally and serve.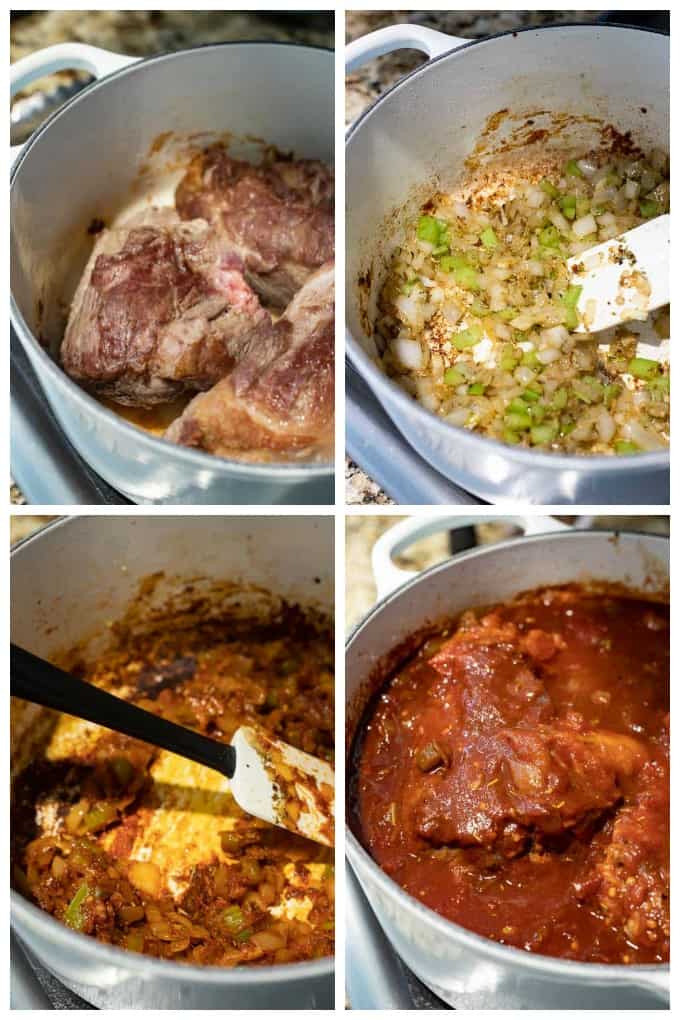 This photo has been calling my name since I saw you post it on facebook, so I finally made it tonight. Only change was that I made in the instant pot because I was late getting started on dinner. WOW! This did not disappoint! So delicious and incredible with polenta. What a great way to use a pork butt and not barbecue it. Adding this to our dinner rotation. Thank you, Nancy!
What to serve with this Italian Ragu!
Traditionally, ragu is served over pasta! Wide noodles like pappardelle are a great choice for holding the sauce. But my favorite thing to serve with this ragu is polenta!
If you're watching your carbs, you could also serve this over zoodles!
If you love pork, don't miss these Pork Recipes!
If you enjoyed this recipe, I would LOVE for you to give it a 5-star rating! Cheers! Nancy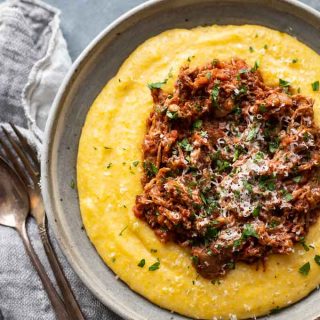 Ingredients
3 /12

pounds

bone in pork shoulder or pork butt

2

Tablespoons

olive oil

1

brown onion

cut into 1/2 inch dice

6

cloves

garlic

minced

1/2

cup

celery

cut into 1/4 inch dice

1 1/2

teaspoons

salt

1

teaspoon

freshly ground black pepper

1

teaspoon

dried rosemary

1

teaspoon

dried oregano

1

teaspoon

dried thyme

1/2

teaspoon

ground sage

1/4

cup

tomato paste

1

28 oz. can

whole, peeled tomatoes in juice

san marzano tomatoes are delicious in this

1

cup

dry red wine

cabernet sauvignon or a merlot work really well
Instructions
To make the Pork Ragu:
Preheat the oven to 325 degrees.

Cut the pork shoulder or butt into 3 or 4 pieces that will fit into your pot. Bot the meat dry with a paper towel.

Heat a large (4 qt) heavy bottom lidded dutch oven or pot over medium-high heat.

Add the olive oil and swirl to coat the pan. Add the meat.

Let the meat cook for about 5 minutes or until the bottom is nicely browned and easily lifts off the bottom of the pan. If the meat sticks, it's not done searing yet!

Flip the meat over and sear the other side.

Remove the meat from the pan and add the onions, garlic and celery.

Cook, stirring often for another 4 – 5 minutes or until the onion is translucent and the vegetables are tender.

Add the salt, pepper, herbs and stir for another minute.

Add the tomato paste. Stirring constantly for 3 – 4 minutes until the tomato paste is a dark reddish brown. Tomato paste can burn, so keep stirring!

Add the wine and stir, scraping up the bottom of the pot with a spatula. Cook until the wine is reduced by half, about 5 minutes.

Add the tomatoes and their juices to the pot and stir. Add the meat. If the sauce doesn't cover the meat (it probably won't) spread some of the sauce on top of the meat.

Cover the pan and place in the oven. Bake for approximately 2 hours or until the pork is very tender.

Remove the pan from the oven. Remove the pork and, using two forks, shred the pork meat.

Degrease the sauce by spooning the fat off the top. NOTE: If you refrigerate the sauce overnight, the fat will rise to the top and harden making it very easy to remove.

Add the shredded pork back to the degreased sauce and stir to combine. Serve over the parmesan polenta, passing additional parmesan if desired.
Recipe Notes
NOTES:
SEARING: Blotting the meat dry with a paper towel helps the meat develop a nice brown crust so don't skip this step! 
BROWNING:   browning the tomato paste (known as pince′ in French) is a culinary technique used primarily with tomato paste. Allowing the paste to cook (and caramelizing the sugars) gives a much richer and deeper flavor to the finished dish. This is definitely another step not to skip!
WINE: For the red wine, choose a drier red – either a sangiovese, cabernet sauvignon or a merlot works well or a blend that is on the drier side. Definitely, don't use an expensive bottle but do use a wine you would enjoy drinking!
SERVING: Serve this ragu over pappardelle pasta or polenta! 
STORAGE: The ragu actually tastes better the day after it's made – really allowing the flavors to blend. Making the dish a day ahead also makes the degreasing much, much easier! 
FREEZING: The ragu freezes unbelievably well and is one of those dishes that is worth its weight in gold in your freezer. You can defrost it in the microwave or simply pop it into the fridge a day before you plan to serve it. Reheat the ragu in a pot on the stove with a lid. If the ragu seems a little dry, you can add a little water. 
Nutrition
Calories:
304
kcal
|
Carbohydrates:
7
g
|
Protein:
28
g
|
Fat:
15
g
|
Saturated Fat:
4
g
|
Cholesterol:
93
mg
|
Sodium:
781
mg
|
Potassium:
643
mg
|
Fiber:
1
g
|
Sugar:
2
g
|
Vitamin A:
205
IU
|
Vitamin C:
6
mg
|
Calcium:
45
mg
|
Iron:
2.5
mg