Rich, indulgent and easy, Potatoes Hashed in Cream casserole is a holiday must recipe! Make one day ahead and then straight into the oven!!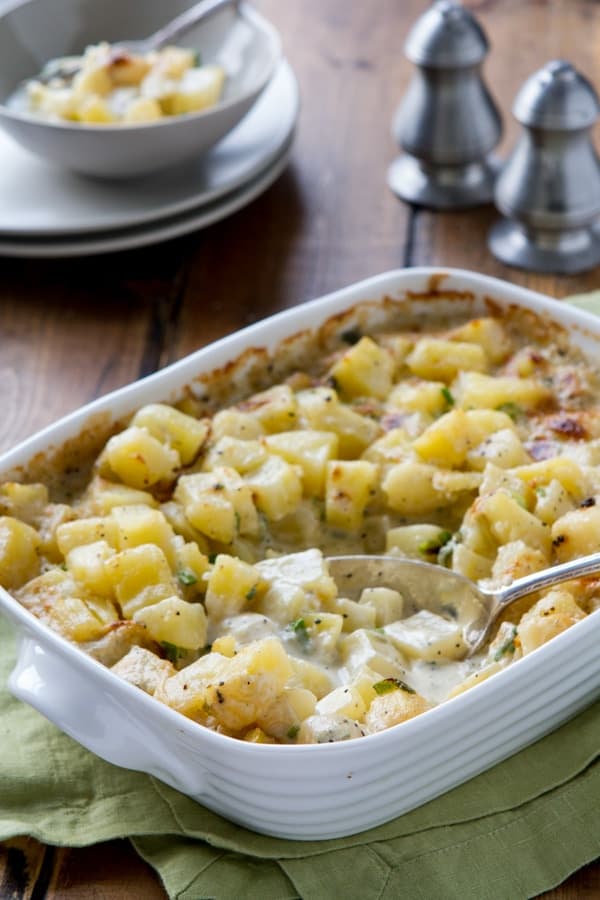 So, what are your "must have" dishes for Thanksgiving? That question has been on my mind a lot this past week. In case you haven't noticed the last few weeks just about every food-related publication and blog has been obsessed devoted to Thanksgiving dishes.
The stories and articles are as diverse as the dishes. Some are about the classics while others are about a new cooking technique or a new ingredient. The stories I 've enjoyed the most though were those that were about dishes that what I call the "must haves" . Those dishes that, if they aren't there, well, it just isn't Thanksgiving. Some of the stories I read were funny and some were bittersweet, but all had one thing in common. Each of the dishes was a "must have" because of what that dish represented to the person who made it. More than taste, more than flavor, these were "must have" dishes because of their ability to transcend time and place. For those that prepare them, these dishes conjure tactile memories of people and places from their past. In an ever-changing world, they are a constant.
For me, the "must have" dish is this – "Potatoes Hashed in Cream".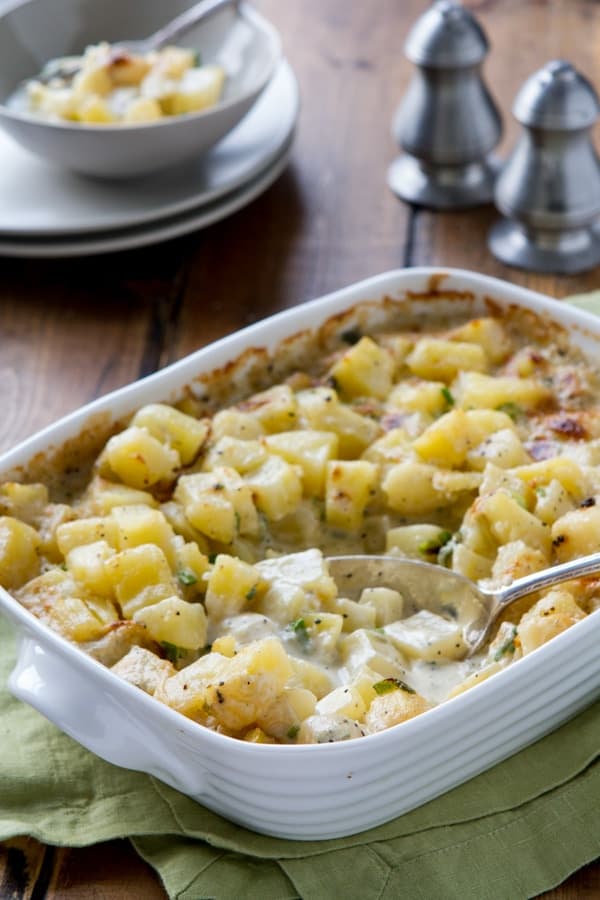 This is an old, old dish and has been on my Thanksgiving table for as long as I can remember. My mother only made these at the holidays – although they aren't complicated to make, they are rich and to my mom's way of thinking, appropriate only for the holidays. They can be made ahead of time, which I am sure is one of the reasons my mom made them. She never liked having too many last minute things to do when she was having people for dinner – a trait I evidently inherited, as many of the recipes on this blog prove. These potatoes are my "must have" dish not only because they delicious, , but because they truly are evocative of who my mother was. It has been 17 years since my mother has been at my Thanksgiving table, and even though she can't be at my table, her potatoes will be.
How to Make Potatoes Hashed in Cream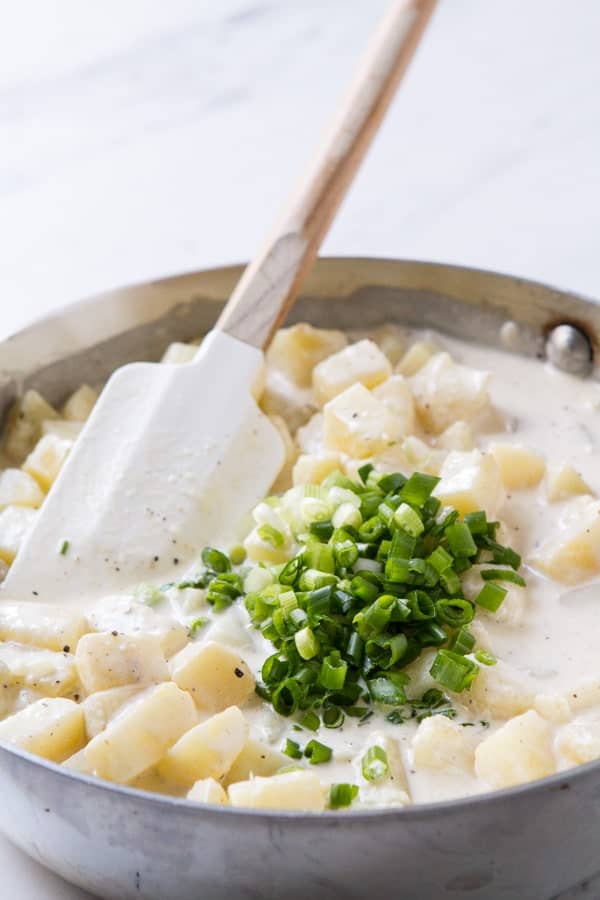 After boiling, cut the potatoes into cubes about ¾ inch big.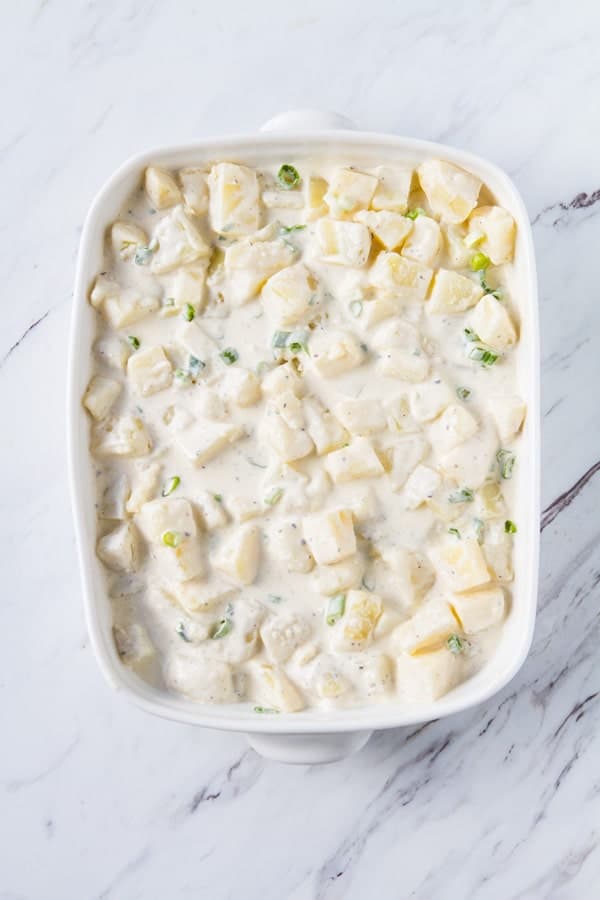 You should have about this ratio of sauce to potatoes, if you end up with more potatoes, that's ok! This recipe is very forgiving. Looking for more Thanksgiving recipes? Check out my entire Thankgiving Collection!
Looking for some other Potato side dish recipes? You might enjoy..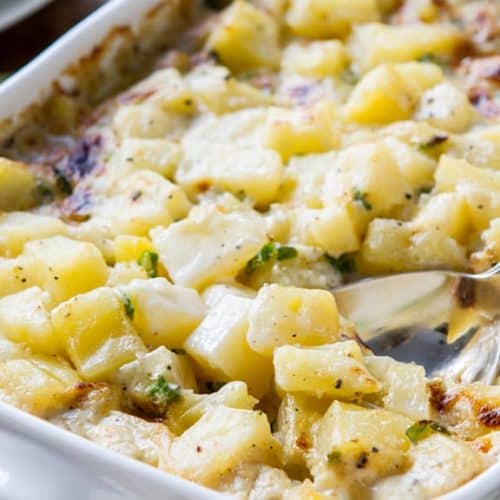 Ingredients
4

Tbsp.

butter

2

tsp.

flour

2

cups

heavy cream

2 ½

tsp.

salt

2

tsp.

freshly ground pepper

½

tsp.

freshly grated nutmeg

¼

cup

finely chopped green onions

10

white rose potatoes
Instructions
Pre heat the oven to 350 degrees. Spray a 9 x 13 inch casserole dish with cooking spray and set aside.

In a large pot, boil the potatoes in their skins until fork tender. Drain potatoes and rinse in cold water.

When cool enough to handle, peel potatoes and dice into ½ inch size pieces. Set aside.

In the same pot, heat  the 4 Tbsp. butter over medium heat.

Add the flour and stir with a whisk. Slowly pour in the cream, whisking to dissolve the flour and butter mixture into the cream.

Add the salt, nutmeg and pepper. Cook over medium heat until the mixture is slightly thickened - about 3 - 5 minutes.

Add the potatoes and stir gently to coat with the cream mixture. Stir in the green onions.

Pour potatoes into the prepared casserole dish.

Bake uncovered at 350 degrees for 20 - 25 minutes or until the potatoes are lightly browned on the top and heated through.
Recipe Notes
Why use White Rose potatoes? Because you need a firm, waxy style potato. If you can't find White Rose, you could use Yukon Gold's - jus don't use Russets!
Freshly ground pepper is crucial to this recipe - already ground doesn't have the same fragrance or potency. 
The potatoes can be completely assembled 1 day before cooking and refrigerated. 
Nutrition
Calories:
522
kcal
|
Carbohydrates:
40
g
|
Protein:
9
g
|
Fat:
37
g
|
Saturated Fat:
23
g
|
Cholesterol:
129
mg
|
Sodium:
925
mg
|
Potassium:
1263
mg
|
Fiber:
7
g
|
Sugar:
0
g
|
Vitamin A:
1465
IU
|
Vitamin C:
33.6
mg
|
Calcium:
149
mg
|
Iron:
9.5
mg