Last updated on March 26th, 2018 at 01:55 pm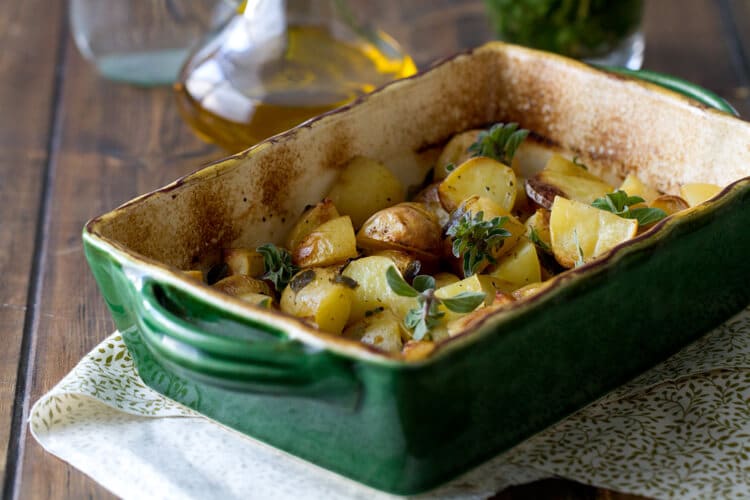 Lemon and Oregano Potatoes…. whaaaat? You  might be wondering why on earth I am posting something as basic as these potatoes.  After all, these are pretty  standard fare, and just about everyone has their own version,  so why?  Well, these aren't like any roasted potatoes I've had  before…. not by a long shot. I am posting them because these are made using a technique I hadn't tried before ( how is that possible??) and I was so happy with the results (and saw LOTS of applications for the technique) that I decided I simply had to post them.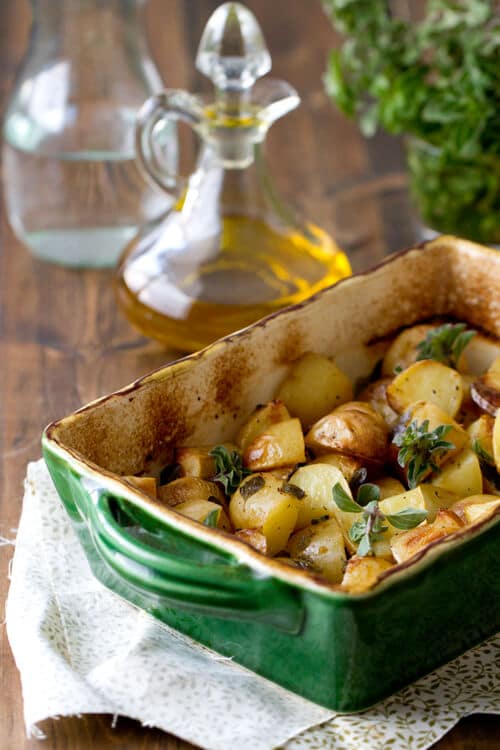 And I did promise you a potato recipe in my post on Grape Olive Oil Cake…..
So, there you have it… a simple explanation as to why there are here at The Table….
Lemon and Oregano Potatoes – Technique:
And  this new "technique"? Well, the other day I was doing a little research for the class I am teaching and was looking through some Greek recipes and came across a recipe for Patates Psites or Lemon Potatoes. What intrigued me was the method in which the potatoes were cooked – they are roasted while partially covered by a flavored liquid – in this case water, lemon juice, olive oil  and oregano. As the potatoes roast, they absorb the liquid and crisp up as the liquid evaporates. Genius!! So, of course I had to try them.. and they were fabulous!!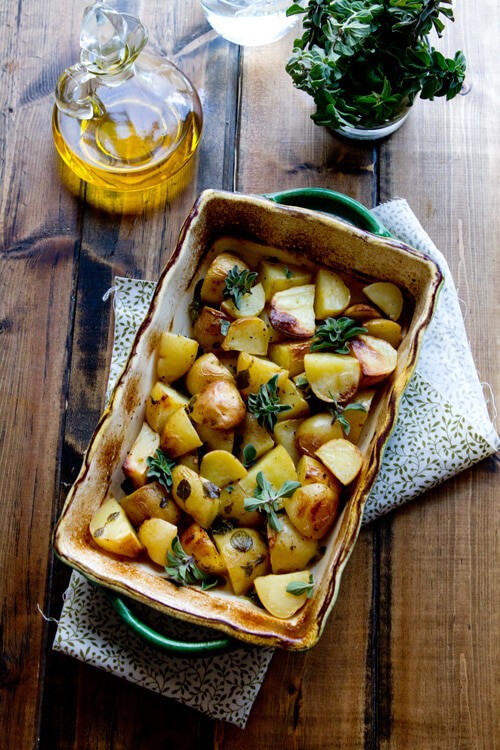 These potatoes are perfect with just about anything that comes off the grill – fish, chicken, beef and of course, they would be terrific with this Grilled Prosciutto Wrapped Pork Tenderloin with Nectarine Chutney. But here is the best part – although you all know that I am obsessed with all things citrus, I realize not everybody is…and these potatoes would be fabulous if you substituted a good chicken or vegetable stock for the lemon juice and water… or just water and some good rosemary infused olive oil… as you can see, the possibilities are truly endless. As for potatoes, that's an easy one! Melissa's Baby Dutch Yellow Potatoes are ideal for this!!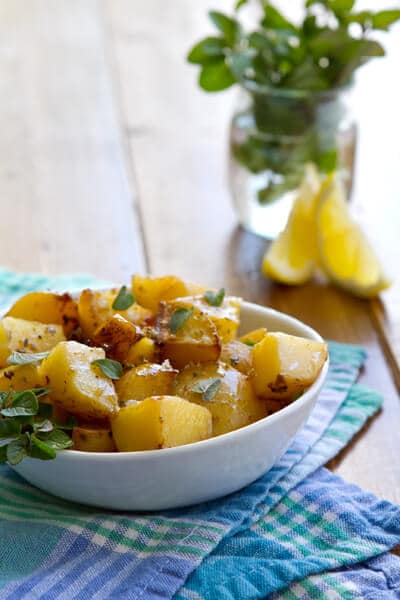 If you try any of these variations I'd love to hear what you think!!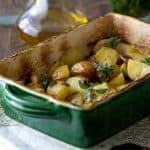 Lemon and Oregano Potatoes
Ingredients
2

lbs.

russet or yukon gold potatoes

cut into 1 1/2 inch size pieces

3

Tablespoons

extra virgin olive oil

1

Tablespoon

dried oregano or 2 Tablespoons fresh oregano

juice and zest of one lemon

1

teaspoon

salt

1/2

teaspoon

freshly ground pepper

water
Instructions
Pre heat the oven to 400 degrees

Spray the bottom and sides of a 7 x 9 casserole dish with cooking spray.

In a medium bowl, combine the potatoes, olive oil, oregano, lemon juice/zest, salt and pepper.

Toss to combine.

Pour into the greased casserole dish.

Pour 1/2 cup of water over the potatoes.

Bake in the oven, uncovered for 40 minutes until the potatoes are browned and the liquid has been absorbed.