Aloo Tikki, aka Indian Potato Patties, is extremely addicting, and one of my favorite Indian potato recipes! Creamy, with just hint-of-spice mashed potatoes surrounded with a golden, crunchy exterior is enough to make my heart go pitter-patter.
Add a flavor bomb's worth of toppings that combine sweet, sour and a little spicy, and… game over. Truly one of the BEST potato concoctions ever!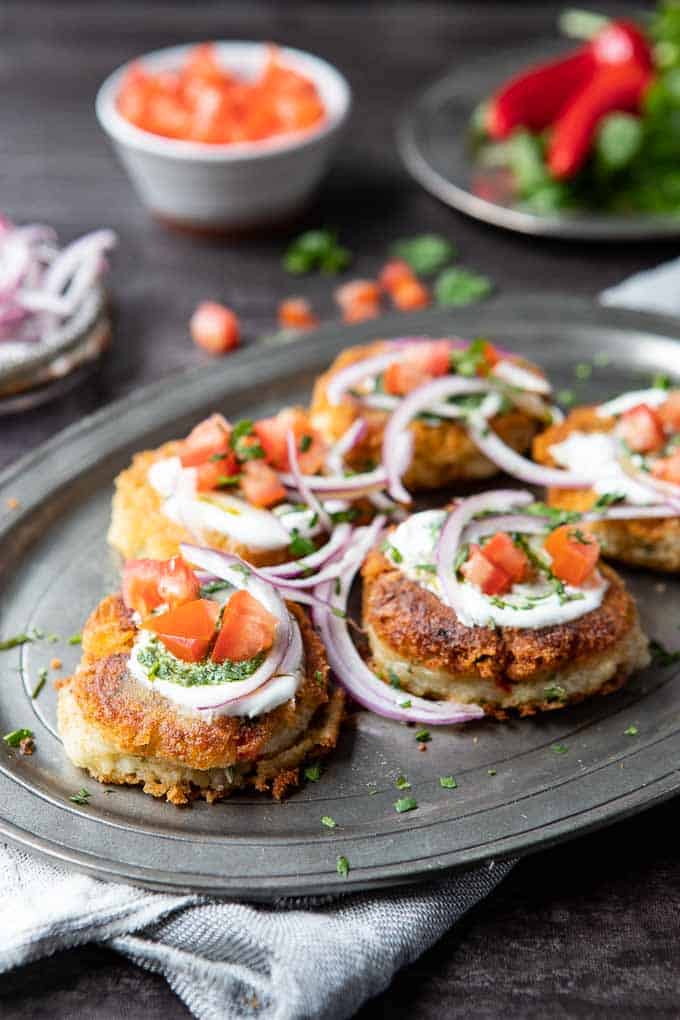 From One Pan Coconut Chicken Curry to Chicken Korma Indian dishes never fail to fascinate my tastebuds. There is something about the combination of sweet, salty, crunchy and spicy that gets me every time.
Aloo Tikki, or Indian potato patties, take that to a whole new level and make french fries with ketchup/mustard/mayonnaise seem downright boring!
What you need to make Aloo Tikki:
Although you can find most of these ingredients in your local grocery store, it's a great excuse to visit your local Indian Market with my handy Indian Cooking: Market Guide and Ingredients!
russet potatoes
jalepeno or fresno chile
ground coriander
ground cumin
fresh ginger or ginger paste
garam masala
minced cilantro
plain yogurt (optional)
fresh tomatoes (optional)
red onion (optional)
mint and/or cilantro chutney (optional)
date/tamarind chutney (optional)
tomato chutney (optional)
 Aloo Tikki FAQ's
What is Aloo Tikki?
Made from boiled mashed potatoes, spices and/or chiles and peas and then pan fried to get a crispy crust, this street snack is popular throughout India, Pakistan and Bangladesh.
Like many Indian potato recipes, there are many variations! From the toppings, which can include plain yogurt, various chutneys, and tomatoes to whether the potato patties are stuffed or not, Aloo Tikki is open to interpretation!
Can you make these Potato Patties in advance?
The potato patties can definitely be made but not cooked a day or two in advance. Just assemble and shape and then refrigerate.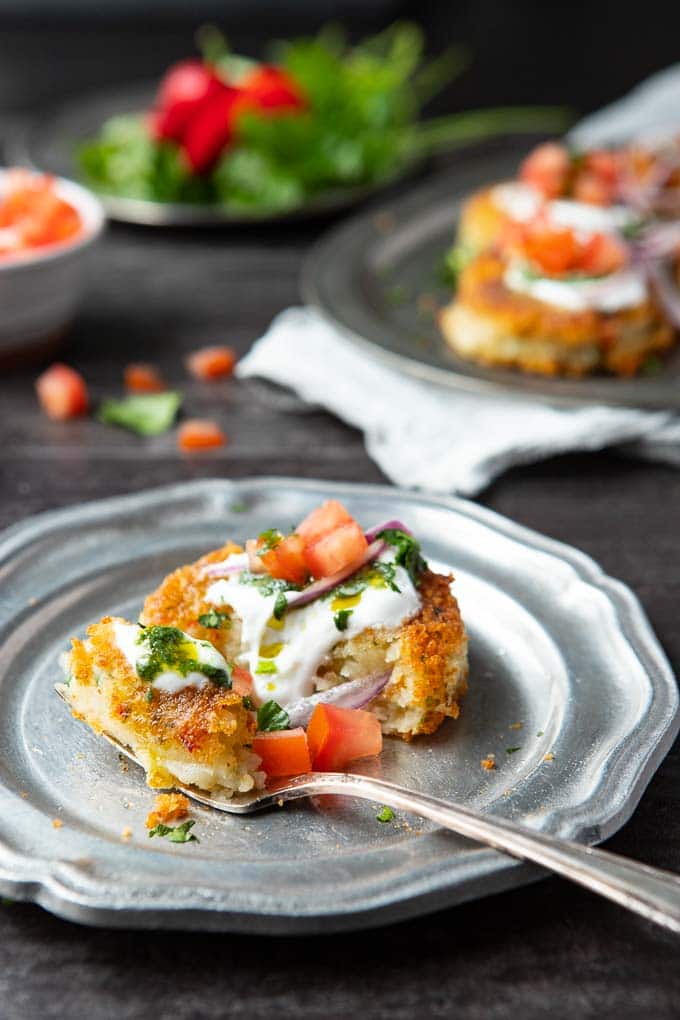 How to Serve these lovely little Potato Patties!
These little potato patties work as a fabulous side dish and would be "delish" with Chicken Tikka.
Serve them for lunch or a light dinner with this Indian Spiced Coleslaw.
As part of buffet dinner with Chicken Madras.
As an appetizer/snack – just about anytime is the right time for Aloo Tikki!
How to make this Aloo Tikki Recipe:
Step by step instructions to make this Aloo Tikki Recipe.
Boil the potatoes.

Boil the potatoes until tender. When cool, scoop out the flesh into a bowl and combine with the spices, chiles, and cilantro. Mix thorougly.

Form into patties.

Scoop the potato mixture into balls and flatten into patties. Dust with flour or cornstarch.

Heat the oil in frying pan.

Heat the oil over medium-high heat. When the oil is heated, add 3 – 4 patties and cook until golden brown about 2 – 3 minutes. Carefully turn the patties over and cook on the other side. Remove to a paper towel lined plate.

Garnish and serve.

Garnish with red onion, plain yogurt, chutney, tomatoes and minced cilantro and serve.
Other Indian Recipes you should definitely try!!!
I hope you enjoyed this recipe for Aloo Tikki and would be so happy if you'd leave me and comment and rate the recipe!
Thank you so much for stopping by!
Cheers, Nancy
Aloo Tikki|Indian Potato Patties
These crispy on the outside and creamy on the inside potato patties make french fries pale in comparison! Delicious as a side dish or served with a salad for a light meal, Aloo Tikki is a dish you'll want to make again and again.
Ingredients
2

large

russet potatoes

1/2

jalapeno or fresno chile

minced

2

teaspoons

salt

1/2

teaspoon

ground coriander

1/2

teaspoon

ground cumin

1/2

teaspoon

minced ginger or ginger paste

1/4

teaspoon

garam masala

1/4

cup

all purpose flour or cornstarch

2

cups

vegetable oil
Toppings: (optional)
1/4

cup

plain yogurt

optional

1/4

red onion

sliced

1/4

cup

tomato

chopped

2

Tablespoons

chutney

1

Tablespoon

cilantro

minced
Instructions
For the Aloo Tikki's
Boil the potatoes with the skin on until easily pierced with a fork. Remove from the pan and immerse in ice water to stop the cooking.

When cool enough to handle, peel and place in a medium bowl. Mash.

Add the chile, salt, spices, ginger paste and cilantro and mix thoroughly.

Scoop approximately 1/4 cup of the mixture into a ball and flatten into a disk about 1/2 inch thick. Repeat with the remaining mixture.

Add the oil to a 10-inch skillet and heat over medium-high heat until the oil shimmers. Lightly dust the potato patties with flour or cornstarch. Add 3 or 4 patties to the hot oil, being careful not to crowd the pan. Cook for 2 – 3 minutes until the bottom is golden brown. Carefully flip the patty over and cook on the remaining side for another 2 – 3 minutes.

Remove the patties from the oil and drain on a paper towel lined sheet pan.

Repeat until all the patties are cooked.
Notes
I used two large russet potatoes which yielded about 12 patties.  To keep the patties warm, heat your oven to 200 degrees.  Place a greased rack over a sheet pan in the oven and transfer the patties to the rack to keep warm.  Since chiles can vary quite a bit in terms of heat, I always taste a bit of the potato mixture before forming into patties. If the patties need more spice, I add more minced chile.  You can top these patties with any combination of toppings! I topped these with both a mint chutney and a date chutney – both of which can be found at an Indian market.   
Nutrition
Calories:
197
kcal
|
Carbohydrates:
29
g
|
Protein:
3
g
|
Fat:
8
g
|
Saturated Fat:
6
g
|
Cholesterol:
1
mg
|
Sodium:
874
mg
|
Potassium:
562
mg
|
Fiber:
1
g
|
Sugar:
1
g
|
Vitamin A:
4.6
%
|
Vitamin C:
17.5
%
|
Calcium:
2.8
%
|
Iron:
6.7
%