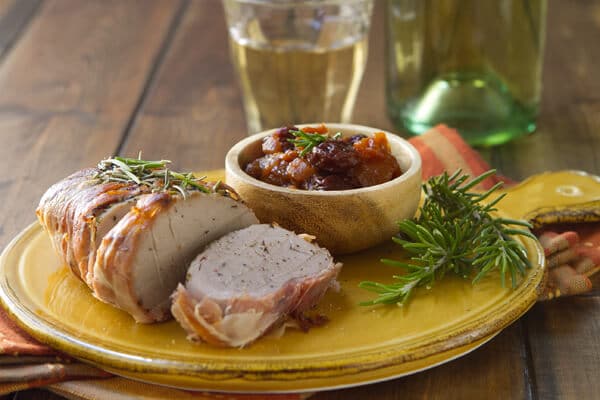 Well, the "big one" is almost here… and no, I don't mean the "big one" in terms of an  earthquake (I hope  🙂 No,  I'm talking about the last big grilling holiday – Labor Day! All across this country people will be firing up their grills and loading them up with the burgers, steaks and the last of  summer's produce bounty… and I will be right there with them!! So I thought I'd share one of my favorite dishes that is perfect for the grill.. Grilled Prosciutto Wrapped Pork Tenderloin with Nectarine Chutney.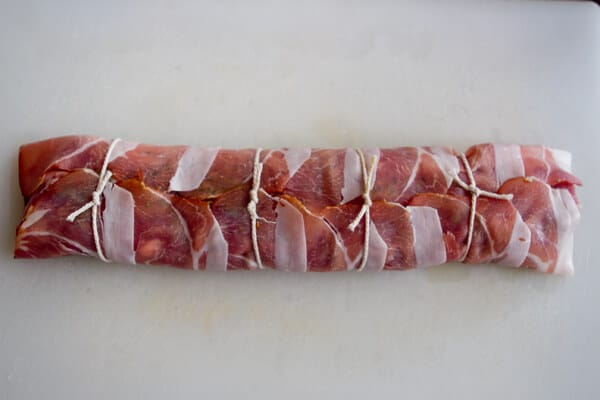 I know what you are thinking… "uh oh, wrapping, grill…. uh uh… too complicated". But I'll let you in on a little secret… it is the EASIEST thing, EVER. Honest.
I've been making  this dish a lot this summer and have decided that it might just be the perfect party dish – it's versatile, simple to assemble and always ilicits "oohs and ahhs" which typically are followed by "wow, this is amazing"!!
Yep, my kind of dish!
The Nectarine Chutney is made with some of the glorious nectarines we picked with Melissas Produce at Masumoto Farms.  To be honest, it seemed almost wrong to cook with these beauties… but I am so glad that I did! This chutney did not disappoint – sweet and a little spicy –  a perfect  foil for the salty and rich pork tenderloin. But if you don't have time to make the chutney, no worries – the pork is great with grilled peaches, nectarines, plums or pluots  and a little drizzle of a balsamic glaze.
Oh, and if pork just isn't your thing, you can substitute turkey tenderloins!
 Labor Day Menu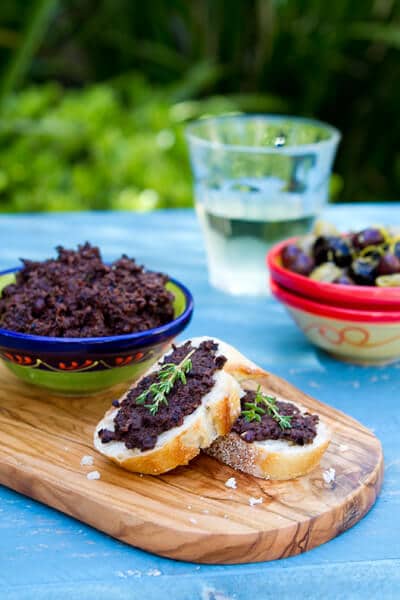 Grilled Prosciutto Wrapped Pork Tenderloins with Nectarine Chutney
Sweet Potato Fries
Grilled Peppers, Zucchini and Corn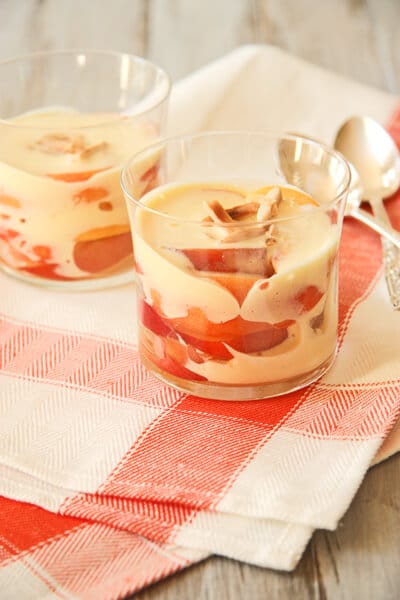 Grilled Prosciutto Wrapped Pork Tenderloin with Nectarine Chutney
Ingredients
1 - 1.5

approximately pork tenderloin

6

oz.

prosciutto

2

tsp.

herbs de Provence

or a combo or thyme, rosemary and basil

1

Tbsp.

olive oil

Nectarine Chutney

4

cups

nectarines

peeled and chopped

1/2

cup

red onion

cut into 1/2 inch dice

3/4

cup

cider vinegar

1/4

cup

bourbon

1/2

cup

dried tart cherries

1

clove

of garlic

minced

1

tsp.

smoked paprika

1/4

tsp.

cayenne pepper

1/4

cup

dark brown sugar

pinch

of salt
Instructions
For the pork:

In a small bowl combine the herbs and the olive oil and season with pepper. Rub onto pork. On a clean cutting board, lay out the proscuitto with the narrow end towards you, slightly overlapping the slices. Place pork in the center and fold the prosciutto slices over. Using butcher's twine, tie tenderloin about every 3 inches. (this helps keep the prosciutto on during grilling).

Pre heat your grill to high according to the manufacturer's directions. Turn off one burner and place pork tenderloin over remaining burner, turning pork until prosciutto is nice and crispy. Move pork tenderloin to cooler part of grill and cover. Cook for an additional 10 - 15 minutes or until internal temperature reaches 145 degrees. Pork can be assembled 1 day ahead - if doing ahead keep refrigerated.

For the Chutney:

Combine all the chutney ingredients in a medium sized non reactive saucepan. Bring mixture to a boil and reduce to a simmer. Simmer for 30 - 40 minutes until the fruit is soft and the mixture has a jam like consistency. Cool and then refrigerate. This can be made up to a week ahead of time. Let come to room temperature before serving.