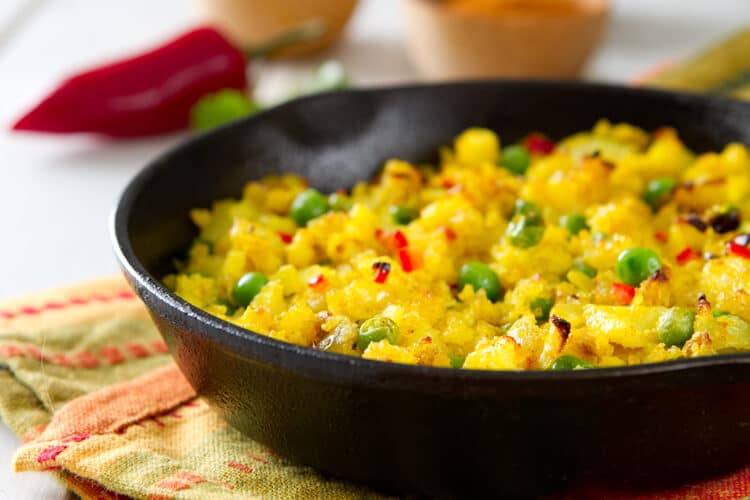 When you work with good ingredients even a recipe "fail" can turn into a success. Such is the case with this Spiced Potato Hash which began as an entirely different recipe. Don't get me wrong, the flavors and ingredients all worked together beautifully, but the execution... not so much (sigh). So I decided that I'd try a different approach and - lo and behold - it worked!
I've been playing around with Melissa's Produce Baby Peeled and Steamed Potatoes - which are great warmed with just a little butter and fresh herbs, but I wanted to see what else I could do with them. More often than not I either roast my potatoes, simply add them to another dish, or to make them more interesting, dress them up with cream and cheese. Delicious as that is, I am really trying to cut down on the amount of cream and cheese I eat and making vegetables the centerpiece of my meal rather than an afterthought.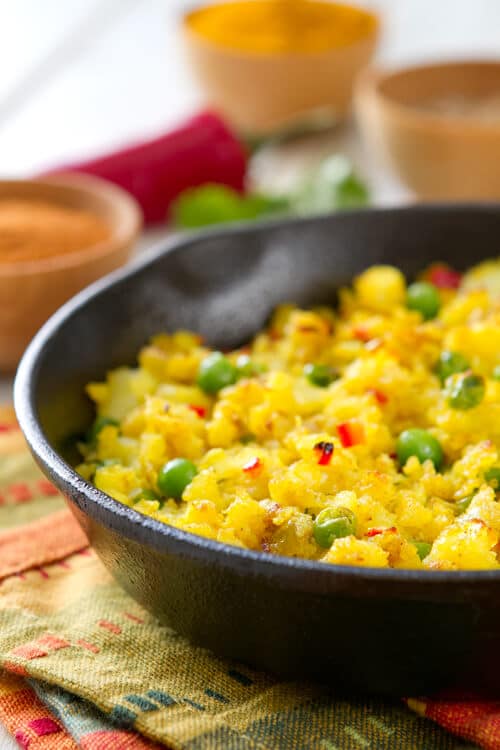 The inspiration for this dish came from The Vegetarian Flavor Bible. Recently, I attended a book signing of The Vegetarian Flavor Bible by Karen Page and Andrew Dornenburg. If those names sound familiar, they should. The authors of the acclaimed kitchen essential "The Flavor Bible" decided to take that same approach to vegetables - and the Vegetarian Flavor Bible was born. A wonderful resource, the book is an encyclopedia of sorts with sections on virtually any vegetable you can think of with lists of all the other foods, herbs, spices and flavorings that go with that vegetable. As a professional recipe developer, The Flavor Bible is indispensable - and the Vegetarian Flavor Bible has quickly joined it's ranks as one of the top 5 books I think every cook (and wannabe!) should have in their kitchen.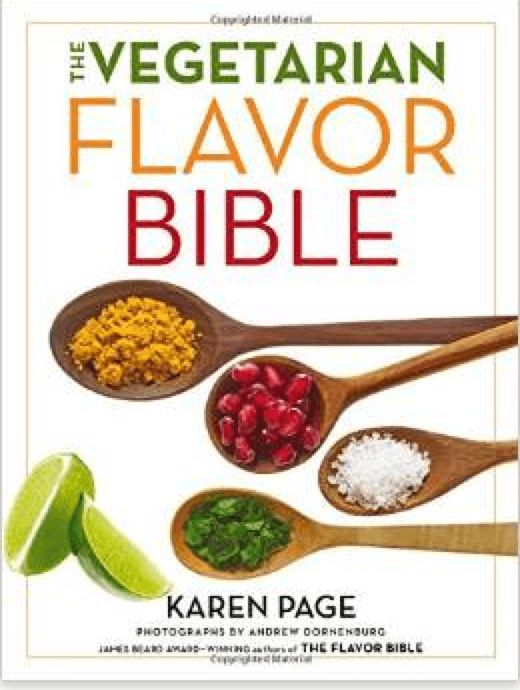 In perusing the sections on potatoes, it was clear how many different flavor combinations I'd yet to explore - and I have to say that I am thrilled with this Spiced Potato Hash. Taking it's cues from Indian cuisine, this hash is subtly flavored with ginger, cumin, turmeric and chiles. Light and incredibly flavorful, this Spiced Potato Hash would be great for breakfast or paired with a salad for a delicious vegetarian dinner.
Melissa's Produce provided a copy of The Vegetarian Bible and a sample of the Peeled and Steamed Potatoes. As always, all views expressed are my own!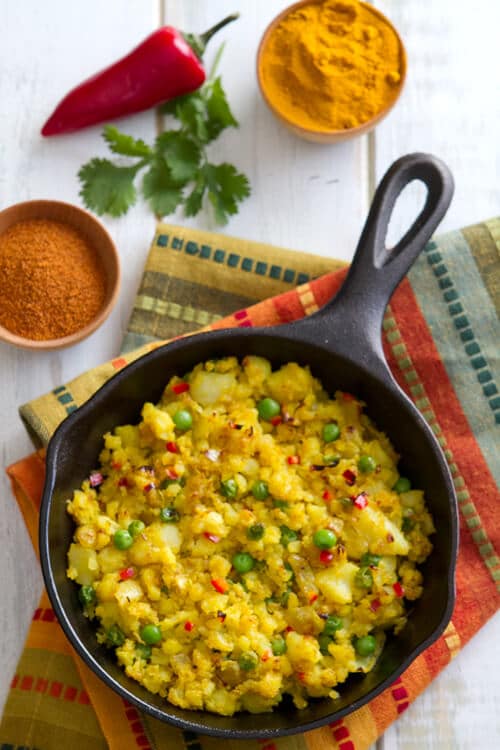 If you love potatoes, you will love these recipes!
📖Recipe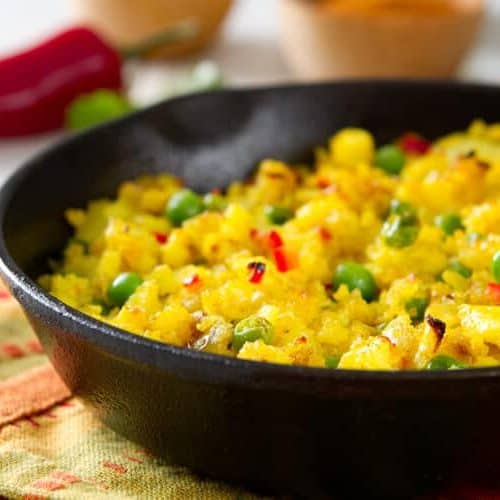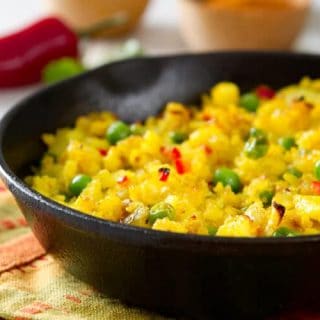 Ingredients
1

pckg. Melissas Steamed and Peeled Baby Potatoes

mashed with a potato masher

3

Tbsp.

canola or grapeseed oil

1

onion

minced

1

teaspoon

ground cumin

½

teaspoon

ground turmeric

2

Tablespoons

minced fresh ginger

1

minced red fresno chile or jalapeno

⅔

cup

fresh or frozen peas

if using frozen, run under hot water to thaw

½

teaspoon

ground coriander

½

teaspoon

garam masala

2

teaspoons

salt

juice from ½ lemon
Instructions
Heat the oil in a large, oven proof skillet (cast iron works great for this) over medium high heat. Add the onion and the cumin, turmeric,ginger and chile. Cook for 6 - 7 minutes until the onion is tender and translucent but not browned. If starting to brown, lower your temperature. Add the potatoes, peas, ground coriander, garam masala and salt. Stir to thoroughly combine, being careful not to crush to peas! Stir in the lemon juice. Taste and adjust seasonings.

Place skillet under the broiler and broil for 3 - 5 minutes until the top is golden brown. Serve!
Nutrition
Calories:
154
kcal
|
Carbohydrates:
11
g
|
Protein:
2
g
|
Fat:
11
g
|
Saturated Fat:
0
g
|
Cholesterol:
0
mg
|
Sodium:
1168
mg
|
Potassium:
237
mg
|
Fiber:
2
g
|
Sugar:
3
g
|
Vitamin A:
290
IU
|
Vitamin C:
31.6
mg
|
Calcium:
17
mg
|
Iron:
1.1
mg