Stressing over how to get it all on the table at once? Cook these oven Roasted Potatoes with Bacon, Pearl Onions and Sherry Vinegar right along with the main course for an easy and delicious side dish – add a vegetable and dinner is done!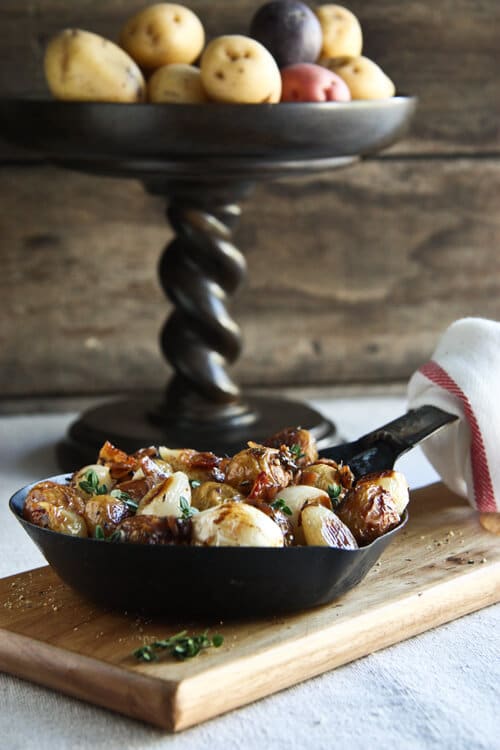 Roasted Potatoes with Bacon, Pearl Onions and Sherry Vinegar – the perfect side to any roast meat!
Read on to find out how this dish came about…
This past weekend I spent with my Dad's side of the family – a boisterous, loving and close knit "Irish Clan". The occasion was to say good bye to my Uncle – the patriarch of this large family (9 children, 13 grandchildren and 9 great grandchildren and more nieces and nephews than I can count) and although there were tears there was much laughter… and music. On my Dad's side, music is a tradition – no party or gathering is complete without Irish music, supplied either by the stereo or, more often than not, by my cousins- and this event was no different. Between an Irish band and my cousins there was no shortage of music, singing and dancing (and to be honest a wee bit of pocheen :-)!) and I know my Uncle was singing along with us with a huge smile on his face – happy and proud of the large and loving family that was the center of his life.
On the trip home my thoughts were filled with my family and our traditions – and since this is a food blog, it of course turned to food!! . Growing up, "Sunday Roast" was a tradition in my family. From the time I was born until I left for college, every Sunday was spent with my Mom' s family and for dinner (with very few exceptions) we had "Sunday Roast" – a beef roast, roasted potatoes and a vegetable – sometimes carrots, sometimes green beans and sometimes (gulp!) mashed rutabaga (I'll give you two guesses to figure out which one WAS NOT on my favorites list!!)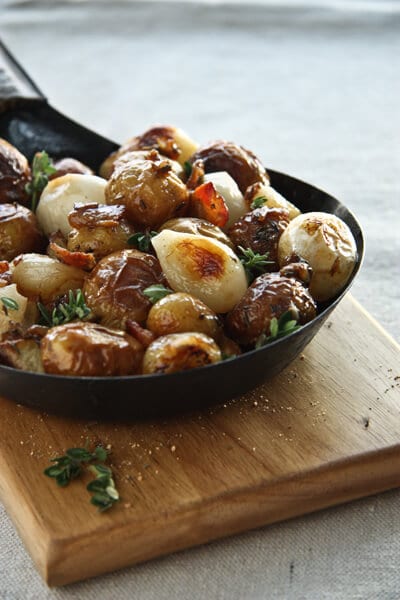 After returning home, I found a package waiting for me – the fine folks at Freida's Produce had sent me a sample of potatoes from The Little Potato Company!! Well, that decided it – the "Sunday Roast" was on the menu!! I decide to update the roast potato portion of the menu a bit and the "Baby Boomers " potatoes they sent were perfect for roasting – no cleaning or peeling needed! I just tossed them in a little olive oil, salt and pepper and put them in oven and they came out beautifully – firm and creamy – just the way I like them! Combined with a little bacon, pearl onions (also from Frieda's!!) sherry vinegar and fresh thyme these roasted potatoes with bacon, pearl onions and sherry vinegar were the perfect accompaniment to the roast.
Interested in the roast? No worries, I will be sharing this with you all soon!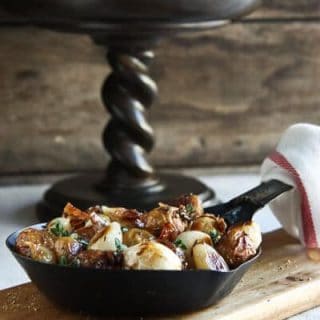 Roasted Potatoes with Bacon, Pearl Onions and Sherry Vinegar
Stressed over how to get dinner on the table all at once? These potatoes can roast right along with the main course for an easy and delicious side dish!
Print
Pin
Rate
Add to Collection
Go to Collections
Ingredients
11/2

lbs.

Baby Boomer potatoes

or Yukon gold potatoes cut into 1 inch pieces

4

oz.

thick cut bacon

cut into 3/4 inch pieces

1 1/2

cups

white pearl onions

1

shallot

minced

2

garlic cloves

minced

3

Tbsp.

fresh thyme

minced

1/4

cup

olive oil

3

Tbsp.

sherry wine vinegar

salt and pepper
Instructions
Pre heat the oven to 400 degrees, Bring a small saucepan of water to a boil.

Place pearl onions in the boiling water and boil for 2 - 3 minutes. Drain and rinse under cool water. When onions are cool enough to touch, remove outer skins of onions. Cut off root and stem ends.

Set aside. Spray a large, rimmed sheet pan with non stick spray.

Place potatoes on sheet pan and drizzle with 2 Tbsp. olive oil. Put sheet pan into the oven.

Set timer for 10 minutes. After 10 minutes add the pearl onions. Return sheet pan to the oven and cook for another 20 - 30 minutes or until potatoes are easily pierced with a knife and onions are tender.

While potatoes and onions are cooking, cook bacon in a large saute pan until browned and crisp.

Remove bacon from the pan. Set aside.When the potatoes and onions are done, remove from the oven.

Re heat the bacon drippings over medium high heat. Add the shallots and garlic and saute for 4 minutes or until the shallots are soft. Add the sherry wine vinegar - reduce heat to medium and add the potatoes and onions and the remaining 2 Tbsp. olive oil. Stir until potatoes and onions are coated with vinegar/oil dressing. Stir in the remaining bacon and the thyme. Season with salt and pepper. Serve.
Nutrition
Calories:
623
kcal
|
Carbohydrates:
83
g
|
Protein:
20
g
|
Fat:
25
g
|
Saturated Fat:
5
g
|
Cholesterol:
18
mg
|
Sodium:
253
mg
|
Potassium:
2736
mg
|
Fiber:
17
g
|
Sugar:
0
g
|
Vitamin A:
525
IU
|
Vitamin C:
90.7
mg
|
Calcium:
237
mg
|
Iron:
22.5
mg