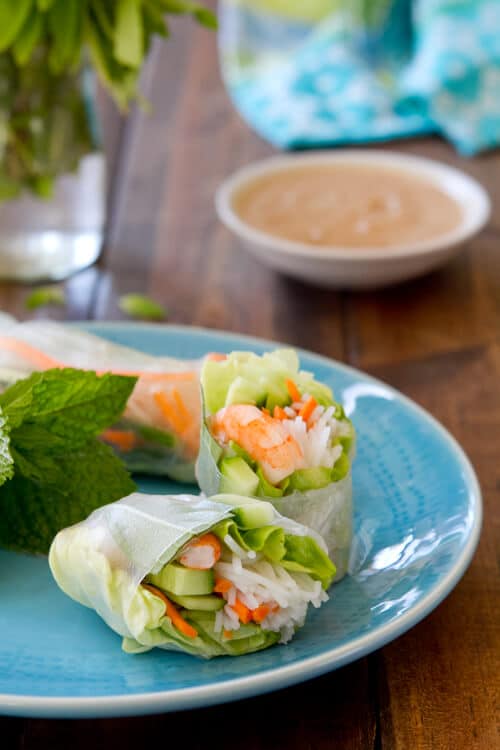 I've probably said it before, but I truly love what I do.  I love meeting people as  crazy passionate about food as I am. So, when Melissa's Produce invited me to the  launch party for Katie Chin's new book, Everyday Thai Cooking: Quick and Easy Family Style Recipes. I said "yes"!! – after doing the obligatory happy dance of course!! We of course got to try a number of dishes from the book as well as meet Katie and learn some tips and tricks  – such as how to use lemongrass and that "galangal is the friskier cousin of ginger"!!! Absolutely best line of the week, hands down.
Leaving the party  laden with wonderful Thai ingredients like  fresh limes, lemongrass, cilantro, mint, thai basil and garlic I got to thinking……
I need to have a party. With  Shrimp and Mint Summer Rolls.  From Katie's Book.
So I did.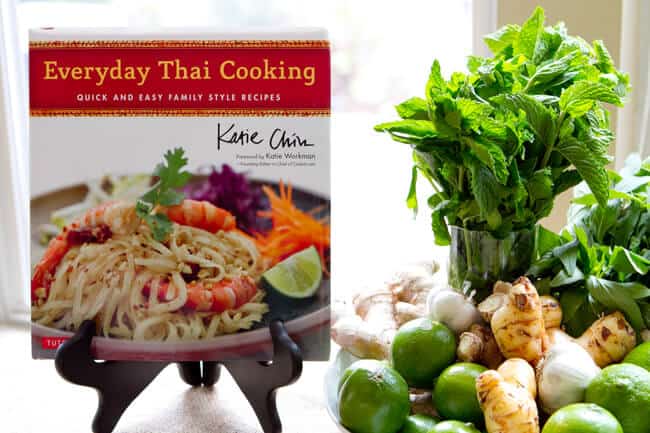 Contrary to what you might think, Shrimp and Mint Summer Rolls are perfect for parties. Prep your ingredients, make up a dipping sauce and set up a couple of stations and let everyone roll their own!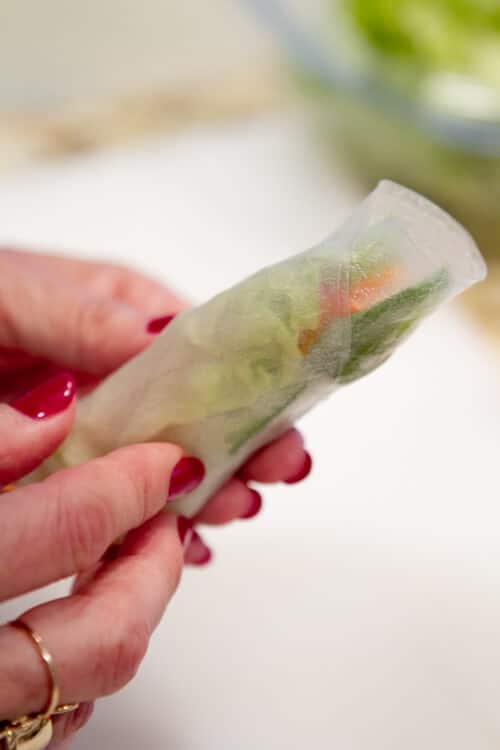 Deb's first Shrimp and Mint Summer Roll – she did great!!!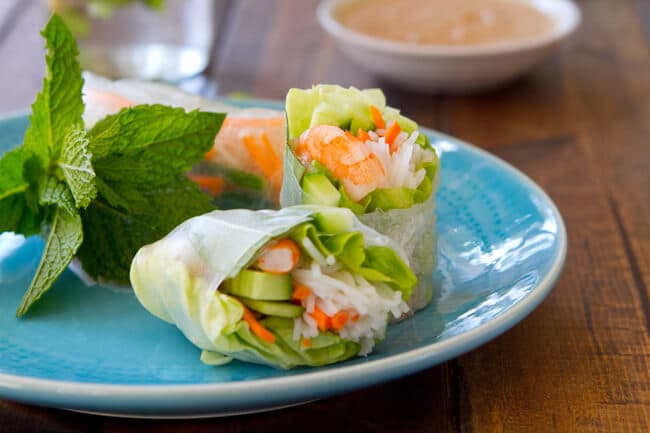 One of the best things about this cookbook (ok, aside from the recipes!) is that many of the recipes come with step by step photos which really help illustrate (no pun intended, honest!) Katie's clear directions.  So, if you been intimidated to make  Shrimp and Mint Summer Rolls… get over it – just get Katie's book. And if you  want to delve into more amazing Thai food -  Everyday Thai Cooking : Quick and Easy Family Style Recipes is an excellent place to start.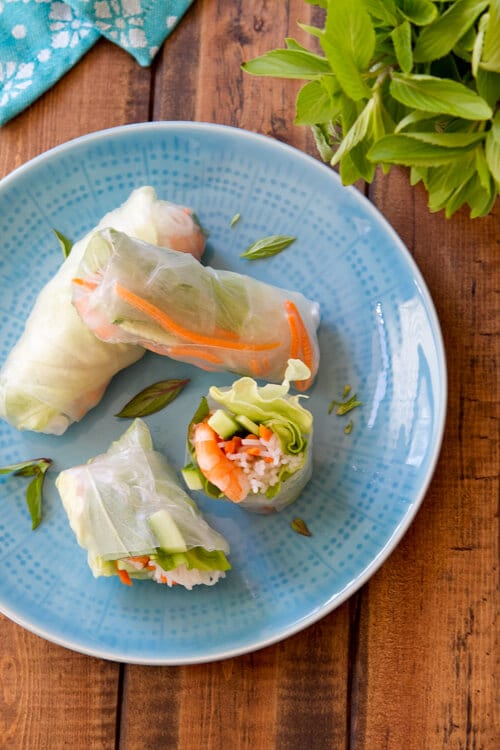 Oh, and I also recommend starting with the Shrimp and Mint Summer Rolls….. party optional!!!
Shrimp and Mint Summer Rolls with Spicy Peanut Sauce
The roasted sesame oil, rice paper wrappers and thai basil can all be found in Vietnamese grocery stores or in some large grocery stores.
Ingredients
For Rolls:
2 oz. dried rice vermicelli
1 tsp. dark sesame oil
16 medium sized cooked shrimp
1 package round 9 inch rice paper wrappers
1 cup carrots, cut into matchstick size strips
1 cup cucumber, cut into 3 inch by 1/8 inch pieces
1/2 cup fresh mint leaves
1/2 cup fresh thai basil leaves
8 large butter lettuce leaves
Spicy Peanut Sauce
3 Tbsp. smooth peanut butter ( not natural - use a low sugar/sodium one like Jif)
4 Tbsp. coconut milk
1 tsp. red curry paste or chili garlic sauce
1 Tbsp. fresh lime juice
2 tsp. soy sauce
2 tsp. brown sugar
Crushed roasted peanuts for garnish
Instructions
Place the rice vermicelli in a saucepan and cover with water. Bring saucepan to a boil. Boil for 2 -3 minutes until noodles are soft. Drain and rinse with cold water. Place into a medium sized bowl and toss with 1 tsp. dark sesame oil.
Fill a large bowl with very warm water. Lay a clean towel in front or use a clean plastic cutting board. Dip a rice paper wrapper in the warm water, turning so that all parts of the wrapper have been dipped in the water. Don't soak it. It should still be firm but flexible. Lay the wrapper on the towel or the cutting board.
Starting with the butter lettuce, layer a small amount of the carrots, cucumber,noodles, mint, basil and 2 shrimp on top. Fold the bottom of the wrapper over the filling, fold in the sides, and then roll, as you would with a burrito to make an egg roll shape. Place on a serving platter and cover with non stick plastic wrap. Continue with the remaining wrappers and ingredients. Serve with Spicy Peanut Sauce.
For Sauce:
Combine all the ingredients in a small saucepan . Stir to combine. Cook over medium low heat until the mixture begins to simmer. Transfer to a small bowl and garnish with roasted peanuts. The sauce can be made one day ahead and refrigerated. Bring to room temperature before serving.
Copyright A Communal Table - www.ACommunalTable.com
{ 2 comments }