Crab Rangoon, that darling of the pupu platter, is creamy and crunchy with just enough crab to keep it interesting. One of the BEST make-ahead appetizer recipes, this homemade version is always the FIRST THING TO GO at any party!!!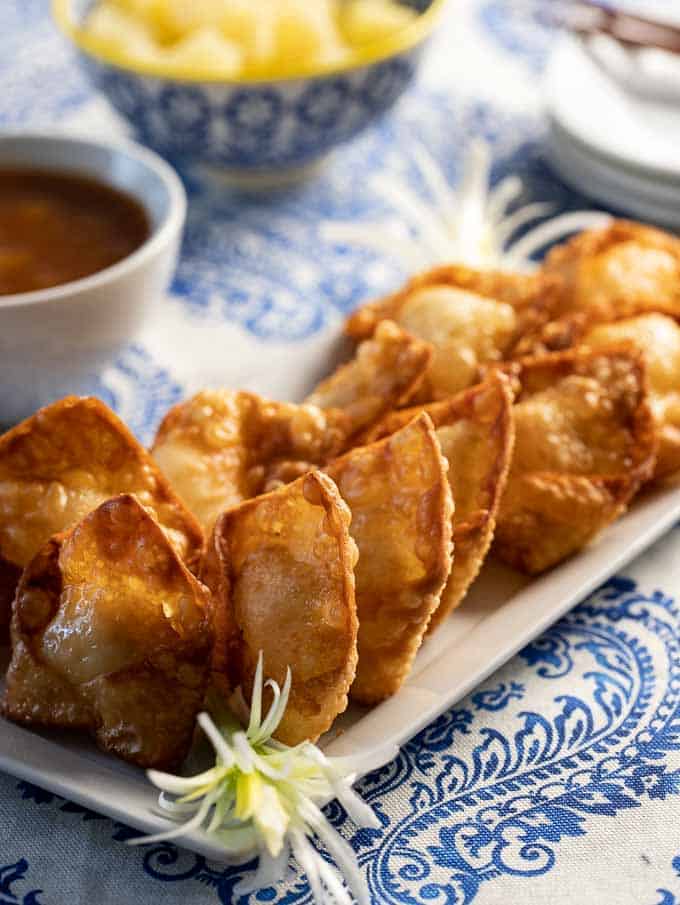 Why We Love Crab Rangoon!
Is it any wonder we are obsessed with this Asian appetizer? A hot, cheesy filling encased in a crispy shell that's designed for dipping into a sweet, sour and slightly spicy sauce.
What's not to like about that?
Nothing! But sadly, not all Crab Rangoon recipes are created equal 🙁. Having sampled more than my fair share of this delectable tidbit, I can vouch that not all versions fill me with such utter bliss.
Cue Homemade Crab Rangoon! This ridiculously easy -to-make appetizer recipe checks all the boxes -and the sauce? It's the BEST sweet and sour sauce, hands down!
Ingredient you need for Homemade Crab Rangoon:
cream cheese
canned or fresh crabmeat
garlic powder
wonton wrappers
egg
salt
dipping sauce (homemade or storebought)
Crab Rangoon FAQ's
What is Crab Rangoon made of?
Typically this asian appetizer is made with cream cheese and crab and wrapped in a wonton and fried. Some recipes add sugar, soy sauce and scallions to the filling, but I prefer just the cream cheese and crab!
Is Crab Rangoon authentic?
This appetizer is definitely a blend of American and Asian dishes and was one of the most popular appetizers in the 1950's. No one really knows exactly where this recipe originated. Some credit it's creation to the iconic tiki bar Trader Vic's. Others suggest the recipe has it's roots in British controlled Burma.
How long does Crab Rangoon last?
You can make this appetizer ahead of time. If you're planning on serving it the same day, just refrigerate the wontons. If you're going to serve it a few days later, freeze it! Although you can freeze the wontons both before and after frying, I prefer to freeze it before frying and then fry it just before serving.
How do you make Crab Rangoon:
Mix together the crab, cream cheese, garlic and salt.

Brush the edges of the wonton wrapper with a beaten egg

Fill the wonton with a teaspoon of filling

Fold the wonton corner to corner

Press and seal around the filling

Heat the oil -use a thermometer to monitor the temperature

Fry the wontons, drain and serve!

For other folding techniques and for a step by step on making the dipping sauce, see my video below!
Other Asian Appetizers to whet your appetite!
Homemade Crab Rangoon Recipe:
Crab Rangoon
Crab Rangoon is a classic recipe and much easier to make than you would think!
Ingredients
6

oz.

crabmeat

picked through for shells

two 8 oz. packages cream cheese

softened

1/2

teaspoon

salt

1/4

teaspoon

garlic powder

20

wonton wrappers

1

egg

slightly beaten

Oil for frying

Sweet and Sour Sauce

Sweet and Sour Sauce

1 20

oz.

can crushed pineapple in heavy syrup

1

cup

sugar

1

cup

water

1

cup

vinegar

1

Tablespoon

dark soy sauce

2

Tablespoons

cornstarch

2

Tablespoons

cold water

1

cup

plum sauce
Instructions
For the Crab Rangoon:

In a medium bowl, mix together the crabmeat, cream cheese, salt and garlic powder until well combined.

Lay one wonton wrapper on a clean work surface with one corner facing up (so wonton wrapper looks like a diamond). Cover the remaining wonton wrappers with plastic wrap to keep them from drying out.

Brush the edges of the wonton with the beaten egg.

Place a heaping teaspoon of the crab/cream cheese mixture on the center of wonton.

Fold the bottom up to to seal the wonton in a triangle shape.

Pinch the two corners of the wonton together.

Repeat with the remaining wontons until you used all the filling.

Fill a deep skillet with 2 to 3 inches of vegetable oil and heat to 350 degrees.

Fry 8 – 10 wontons at a time, turning 2 or 3 times until the wontons are golden brown, about 2 minutes.

Drain on paper towels.

Serve with sweet and sour sauce

For Sweet and Sour Sauce:

Heat the pineapple with syrup, sugar, 1 cup water, vinegar and soy sauce to boiling.

Mix the cornstarch with the two tablespoons cold water, stirring until thoroughly combined.

Add the the pineapple mixture and bring back to a boil.

Remove from heat and cool to room temperature.

Add the plum sauce. Cool.

If not using immediately, cover and store in the refrigerator for up to two weeks.
Nutrition
Calories:
122
kcal
|
Carbohydrates:
26
g
|
Protein:
2
g
|
Fat:
0
g
|
Saturated Fat:
0
g
|
Cholesterol:
12
mg
|
Sodium:
308
mg
|
Potassium:
104
mg
|
Fiber:
0
g
|
Sugar:
14
g
|
Vitamin A:
0.7
%
|
Vitamin C:
4.2
%
|
Calcium:
1.6
%
|
Iron:
3.7
%
Save
Save
Save