This Yogurt, Lemon and Mint Grilled Chicken recipe yields moist, tender and juicy chicken. Delicious on it's own or as a base for salads and sandwiches.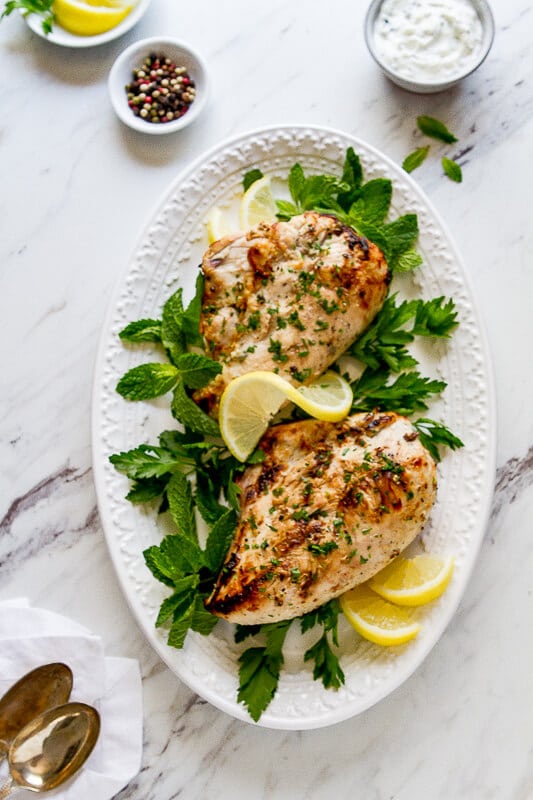 Yogurt, Lemon and Mint Grilled Chicken is the solution to your summer chicken grilling problem!! This is, hands down, the most juicy and tender grilled chicken I've made to date! So let's "dig in" to it, shall we?
Yogurt Lemon and Mint Grilled Chicken
If you've been reading this blog for a while you know I adore middle eastern cuisine and I adore Lebanese food! Like all Levantine cuisines, Lebanese cuisine utilizes a mix of  vegetables, fruits, legumes, whole grains and olive oil with lean meats and seafood. The clean and fresh flavors of the region have always appealed to me and it definitely fits with my goal of eating a more nutrient dense diet. So when Melissa's Produce invited me to a signing of Julie Ann Sageer's new book, "Julie Taboulie's Lebanese Kitchen" I couldn't say "yes" fast enough!  If you like Lebanese food, or are interested in learning more about it,  I highly recommend you add this to your collection!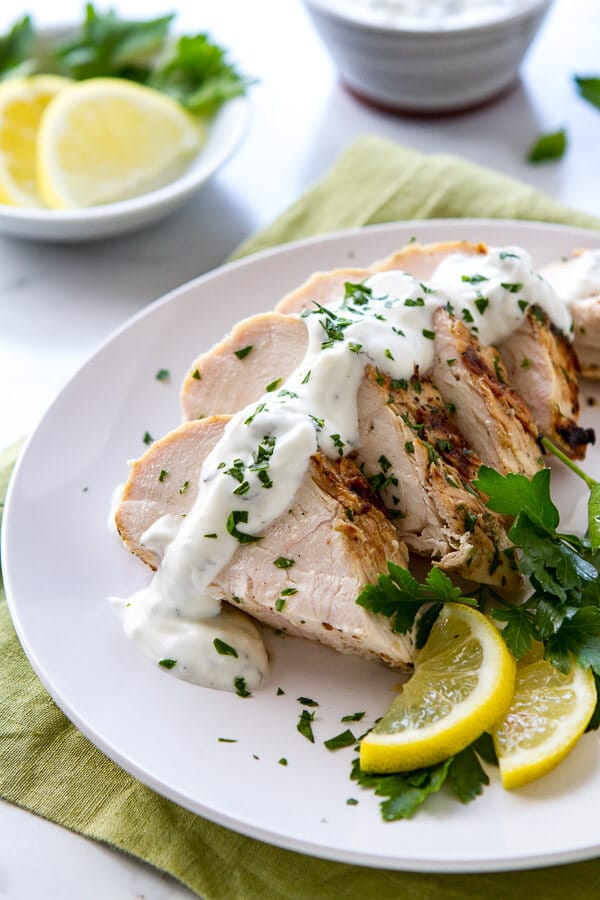 Filled with classic Lebanese dishes like tabouleh, hummus and kibbeh, the book is a wonderful primer on Lebanese cuisine. But I warn you, you may find yourself bookmarking just about every page! The dishes are very approachable and most of the ingredients you can find in your local market. This book however, is a great excuse to pay a visit to your local middle eastern market and,  armed with my"10 Things to Buy at the Middle Eastern Market" list stock up – because once you make this chicken, you're going to want to make the other recipes!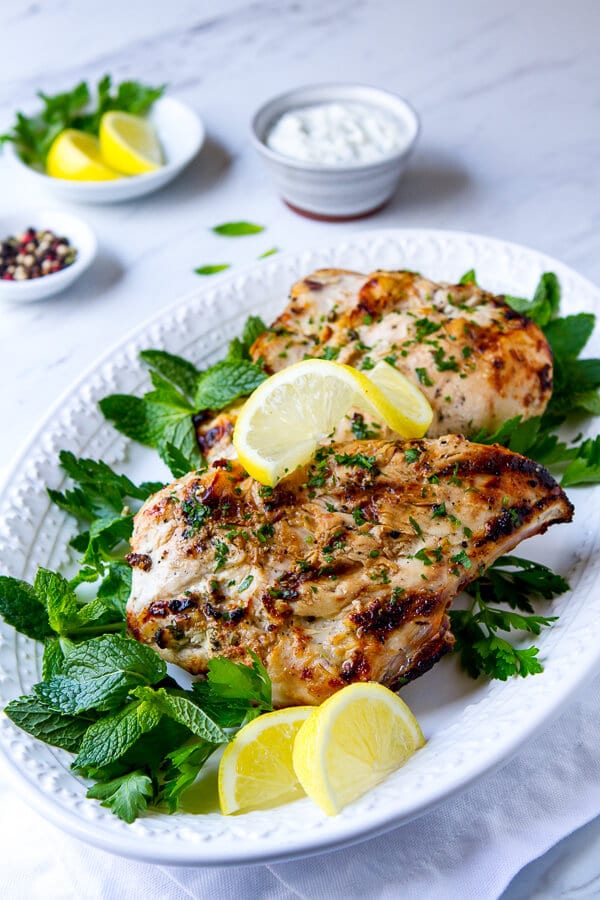 A simple marinade of yogurt, lemon, garlic and herbs infuses the chicken with subtle flavors. Oh, and the best part? The marinade doubles as a sauce for the chicken!  This Yogurt, Lemon and Mint grilled Chicken not only makes a delicious dinner, but the leftovers are ideal in sandwiches (think pita bread stuffed with chicken, lettuce and tomatoes and drizzled with some of the sauce) or thrown into your favorite salad.. or just eaten cold from the fridge.. not of course that I know anything  about that……
So, I'll give you a little tip… double the recipe!
What to serve with Yogurt, Lemon and Mint Chicken:
Here's some recipes from the archives that would go beautifully with this chicken!
Yogurt, Lemon and Mint Grilled Chicken
Ingredients
2

cups

Laban or plain greek yogurt

1/3

cup

extra virgin olive oil

2

Tablespoons

grapeseed or vegetable oil for the grill

2 1/2 - 3

Tablespoons

fresh lemon juice

6

garlic cloves

mashed to a paste

2

Tablespoons

fresh parsley

finely minced plus 1 Tablespoon for garnish

2

Tablespoons

fresh mint

finely minced plus 1 Tablespoon for garnish

1

teaspoon

salt

6

skinless

bone in chicken breasts

1

cup

pitted green olives for garnish

optional

1

lemon

sliced for garnish
Instructions
In a large mixing bowl, whisk together the yogurt, 1/3 cup olive oil, lemon juice, garlic, parsley , mint and salt. Transfer half the mixture to another bowl, cover and refrigerate.

Add the chicken breasts to the bowl and toss the coat thoroughly with the yogurt mixture.

Cover with plastic wrap and refrigerate for 2 to 3 hours or overnight.

To cook:

Remove the chicken and the reserved marinade from the refrigerator.

Pre heat the grill to medium high heat. When the grill is hot, brush the grill with the 2 Tablespoons of oil.

Remove the chicken breasts from the marinade, letting the excess drip off.

Add the breasts to the grill and cook, turning often, until the breasts are evenly grilled on both sides and the internal temperature is 160 degrees.

Remove the chicken from the grill to a clean platter, cover with foil, and allow to rest for 5 to 10 minutes.

Serve with the reserved marinade and enjoy!
Nutrition
Calories:
364
kcal
|
Carbohydrates:
6
g
|
Protein:
29
g
|
Fat:
25
g
|
Saturated Fat:
7
g
|
Cholesterol:
110
mg
|
Sodium:
864
mg
|
Potassium:
434
mg
|
Fiber:
1
g
|
Sugar:
2
g
|
Vitamin A:
6
%
|
Vitamin C:
15.5
%
|
Calcium:
11.1
%
|
Iron:
8.1
%