Moroccan Chicken Stew - Ultra tender chicken thighs, fragrant spices, and apricots flavor this easy and warming weeknight stew! This easy Moroccan stew is ready in under an hour but tastes like it's been simmered all day!
Made with boneless and skinless chicken thighs, this deeply flavorful Moroccan Stew recipe is a weeknight favorite along with Moroccan Chicken and Yogurt-Marinated Chicken. Mop your bowl clean with some flatbread - a quick, and easy no-yeast bread!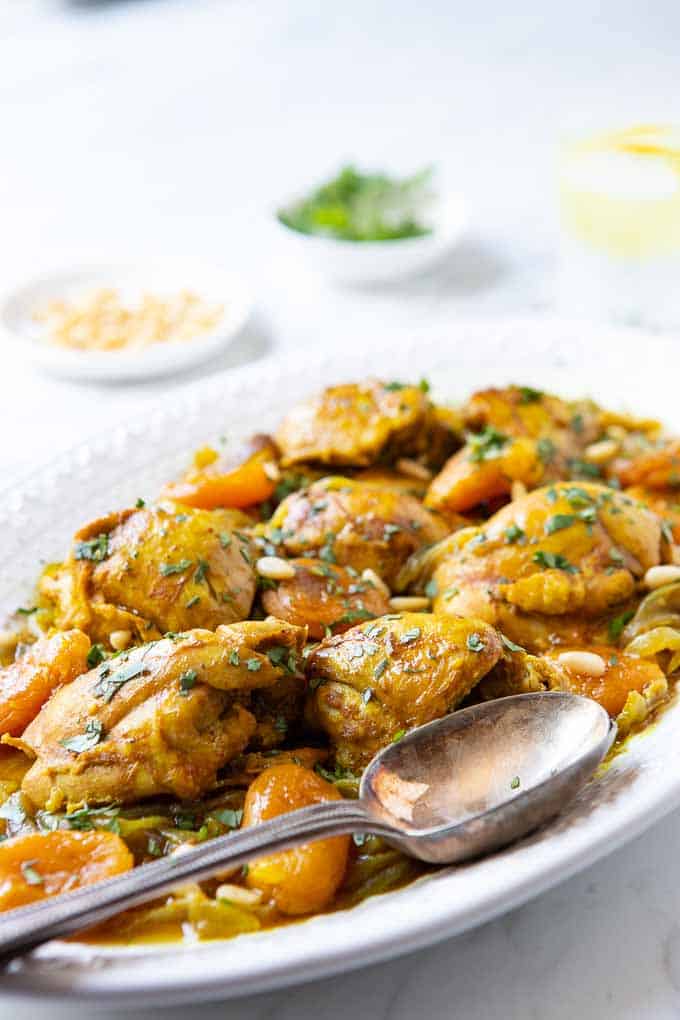 Moroccan Chicken
Vibrantly colored with complex flavor, this Moroccan chicken stew or tagine is one of my favorites. Succulent chicken thighs are slathered with a fragrant spice paste and simmered with onions, orange juice, and apricots. You can throw this together on a busy weeknight, or serve it as a festive, company-worthy dish for a crowd.
The word tagine refers to a traditional Moroccan stew of meat, poultry or seafood that's braised with vegetables, spices and sometimes olives and/or fruit. The word also refers to the conical ceramic dish that these stews are cooked in, but you don't need one to make it!
I used my dutch oven, but any wide pot with a lid will work!
Ingredients you need to make it
Chicken - I like using boneless, skinless thighs in this recipe because of their rich flavor, but you could make this with chicken breasts and/or drumsticks. TIP: if you use skin on chicken, you'll want to skim the fat off the stew before serving. If you make this recipe the day before you plan to serve it, the fat is really easy to remove since it solidifies in the refrigerator.
Red Onion - red onions are sweeter and less pungent than brown onions so they don't overwhelm the spices. If you don't have a red onion, you can definitely substitute a brown onion!
Garlic - fresh garlic is so much better than bottled!
Olive Oil - no need to use the pricy stuff - save that for your salad!
Spices - cinnamon, cinnamon stick, turmeric, ginger, nutmeg, allspice, white pepper and black pepper.
Saffron - This is OPTIONAL but gives a lovely color and fragrance to the stew!
Cilantro
Parsley
Butter
Orange Juice - freshly squeezed has the best flavor!
Apricot - if you can find California dried apricots, they are the plumpest and have the best flavor.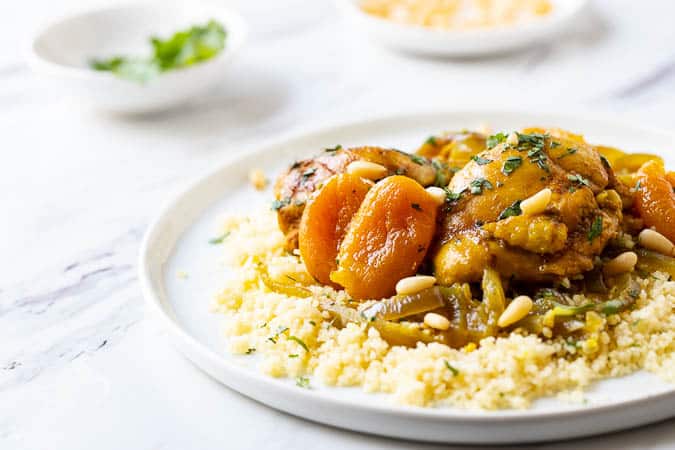 How to Make Moroccan Chicken Stew
Mix up the spice paste. TIP: If you haven't used these spices in the last year, treat yourself to a new batch! Ethnic markets are a great source for spices and you can get them in small quantities! Don't forget to take my Middle Eastern Market Guide with you!
Slather the spice paste on the chicken and let marinate while you cook the onions.
Add the chicken to the onions and lightly brown on both sides.
GENTLY simmer for 20 - 45 minutes. WHY the big difference in time? The cooking time really depends upon (a) the size of the chicken pieces and whether or not they have bones. Bone-in chicken will take longer to cook. I used boneless thighs that were on the small size and the chicken was done in 20 minutes. I recommend checking the chicken after 20 minutes so that you don't overcook the chicken!
Prep the apricots! Add the orange juice, apricots, butter, sugar, and a cinnamon stick to a small saucepan and bring to a boil. Boil until the liquid is reduced by about ½ and the liquid is becoming syrupy. SO WHY DO THIS STEP? Reducing the liquid intensifies the orange and apricot flavors. I know it's tempting just to throw it all in the pot but resist the urge! This dish is all about layering flavors!
Once the apricots are plump and the liquid is syrupy, take out the cinnamon stick and add the mixture to the chicken. Stir to combine and then taste and adjust the seasonings.
When the chicken is cooked through, skim off any fat (if using skin-on chicken pieces) and then serve!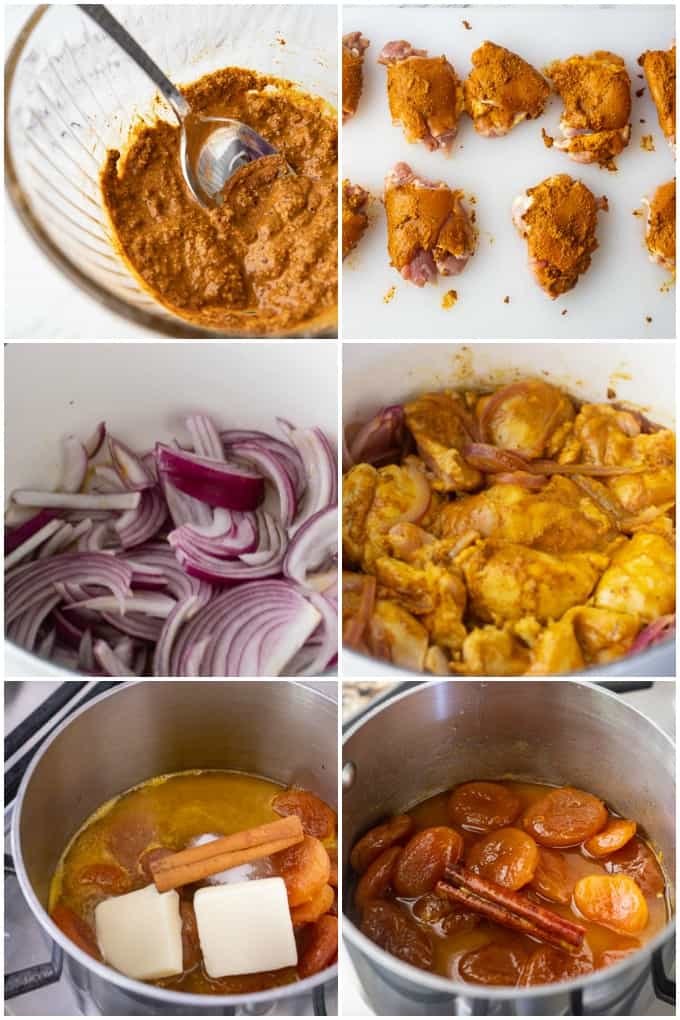 Serving and Storage Tips!
This recipe is so flavorful that you only need simple sides to complete the meal. Serve it on plain couscous to soak up all that wonderful sauce! Add in a simple green salad or veg - that's all you need!
Like to make dishes ahead of time? Then this stew should be on your list! The flavors actually get better if the stew rests overnight. Even better, it freezes like a dream!
You can also substitute prunes for the apricots. The prunes give the stew a deeper and richer flavor!
If you enjoyed this recipe, I would LOVE for you to give it a 5-star rating! Cheers! Nancy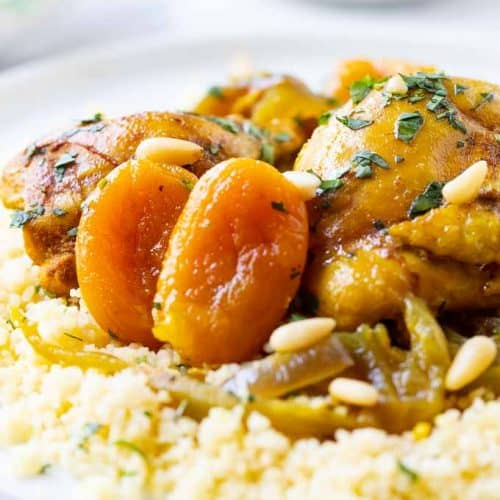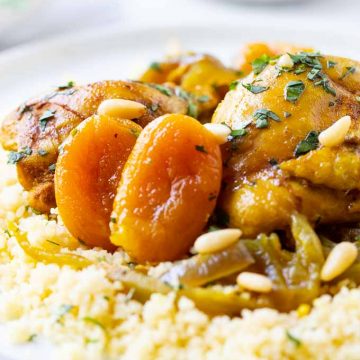 Moroccan Chicken Stew
Moroccan Chicken Stew - Ultra tender chicken thighs, fragrant spices and apricots flavor this easy and warming weeknight stew! This easy Morrocan stew is ready in under an hour but tastes like it's been simmered all day!
Print
Pin
Rate
Add to Collection
Go to Collections
Ingredients
2

lbs

Boneless, skinless chicken thighs

1

pinch

saffron threads

3

cloves

garlic

pressed

1

teaspoon

ground ginger

1

teaspoon

ground turmeric

1

teaspoon

ground white pepper

1

teaspoon

ground cinnamon

½

teaspoon

ground black pepper

½

teaspoon

allspice

½

teaspoon

ground nutmeg

3

Tbsp.

sugar

divided

2

Tbsp.

olive oil

1

red onion

thinly sliced

5

sprigs

cilantro

5

sprigs

parsley

1

cup

dried apricots

½

cup

orange juice

fresh

2

Tbsp.

unsalted butter

1

cinnamon stick

1

teaspoon

salt
Instructions
IF using the saffron, add the saffron to a small bowl and add 2 Tablespoons of hot water. Set aside.

In a small bowl combine all the ground spices, pressed garlic, salt, and 1 ½ teaspoons sugar.

Add the saffron and water mixture to the spices. If not using the saffron, add 2 Tablespoons of hot water to the spice mixture and stir to combine.

Spread the spice paste all over the chicken thighs. Let marinate at room temperature while you prep the onions.

In a large pot with a lid, add the olive oil, ¼ cup of water and the onions. Cook over medium-low heat until the onions are soft and just beginning to color, about 20 minutes.

Add the chicken and cook for 3 minutes on each side. Add ¼ cup water and the cilantro and parsley.

Place the lid on the pot and adjust the heat to medium-low so that the stew is at a bare simmer. Cook for 30 minutes or until the chicken is cooked to an internal temperature of 165 degrees.

While the chicken is cooking, add the apricots, orange juice, cinnamon stick, butter and sugar to a small saucepan. Bring the mixture to a boil and then reduce to a simmer.

Simmer for 10 - 15 minutes until the liquid is reduced by approximately ⅓ and has become slightly syrupy.

Remove the cinnamon stick and add the apricots and the liquid to the chicken.

Taste and adjust the seasonings as needed.

If the chicken has not reached an internal temperature of 165 degrees, continue to cook the chicken for another 5 minutes. Re-check the temperature and continue cooking until the chicken reaches 165 degrees.

Remove the cilantro and parsley and serve.
Recipe Notes
I used boneless, skinless chicken thighs in this recipe but you could use chicken breasts and/or drumsticks. 
If using skin on chicken, you'll want to skim the surface of the stew to remove thee excess fat.
TIP: Refrigerate the stew overnight. The fat will rise to the top and solidify, making it really easy to remove.
You can make this chicken stew up to a day in advance or freeze it for longer storage. 
To reheat the stew if made a day in advance - re warm on the stovetop, covered until the chicken is heated through.
FREEZING: This recipe freezes very well. Let the stew cool completely and then transfer to a freezer safe container.
Allow to thaw in the refrigerator overnight and then re heat, covered in a 350 degree oven.
SERVING SUGGESTIONS: This stew is ideal to serve over plain couscous to sop up all that lovely sauce! A simple mixed green salad completes the meal! 
Nutrition
Calories:
550
kcal
|
Carbohydrates:
41
g
|
Protein:
46
g
|
Fat:
23
g
|
Saturated Fat:
7
g
|
Cholesterol:
231
mg
|
Sodium:
792
mg
|
Potassium:
1072
mg
|
Fiber:
4
g
|
Sugar:
32
g
|
Vitamin A:
1765
IU
|
Vitamin C:
21
mg
|
Calcium:
66
mg
|
Iron:
3
mg