Warm, moist and caramel sweet, and "yes" a bit sticky, this Instant Pot Bourbon Sticky Toffee Pudding checks all the boxes for true comfort food that can pass as a "fancy" dessert – that of course you can completely make ahead of time!!!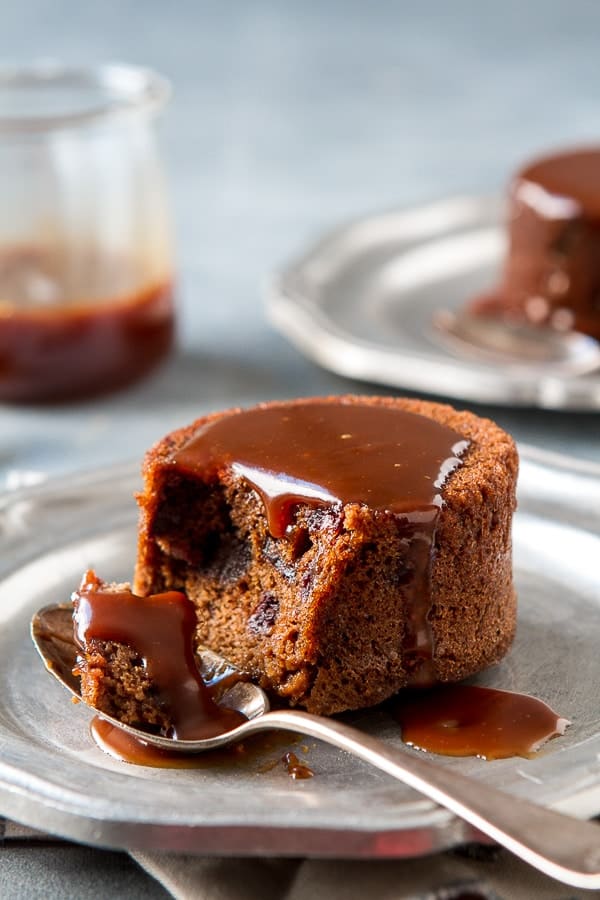 Over the holidays I did a lot of baking – cookies, cakes, coffee cakes.. you name it – the oven seemed to be on every day! But this Bourbon Sticky Toffee Pudding was one of the best desserts I made… and I didn't even have to turn on the oven! Yes, Instant Pot desserts are a thing!
And I couldn't wait to share it with you all because, well, as they say in England "it's bloody brilliant!"
Why it's so brilliant, I'll get to in a moment. But first, let's talk about this whole "cake/pudding" thing.
This Instant Pot Bourbon Sticky Toffee Pudding is not a pudding, but a cake! Yes, I know… what???
History of Pudding and Specifically Sticky Toffee Pudding
In England, "pudding" commonly refers to dessert – regardless of what that dessert is – cake, tart, ice cream, you- name- it. It can also refer to savory dishes such as Yorkshire Pudding, Black Pudding, etc., etc. Confused yet? Yeah, me too.
Fortunately, here in the U.S. we don't have that sort of nonsense ? 'Dessert" is dessert, a "pudding" is a pudding, and "cake", is cake! Well, except when I'm talking about Sticky Toffee Pudding….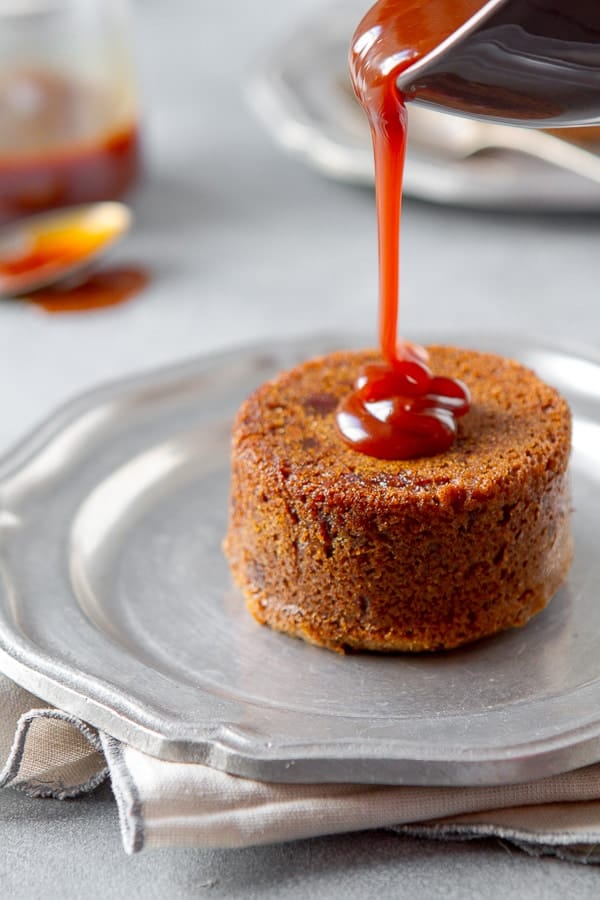 So about this "pudding" or cake. Although you might think it has a long and revered history, it's actually a very recent addition to British cuisine. Served at the Sharrow Bay Country House Hotel in the 1970's, it became an instant hit. Similar to other British desserts like Plum Pudding and Spotted Dick, diners loved it and soon it was a fixture on most dessert menus – and then, like the Beatles, it crossed the Pond….
Which brings me to why this Instant Pot Bourbon Sticky Toffee Pudding is brilliant…
It doesn't require anything more exotic than dates.
You can make it, start to spoonful in under 1 hour.
You can make it up to 3 days ahead of time and simply re heat it.
If you like caramel, you are going to love it!
It has bourbon in it… 'nuff said.
So, if you didn't notice, this Instant Pot dessert is all about the moist, dense crumb – this is not a light and airy cake! There are a number of reasons for this but the primary one is that this cake is steamed and not baked.
Yes, you read that right – steamed, like you would bake a cheesecake … see where I'm going with this?
And this is one of the many reasons why the Instant Pot is so amazing (and no, I am not being paid by them for this post!) Steamed cakes like this, or "puddings" typically take up to 2 hours to steam – great if you are snow bound but not so great if you don't (a) plan ahead, or (b) like sitting around for a couple of hours refilling a pan with boiling water.
But who has time for that?
How to Make Sticky Toffee Pudding
It's ridiculously easy. Just chop up your dates, melt butter and add milk and your dry ingredients, stir, portion into ramekins and seal with a little foil.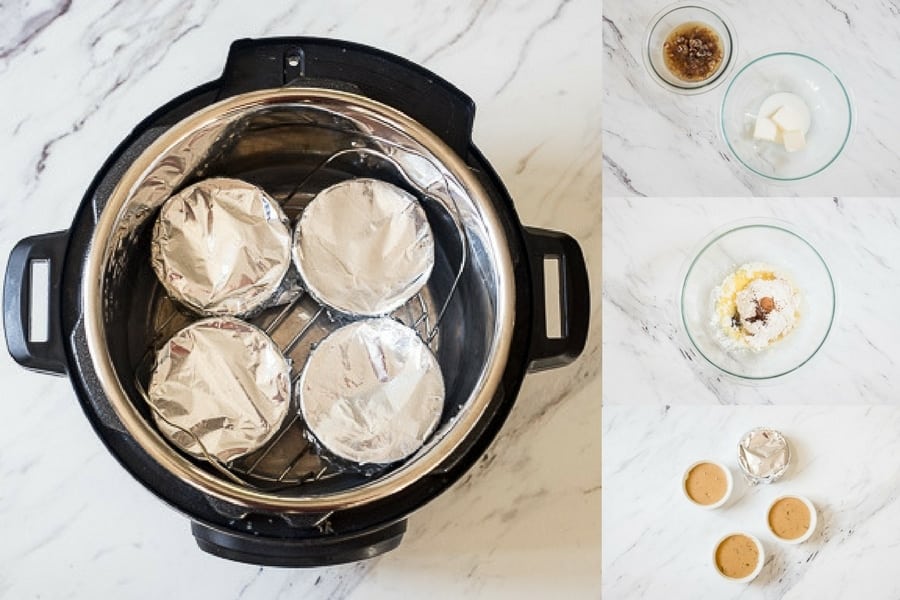 Pop into the Instant Pot for 25 minutes – add water, lock on the lid, set to "steam" … and go do your nails or wash the car – it's on auto pilot.
Then, grab and spoon and dig in to this fabulous Instant Pot dessert!
Wondering what to do with your extra dates? How about a loaf of my Van de Kamp's Date Nut Bread or Orange and Date Oatmeal.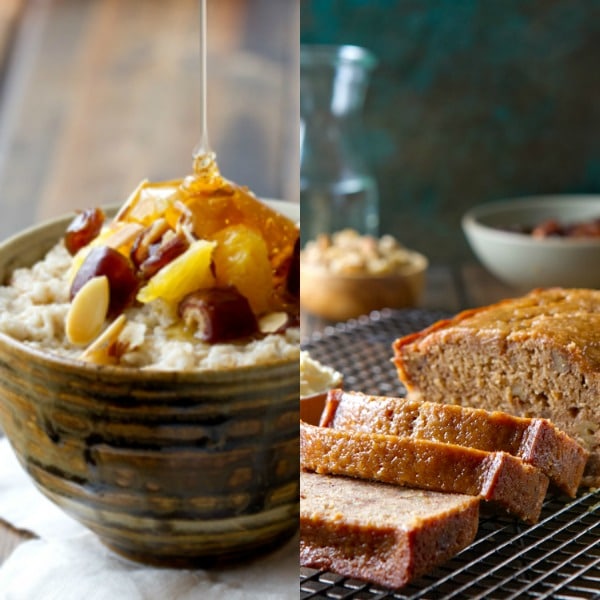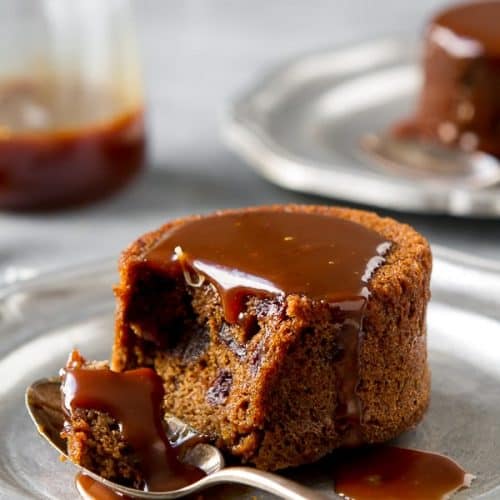 Instant Pot Bourbon Sticky Toffee Pudding
Warm, moist and caramel sweet, and "yes" a bit sticky, this Instant Pot Bourbon Sticky Toffee Pudding checks all the boxes for true comfort food that can pass as a "fancy" dessert - that of course you can completely make ahead of time!!!
Print
Pin
Rate
Add to Collection
Go to Collections
Ingredients
1/2

Cup

Chopped dates

1/2

Teaspoon

Baking soda

6

Tablespoons

Hot water

2

Tablespoons

Good quality bourbon

3

Tablespoons

Unsalted butter

2

Tablespoons

Milk

2/3

Cup

Flour

1

Teaspoon

Baking powder

1

Egg

1/2

Teaspoon

Cinnamon

1/8

Teaspoon

Cloves

1/8

Teaspoon

Allspice

1/4

Teaspoon

Salt

1/2

cup

store bought salted caramel sauce
Instructions
Chop the dates into 1/2 inch pieces and add to a small bowl. Add the bourbon, hot water and baking soda. Stir to combine and set aside.

In a microwave safe bowl, combine milk and butter. Microwave on low for 3 - 4 minutes to melt the butter.

Remove bowl from the microwave. Add the flour, spices, baking powder and salt. Stir to combine.

Beat the egg in a small bowl and add to the flour mixture.

Add the dates and water mixture.

Stir all the ingredients together.

Spray 4 ramekins with non stick spray. Divide the mixture evenly between the 4 ramekins.

Spray 4 small pieces of foil with non stick cooking spray and cover the ramekins.

Place the wire rack into the Instant Pot. Place the ramekins on the wire rack. Pour 4 cups of hot water into the Instant Pot. Cover and set the instant pot to "steam" and set the timer for 25 minutes.

Release steam either through NPR or by turning to "vent" - use caution if releasing steam via vent.

Remove foil and run a thin knife around the ramekins and turn out puddings on small dessert plates.

Drizzle with caramel sauce and serve.

If you don't have an Instant Pot, you can bake these puddings! Pre heat the oven to 350 degrees and bake for 20 - 30 minutes or until a cake tester inserted into the center comes out clean.
Notes
1. Use 4 oz. straight sided ramekins.  2 Use 5 inch square piece of foil. Excess foil makes it hard to fit the ramekins in the Instant Pot.  3. The water you add to the instant pot should come up halfway the side of the ramekins. 
Nutrition
Calories:
242
kcal
|
Carbohydrates:
30
g
|
Protein:
4
g
|
Fat:
10
g
|
Saturated Fat:
5
g
|
Cholesterol:
64
mg
|
Sodium:
304
mg
|
Potassium:
268
mg
|
Fiber:
2
g
|
Sugar:
12
g
|
Vitamin A:
6.4
%
|
Calcium:
7.1
%
|
Iron:
7.9
%