Tender chicken wrapped in a slightly spicy tomato sauce, this Indian Chicken Madras Curry Recipe is the perfect gateway to Indian chicken curries.
While not a traditional Indian recipe, this tomato-based curry represents everything I love about Indian cuisine – it's simple to make, with an intriguing mix of spices that won't set your mouth on fire!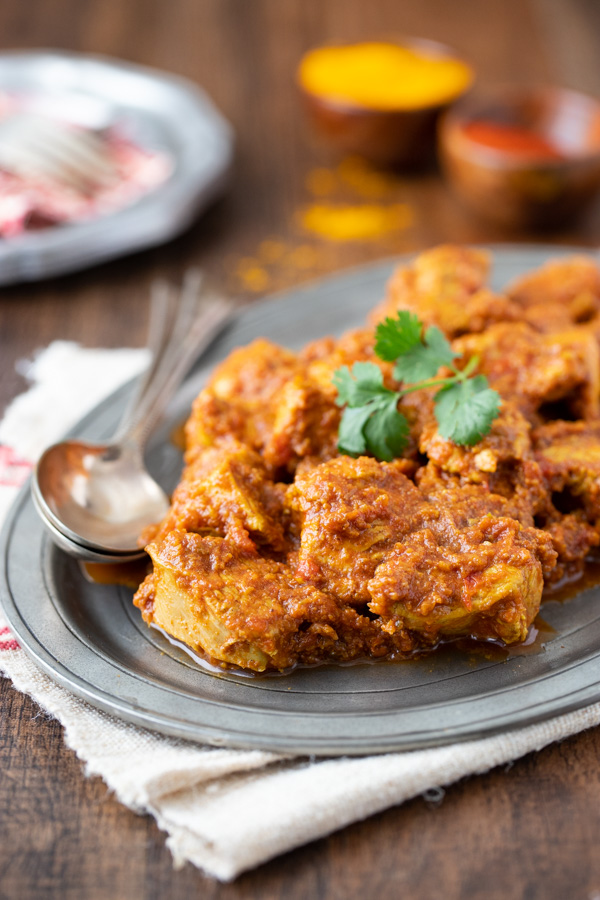 Fragrant, spicy and creamy, I've had a love affair with Indian curries for years. When the weather starts turning chilly, nothing beats a bowl of Coconut Chicken Curry , or Cauliflower and Chickpea Curry.
Ah,  but this Madras curry? This is the Indian chicken curry recipe that I make over and over again. This curry was created in Great Britain and typically uses Madras curry powder. Since Madras curry powder can be a bit challenging to find, I've adapted the recipe using ingredients you can find in any grocery store!
Ingredients for this Indian Chicken Curry:
Boneless chicken- thighs or breasts
garlic, ginger and onions
jalapeno chile
garam masala OR cumin, coriander and pumpkin pie spice
turmeric
chile powder
crushed tomatoes
salt, pepper and vegetable oil
Is Chicken Madras hot?
No – the chile powder and jalapeno add a nice contrast to the other spices. You can make this curry milder or spicier by decreasing or increasing the amount of chile powder and jalapeno you add.
What is the difference between Madras Curry Powder and Curry Powder?
Madras curry powder and curry powder have many of the same ingredients. Turmeric, cumin, coriander and cinnamon are among the spices in both varieties. The main difference is that Madras curry powder is hotter as it includes more ground chiles than a standard curry powder. Although this recipe doesn't use Madras curry powder, you could definitely substitute it for the spices in the recipe.
What is a substitute for Madras curry powder?
You can use regular curry powder and add cayenne or ground chiles to taste.
What is the difference between Madras Curry and Garam Masala?
The main difference between these two spice mixes is that Madras curry uses turmeric and garam masala doesn't. Garam masala is a sweeter spice blend that contains cardamon, nutmeg, cloves and mace.
Why you are going to love this Indian Curry:
Let me count the ways…
It's very quick to make (even if you don't have an Instant pot).
No exotic ingredients needed! Although I love visiting my local Indian grocery store (armed with my handy guide) I'm happy that everything you need for the recipe can be found at the grocery store!
Depending upon your tastes, you can make it milder or spicier!
This Indian chicken curry is very freezer friendly.
The technique for making the sauce is one you are going to want to use in other recipes!
Have I convinced you yet? Excellent! Let's get to it, shall we?
How to make Chicken Madras:
Assemble the ingredients: Add the onions, garlic, chiles, and ginger to a food processor or a blender.
Make the puree: Puree the ingredients until they are smooth. Add the puree to either the instant pot or a skillet and cook to evaporate the water. This technique thickens the sauce without using cream, yogurt, coconut milk or nuts.
Assemble the spice mix.
Cook the spices: Adding the spices and letting them cook in the oil helps to release their flavor and aroma.
Add the chicken: add the chicken and brown.
Finish: add the tomatoes, cover and cook.
Step #1: add onions, garlic, gnger and chiles to a food processor or blender.

Step #2: puree.

Step #3: assemble the spice mix.

Step #4: cook the spices

Step #5: cook the chicken.
Tips for making Madras Chicken:
Worried the dish will be too spicy? Start with half a jalapeno. If the sauce isn't spicy enough, you can add some cayenne pepper.
If this Indian chicken curry turns out spicier than you'd like, serve it with some plain greek yogurt to tame the heat.
For a vegetarian curry, substitute chickpeas for the chicken – just remember you'll need to adjust your cooking times accordingly!
I like to serve this over rice, cauliflower rice or with a side of my yogurt flatbreads or naan bread if I have it.
Double the recipe and freeze the other half!
Other Indian Recipes you're bound to fall in love with!
Indian Chicken Madras Curry Recipe:
I hope you enjoyed this Chicken Madras and if you did, I'd love for you to leave me a 5 star rating!
Cheers! Nancy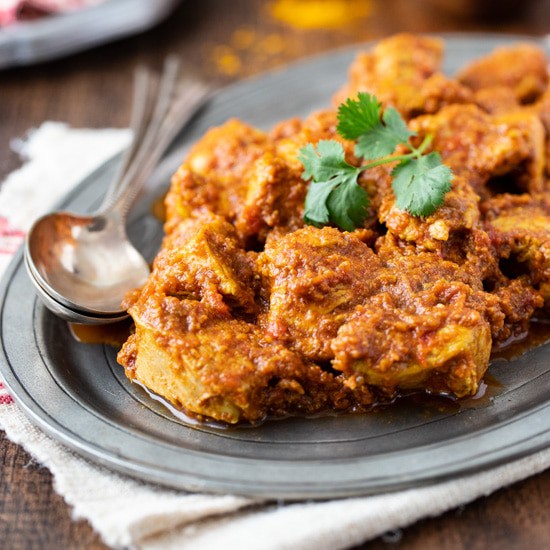 Indian Chicken Madras Curry Recipe
Tender chicken wrapped in a slightly spicy tomato sauce, this Chicken Madras is the perfect gateway Indian chicken curry recipe! If you've ever wanted to try your hand at Indian curries, this is the recipe to start with!
Print
Pin
Rate
Add to Collection
Go to Collections
Ingredients
4

skinless, boneless chicken breasts

cut into 1 ½ inch chunks and blotted dry

1

onion

8

garlic cloves

1

knob

ginger

one inch

1

jalapeno

1

Tablespoon

vegetable oil

1

Tablespoon

garam masala

OR 1 teaspoon each, cumin, coriander and pumpkin pie spice

2

teaspoons

hot chili powder

½

teaspoon

turmeric

1

teaspoon

salt

2

cups

crushed tomatoes
Instructions
Add the onion, garlic, ginger, and jalapeno to a mini food processor or blender. Blend until the mixture is pureed.

Combine the spices in a small bowl and set aside.

Heat the oil in the instant pot on the saute setting. Add the onion mixture and cook for 3 – 4 minutes until most of the water has evaporated.

Add the spices and salt to the onion mixture and cook for 1 – 2 minutes until the spices are fragrant.

Add the chicken and cook until all sides are brown, about 3 – 5 minutes.

Add the crushed tomatoes and stir.

Place the lid on the instant pot and set to pressure cook for 4 minutes. After 4 minutes do a manual release and, once the steam has escaped, open the instant pot. If the sauce is too watery, remove the chicken and cook the sauce on the saute setting until thickened.
For cooking in a skillet:
Follow steps 1 and 2 above. Add the oil to a skillet and heat over medium high heat.

Add the onion mixture and saute for 3 – 5 minutes until most of the water has evaporated. Add the spices and salt and cook for another 1 – 2 minutes.

Add the chicken and saute until the chicken has browned all over. Add the tomatoes, raise the heat to high, and bring to a boil.

Reduce the heat to a simmer and place a lid on the pan. Cook for 20 – 30 minutes or until the chicken is cooked through (165 on a meat thermometer) and the sauce has thickened. If the sauce is too thin, remove the chicken and boil the sauce until the sauce is thick enough to coat the chicken. If the sauce is too thick, add a tablespoon or two of water.

Remove from the heat and serve.
Recipe Notes
Recipe Notes: 
This recipe only uses 1 Tablespoon of oil so make sure you blot the chicken well with a paper towel to keep it from sticking!
If at all possible, use garam masala! Check out my Indian Market Shopping Guide for details about this spice! I love using this spice mix and find many uses for it in my kitchen in dishes like this One Pan Indian Coconut Chicken Curry and this Spiced Potato Hash. 
If you are worried this Madras Chicken Recipe will be too spicy, start with half the jalapeno called for. Also, you could use regular chile powder instead of a spicier version. 
This indian chicken curry recipe is really more of a template. Feel free to add some vegetables to it if you wish – cauliflower and peas would be a great addition. 
If you'd enjoy a creamier version, feel free to add about ½ cup of coconut milk. 
If the curry is still too spicy, add a few squirts of lemon juice and/or serve with plain greek yogurt to tame the heat! 
Nutrition
Calories:
227
kcal
|
Carbohydrates:
14
g
|
Protein:
27
g
|
Fat:
7
g
|
Saturated Fat:
3
g
|
Cholesterol:
72
mg
|
Sodium:
890
mg
|
Potassium:
856
mg
|
Fiber:
3
g
|
Sugar:
6
g
|
Vitamin A:
630
IU
|
Vitamin C:
20.5
mg
|
Calcium:
67
mg
|
Iron:
2.4
mg