Sweet and sultry, this Tamarind Margarita Cocktail is just what your chips and salsa have been asking for! Flavored with tamarind concentrate, this tamarind margarita cocktail is sweet, tangy and so darn good you will be saying "ole!"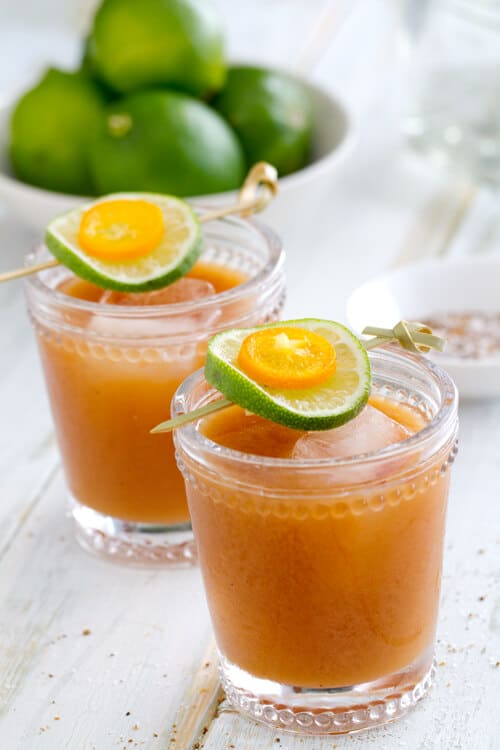 Happy Cinco de Mayo! Yes, I know this isn't really a holiday – more just an excuse to drink  margaritas (in this case a  Tamarind Margarita –   and chow down on Juicy and Tender Slow Cooker Pulled Pork Tacos, salsa and guacamole.
But I am definitely celebrating. After 2 plus months of illness, slab leaks, major repairs, more illness, and eating out lunch and dinner for over 3 weeks, I finally have my health and my house back.
And  I am grateful beyond measure.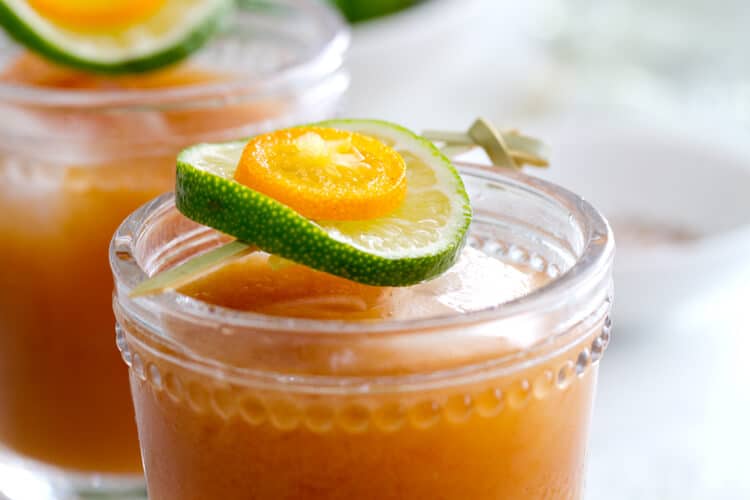 And I honestly can't think of a better reason to celebrate!  So, in keeping with the festive nature of the day, I bring you my latest margarita obsession – the Tamarind Margarita Cocktail.
If you've been reading this blog for a bit, you know how I feel about Margaritas – whether it's a Pomelo and Mint Margarita, Hibiscus Margarita or a Hatch Chile Margarita – I love them all!
I recently discovered Tamarind Margarita Cocktails at a local Mexican restaurant we've been frequenting during our 3 weeks of constant dining out – and while that may sound delightful, for me, well…
It soooo wasn't!
Well, except for the Tamarind Margarita Cocktails. Those made the whole experience definitely more bearable.
So what the heck is a Tamarind Margarita Cocktail and why would you want one? Because it's absolutely delicious. Flavorwise, it's similar to a traditional margarita… but better. Much, much better. The tamarind gives the cocktail a bit more body and a fuller and richer flavor and helps balance the sweet, tart and tequila flavors. In short, a Tamarind Margarita is what a margarita should taste like!
Tamarind is used in Indian,  Hispanic and Southeast Asian cooking. Made from the fruit of the tamarind tree, tamarind has a sweet and tart flavor and is used in everything from desserts to marinades, sauces, and curries.
You can find tamarind in Indian, Hispanic or Southeast Asian markets. It comes in a few different forms. You can buy a block of the pulp that you soak and then strain or you can buy tamarind concentrate which is what I used.
The concentrate lasts a long time in the refrigerator and is a fantastic addition to meat marinades (it's what gives Worcestershire sauce its tang) and makes an excellent dressing for Asian inspired salads.
And of course, it makes an incredible Tamarind  Margarita.  Patron Silver, sweet and sour mix, lime juice and a little agave nectar is all you need for a celebration worthy cocktail!
Cheers!!
Tamarind Margarita
Flavored with tamarind concentrate, this tamarind margarita cocktail is sweet, tangy and perfect with chips, salsa and guacamole.
Ingredients
2

oz.

silver tequila

I used Patron Silver

3/4

oz.

tamarind concentrate

3/4

oz.

homemade sweet and sour mix

1/4

oz.

fresh lime juice

1/4

oz.

agave nectar

fresh lime slices

optional

fresh kumquat slices

optional

kosher salt

optional
Instructions
Combine all the ingredients in a cocktail shaker, fill 3/4 full with ice and shake for 30 seconds. Strain over ice into a small tumbler, rimmed with salt if desired. Garnish with fresh lime slices and kumquat slices if desired.
Nutrition
Calories:
224
kcal
|
Carbohydrates:
23
g
|
Protein:
0
g
|
Fat:
0
g
|
Saturated Fat:
0
g
|
Cholesterol:
0
mg
|
Sodium:
22
mg
|
Potassium:
133
mg
|
Fiber:
1
g
|
Sugar:
21
g
|
Vitamin C:
2.6
%
|
Calcium:
1.6
%
|
Iron:
3.3
%