Sweet and sultry, this Tamarind Margarita Cocktail is just what your chips and salsa have been asking for! Flavored with tamarind concentrate, this tamarind drink recipe is sweet, tangy and so darn good you will be saying "ole!"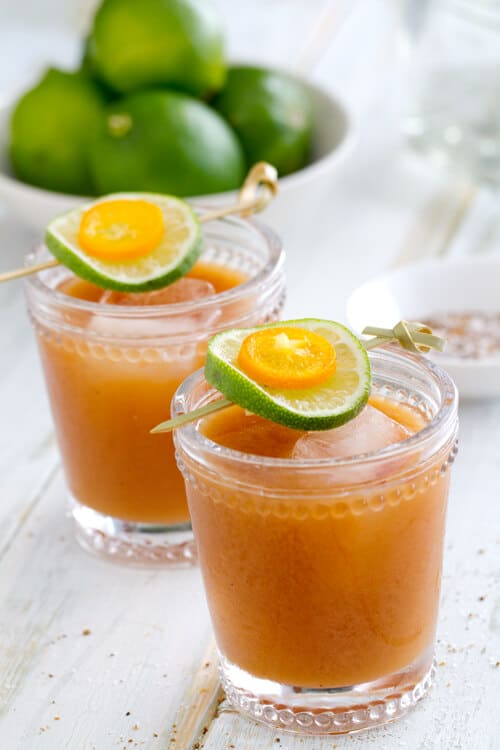 What you need to make this Tamarind Margarita Cocktail:
Prepared Tamarind pulp or concentrate
Blanco tequila – I used Patron
agave nectar
Happy Cinco de Mayo!
In keeping with the festive nature of the day, I bring you my latest margarita obsession – the Tamarind Margarita Cocktail.
If you've been reading this blog for a bit, you know how I feel about Margaritas! Whether it's a classic Margarita on the Rocks, a Pomelo and Mint Margarita, Hibiscus Margarita or a Hatch Chile Margarita – I love them all!
I recently discovered Tamarind Margarita Cocktails at a local Mexican restaurant we've been frequenting during 3 weeks of constant dining out – and while that may sound delightful, for me, well…
It soooo wasn't!
Well, except for the Tamarind Margarita Cocktails. Those made the whole experience definitely more bearable and this is now my favorite Tamarind drink recipe!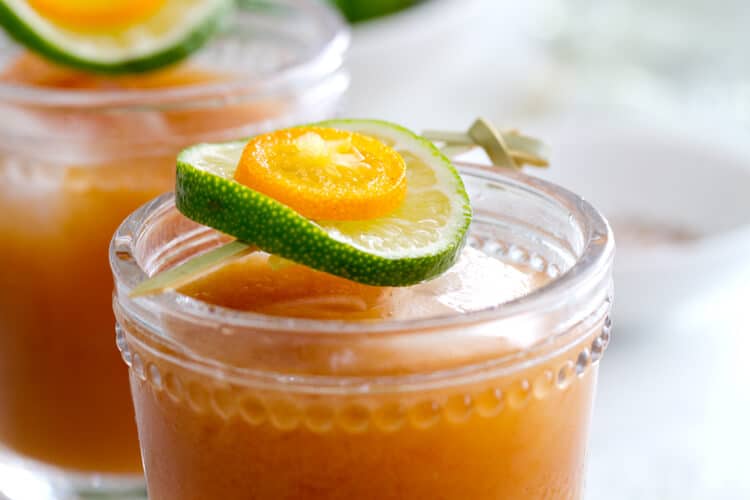 But what is Tamarind and why would you want it in your Margarita?
Because it's absolutely delicious. Flavorwise, it's similar to a traditional margarita… but better.
The tamarind gives the cocktail a bit more body and a fuller and richer flavor which helps balance the sweet, tart and tequila flavors. In short, if you love margaritas you will love a Tamarind Margarita!
Tamarind FAQ's
What is Tamarind?
Tamarind comes from the bean pod pulp of the tamarind tree which grows in India and Pakistan as well as other tropical climates.

What does Tamarind taste like?
Sweet, with a distinctive tart flavor.
What forms does Tamarind come in?
You can buy tamarind pods and remove the pulp yourself. You can also buy blocks of pulp or concentrate which is ready to use.
Where can you buy Tamarind?
You can find it in Indian, Hispanic or Southeast Asian markets. You can also find it online!
What do you use Tamarind in?
Tamarind is used in Indian,  Hispanic and Southeast Asian cooking and is used in everything from desserts to marinades, sauces, and curries.
Tips for making this Tamarind Drink Recipe:
I used tamarind concentrate for this cocktail. The concentrate lasts a long time in the refrigerator and is a fantastic addition to meat marinades (it's what gives Worcestershire sauce its tang) and makes an excellent dressing for Asian inspired salads.
If you're making it for a crowd, you can mix all the cocktail ingredients together ahead of time and then measure and shake right before serving!
If you enjoyed this tamarind drink recipe, I would love for you to give it a 5 star rating!!
Cheers!! Nancy
Tamarind Margarita
Flavored with tamarind concentrate, this tamarind margarita cocktail is sweet, tangy and perfect with chips, salsa and guacamole.
Ingredients
2

oz.

silver tequila

I used Patron Silver

3/4

oz.

tamarind concentrate

3/4

oz.

homemade sweet and sour mix

1/4

oz.

fresh lime juice

1/4

oz.

agave nectar

fresh lime slices

optional

fresh kumquat slices

optional

kosher salt

optional
Instructions
Combine all the ingredients in a cocktail shaker, fill 3/4 full with ice and shake for 30 seconds. Strain over ice into a small tumbler, rimmed with salt if desired. Garnish with fresh lime slices and kumquat slices if desired.
Nutrition
Calories:
224
kcal
|
Carbohydrates:
23
g
|
Protein:
0
g
|
Fat:
0
g
|
Saturated Fat:
0
g
|
Cholesterol:
0
mg
|
Sodium:
22
mg
|
Potassium:
133
mg
|
Fiber:
1
g
|
Sugar:
21
g
|
Vitamin C:
2.6
%
|
Calcium:
1.6
%
|
Iron:
3.3
%