This simple Margarita cocktail recipe took me years of research and I have finally found the absolute best one ever! This easy agave margarita has only 4 ingredients. You don't need expensive liqueurs or mixes to make this classic cocktail!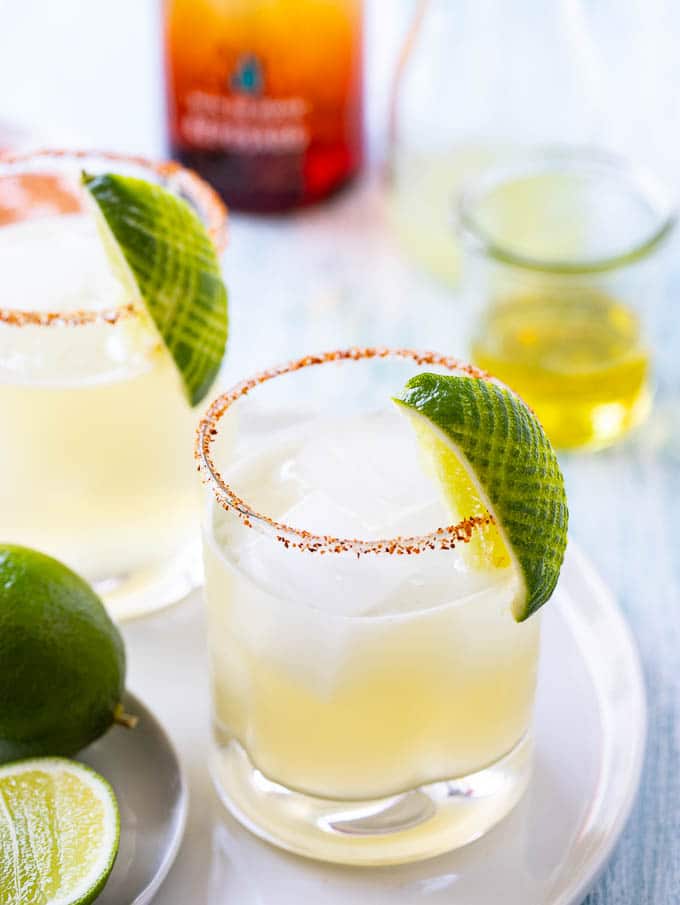 If you've been around ACT for a bit, you know that I LOVE Margaritas - especially ones served on the rocks! Whether it's this slightly exotic Tamarind Margarita or this gorgeously red Hibiscus Margarita, this is one cocktail I never tire of.
So, for years I've searched for the perfect margarita recipe.
And I found it. Finally. And Yes, the search was worth it!
So what makes this margarita on the rocks the BEST?
The tequila - and yes, I'm serious. But it isn't about the brand! Read on to find out why the type of tequila used makes such a difference!
Ingredients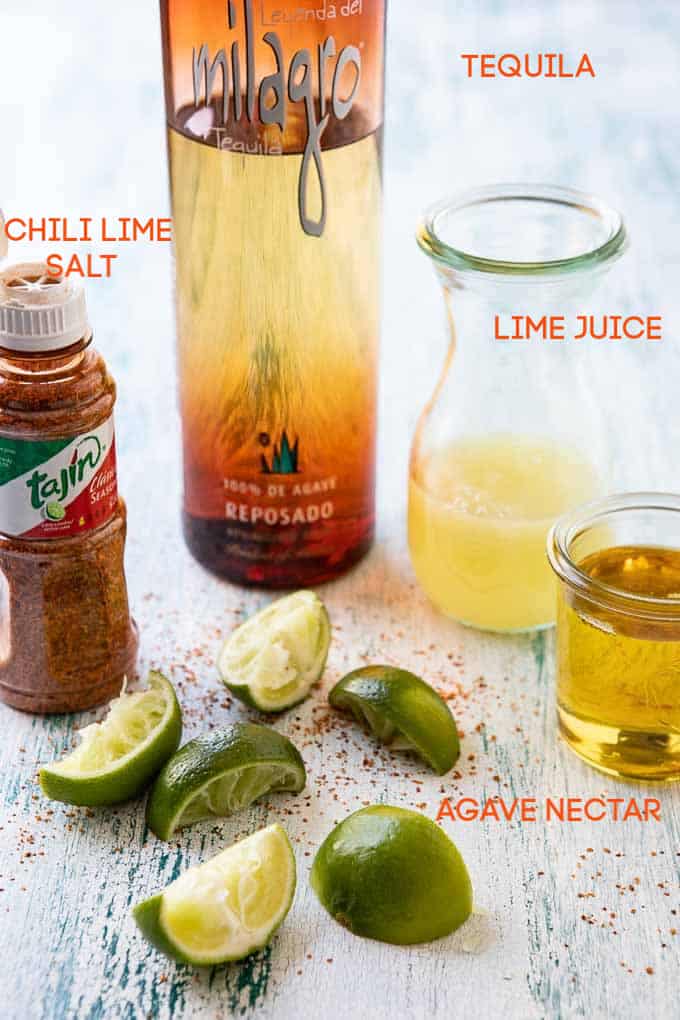 Tequila - most margarita recipes use silver tequila but using Reposado is THE gamechanger! Reposado is smoother, with hints of vanilla and caramel which is why you don't need Grand Marnier or Triple Sec.
Fresh limes - ditch the sweet and sour mix, fresh lime juice tastes so much better!
Chili lime salt- you definitely could use kosher salt but I love the "bite" of chile-lime salt!
Agave nectar- although simple syrup is the most common sweetener in this cocktail, the richer honeyed flavor of agave works much better!
What is Tequila
Tequila is a hard liquor like gin, bourbon, and vodka but made from the blue agave plant that is native to Mexico. To be called "tequila" the liquor has to be distilled in the Mexican state of Jalisco.
What are the different types of tequila
Yes, there are different kinds of tequila. So here's a little rundown of the different types.
Blanco: sometimes called "silver", isn't aged and has a neutral flavor and is a bit harsher than aged tequilas. Most margarita recipes use this type of tequila - but you don't have to!
Tequila Gold: This is a Blanco tequila that has additional colorings and/or flavorings added to taste more like an aged tequila.
Reposado: aged in wooden barrels from 2 to 11 months. It's mellower and has a bit of a caramel flavor which makes for a smooth margarita.
Anejo: aged for 1 year, it's mellower than Reposado and tastes a bit spicy.
Extra Anejo: aged for 3 years with a smokey flavor.
Can you substitute one type of tequila for another in cocktails
It really depends upon the cocktail! Blanco works very well in mixed drinks with other strong flavors. Reposado has a bit more flavor and but also works really well in most cocktails - and especially a margarita. The Anejo's are more like aged whiskeys and are intended for straight sipping.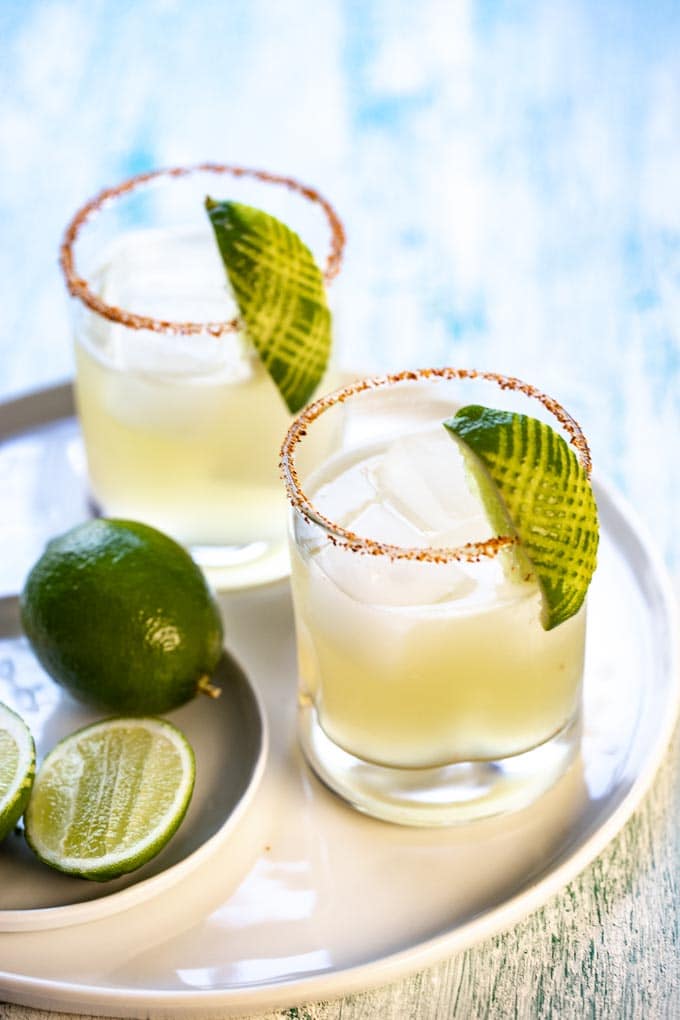 How to make the Best Margarita on the rocks
Start with a quality Reposado . I like Milagro but there are tons of choices. TIP: Look for Reposado based cocktails when you are ordering a cocktail - it's a great way to try other tequilas without having to purchase multiple bottles!
Juice your limes: If you're making these for a crowd, you can juice the limes several hours in advance. Hold on to some of the juiced limes to use to rim the glass!
Rim your glass or glasses
Shake your cocktail: You can shake the margaritas a couple of hours before serving but I like to do it just before. There is something so festive about the sound of a cocktail shaker!
Add ice: Add ice to your glass or glasses and pour the margarita over. Garnish with a lime wedge if desired and then serve!
How to rim a cocktail glass
You definitely can rim your glass ahead of time- which is great when you are having a party. Spread the salt or chile-lime salt on the plate. Run a juiced lime around the rim of the glass and then dip the glass into the salt, rotating the glass to cover the entire rim.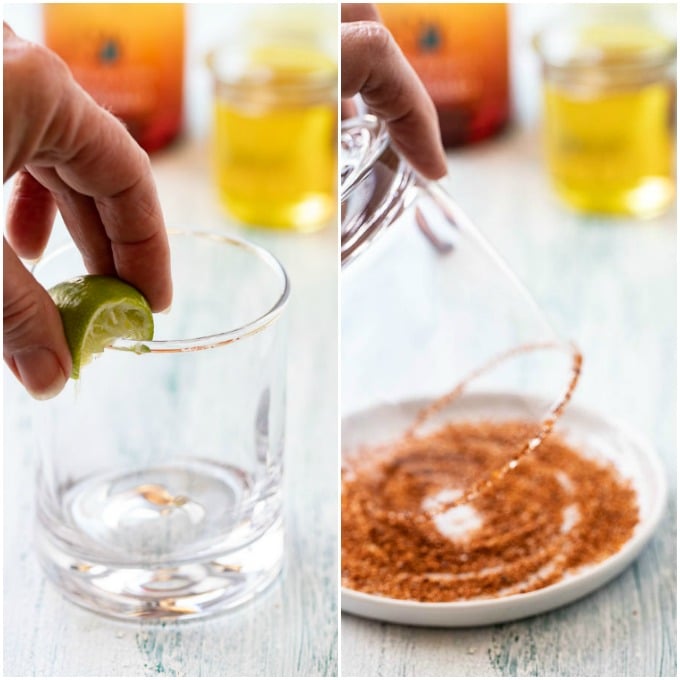 Other Margarita Cocktails you'll love!
If you think this is the BEST Margarita on the rocks too, I'd love for you to give it a 5-star rating in the comments!
Cheers! Nancy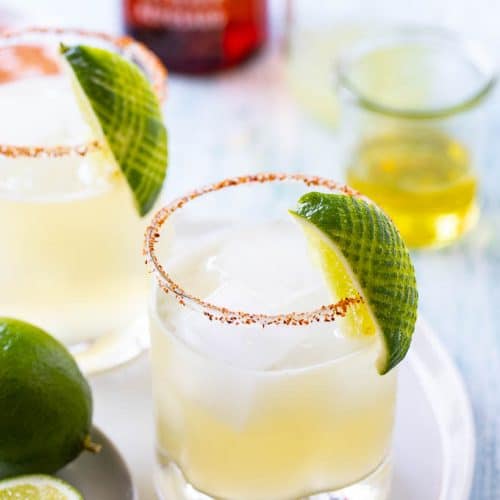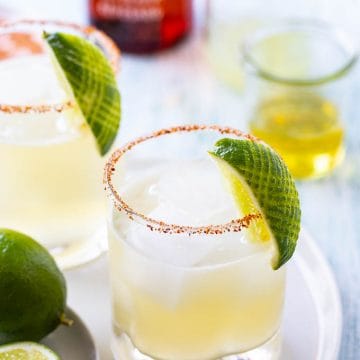 Ingredients
2

oz.

reposado tequila

1

oz

fresh lime juice

¾

oz.

agave nectar

1

teaspoon

chile lime salt

I used Tajin

1

lime wedge

optional
Instructions
Reserve one of the juiced limes to rim the glass. Run the lime around the rim.

Spread the chile lime salt on a small plate. Dip the rim into the chile salt, making sure to cover the entire rim.

In a shaker, combine the tequila, lime juice and agave nectar.Add ice and shake for 45 seconds.

Add ice to the rimmed cocktail glass and pour the cocktail over.

Garnish with a lime wedge if desired.
Recipe Notes
Substitutions
Tequila: You can make this cocktail with Blanco or silver tequila if that is what you have on hand but if possible, use the Reposado - it makes a huge difference in the flavor.  
Agave Nectar: If you don't have agave nectar you can use honey or simple syrup but the flavor won't be as rich. 
Chile lime Salt: The brand I used is Tajin, but any Chili lime salt will work. If you don't have any, regular margarita salt or coarse kosher salt will work!
Make-Ahead Tips:
If you're making these for a party, you can juice the limes ahead of time and rim the glasses. To speed up shaking each cocktail, you can combine the tequila, lime juice, and agave syrup and then add 3 ¾ ounces to the shaker for each cocktail. If making in advance, mix up the drink the day of the party for the best flavor.
Nutrition
Calories:
209
kcal
|
Carbohydrates:
20
g
|
Protein:
0
g
|
Fat:
0
g
|
Saturated Fat:
0
g
|
Cholesterol:
0
mg
|
Sodium:
2327
mg
|
Fiber:
0
g
|
Sugar:
15
g
|
Vitamin C:
13.8
mg