Creamy and cheesy, this Crack Corn Dip is "can't stop eating it" addictive!
Sweet corn, peppers, onions, garlic and jalepeno, all wrapped up in luscious cheese and a little mayo. But the "secret" to making the BEST hot corn dip ever? Sauteeing the corn until it's golden brown! So simple and so much flavor!!!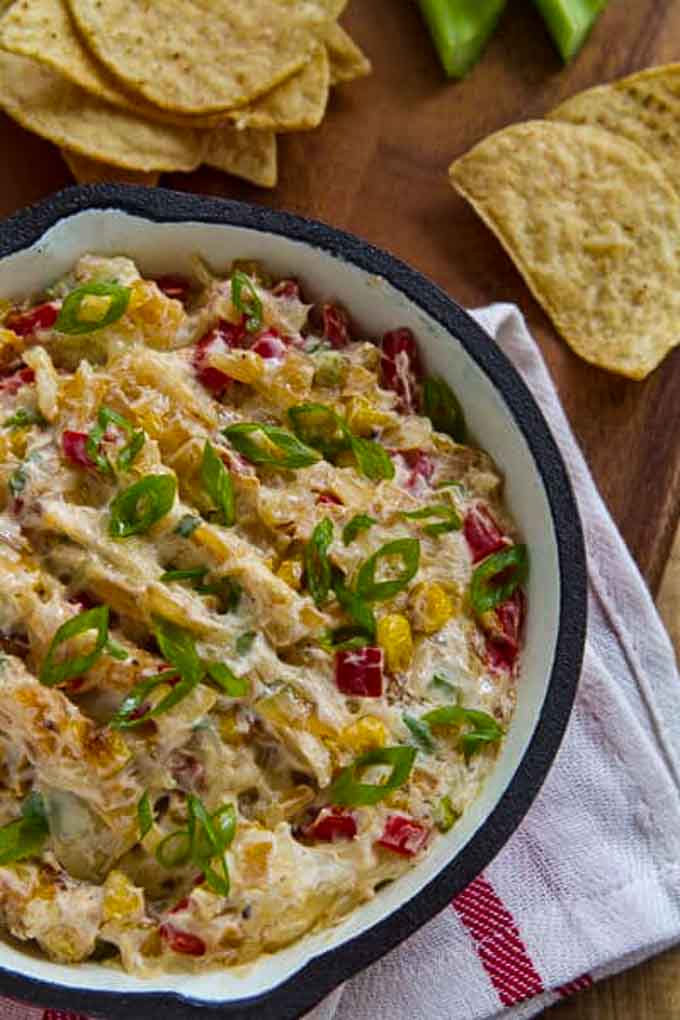 First Published: November 2015 Last Updated: September 2019
Hot Crack Corn Dip!
Whether I'm serving Crab Rangoon or this Roasted Red Pepper and Feta Dip, anything that's creamy and cheesy is always a hit!
And this baked corn dip is no different - every time I serve it, it disappears in minutes! Colorful, sweet and spicy, For that reason alone, it's worth making - but since I can make it ahead and stash in the fridge - , puts it on the top of the list of easy party appetizers!
What you need to make Creamy and Cheesy Corn Dip
Fresh or frozen corn - I've made this dip with both and to be brutally honest, I couldn't really tell the difference between either version. If you have fresh corn, by all means, use it, but frozen works and is definitely less work!
Onions - plain old brown onions are all you need!
Red Bell peppers - I love the texture of sauteed fresh bell peppers. But if you're in a hurry, or don't have them, jarred roasted red bell peppers can be substituted.
Jalapeno - I used a single jalapeno but you absolutely can use more or less depending on how hot the pepper is how spicy you like your dip! Canned green chiles make a terrific substitute with their subtle smokiness.
Garlic!
Mayonnaise - I think the dip is best when full-fat mayo is used!
Jack Cheese - pepper jack works really well - especially if you don't have a jalapeno!
Green onions
Butter
Salt, pepper, and cayenne (if needed)
How to make this Hot Corn Dip Recipe:
Saute the corn. If you're using frozen corn you don't need to defrost it first. Just make sure your pan is hot! Melt the butter and then dump the corn in and stir frequently until the corn is a deep golden brown. Browning the corn caramelizes the sugars and gives the corn a rich and deep flavor!
Saute the peppers and onions - you want them really soft and caramelized for more flavor!
Add in the jalapeno or green chiles and garlic.
For the creamy and cheesy part I use grated cheese and mayonnaise only. You could add a cup of cream cheese but here's the thing. I think it's too heavy and masks the flavors of the other ingredients. Having made both versions, I really like this dip without the cream cheese. It's a little bit lighter and I can really taste the other ingredients.
For dipping, tortilla chips are the obvious choice but celery and mini bell peppers are also amazing with this dip!
What to serve with this Cheesy Corn Dip:
While you might be tempted to make a meal of this dip all on it's own, here are some recipes that you might enjoy along with it!
Other Corn Dip Recipes you might enjoy!
If you enjoyed this recipe, I would LOVE for you to give it a 5-star rating! Cheers! Nancy
📖Recipe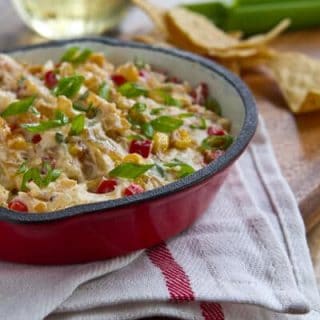 Ingredients
2

Tbsp.

unsalted butter

2

cups

corn kernels

fresh or frozen

2

cups

onions

finely chopped

2

cups

red bell pepper

finely chopped

1

jalapeno

seeded and minced

3

cloves

garlic

minced

1

cup

mayonnaise

2

cups

shredded jack cheese

salt and pepper

cayenne

optional

2 - 3

green onions for garnish
Instructions
Pre heat oven to 350 degrees.

Spray a medium sized baking dish with cooking spray. Set aside.

In a large skillet over medium high heat melt 1 Tbsp. of the butter. Add the corn and cook, stirring occasionally until the corn is cooked and the kernels turn a nice golden brown color - about 5 - 7 minutes. The corn will make crackling noises as it cooks so don't worry!

Pour the corn into a large bowl and set aside.

Melt the remaining 1 Tbsp. butter in the pan and add the onions and bell pepper. Cook until the onions are just beginning to soften, about 3 - 4 minutes. Add the jalapeno and garlic and cook for another 2 minutes. Pour the vegetables into the bowl with the corn and let cool.

Add the mayonnaise to the mixture in the bowl. Season with salt and pepper and cayenne is using. Stir 1 ½ cups of the cheese into the mxiture and pour into the prepared baking dish. Sprinkle with the remaining cup of cheese and bake until bubbly and golden brown - about 10 - 12 minutes.

Serve with crackers, tortilla chips or veggies!
Recipe Notes
I served this with multi grain crackers and with red pepper sticks. The dip is also good with roasted green chiles - 1 7 oz. can is perfect in this recipe! For added heat, a diced chipotle chile is great instead of the jalapeno. This dip can be assembled and refrigerated 1 day ahead. If making ahead, let dip come to room temperature before baking!
Nutrition
Calories:
512
kcal
|
Carbohydrates:
18
g
|
Protein:
12
g
|
Fat:
44
g
|
Saturated Fat:
14
g
|
Cholesterol:
59
mg
|
Sodium:
545
mg
|
Potassium:
302
mg
|
Fiber:
3
g
|
Sugar:
7
g
|
Vitamin A:
2040
IU
|
Vitamin C:
71.4
mg
|
Calcium:
305
mg
|
Iron:
1
mg