Happy December 1st!!
I always view this day with mixed feelings. On the one hand I love the "official" start of the Christmas/Hanukkah season – on the other I tend to get this little "panicky" feeling in the pit of my stomach when I think of all the things I need/want to do between now and the "big day". It's silly, I know because every year I feel the same way and every year I manage to "make my list and check it twice" as the saying goes.
But I still  can't get rid of that feeling.
Which is where my lists come in. I am a habitual list maker – if there was a self help group for that I'd be a charter member. I've got lists for just about everything  and I tend to go into overdrive during the holiday season…and  of course  I have one for "holiday dishes/appetizers".  Knowing that I've got dishes "up my sleeve" relieves some of the stress I feel during this time of year –  when those holiday get together invites hit my mailbox, I don't have to spend time thinking about what to make – I already  have the choices narrowed down…. and if I am brutally honest here  I will also tell you that I note what dish to put it in!!!
Yes, I know, I need help.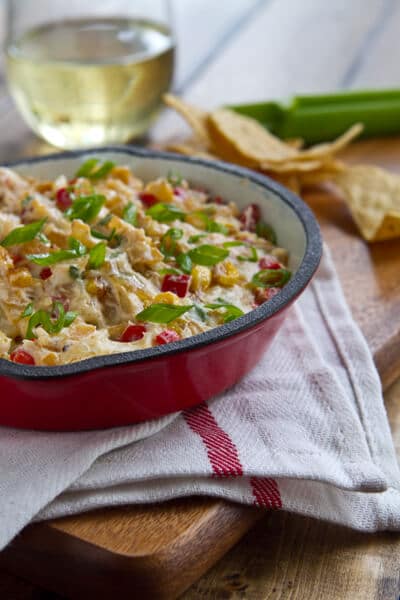 So, back to "the list".
This year, I've added  this roasted corn dip  and I had to share with you all! I am really excited about this dip for a couple of reasons. First, it is delicious (duh!) but it's also vegetarian (no bacon in sight) AND it doesn't have any aged cheese in it… which may not be a big deal but when you have a friend (and you know who you are!) who can't eat aged cheeses, warm dips can be kind of a challenge. So, finding one that is delicious, vegetarian that doesn't contain aged cheese and can be made ahead… "yes, Virginia, there really is a Santa Claus!!" is all I can say.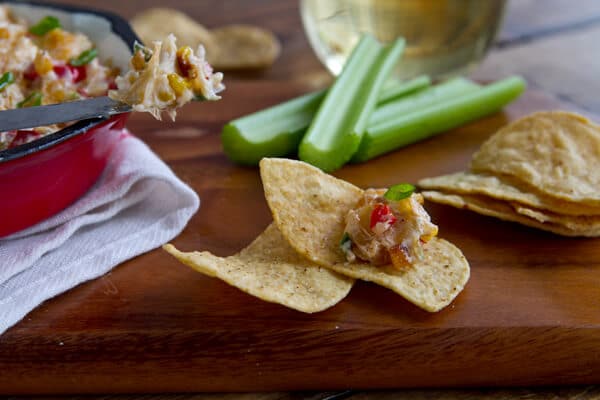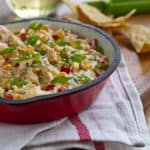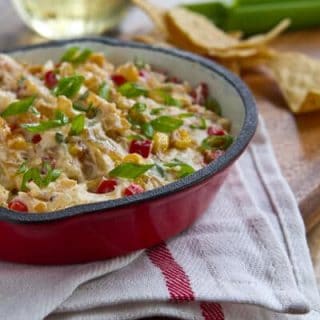 Roasted Corn Dip
I served this with multi grain crackers and with red pepper sticks. The dip is also good with roasted green chiles - 1 7 oz. can is perfect in this recipe! For added heat, a diced chipotle chile is great instead of the jalapeno. This dip can be assembled and refrigerated 1 day ahead. If making ahead, let dip come to room temperature before baking!
Ingredients
2

Tbsp.

unsalted butter

2

cups

corn kernels

fresh or frozen

2

cups

onions

finely chopped

2

cups

red bell pepper

finely chopped

1

jalapeno

seeded and minced

3

cloves

garlic

minced

1

cup

mayonnaise

2

cups

shredded jack cheese

salt and pepper

cayenne

optional

2 - 3

green onions for garnish
Instructions
Pre heat oven to 350 degrees.

Spray a medium sized baking dish with cooking spray. Set aside.

In a large skillet over medium high heat melt 1 Tbsp. of the butter. Add the corn and cook, stirring occasionally until the corn is cooked and the kernels turn a nice golden brown color - about 5 - 7 minutes. The corn will make crackling noises as it cooks so don't worry!

Pour the corn into a large bowl and set aside.

Melt the remaining 1 Tbsp. butter in the pan and add the onions and bell pepper. Cook until the onions are just beginning to soften, about 3 - 4 minutes. Add the jalapeno and garlic and cook for another 2 minutes. Pour the vegetables into the bowl with the corn and let cool.

Add the mayonnaise to the mixture in the bowl. Season with salt and pepper and cayenne is using. Stir 1 1/2 cups of the cheese into the mxiture and pour into the prepared baking dish. Sprinkle with the remaining cup of cheese and bake until bubbly and golden brown - about 10 - 12 minutes.

Serve with crackers, tortilla chips or veggies!