This Spanish flan recipe is creamy and sweet, with a caramel sauce that's so good, you'll want to lick the plate clean!
Made with only milk, eggs, sugar, vanilla (and a pinch of salt!) this easy, Spanish dessert is light, delicately flavored with a lusciously creamy mouthfeel. Bonus points since you can make it several days in advance !!!!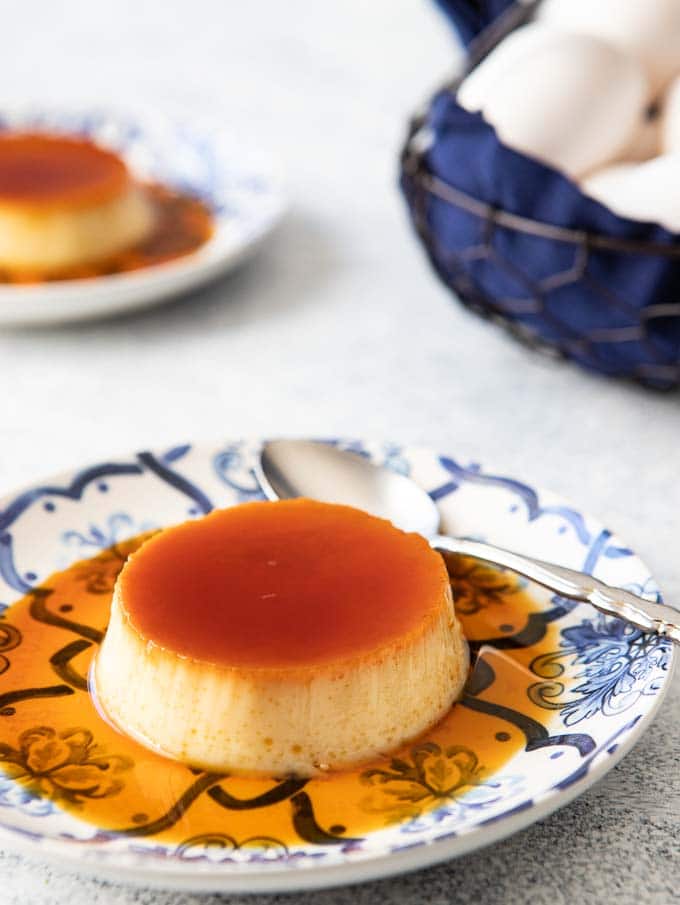 Easy Spanish Flan Recipe with Milk
Although I've eaten many versions of this dessert, it wasn't until a recent trip to Spain that I truly fell in love with this creamy and luscious dish! Both Crema Catalana and Flan top the list of traditional Spanish desserts and so, in the name of "research" I sampled as many versions as I could!
The things I do for my job….
Returning home, I made this dessert- repeatedly. I tested out a variety of recipes for this simple dish but I wasn't 100% happy with any of them.
They were either too heavy, too sweet, too grainy, rubbery, etc, etc. or had directions that were either wrong or overly complicated.
So I went back to basics and started with an easy flan recipe with milk. After a few tweaks (and a number of tries!!) I finally came up with a simple, foolproof version!
But before we get into the how's and why's….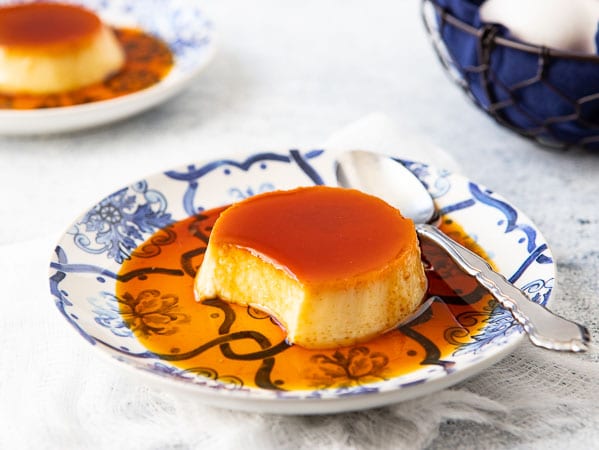 What is Flan?
Flan is a baked egg custard topped with a caramel sauce.
Spanish Flan Ingredients
You will need the following ingredients to make flan:
Milk – for this recipe you will need whole milk. 1% or 2% milk don't contain enough fat so the custard won't be as silky!
Eggs- I used large eggs in this recipe which I think gives the best result.
Sugar – white granulated sugar is all you need.
Vanilla – since this recipe has so few ingredients, use real vanilla!
Salt– although many recipes don't call for salt, a small amount balances all the flavors and definitely makes a difference.
Is Flan French or Spanish?
France and Spain both claim this dessert as their own. Surprisingly enough, neither country invented it. The earliest references to what we now call flan date to Roman times.
Both sweet and savory versions were prepared – (egg custard with eels anyone??) The Romans introduced this dish to both Spain and France, but it was the Spanish who first paired it with caramel.
How to Make Traditional Spanish Flan
Make the Caramel: Add 1 cup of sugar to a saucepan and cook over medium heat, swirling the pan to stir the sugar. DON'T stir the sugar with a spoon or spatula!
Coat the bottom of the ramekins with the caramelized sugar.
Pre heat the oven to 325 degrees and boil the water for the water bath.
Make the custard. Whisk the eggs with the milk, sugar, vanilla extract and a pinch of salt.
Fill the ramekins – place the ramekins in a baking dish. and pour the egg mixture through a strainer into each ramekin. Fill each ramekin to just below the rim.
Pour boiling water around the ramekins until the water reaches about halfway up the ramekins.
Cover the baking dish with aluminum foil and carefully place in the oven.
Bake for 45 minutes or until the flan jiggles only slightly when shaken or a toothpick inserted in the center comes out clean.
Remove the ramekins from the water bath and cool completely.
Cover the flans lightly with plastic wrap and refrigerate if not serving immediately.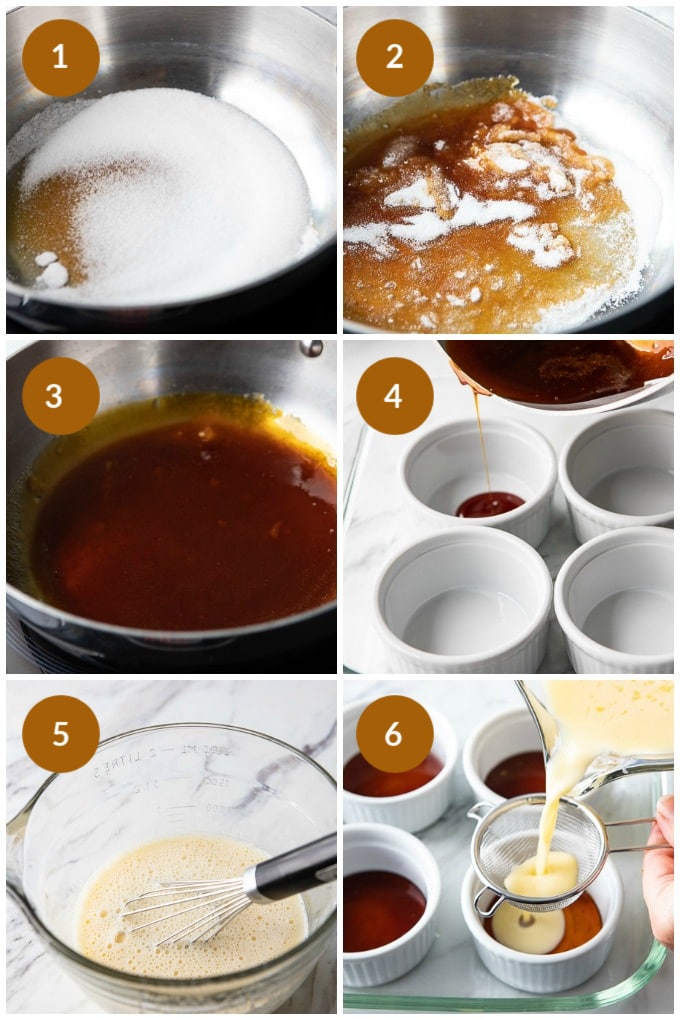 And there you have it – a classic, foolproof version of Flan! While it's sometimes served with a bit of whipped cream and/or berries, I prefer it just as it is!
Tips for Making Spanish Flan
Making the Caramel: There are two ways of making caramel – the wet method and the dry method. In short, the wet method adds water to the sugar before cooking and the dry method only uses sugar.
Both methods work – some people believe the wet method is easier but since I've always made caramel using the dry method, that's the method I used. I have, however, included both methods in the recipe.
Use Ramekins: Use either Pyrex or porcelain ramekins. Many recipes call for a glass pie dish or loaf pan, but it's easier to use ramekins! Why? Because (a) the flan doesn't break when you unmold it, and (b) there's less chance of over/undercooking the egg mixture. Bonus – if you're serving less than 6 people, it's easy to store the extras.
Pour the custard through a strainer! This breaks up air bubbles for a silky smooth texture.
Chilling: the dessert needs to chill in the refrigerator for at least 4 hours and preferably overnight. You can make it up to 4 days in advance.
How to remove the caramel!!! Probably the biggest question! Pour HOT water into the pan/ramekins and let it sit for a bit and then wash as usual!
Need something else for your sweet tooth? Don't miss these other dessert recipes!
If you enjoyed this recipe, I would LOVE for you to leave me a comment and rate it! Cheers, Nancy!