This Spanish flan recipe is creamy and sweet, with a caramel sauce that's so good, you'll want to lick the plate clean!
Made with only milk, eggs, sugar, vanilla (and a pinch of salt!) this easy, foolproof flan recipe is light, delicately flavored with a lusciously creamy mouthfeel. Bonus points since you can make this dessert several days in advance !!!!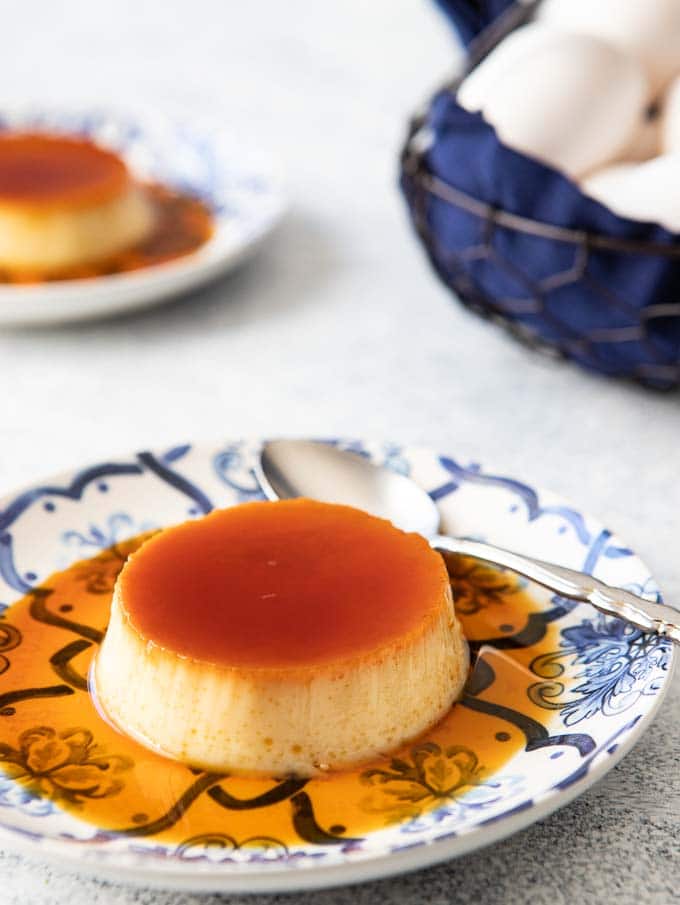 Easy Spanish Flan Recipe with Milk
Although I've eaten many versions of flan, it wasn't until a recent trip to Spain that I truly fell in love with this creamy and luscious dish! Both Crema Catalana and Flan top the list of traditional Spanish desserts and so, in the name of "research" I sampled as many versions as I could!
The things I do for my job….
Returning home, I made Spanish flan- repeatedly. I tested out a variety of recipes for this simple dish but I wasn't 100% happy with any of them.
They were either too heavy, too sweet, too grainy, rubbery, etc, etc. or had directions that were either wrong or overly complicated.
So I went back to basics and started with an easy flan recipe with milk. After a few tweaks (and a number of tries!!) I finally came up with a simple, foolproof version!
But before we get into the how's and why's let's talk about… Flan!!!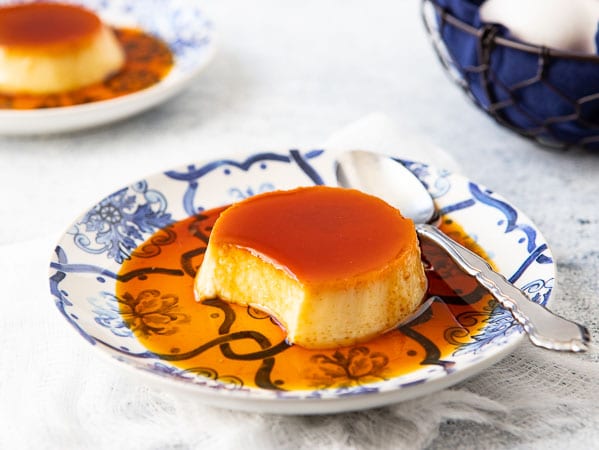 FAQ's about Spanish Flan!
What is flan?
Flan is a baked custard typically topped with a caramel sauce. Basic ingredients include milk, eggs, sugar, and vanilla.
Is Flan French or Spanish?
France and Spain both claim this dessert as their own but neither country invented it!
What is Flan's origins?
The earliest references to what we now call Flan date to Roman times where it was prepared as both a sweet or savory dish – (egg custard with eels anyone??)
The Romans introduced it to both Spain and France, but it was the Spanish that first paired it with caramel sauce!
Spain also introduced Flan to Mexico and it's now one of the most popular desserts throughout Latin America!
What is Mexican Flan?
Mexican flan is very similar to Spanish flan. The main difference is that Mexican flan is typically made with sweetened, condensed milk and evaporated milk whereas the traditional Spanish Flan recipe is made with plain milk.
How to Make this Spanish Flan Recipe
Making the Caramel: There are two ways of making caramel – the wet method and the dry method. In short, the wet method adds water to the sugar before cooking and the dry method only uses sugar.
Both methods work – some people believe the wet method is easier but since I've always made caramel using the dry method, that's the method I used. I have, however, included both methods in the recipe.
Use Ramekins: Use either Pyrex or porcelain ramekins. Many recipes call for a glass pie dish or loaf pan, but it's easier to use ramekins! Why? Because (a) the flan doesn't break when you unmold it, and (b) there's less chance of over/undercooking the custard. Bonus – if you're serving less than 6 people, the remaining flan is easy to store!
Pour the custard through a strainer! This breaks up air bubbles so your flan will come out silky smooth.
Chilling: the flan will need to chill in the refrigerator for at least 4 hours and preferably overnight. You can make the flan up to 4 days in advance.
How to remove the caramel!!! Probably the biggest question! Pour HOT water into the pan/ramekins and let it sit for a bit and then wash as usual!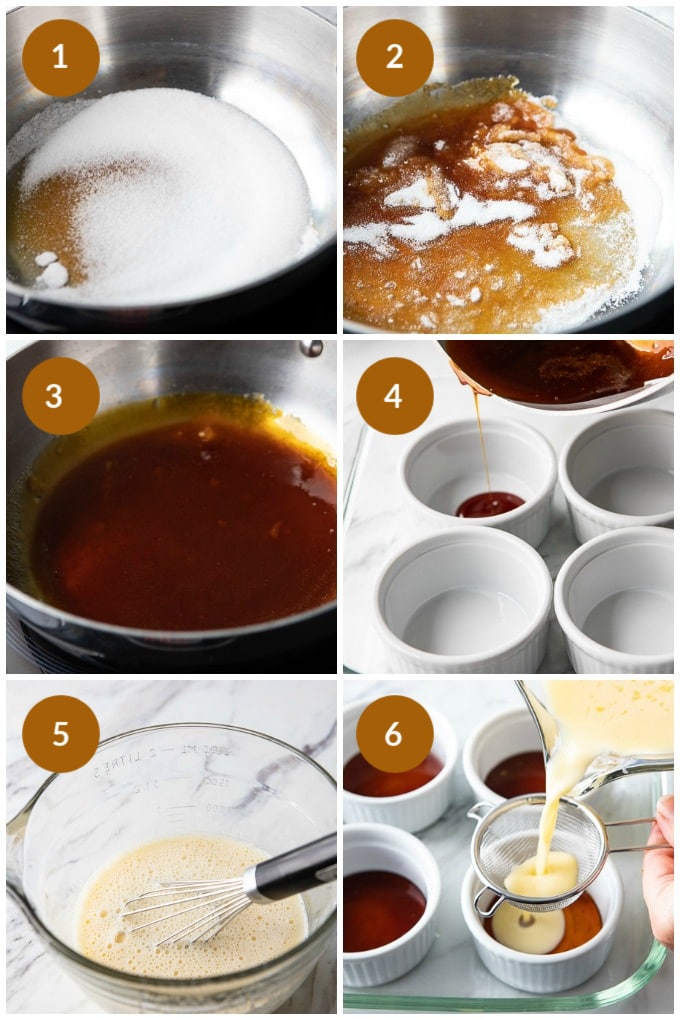 And there you have it – a classic, foolproof version of Flan! While it's sometimes served with a bit of whipped cream and/or berries, I prefer it just as it is!
If you enjoyed this recipe, I would LOVE for you to leave me a comment and rate it! Cheers, Nancy!
Spanish Flan
This foolproof Spanish flan recipe is light, delicately flavored with a luscious mouthfeel. This easy recipe can be made days in advance, making it a perfect entertaining dessert!
Ingredients
3

eggs

large

1

egg yolk

large

1 1/2

cups

whole milk

1

cup

granulated sugar

divided

1

teaspoon

vanilla extract

1

pinch

salt

2

Tablespoons

water

see instructions
Instructions
To make the Caramel:
Make the Caramel using either the WET or DRY method:

For the Dry method: add 1/2 cup sugar to a large saucepan or small skillet.

Heat over medium-low heat. When the sugar begins to melt and turn golden, swirl the pan to redistribute the sugar. DO NOT STIR.

Continue to swirl the pan every 20 seconds or so until all the sugar is melted and the caramel is medium amber in color.

Evenly divide the caramel between 6 Pyrex glass cups or 6 ramekins.
For the WET Method:
Add 1/2 cup of sugar to a medium saucepan and pour 2 Tablespoons of water over the sugar. Add 1/4 teaspoon fresh lemon juice. DO NOT STIR.

Heat the saucepan over medium heat.

Continue to cook until the syrup starts to turn pale gold. Lift the pan off the heat and swirl.

Continue to cook until the caramel is a medium amber color.

Evenly divide the caramel between 6 Pyrex glass cups or ramekins. Place the ramekins in a large baking dish (I used a 9 x 13 inch Pyrex).
Make the custard:
Preheat the oven to 325 degrees. Combine the eggs, remaining sugar, milk, vanilla and salt in a large measuring cup or medium-sized bowl.

Whisk until the mixture is thoroughly combined and the eggs are fully incorporated.

Evenly divide the egg custard between the cups or ramekins. Add hot water to the baking dish so that it comes halfway up the side of the cups or ramekins.

Bake the flan for 45 – 55 minutes or until a knife inserted in the center comes out clean and the flan jiggles when the cup or ramekin is shaken.

Remove the baking pan from the oven and carefully remove the cups or ramekins to a cooling rack.

Cool and refrigerate for 4 hours or overnight.

To unmold the flan: run a knife around the edges of the cup or ramekin to loosen the custard. Place a plate (serving side down) on top of the ramekin and flip over. Lift off the cup or ramekin and pour any remaining caramel over the flan.
Notes
Making the caramel: Either method works fine for the recipe. If you're unsure which one to try, the wet method is a bit easier. 
To unmold the flan: I like to remove the flan from the refrigerator about 30 minutes before serving since I think this dessert tastes better closer to room temperature. Taking the flans out early also helps with the unmolding!! 
How to remove the extra caramel: Pour hot water into the ramekins and let sit for a bit and then wash as usual. 
Storing: You can store the flan for up to 4 days in the refrigerator. If making ahead, let the flans completely cool and then loosely cover with plastic wrap. If the flans are still warm, condensation will form which isn't what you want!
Nutrition
Calories:
209
kcal
|
Carbohydrates:
36
g
|
Protein:
5
g
|
Fat:
4
g
|
Saturated Fat:
2
g
|
Cholesterol:
120
mg
|
Sodium:
66
mg
|
Potassium:
110
mg
|
Sugar:
36
g
|
Vitamin A:
5.2
%
|
Calcium:
8.5
%
|
Iron:
2.6
%