Sweet, creamy and a little spicy, this cauliflower curry is the answer to just about any weeknight dinner dilemma. Made from pantry and fridge staples, I can have this vegetarian-friendly dish on the table in about 30 minutes – but let's keep that between ourselves ok?
Because honestly, this Indian inspired dish tastes like it took hours to make.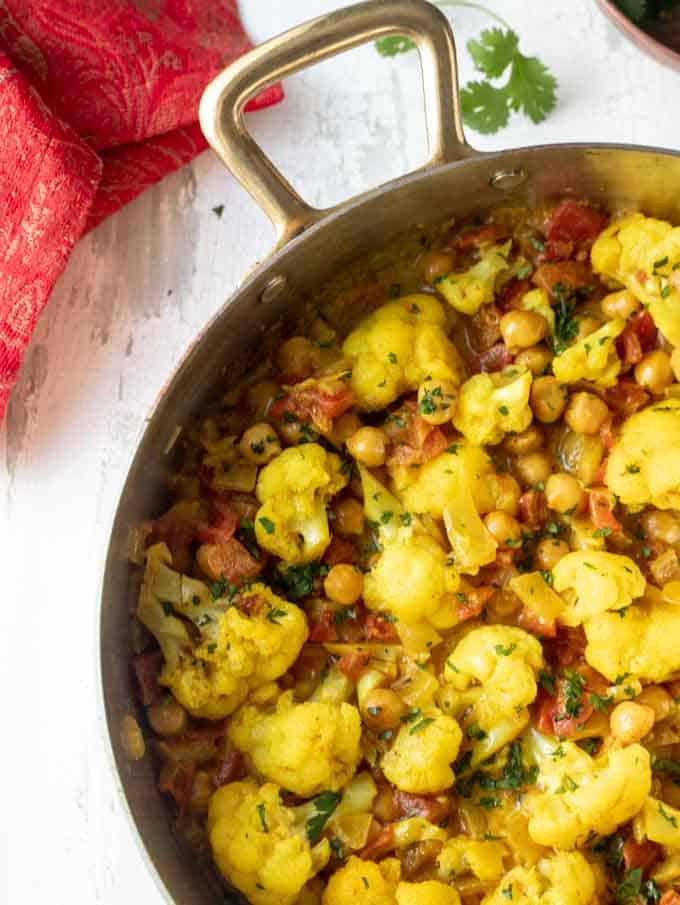 If you've been reading ACT for a while, you know I love Indian curries – Chicken Madras,One Pan Indian Coconut Chicken Curry or  Chicken Korma, curries pop up regularly on my dinner list.
Seriously, what's not to like about a dish that is easy, filling and bursting with flavor?
If you aren't familiar with curries, this cauliflower and chickpea dish is a great introduction. Ok, saying it's a great introduction to Indian curries is perhaps a bit of a stretch. This isn't a traditional Indian curry – but one that uses bits and pieces of that wondrous cuisine along with that stalwart of British ingredients – curry powder.
What is Curry Powder?
Curry powder is a mix of spices that are used in Indian cuisine.
It was developed by British manufacturers to replicate the flavors of South Indian dishes that British colonists came to know and love while stationed in India.
In India, there is no such thing as a standard "curry powder". Rather, Indian cooks add individual spices to the dish they are preparing. Sometimes, the spices are already ground, but in many cases, whole spices are toasted and ground before being added to the dish.
Typically, curry powder contains ginger, turmeric, coriander, cumin, mustard, black pepper, cardamom, and cinnamon. The exact combination of spices varies depending upon the brand.
How do you make curry powder?
Curry powder is available in almost all major grocery stores, online and from specialty stores. If you don't want to invest in a bottle, you can easily make your own. You could also use it as an excuse to explore your local Indian market! Not sure what you could possibly want to buy in an Indian market? You might want to check out my "Indian market guide!
In a small bowl combine:
2 Tbsp. ground coriander
2 Tbsp. ground cumin
1 Tbsp. ground turmeric
2 teaspoons ground ginger
1 teaspoon ground mustard
1 teaspoon ground cinnamon
1/2 teaspoon ground cardamom
1/2 teaspoon ground black pepper
Stir to mix and transfer to a small, sealed container. Store in a cool, dry place for up to 6 months.
Tip: If the last time you used a bottle of curry powder was during the London Olympics, throw it out and treat yourself to a new bottle or use the recipe above to make your own!
How to Make Cauliflower and Chickpea Curry:
Step #1: Saute the onions, garlic, and ginger together.
Step #2: Add the curry powder, tomatoes, and cauliflower.
Step #3: Stir in the chickpeas.
Step #4: Pour in the coconut milk and bring to a simmer. Tip: Do not allow the mixture to boil or the coconut milk will separate!
Saute the aromatics

Add the tomatoes, curry powder and cauliflower.

Add the chickpeas.
Pair with steamed rice, naan bread or even these yogurt flatbreads. This curry makes a filling and delicious weeknight dinner as well as lunch the next day!
If you enjoyed this recipe, I'd truly appreciate it if you'd leave me a comment and rate it! Thank you so mucgh!!!
Cauliflower and Chickpea Curry
Sweet, spicy and so easy!! This vegetarian-friendly cauliflower curry comes together in under 30 minutes!!!
Ingredients
2

Tablespoons

canola oil

2

onions

cut into 1/2 inch dice

2

teaspoons

ginger and garlic paste

OR 1 1/2 teaspoons pressed garlic and 1/2 teaspoon grated fresh ginger

5

teaspoons

curry powder

1

medium head cauliflower

broken into small florets

1

package Melissa's steamed garbanzo beans

or one 15 oz. can garbanzo beans, rinsed and drained

two 10 oz. cans diced tomatoes with green chiles

I used Rotel brand

one 14 oz. can reduced fat unsweetened coconut milk

1/2

cup

chopped fresh cilantro

salt

pepper
Instructions
Add two tablespoons canola oil to a large skillet and heat over medium-high heat. Add the onions and garlic paste and saute until golden, about 8 minutes.

Sprinkle the curry powder over and stir for about 30 seconds – you should be able to smell the spices! Add the cauliflower, tomatoes, garbanzo beans and stir.


Add the coconut milk, stir and bring to a simmer. Cover and simmer for about 15 minutes or until the mixture has thickened slightly and the cauliflower is tender. Remove the lid and taste, adding additional salt, and pepper as needed. Garnish with cilantro.
Nutrition
Calories:
67
kcal
|
Carbohydrates:
5
g
|
Protein:
1
g
|
Fat:
4
g
|
Saturated Fat:
0
g
|
Cholesterol:
0
mg
|
Sodium:
8
mg
|
Potassium:
139
mg
|
Fiber:
1
g
|
Sugar:
1
g
|
Vitamin A:
2.1
%
|
Vitamin C:
14.7
%
|
Calcium:
2
%
|
Iron:
3.6
%
[mailmunch-form id="572307″]