Sweet, creamy and a little spicy, this cauliflower chickpea curry is the answer to just about any weeknight dinner dilemma. Made from pantry and fridge staples, you can have this vegetarian-friendly Indian curry recipe on the table in about 30 minutes – but let's keep that between ourselves ok?
Because honestly, this Indian inspired dish tastes like it took hours to make.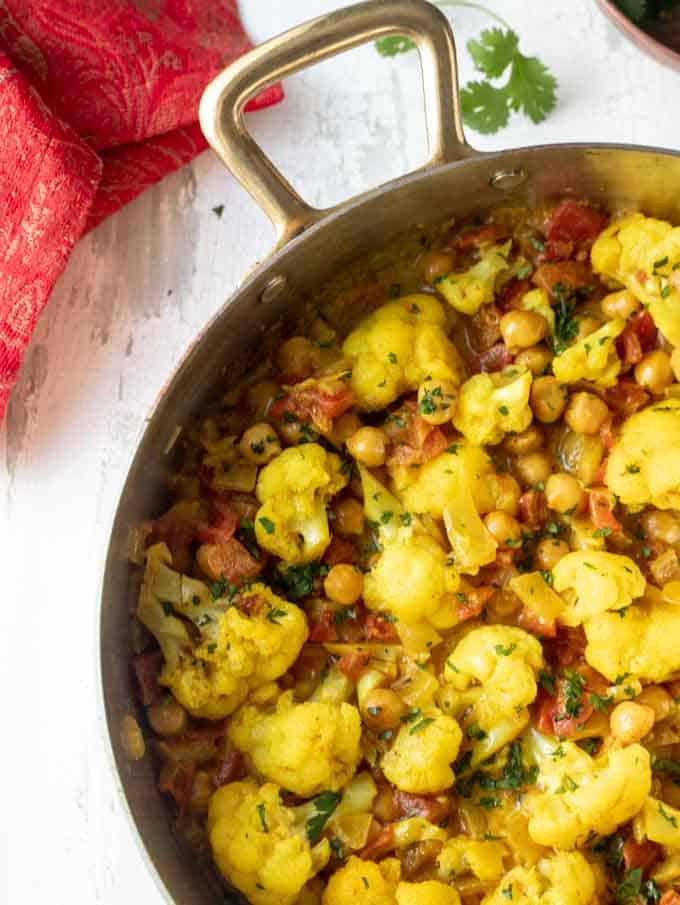 Published: 25 Mar 15
Last Updated: 28 July 19
Cauliflower Chickpea Curry
If you've been reading ACT for a while, you know I love Indian curries. Whether it's this simple tomato-based Chicken Madras, or this silky smooth Coconut Chicken Curry, these recipes are in frequent rotation here at ACT.
Seriously, what's not to like about a dish that is easy, filling and bursting with flavor?
If you aren't familiar with curries, this Indian cauliflower chickpea curry is a great introduction. This one-pan meal can be made in under 30 minutes and you probably have most of the ingredients you need right n your pantry!
What is Cauliflower Chickpea Curry?
This simple, vegan curry combines cauliflower and chickpeas in a lightly spiced, creamy coconut sauce. In India, the word "curry" is used for any dish (meat, vegetables and /or seafood) that are cooked in an Indian-style sauce of strong spices and typically served with rice.
This cauliflower chickpea curry uses curry powder instead of individual spices. Tip:If the last time you used a bottle of curry powder was during the London Olympics, throw it out and treat yourself to a new bottle or use the recipe above to make your own!
What is in Cauliflower Chickpea Curry?
For this recipe, you will need:
A head of cauliflower
Canned chickpeas
canned, diced tomatoes
canned coconut milk
onions
ginger and garlic paste OR fresh ginger and garlic
curry powder
cilantro
salt and pepper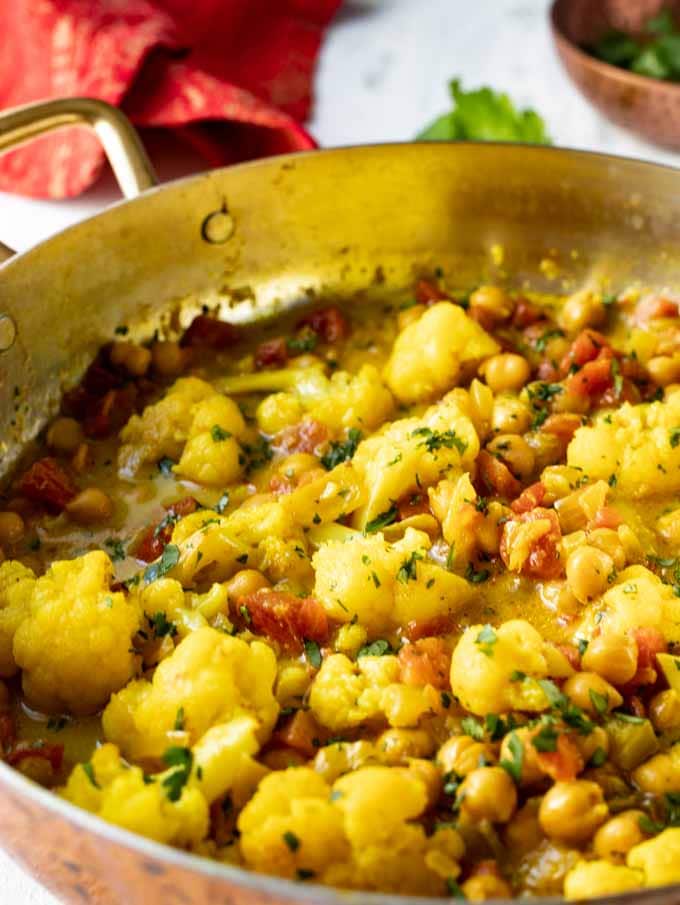 How to Make Indian Cauliflower Chickpea Curry
Saute the onions, garlic, and ginger together in a skillet for about 8 minutes.
Add the curry powder and saute for about 30 seconds.
Add the cauliflower, tomatoes, and cauliflower.
Stir in the chickpeas.
Pour in the coconut milk and bring to a simmer.
Simmer for 10 – 15 minutes until the vegetables are tender. Tip: Do not allow the mixture to boil or the coconut milk will separate!
Serve with a side of rice or these yogurt flatbreads.
Tips for Making and Eating Cauliflower Chickpea Curry
Here are some simple tips and ideas for making and serving this Indian curry recipe!
Can you freeze this recipe?
I don't recommend freezing this curry because it has coconut milk in it. When you freeze anything with coconut milk, the coconut milk separates. The great thing about this recipe is that it's so easy to make! Even on the busiest of nights, you can have this on the table in just under half an hour!
Cauliflower Chickpea Curry variations
This delicious curry makes a great base for the addition of other ingredients! Feel free to "mix it up a bit" and experiment with other combinations. Some ideas to get you started include:
Cauliflower Chickpea Curry with Potatoes: add 1 cup of potatoes cut into ½ inch dice when you add the cauliflower and tomatoes! Russets, yukon gold or red skinned potatoes all work beautifully so use what you have!
Cauliflower and Chickpea Curry with Spinach: Frozen spinach is a great addition to this curry. Add ½ frozen spinach after adding the coconut milk.
Cauliflower and Chickpea Curry with Peas: Frozen peas are also a great addition to this curry! Add ½ cup of peas to the curry right after stirring in the coconut milk.
If you enjoyed this recipe, I'd truly appreciate it if you'd leave me a comment and rate it! Thank you so mucgh!!!