Last updated on April 3rd, 2018 at 05:36 pm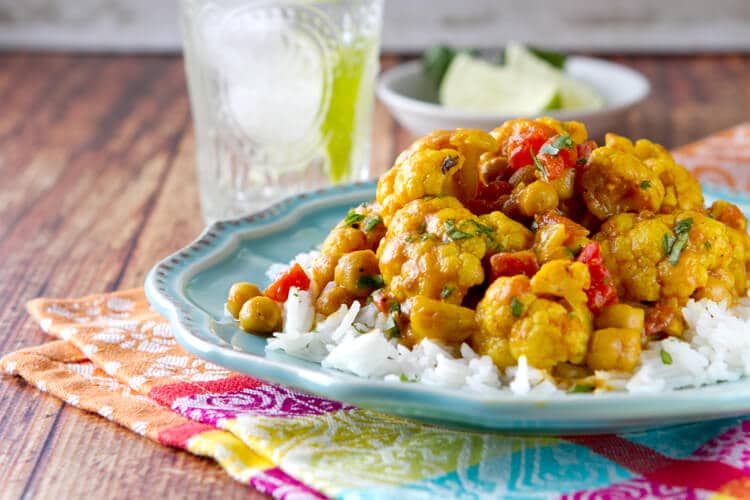 This Cauliflower and Chickpea Curry  has been around for a while and with good reason. It's quick, inexpensive and  a wonderful introduction to two things – vegetarian meals and indian cuisine. Ok, saying it's a great introduction to indian cuisine perhaps is a bit of a stretch. This is not a traditional indian dish –  but one that uses bits and pieces of that wondrous cuisine along with that stalwart of british ingredients –  curry powder. In India, there really is no such thing as curry powder – it is purely a British invention. So although not "authentic"    this Cauliflower and Chickpea Curry  is a great introduction to some of the flavors that characterize indian cuisine.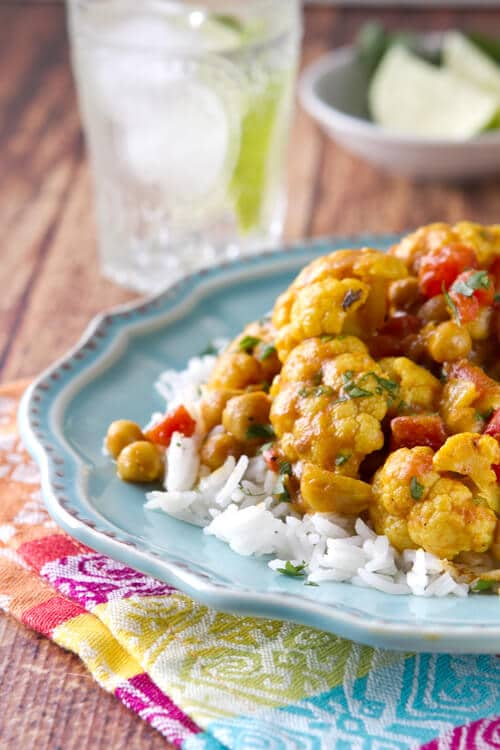 So if you've ever flirted with the idea of making indian food, or have only had it in a restaurant, this Cauliflower and Chickpea Curry is a great way "gateway" dish and one I like to make when I crave an indian style dish and reminds me of some of the curries my mom made when I was growing up – all made with curry powder of course!
Made from pantry staples including these wonderful steamed garbanzo beans from Melissa's Produce, this curry comes together in under 30 minutes and, paired with steamed rice or wrapped up in some naan bread, makes a filling and delicious weeknight dinner as well as lunch the next day!
Tip: If the last time you used your curry powder was during the London Olympics – toss it and treat yourself to a new bottle!
Speaking of curry powder, you can, of course, find it in your local grocery store. But why not use it as an excuse to explore your local indian market? Not sure what you could possibly want to buy in an Indian market? You might want to check out my post on "10 Things to Buy at the Indian Market" for some ideas on ingredients to stock up on!!
Melissa's Produce provided me with a sample of the chickpeas. As always, all opinions stated are my own!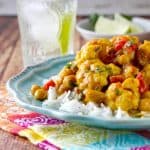 Print Recipe
Cauliflower and Chickpea Curry
Adapted from Bon Appetit.
Ingredients
2

Tablespoons

canola oil

2

onions

cut into 1/2 inch dice

5

teaspoons

curry powder

1

medium head cauliflower

broken into small florets

1

package Melissa's steamed garbanzo beans

or one 15 oz. can garbanzo beans, rinsed and drained

two 10 oz. cans diced tomatoes with green chiles

I used Rotel brand

one 14 oz. can reduced fat unsweetened coconut milk

1/2

cup

chopped fresh cilantro

salt

pepper

cayenne pepper
Instructions
Add two tablespoons canola oil to a large skillet and heat over medium high heat. Add the onions and saute until golden, about 8 minutes. Sprinkle the curry powder over and stir for about 30 seconds - you should be able to smell the spices! Add the cauliflower and stir. Add in the tomatoes, coconut milk and garbanzo beans. Stir to combine. Bring the mixture to a boil and then reduce to a simmer. Cover and simmer for about 15 minutes, until the mixture has thickened slightly and the the cauliflower is tender. Remove the lid and taste, adding additional salt, pepper and cayenne pepper as needed. Garnish with cilantro.

Serve over steamed rice or with a side of naan bread.
Nutrition
Calories:
66
kcal
|
Carbohydrates:
5
g
|
Fat:
4
g
|
Sodium:
8
mg
|
Potassium:
139
mg
|
Fiber:
1
g
|
Sugar:
1
g
|
Vitamin A:
2.1
%
|
Vitamin C:
14.4
%
|
Calcium:
2
%
|
Iron:
3.6
%