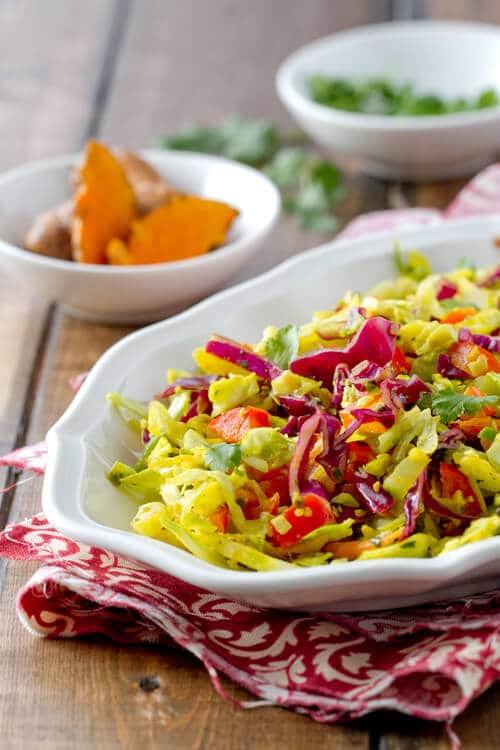 The flavors of India and Asia come together in this crunchy, Indian Spiced Coleslaw. Paired with simply roasted chicken or fish it's a tasty and nutritious weeknight side.
I'm b-a-a-a-a-c-k!! No, I didn't fall off the face of the earth - but a nasty bout of bronchitis has kept me sidelined for a few weeks and I can't tell you how happy I am to be back in the kitchen! Since I've started feeling better, I've been focusing on nutrient dense meals to boost my immune system.
Thanks to a supply of fresh turmeric root from Melissas Produce, I've been experimenting with using fresh turmeric instead of dried. Long a staple of Indian cuisine, most of us are most familiar with it's use in curry powder. But this incredible spice has a number of other uses - and the fresh is truly amazing and worth seeking out. Turmeric has been used for centuries and is credited with having digestive, anti inflammatory and antioxidant benefits. Studies are ongoing to verify these claims, but even if it isn't true, the flavor alone earns it a spot in my kitchen!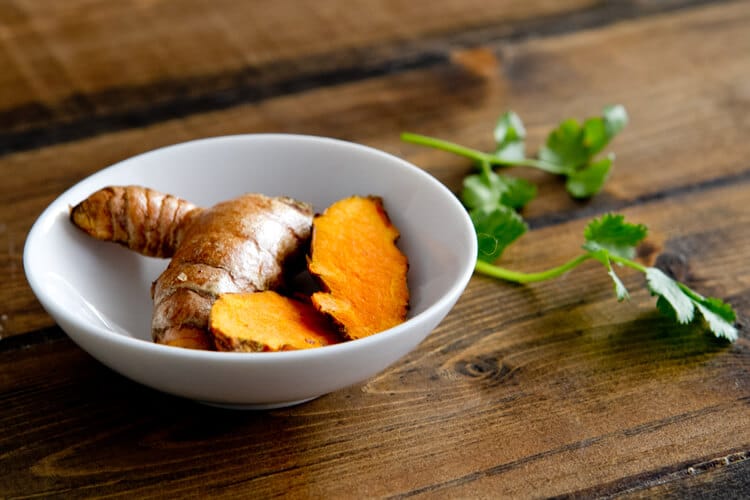 Fresh turmeric definitely imparts a more pronounced flavor than the dried. Although not the starring flavor in any dish, fresh turmeric lends an earthy and spicy backnote to a variety of dishes as well as imparting a lovely color.
I decided to try it in this Indian Spiced Coleslaw - and it was a huge hit!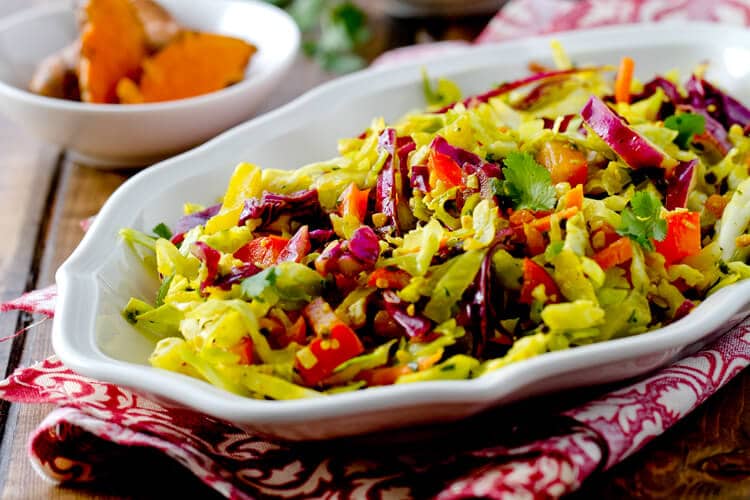 I love coleslaw - creamy or tart I seem to crave it all year round. But where did this dish, that cozies up to everything from fried chicken to BBQ come from? It came to the U.S. via the Dutch who call it koolsla - which is Dutch for "cabbage salad" - but then I guess you could figure that one out on your own!
This version borrows from both the Indian and Asian traditions with chilis, peanuts, coconut and cilantro and the surprising addition of fresh turmeric - a recently rediscovered root that is being added to just about everything and anything these days!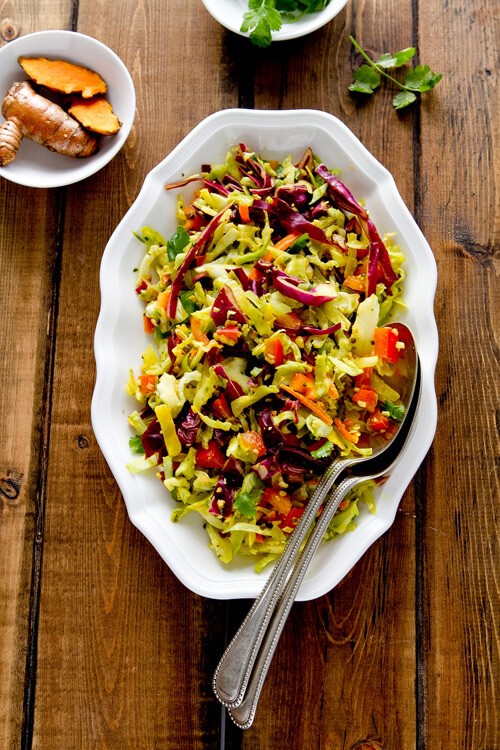 And this Indian Spiced Coleslaw definitely has a lot of color! Crunchy, slightly sweet and fresh tasting, it's a welcome addition to simple main dishes like simply roasted or grilled chicken or fish and I think it would go beautifully with these Baharat Chicken Skewers with Pomegranate Relish.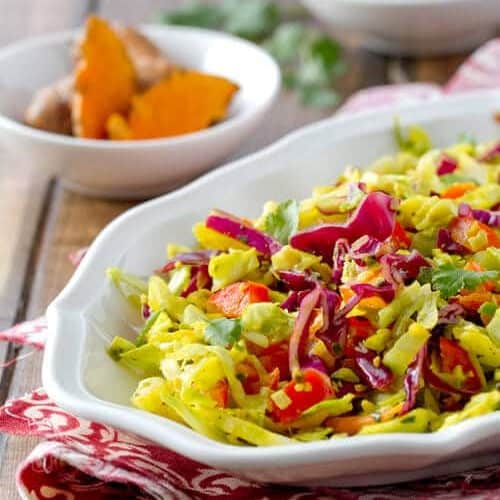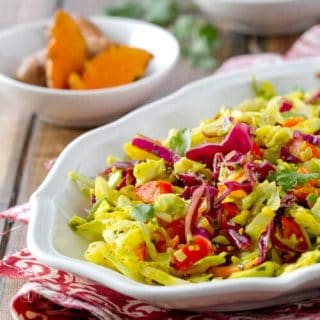 Ingredients
One 14 oz. bag coleslaw mix

2

cups

shredded red cabbage

½

red bell pepper

seeded and sliced lengthwise into thin strips

1

small serrano chile

stemmed and seeded

¼

cup

dry roasted peanuts

¼

cup

dried

sweetened coconut

¼

cup

chopped fresh cilantro

Juice from 1 lime

1 ½

teaspoons

kosher salt

2

Tablespoons

canola oil

1

teaspoon

yellow mustard seeds

one - 1 inch slice of fresh turmeric

peeled and grated
Instructions
Combine the coleslaw mix, red cabbage and red bell pepper strips in a large bowl and set aside.

Combine the serrano chile, peanuts, coconut ,cilantro and lime juice in the bowl of a small food processor and process until the mixture is chopped into pieces about ⅛th of inch.

Set aside.

In a small saute pan, heat the canola oil until the oil shimmers. Add the mustard seeds and cover the pan until the seeds stop popping - about 30 seconds. Remove the pan from the heat and add the fresh turmeric and salt. Stir.

Pour the mustard seed and turmeric oil over the coleslaw mixture and toss to combine. Add the peanut and coconut mixture and toss again.

Taste and adjust seasonings and serve!
Nutrition
Calories:
93
kcal
|
Carbohydrates:
7
g
|
Protein:
2
g
|
Fat:
6
g
|
Saturated Fat:
1
g
|
Cholesterol:
0
mg
|
Sodium:
475
mg
|
Potassium:
179
mg
|
Fiber:
4
g
|
Sugar:
1
g
|
Vitamin A:
960
IU
|
Vitamin C:
25.1
mg
|
Calcium:
135
mg
|
Iron:
2.4
mg