When I think of fall, I think of this Baked Butternut Squash and Wild Rice Pilaf – one of my favorite baked butternut squash recipes. Earthy, sweet and a little tart, it is the perfect side dish for roast turkey, pork or chicken… or as a vegetarian main dish, or for lunch the next day!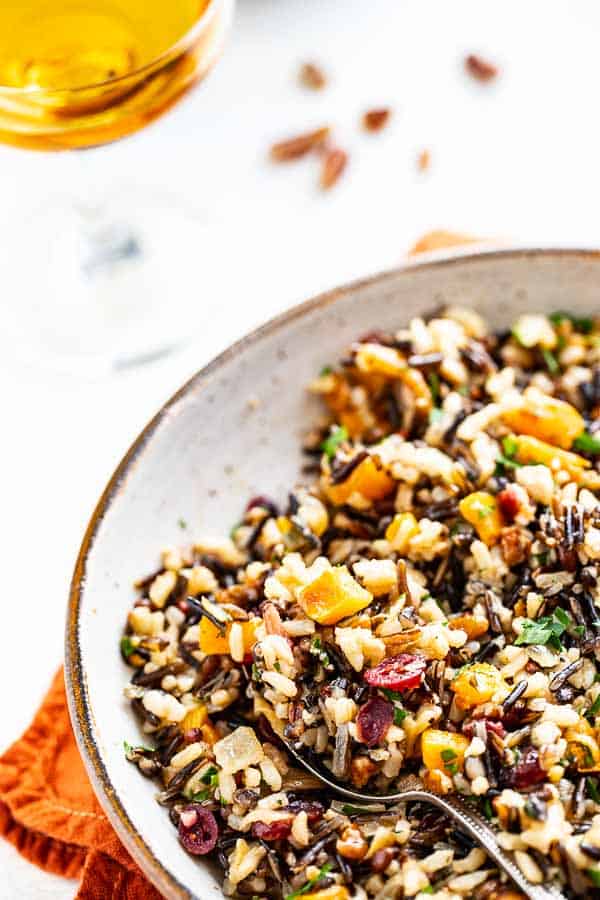 Now, since I believe in full disclosure, I am going to tell you that this wild rice pilaf is a little bit of work… but the payoffs are worth it!!
The most daunting part of this baked butternut squash recipe for most people is cutting the butternut squash! So since I get asked this question a lot, I've got a little tutorial for you!
How to Cut Butternut Squash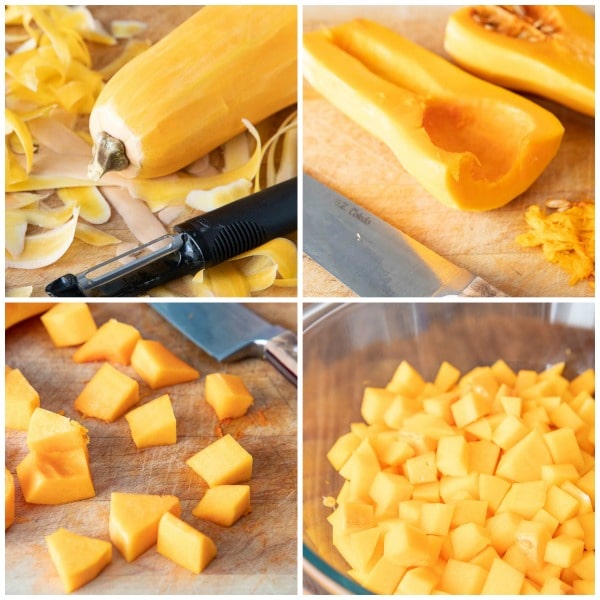 Step #1:
Peel the butternut squash! A good peeler is essential! I like the OXO peelers for this but any good, sturdy peeler will do.
Step #2:
Cut the squash in half lengthwise and use a spoon to scoop out the seeds. As for cubing the squash, I like to cut it lengthwise into 3 sections and then cut each section into cubes.
Easy peasy!
Now that the squash is cut, the next question is…how long does it take to make these baked butternut squash cubes?
How long to Bake Butternut Squash:
For butternut squash cubes that are about 1 inch in size, you need to bake them about 25 minutes at 400 degrees. The larger your cubes, the longer the cooking time. I generally set my timer for 40 minutes for larger chunks and then check the cubes with a fork.
If you are baking just the halves, or even the bottoms you need to cook the squash for approximately 1 hour at 400 degrees. If you like less browning on your squash, you can reduce the heat to 375 degrees -and increase your cooking time to 1 1/2 hours.
So, now that you are an "expert" on butternut squash here's…
How to make Baked Butternut Squash and Wild Rice Pilaf:
Step #1: Cut the butternut squash as detailed above. Spread the butternut squash cubes on a sheet pan that you've sprayed with cooking spray. Drizzle with olive oil and toss. Bake in the oven until the butternut squash is tender and lightly browned. While the squash is cooking, saute the onions and cook the wild rice mix according to the package directions. Then add everything to a large bowl!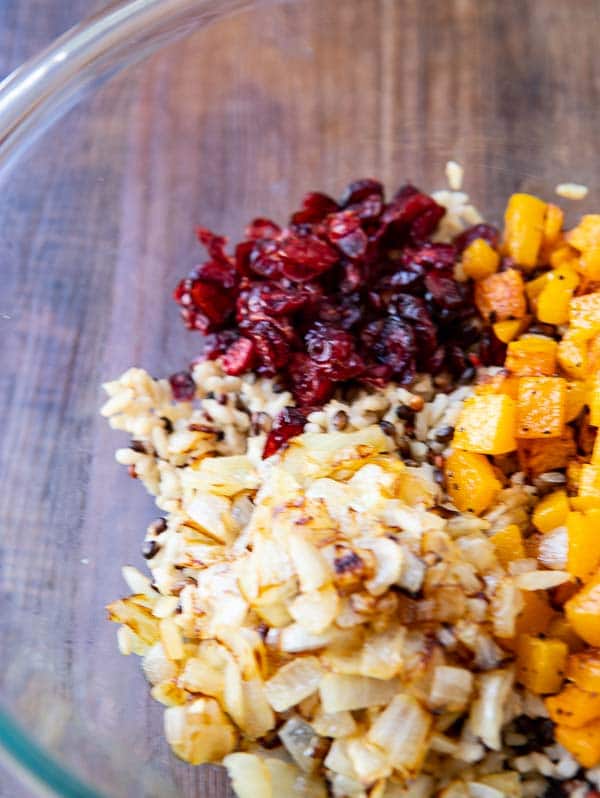 Step #2: Mix the dressing up and then drizzle it over the wild rice, baked butternut squash cubes, toasted pecans and cranberries and toss to coat. Taste and adjust seasonings. Then pour this wild rice pilaf into a large bowl and serve!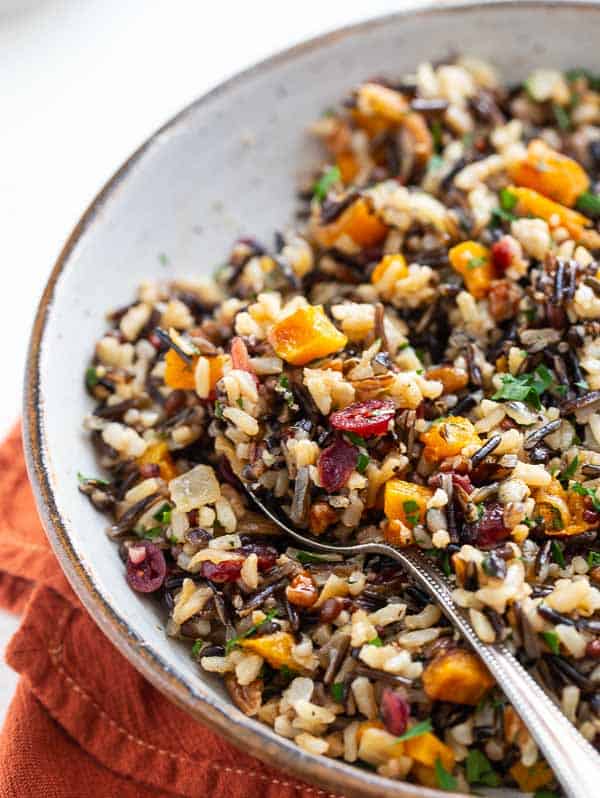 This Baked Butternut Squash and Wild Rice Pilaf not only tastes delicious but is very versatile. Put the extras (if you are smart enough to make extra and I'm telling you now, DO IT!) in the refrigerator for a great wild rice pilaf salad for lunch the next day. Speaking of which… if you're thinking of making this for the holidays, great choice! You can make everything ahead of time. Just mix everything together before serving!! So, the bit of time you invest making this will pay off during the week… leaving you more time to enjoy the fall colors or snuggle up in a sweater with a good book (hey, a girl can dream, can't she??)!
Love Butternut Squash? Then don't miss…
Other Rice Recipes you are going to love!
If you enjoyed this recipe, I would love for you to leave me a comment and a rating!
Save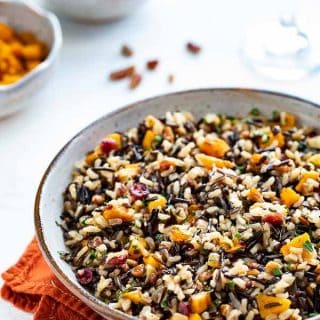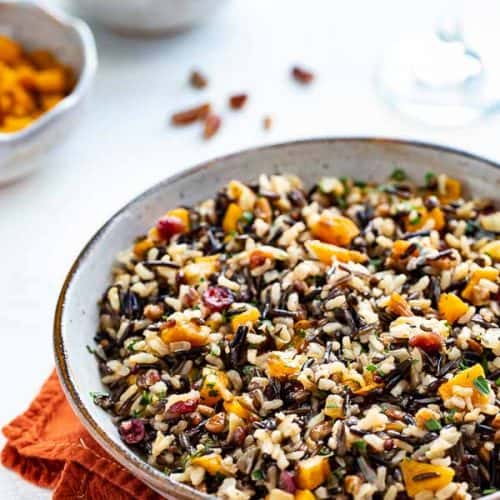 Butternut Squash and Cranberry Pilaf
When I think of fall, I think of this Butternut Squash, Cranberry and Wild Rice Pilaf. Earthy, sweet and a little tart, it is the perfect side dish for roast turkey, pork or chicken… or as a vegetarian main dish, or for lunch the next day!
Print
Pin
Rate
Add to Collection
Go to Collections
Ingredients
1

cup

wild rice mix

2

cups

chicken or vegetable stock

1 1/2

cups

butternut squash

cut into 1/2 inch cubes

1

large onion

cut into 1/2 inch dice

1

cup

dried cranberries or dried cherries

1

cup

chopped pecans

3

Tbsp.

canola oil

1/4

cup

minced italian parsley

1

cup

citrus dressing

Citrus Dressing:

1/2

tsp.

cumin

1/4.

tsp

cardamon

1/4

tsp.

cinnamon

1/4

cup

freshly squeezed lemon juice

1/4

cup

freshly squeezed orange juice

1

Tbsp.

minced fresh ginger

1

Tbsp.

honey OR agave nectar

1/4

lemon olive oil or 1/4 cup olive oil with zest from 1 lemon
Instructions
Pre heat the oven to 400 degrees.

Spray a sheet pan with cooking spray.

Add the butternut squash and toss with 1 Tbsp. canola oil.

Season with salt and pepper.

Roast squash for 20 – 25 minutes or until softened and slightly caramelized.

Remove from oven.

While squash is roasting, combine the stock and rice in a large saucepan.

Cover and bring mixture to a boil. Reduce heat to a simmer and simmer for 20 – 30 minutes until the liquid is absorbed and the rice is tender.

While rice is cooking, heat a large saute pan over medium high heat.

Add the 2 Tbsp. of canola oil. Add the chopped onions and saute for about 6 minutes until translucent.

Reduce heat and continue to cook onions until slightly caramelized. Remove onions from the pan and set aside.

Add pecans to saute pan and cook over medium heat, until toasted – watch closely so they don't burn!.

Add the cooked rice, butternut squash, onions and dried cranberries.

Drizzle with 1/4 cup of the citrus dressing.

Stir. Taste and adjust seasonings, adding more dressing if needed.

Garnish with minced parsley if desired. Serve!

Citrus Dressing:

Combine all the ingredients except the olive oil in a small bowl.

Whisk to combine.

Slowly whisk in the olive oil.

Taste and adjust seasoning.
Recipe Notes
I have used Lundberg, Trader Joe's,  and  NearEast Wild rice blends in this dish and they all worked beautifully. 
If making this ahead of time to eat over 2 – 3 days, only add enough pecans for the amount you are serving. If the pecans are left in the pilaf, they will get soft due to the moisture! 
Depending upon the size of your butternut squash, you will probably have extra squash. This recipe is pretty flexible and if you like butternut squash you can certainly add more to the recipe! 
Nutrition
Calories:
395
kcal
|
Carbohydrates:
50
g
|
Protein:
6
g
|
Fat:
21
g
|
Saturated Fat:
1
g
|
Sodium:
320
mg
|
Potassium:
408
mg
|
Fiber:
5
g
|
Sugar:
19
g
|
Vitamin A:
4130
IU
|
Vitamin C:
21.4
mg
|
Calcium:
51
mg
|
Iron:
1.8
mg