"It never rains in California…" HAH!!! I've got news for them… it does rain in California.. even in October!!
Now, this might not be a big deal for you if you don't live in California but for those of us who do.. well it is (and yes, it's the small things that make us happy!)
For me, rain means "fall" and "fall foods"… so I am totally exploiting this weather  – I don't care that it was over 80 this past weekend – I am digging right in.. it may not be cool enough for sweaters but I am going to take what I can get!!
So, to start the ball rolling I decided to kick it off with a very fall inspired pilaf. Roasted butternut squash, dried cranberries, pecans… even the colors are fall inspired!!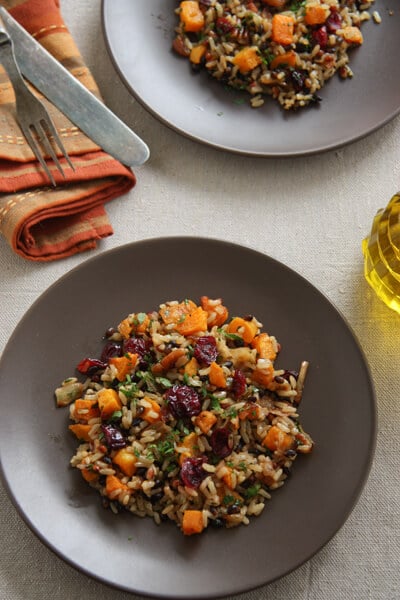 Now, since I believe in full disclosure, I am going to tell you that this pilaf is a little bit of work… but the payoffs are worth it!! It not only tastes delicious but it's very versatile. Serve it as a side with some roasted chicken, pork or beef (or a large salad if you don't eat meat). Put the extras (if you are smart enough to make extra and I'm telling you now, DO IT!) in the refrigerator for a great rice salad for lunch the next day. So, the bit of time you invest making this will pay off during the week… leaving you more time to enjoy the fall colors or snuggle up in a sweater with a good book (hey, a girl can dream, can't she??)!
Butternut Squash and Cranberry Pilaf
Ingredients
1

cup

wild rice mix

2

cups

chicken or vegetable stock

1 1/2

cups

butternut squash

cut into 1/2 inch cubes

1

large onion

cut into 1/2 inch dice

1

cup

dried cranberries or dried cherries

1

cup

chopped pecans

3

Tbsp.

canola oil

1/4

cup

minced italian parsley

1

cup

citrus dressing

Citrus Dressing:

1/2

tsp.

cumin

1/4.

tsp

cardamon

1/4

tsp.

cinnamon

1/4

cup

freshly squeezed lemon juice

1/4

cup

freshly squeezed orange juice

1

Tbsp.

minced fresh ginger

1

Tbsp.

honey

1/4

lemon olive oil or 1/4 cup olive oil with zest from 1 lemon
Instructions
Pre heat the oven to 400 degrees.

Spray a sheet pan with cooking spray.

Add the butternut squash and toss with 1 Tbsp. canola oil.

Season with salt and pepper.

Roast squash for 20 - 25 minutes or until softened and slightly caramelized.

Remove from oven.

While squash is roasting, combine the stock and rice in a large saucepan.

Cover and bring mixture to a boil. Reduce heat to a simmer and simmer for 20 - 30 minutes until the liquid is absorbed and the rice is tender.

While rice is cooking, heat a large saute pan over medium high heat.

Add the 2 Tbsp. of canola oil. Add the chopped onions and saute for about 6 minutes until translucent.

Reduce heat and continue to cook onions until slightly caramelized. Remove onions from the pan and set aside.

Add pecans to saute pan and cook over medium heat, until toasted - watch closely so they don't burn!.

Add the cooked rice, butternut squash, onions and dried cranberries.

Drizzle with 1/4 cup of the citrus dressing.

Stir. Taste and adjust seasonings, adding more dressing if needed.

Garnish with minced parsley if desired. Serve!

Citrus Dressing:

Combine all the ingredients except the olive oil in a small bowl.

Whisk to combine.

Slowly whisk in the olive oil.

Taste and adjust seasoning.
Save
Save