Roasted Butternut Squash Panzanella with Sherry Vinaigrette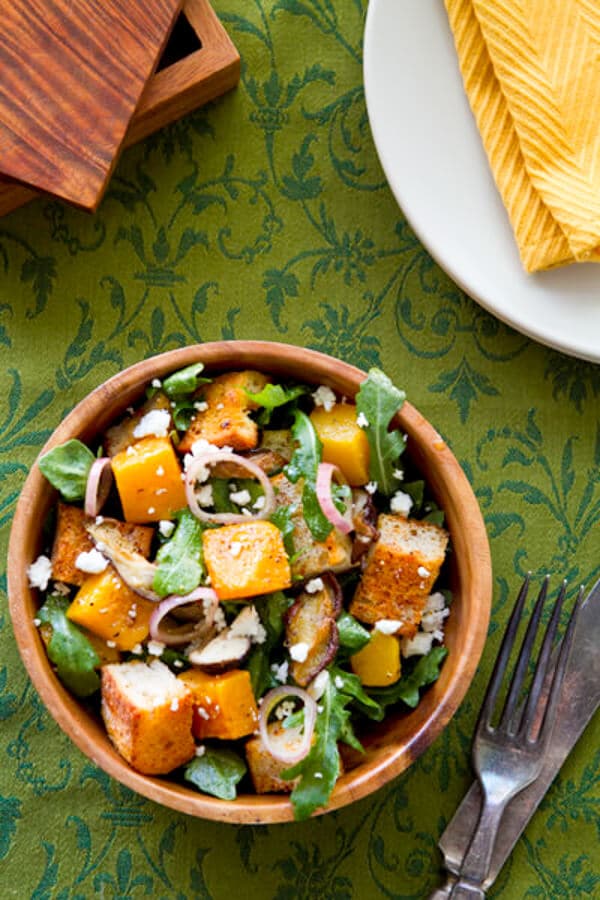 This spanish influenced Roasted Butternut Squash Panzanella Salad with Sherry Vinaigrette recipe bursts with flavor using this one simple technique.  that you will find yourself using over and over again!
So, did you gobble 'til you wobbled? I know I did.. between having a houseful of teenagers on Wednesday, Thanksgiving, and dinners out to celebrate a birthday, my pants are feeling a wee bit snugger than they did at the beginning of last week. It definitely "tis the season" – which for me means I need to lighten up between  between all the bouts of celebratory meals headed my way.  Is this sounding just a little familiar? Yeah, I thought so.
So, what do you do to lighten up your eating?
For me, I try to keep it simple…. and manageable.. and stuff that my family will not only eat, but actually enjoy.
Which means that I make more hearty salads and soups for dinner, like this Roasted Butternut Squash Panzanella Salad with Sherry Vinaigrette.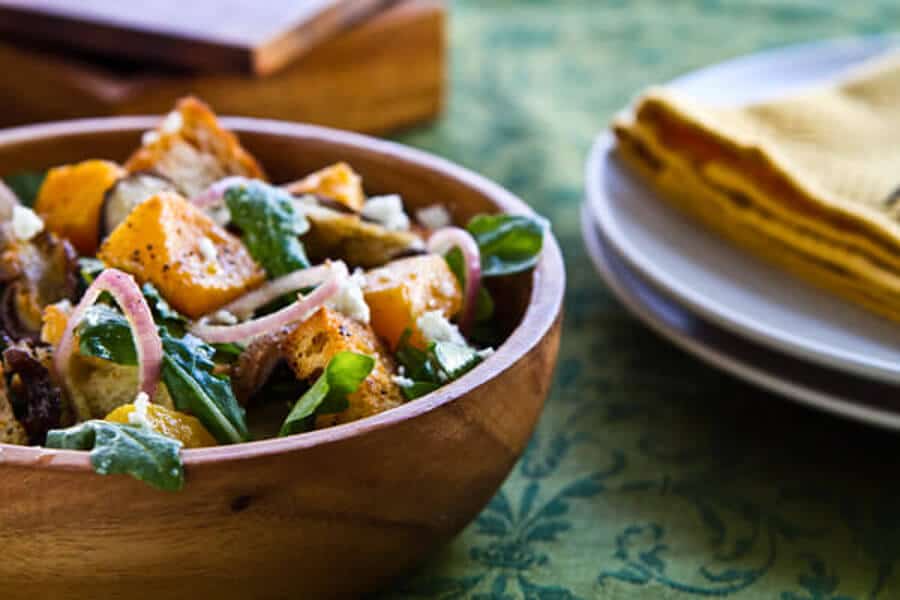 I love that I can prep everything ahead and put them together right before we eat  I am always  looking for new combinations and riffs on  the classics to keep it interesting… and nutritious!  This Roasted Butternut Squash Panzanella Salad with Sherry Vinaigrette  is a great example of what I'm talking about. Drawing on the flavors of Spain, this Roasted Butternut Squash Panzanella Salad with Sherry Vinaigrette has sweet butternut squash, marcona almonds, mushrooms bound up with  just a hint of spice to balance all the flavors. It's hearty enough  without meat but also pairs well with roasted chicken or even pork – a great alternative when you don't have quite enough of either for a full meal!
Roasted Butternut Squash Panzanella Salad with Sherry Vinaigrette: Technique
One of my favorite techniques for adding more flavor to salads is flavored croutons – and not those poor, pathetic little salty squares you buy in the market. No, I'm talking about larger, full of flavor chunks which honestly couldn't be easier (or more economical to make!)
So, how do you do it? Easy! Just mix up your vinaigrette and drizzle that over the bread chunks and give them a really good toss. This is a great way to use up left over baguettes or rustic loaves – and yes, you can freeze the bread, already cut and defrost before making the croutons!
I use this technique for virtually every salad I make that contains croutons. Easy, economical and flavorful.. what more could you want? Well, maybe this Roasted Butternut Squash Panzanella Salad with Sherry VInaigrette to go along with it!
Looking for some other hearty salad recipes? You might like this Moroccan Citrus, Cauliflower and Barley  Salad or this Pomegranate Fattoush Salad.
Nancy Buchanan
Yields 4 - 6 servings
Butternut Panzanella Salad
20 minPrep Time
25 minCook Time
45 minTotal Time
Ingredients
Sherry Vinaigrette:
6 Tablespoons extra virgin olive oil
4 Tablespoons Sherry Wine Vinegar
½ teaspoon fine sea salt
¼ teaspoon freshly ground pepper
1 teaspoon smoked Spanish paprika
¼ - ½ teaspoon chile powder or pimento de espellete
Croutons
6 cups day old baguettes, cut into 1 1/2 inch pieces
4 Tablespoons Sherry Vinaigrette
salt and pepper to taste
Salad
3 small shallots, peeled and sliced 1/8 inch thick
4 cups peeled and seeded butternut squash, cut into 1 1/2 inch chunks
1 1/2 cups sliced mushrooms (cremini, shitake and or oyster)
1/2 cup marcona almonds
6 cups arugula, washed and dried
6 Tbsp. crumbled goat cheese or feta cheese
2 Tablespoons olive oil
Instructions
To make the vinaigrette: Combine all the ingredients in a small screw top jar. Shake to combine.
To make the croutons: pre heat the oven to 400 degrees.
Spray a sheet pan with cooking spray. Add the cut up baguette cubes and toss with 4 tablespoons Sherry Vinaigrette.
Bake croutons until crisp and brown, about 15 - 20 minutes. Remove from oven and cool.
Increase oven temperature to 450 degrees.
Spray a large sheet pan with cooking spray. Add the butternut squash and mushrooms.
Drizzle with 2 Tbsp. olive oil and season with salt and pepper.
Roast until the squash is tender and the mushrooms are brown, about 25 minutes.
While the squash is roasting, combine the shallots with ¼ cup of the sherry vinaigrette. Set aside.
To make the salad combine the arugula, butternut squash, mushrooms, and croutons in large salad bowl.
Drizzle with 2 Tablespoons of the sherry vinaigrette dressing and toss thoroughly to coat.
Divide mixture among plates/shallow bowls.
Garnish with the marcona almonds and the goat/feta cheese. Serve.
7.6.5
275
https://www.acommunaltable.com/roasted-butternut-squash-panzanella-salad-with-sherry-vinaigrette/