This homemade Mexican Hot Dulce De Leche is as comforting as hot chocolate. Creamy, rich and satisfying, this recipe only requires 3 ingredients!!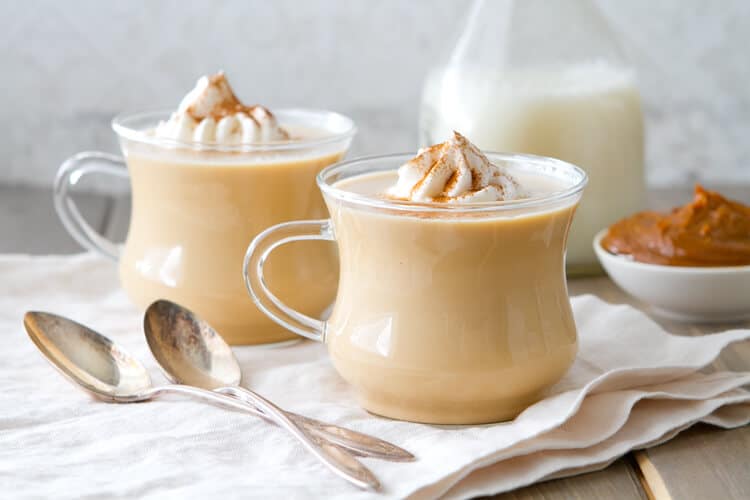 I am almost embarrassed to post this recipe - it is so simple it really isn't a recipe per se... but this Mexican Hot Dulce de Leche recipe is soooo good I couldn't not share it.
This is one of those ideas, you know, the ones that come to you in those early hours of the morning when you wake up and can't go back to sleep... when your mind is racing and going back to sleep isn't going to happen. Frustrating as it is, I've come to accept that this is just the way I'm wired, and that instead of worrying about not sleeping I just go with it. Although I'd rather be sleeping, that time isn't unproductive since I tend to come up with lots of ideas like this Mexican Hot Dulce de Leche!
Creamy and smooth, it's like hot chocolate... but flavored with caramel instead of chocolate, and although I've posted a non alcoholic version, I think this would be divine with a little Amaretto or Frangelico.... yum!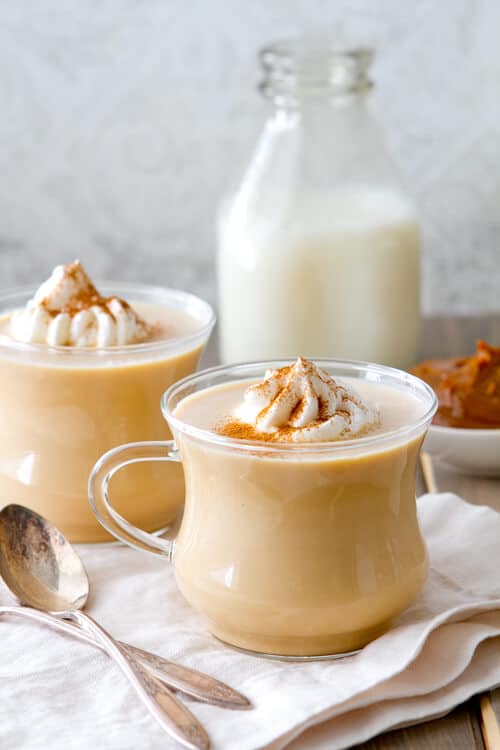 Hmmm... they say that drinking warm milk can help you sleep... so perhaps my subconscious was sending me a message to get up and make this Mexican Hot Dulce de Leche. But even if you sleep just fine, you really should make a mug of this - and who knows it might inspire your own great ideas....
And speaking of ideas, this recipe is another great excuse to visit your local hispanic market where you can buy dulce de leche in a can! That way, you can always whip up a mug (or two!) of this Mexican Hot Dulce de Leche whenever the mood strikes! Check out my "Hispanic Market Shopping Guide" for suggestions of other items you might want to look for!
📖Recipe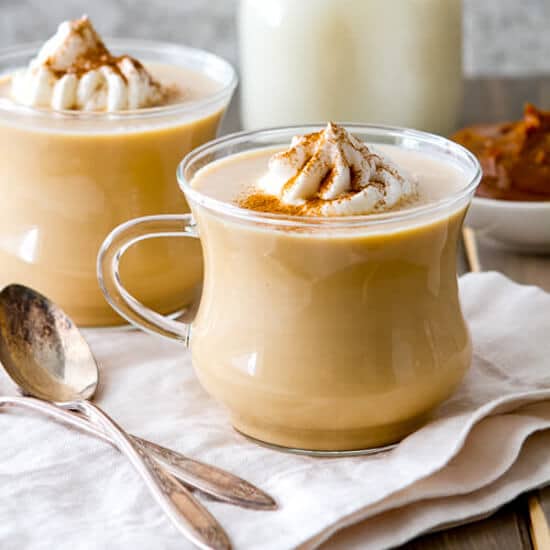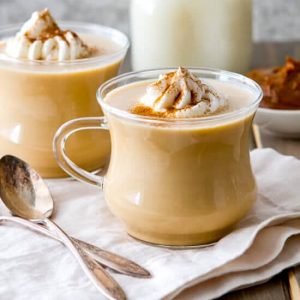 Ingredients
1

cup

whole or 2% milk

2

Tablespoons

dulce de leche

¼

tsp.

vanilla extract

1

Tablespoon

whipped cream

optional

cinnamon

optional
Instructions
In a small saucepan over medium heat combine the milk, dulce de leche and vanilla. Cook until the dulce de leche fully dissolves and the milk is simmering, about 3 - 4 minutes. Pour into a mug and top with whipped cream and a dusting of cinnamon (if using).
Nutrition
Calories:
133
kcal
|
Carbohydrates:
12
g
|
Protein:
7
g
|
Fat:
5
g
|
Saturated Fat:
3
g
|
Cholesterol:
22
mg
|
Sodium:
111
mg
|
Potassium:
330
mg
|
Sugar:
12
g
|
Vitamin A:
240
IU
|
Calcium:
283
mg