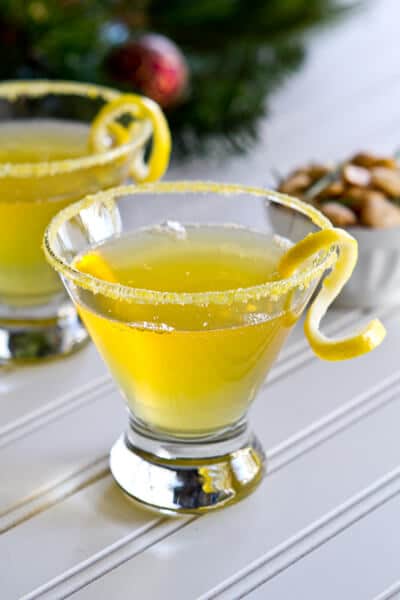 "Welcome Christmas, bring your cheer. Cheer to all Whos far and near.
Christmas Day is in our grasp, so long as we have hands to clasp.
Christmas day will always be just as long as we have we.
Welcome Christmas while we stand, heart to heart and hand in hand."
Dr. Seuss, The Grinch
I wish each of you a truly joyous holiday and  thank you for joining me here at A Communal Table!
So, cheers to all… and to all a Good NIght!
Serves approximately 4 oz.
Lemoncello Cocktail
Adapted from Cooking Light
10 minPrep Time
10 minTotal Time
Ingredients
1/4 cup sugar
2 - 3 drops yellow food coloring
8 - 3 x 1/2 inch lemon rind strips
1/2 cup Lemoncello liqueur
3 Tbsp. fresh lemon juice
1 (750 mL) bottle of dry sparkling wine, chilled
Instructions
In a small bowl, combine the sugar and food coloring.Stir with a spoon until the sugar is even colored. Pour into a shallow dish.
To make lemon rind spirals, remove pith from the lemon rind. Using a skewer, wind the lemon rind tightly around the skewer and slide off. Set aside.
Rub the rim of each glass with a cut lemon. Roll rims in the colored sugar and set aside.
Just before serving, pour 1 Tbsp. of lemoncello into each of 8 glasses. Add 1 tsp. of fresh lemon juice. Fill glass with sparking wine and garnish with a lemon spiral.
Cheers!
Notes
For this cocktail you don't need to use an expensive sparkling wine, just make sure that it is on the dry side!! This is very refreshing and goes beautifully with any appetizer, especially seafood based ones!
7.6.4
117
https://www.acommunaltable.com/lemoncello-cocktail/