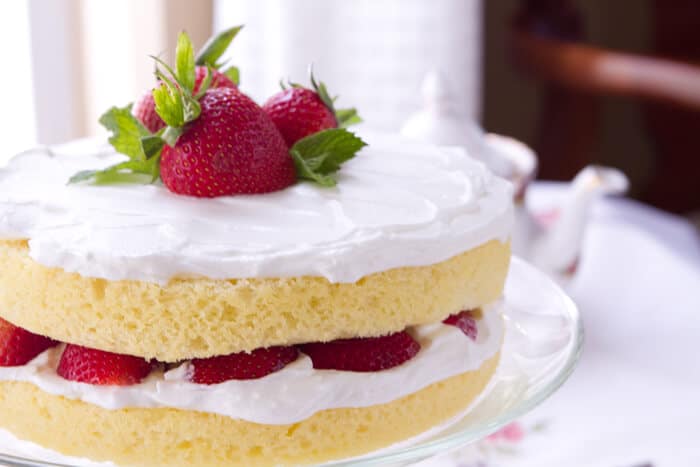 I am not really a "dessert" kind of person. Don't get me wrong, I looove dessert and if I had my way, chocolate would definitely be on my " I could give everything up but "blank" list.
And so would this Sponge Cake with Lemoncello Cream and Strawberries.
No, what I mean is that, as they say in culinary school you are either a cook or a baker – and I am definitely in the "cook" category.  I've never had the patience for cake decorating or the intricacies involves in patisserie. Which is one of the  reasons I am so  excited about this Sponge Cake with Lemoncello Cream and Strawberries -no sophisticated or special techniques required – just a simple sponge cake batter, an easy filling and fresh strawberries.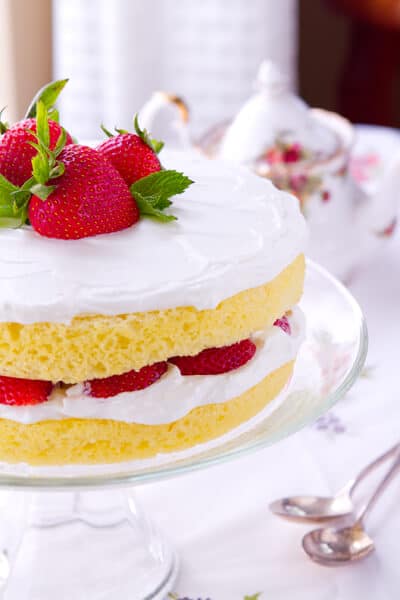 Sponge cake.  I know… it's not something that's we see a lot of here in the States  – which is a shame. So, what induced me to make a sponge cake you ask?  Well,  last month we took a quick trip to London and despite what you may have heard about British food – we had some truly incredible meals. As such, I've been thinking a lot about British food (and Indian food, but more about that in a later post)  and so when I came across a recipe for Sponge Cake -I knew the time had come to "give it a go".  Lighter  and fluffier than traditional butter based batters, sponge cakes lend themselves easily to whipped cream and fruit fillings –   with almost endless possibilities for experimentation!
Which of course is what I did  with the filling – substituting some drained greek yogurt for the whipped cream and adding a judicious splash of lemoncello – and knew I'd found my "go to" dessert for the summer. Hmmm… peaches with Amaretto, raspberries with Chambord….
What other combinations are you thinking about???
Yields 6 - 8 servings
Sponge Cake with Lemoncello Cream and Strawberries
You can substitute 1 tsp. lemon extract for the lemoncello if you like. The filling isn't overly sweet so if you like a sweeter filling, add 1 or 2 more tablespoons of sugar.
30 minPrep Time
18 minCook Time
48 minTotal Time
Ingredients
Cake:
2/3 cup flour
1/4 tsp. baking powder
4 eggs
1/2 cup superfine sugar
3 1/2 Tbsp. unsalted butter, melted
Filling:
1 cup whipping cream
3/4 cup plain, drained, greek yogurt
1/4 cup sugar
3 Tbsp. Lemoncello
1 t cup fresh strawberries, hulled and sliced
Instructions
For the cake:
Pre heat the oven to 350 degrees. Sift the flour and the baking powder together 3 times. Set aside. Spray two 9 inch cake pans with cooking spray and line with parchment paper. Set aside. In a mixer bowl, combine the eggs and the sugar. Beat on high speed for 10 - 12 minutes until the eggs are thick and the mixture ribbons from the beaters when lifted. Sprinkle 1/2 of the flour over the egg mixture and, using a large metal spoon, fold in. Sprinkle the remaining flour in and fold in. Add the melted butter and fold in. Divide the batter evenly between the pans and bake for 16 - 18 minutes until the cakes are golden and spring back when touched. Remove from the oven. Turn the cakes out onto a parchment lined cooling rack and cool completely.
For the filling:
In a medium bowl, whip the cream until thick and beginning to form peaks. Gradually add the sugar and the lemoncello and continue to beat. Add in the yogurt and beat just until combined.
To assemble: Place one of the cake layers on a cake plate. Spread with half of the cream and lemoncello mixture and place 1/3 of the sliced strawberries on top. Top with the remaining cake layer and spread with the whipped cream mixture. Garnish with remaining berries. Refrigerate before serving.
7.6.4
210
https://www.acommunaltable.com/sponge-cake/