These Juicy and Tender Slow Cooked Pulled Pork Tacos are true comfort food - moist and juicy, with an earthy citrusy flavor that's a wonderful contrast to the pork's richness. The fact that they are the easiest pulled pork tacos you'll ever make is almost beside the point. So much flavor with so little effort...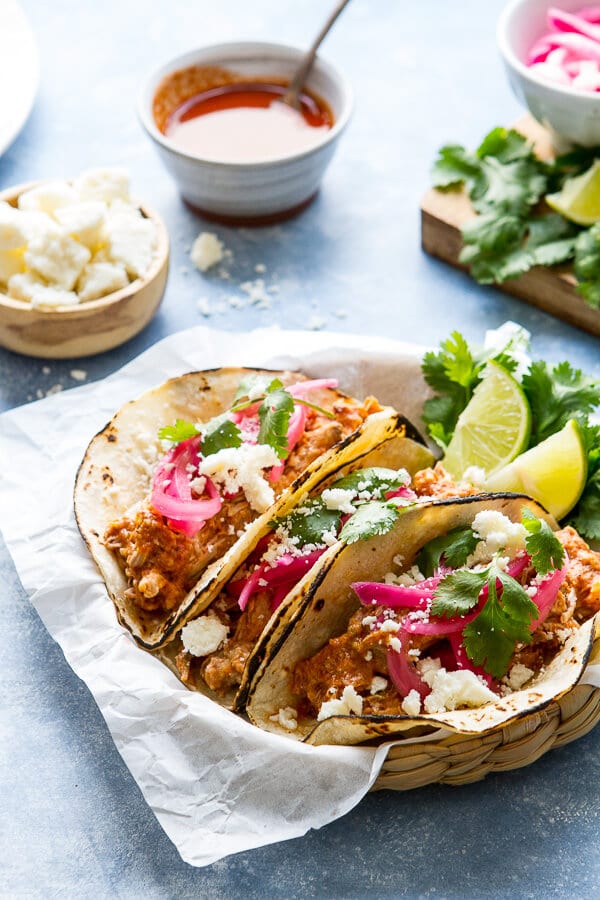 When I think of Texas  I think about tacos. I've made countless trips to the Lonestar Sate So it seems fitting that this week I'd post a recipe for tacos. And these Juicy and Tender Slow Cooker Pulled Pork Tacos are, I think,  just what the doctor ordered.
Definitely "comfort food". Wrapped in the freshest corn tortillas you can find (toasted or not, your choice!) and topped with marinated red onions, cotija cheese and a sprig of cilantro, these are the tacos I want when I want comfort food in the summer - and to be honest, just about any time of year.  I've been making large batches of this pulled pork and have several containers stashed in my freezer for the coming weeks when I know the schedule is going to get a bit dicey and these tacos will go a long way towards soothing jangled nerves.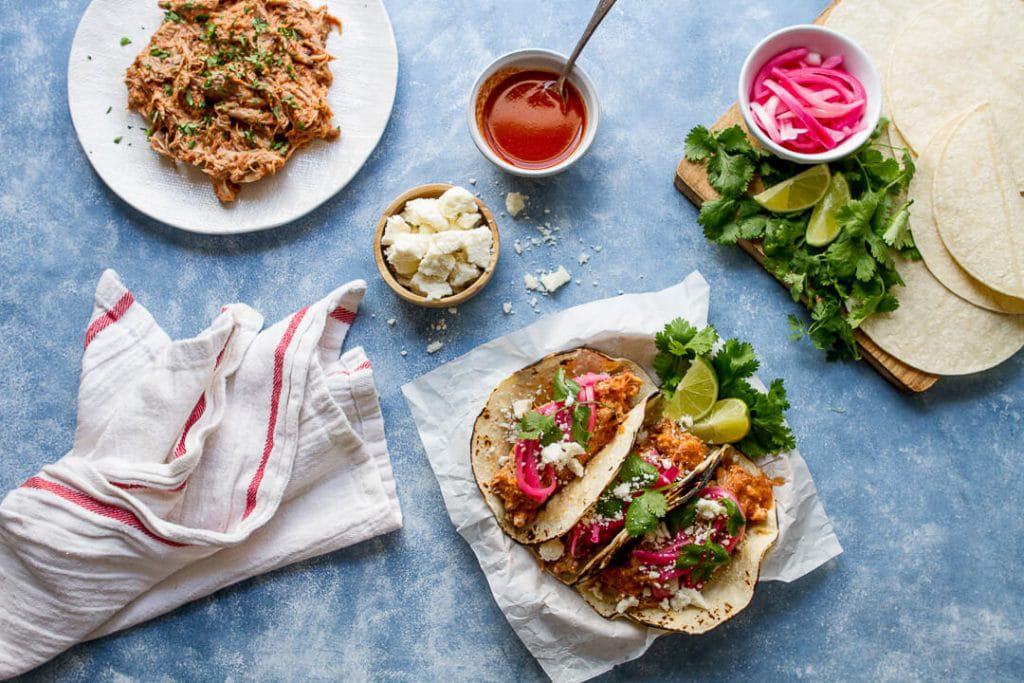 Much and all as I'd like to claim credit for creating this "recipe" - it predates me by several hundred years!  These Juicy and Tender Slow Cooked Pulled Pork Tacos are a version of Cochinata Pibil. This famous Yucatan dish  consists of pork that's marinated in sour orange juice, seasoned with ground annatto seeds and then wrapped in banana leaves and slow roasted in a pit.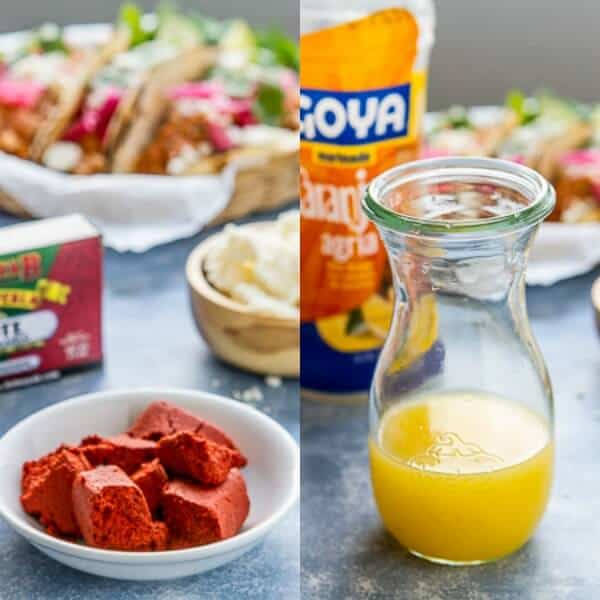 The true history of the dish however, is lost in time and probably pre dates written history. The use of sour orange juice however, is a more recent development - the oranges arrived with the Spanish sometime in the 1500's.
Ok, so I did adapt the recipe for a slow cooker instead of a pit and eliminated the banana leaves - but if you're so inclined I recommend wrapping the pork in banana leaves and  cooking it in a pit. Cooking the pork this way does impart a flavor that no other cooking method does... but...
This slow cooker version comes darn close. And topped with marinated onions, sprinkled with cotija and cilantro and wrapped in a fresh and warm tortilla? Divine, I tell ya, divine - and worth a trip to your local Hispanic market for achiote paste, bitter orange juice... not to mention finding the freshest corn tortillas!
Check out my Juicy and Tender Pulled Pork Video to see just how easy these tacos are to make!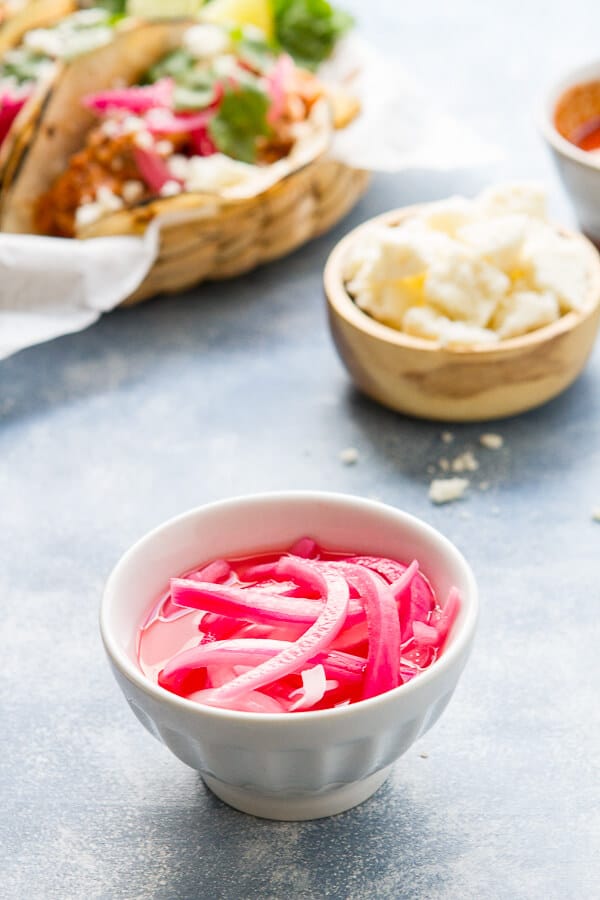 So, make yourself a batch of this pulled pork and share these tacos with those you love....
Looking for some other Latin recipes? You might enjoy..
📖Recipe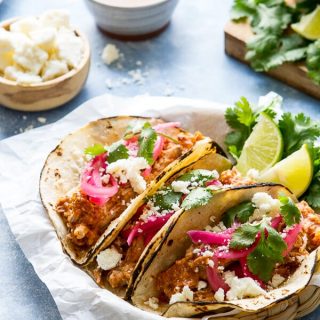 Ingredients
5

pounds

boneless pork shoulder

fat trimmed

1 ½

cups

Naranja Agria

bitter orange juice

½

package achiote paste

1

Tablespoon

mexican oregano

1 ½

teaspoons

cumin

4

minced garlic cloves

2

teaspoons

salt

2

teaspoons

freshly ground pepper

6

fresh corn tortillas

1

package Cotija cheese

crumbled

½

bun

bunch fresh cilantro

for Marinated Onions:

1

red onion

peeled and thinly sliced

1

cup

Naranja Agria

bitter orange juice

1

teaspoon

salt
Instructions
For the pork:

Cut the pork into 2 inch thick slices.

In a bowl combine the achiote paste, bitter orange juice, oregano, cumin, garlic, salt and pepper.

Whisk until the achiote paste is fully dissolved.

Place the pork into a large ziploc bag and pour the marinade over.

Refrigerate for a minimum of 4 hours or overnight.

Put the pork and marinade in a slow cooker.

Cook on high for 4 ½ - 5 hours or until the pork is fork tender.

Remove the pork from the slow cooker and let cool for 15 minutes.

Using two forks, shred the pork.

Place in a serving bowl.

Pour the remaining marinade from the slow cooker over the pork and stir to combine. If not using immediately, cover and either refrigerate or freeze.

For the onions:

While the pork is cooking, combine the onions with the Naranja Agria and salt in a small bowl. Cover and store in the refrigerator for up to 4 days.

To assemble the tacos:

You can use the tortillas as they are, or you can char them over a gas cooktop or on the grill.

Fill with ¼ cup of the pulled pork, top with some of the marinated red onions,cotija cheese and cilantro.

Serve!
Recipe Notes
Although the prep time seems long, the majority of that time is for marinating!
Video
Nutrition
Calories:
339
kcal
|
Carbohydrates:
8
g
|
Protein:
52
g
|
Fat:
9
g
|
Saturated Fat:
2
g
|
Cholesterol:
138
mg
|
Sodium:
857
mg
|
Potassium:
918
mg
|
Fiber:
1
g
|
Sugar:
0
g
|
Vitamin C:
1.2
mg
|
Calcium:
36
mg
|
Iron:
2.5
mg