Last updated on December 19th, 2018 at 10:38 am
Too many bottles in your refrigerator? Toss the teriyaki with this easy sauce! These Baked Teriyaki Style Chicken Skewers, made with soy sauce and pantry staples are topped with a flavorful sprinkle for an easy weeknight dinner!!!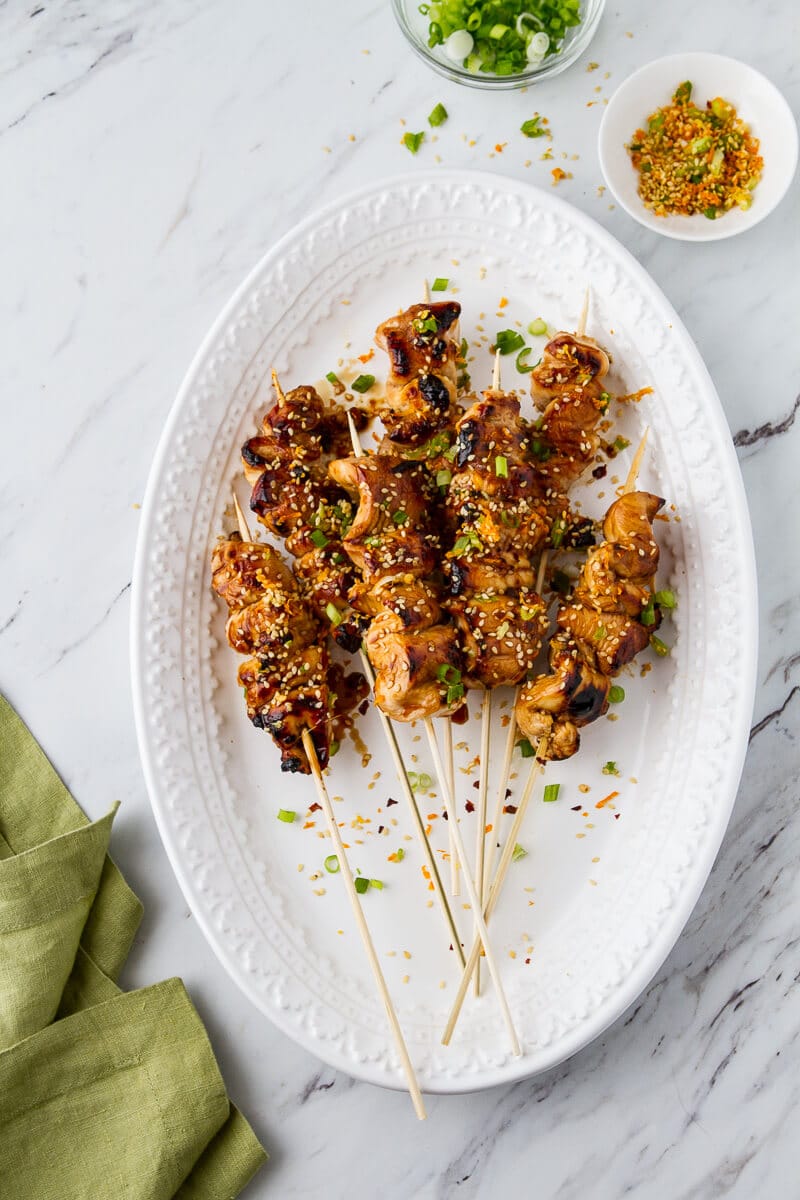 Baked Teriyaki Style Chicken Skewers. "Teriyaki style"? What is with that?
Ok, so a bit of an explanation on these absolutely easy and absolutely delicious Baked Teriyaki Style Chicken Skewers. Needless to say, do you really need a recipe for Teriyaki chicken skewers? After all, virtually every grocery store has at least one brand of teriyaki sauce, right? And just about anyone can figure out how to make skewers? So why on earth am I posting this?
Because these Baked Teriyaki Skewers are  just better and, in my case, means I have one less bottle  in my fridge.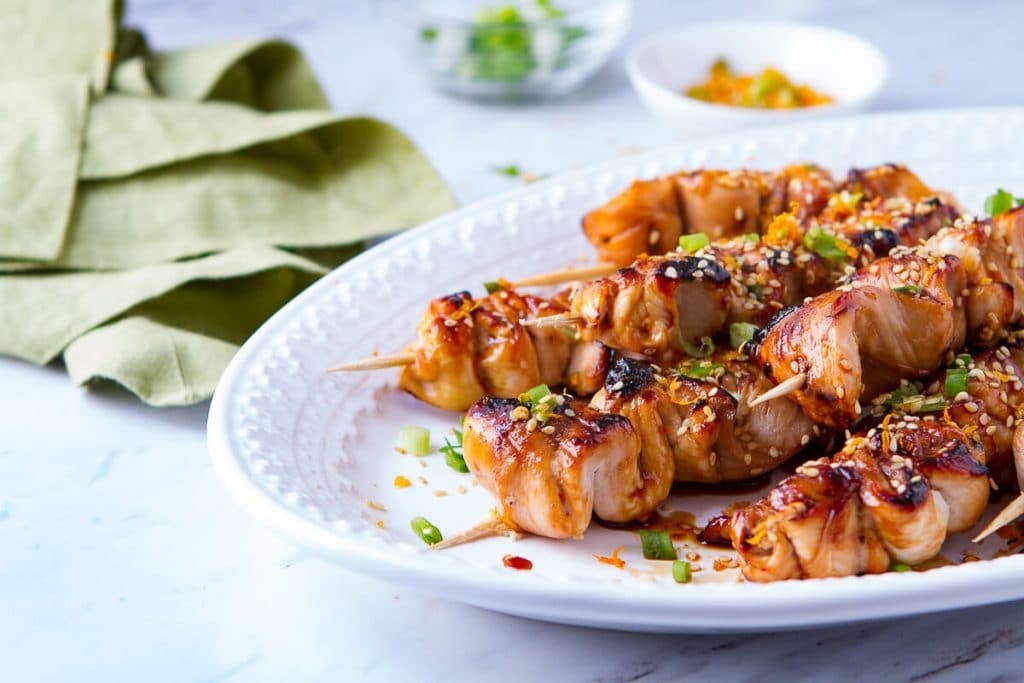 And, as someone who has waaaayyy to0 many bottles, jars and assorted ingredients in her fridge, this is a very good thing!
But what is teriyaki sauce and where did it come from?
Glad you asked!
 History of Teriyaki Sauce and Skewers
Go to any restaurant in Japan and you won't find "Teriyaki" on the menu. Not because it's not delicious, but because it's not Japanese! According to food historians, 'Teriyaki" originated in Hawaii among the Japanese immigrants who blended pineapple juice with soy sauce and used it as a marinade for chicken, fish and pork. Over time, the recipe morphed – and today most teriyaki sauce recipes call for a mixture of soy sauce, mirin, rice vinegar and brown sugar.
As for the skewers, those are Japanese in origin, and are based on Yakitori – which, isn't a dish in itself but a cooking method! In Japan, it refers to small cuts of chicken parts (breast, thigh, wing, etc., etc.) that is skewered and grilled – typically over a type of charcoal known as binchotan – which burns at a very high temperature. The skewers can be seasoned two ways – with basic salt and pepper or with tare – what we think of as teriyaki sauce!
Baked Teriyaki Style Chicken Skewers
So let's get to these skewers! The marinade/glaze is absolutely dead simple to make and is really tasty – but what sets these skewers apart is this crunchy, flavor bomb sprinkle on top!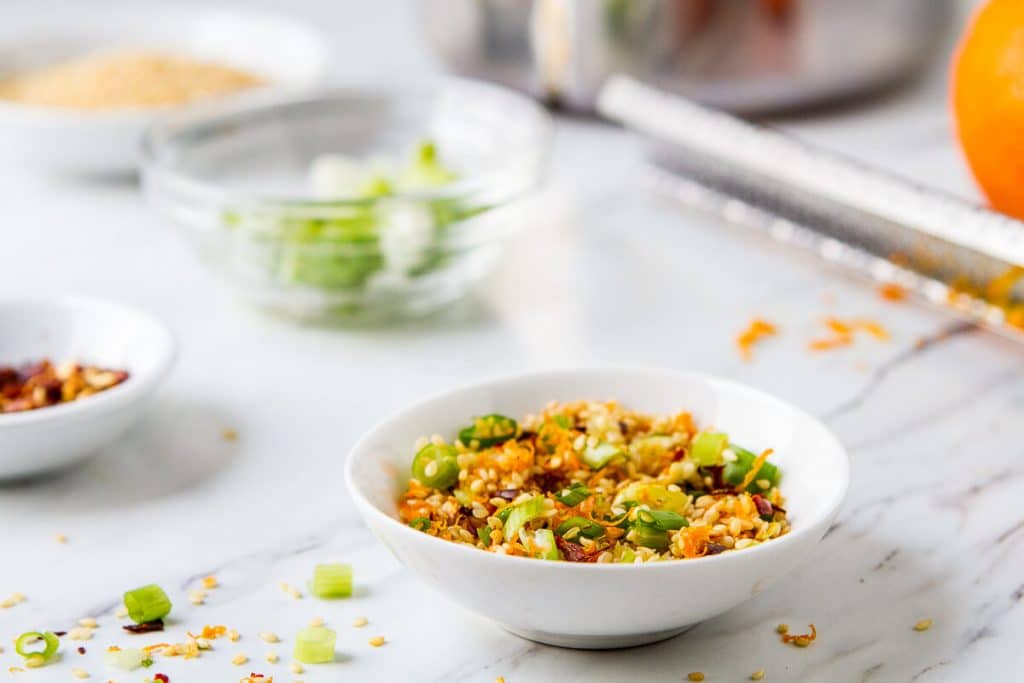 Want some other incredibly simple chicken recipes? Try my:
Chicken Marbella with Boneless Chicken Thighs
Yogurt, Lemon and Mint Grilled Chicken
Like this recipe? I'd love for you to leave me a comment and rate it!!!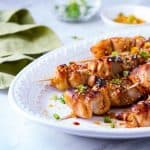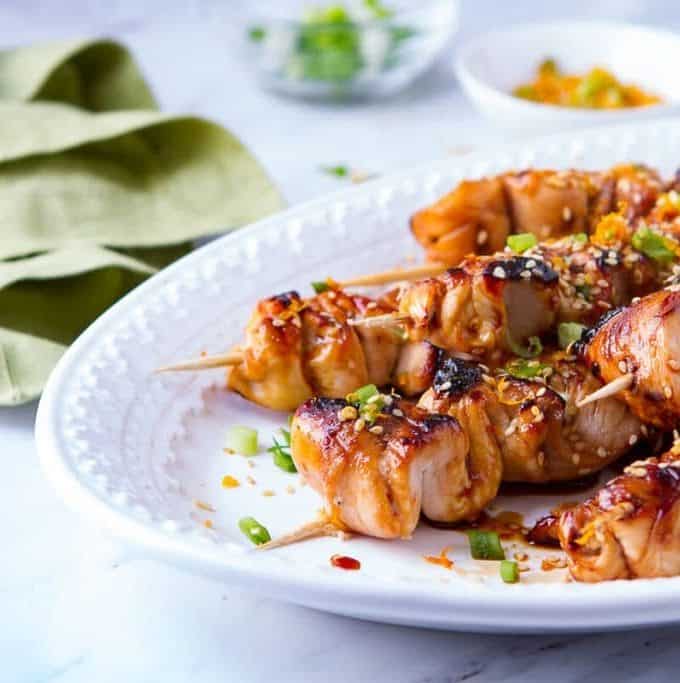 Print Recipe
Baked Teriyaki Style Chicken Skewers
These Baked Teriyaki Style Chicken Skewers, made with soy sauce and pantry staples are topped with a flavorful sprinkle for an easy weeknight dinner!!!
Ingredients
1/3

cup

packed light brown sugar

1/3

cup

mirin

1/3

cup

low sodium soy sauce

1/4

cup

unseasoned rice vinegar

1 1/2

pounds

boneless

skinless chicken breasts or thighs

2

Tablespoons

vegetable oil

Sprinkle:

2

Tablespoons

toasted sesame seeds

1

Tablespoon

minced spring onions

1

teaspoon

red chili flakes

grated zest of 1 orange
Instructions
In a small saucepan combine the soy sauce, vinegar, mirin and brown sugar. Stir to combine. Remove 1/4 cup of mixture and add to a large ziplock bag.

Thinly slice the breasts or thighs into one inch wide strips. Add to the bag with the marinade and massage the marinade into the chicken.

Chill for 2 to 12 hours.

Soak 8 to 10 bamboo skewers in water.

Combine the sprinkle ingredients in a small bowl and set aside.

Bring remaining marinade to a boil over medium high heat. Cook until the liquid is reduced by half and is slightly thickened.

Line a sheet pan with foil. Place a baking rack on top and brush with the oil. Set aside.

Remove the skewers from the water. Thread 2 strips of chicken onto the skewers, folding and compressing the chicken strips to form a compact shape.

Brush the skewers with the glaze.

Broil the skewers for 3 - 5 minutes per side, brushing with the glaze.

Check the skewers and broil for another 1 - 2 minutes if needed.

Brush the skewers with the remaining glaze and sprinkle with the sesame seed mixture.
Nutrition
Calories:
422
kcal
|
Carbohydrates:
29
g
|
Protein:
40
g
|
Fat:
15
g
|
Saturated Fat:
8
g
|
Cholesterol:
107
mg
|
Sodium:
956
mg
|
Potassium:
727
mg
|
Sugar:
22
g
|
Vitamin A:
3.3
%
|
Vitamin C:
0.3
%
|
Calcium:
6.6
%
|
Iron:
11.9
%