When I found out Matt Armendariz was coming out with a book I was excited. When I found out the title was "On a Stick" I was thrilled. When a copy of his book arrived on my doorstep I was ecstatic - because this is, beyond a doubt, so "my" kind of food!!! So, today I have not one but two recipes for you!!! In case you haven't noticed, I love appetizers and this book is chock full of them!! Everything from Spaghetti and Meatballs to Cinnamon Rolls to Deep Fried Candy Bars on a Stick is in this book - and the hardest part of any of the recipes is deciding which one you are going to make first.
Usually when I review a cookbook I pick a recipe, prepare it, style it and photograph it. But not with this book -the absurdity of replicating a dish styled by Adam Pearson and photographed by Matt Armendariz was not lost on me. So, I decided to come up with my own "stick" inspired by Matt's book - Melon, Mozzarella and Prosciutto Skewers. Like all the recipes in Matt's book, these are simple to prepare and have a short list of ingredients that deliver big flavor and are fun to eat!!!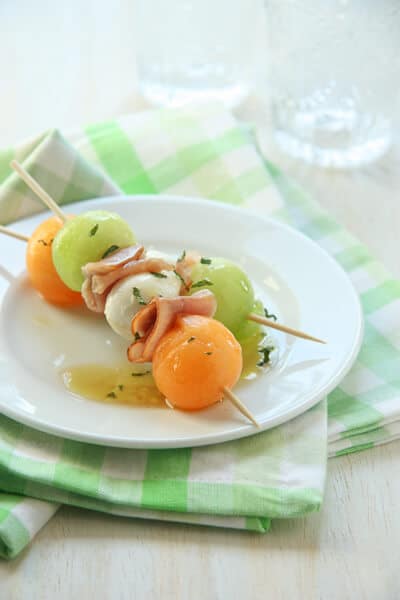 So, I know you are wondering what the second recipe is...it's a recipe for the perfect father's day/wedding shower/new house/host/hostess /birthday gift!!!
Yep, that's right, I have the recipe for the perfect gift for each and every one of those occasions.
The "Perfect Gift"
1- -12 copies of Matt Armendariz's "On a Stick"
3 or more packages of various types of skewers or "sticks"
cocktail napkins, appetizer plates (optional)
assorted ribbon
cellophane or assorted gift bags with coordinating tissue
Directions:
Remove sticks or skewers from the packages and divide into bundles of 12 -24 sticks per bundle.
Tie bundles with ribbon.
Wrap "On a Stick" with an assortment of the skewer bundles and add cocktail napkins if desired.
Pat yourself on the back for thinking about this ahead of time!!!
Ah, you probably want the recipe for the Melon, Mozzarella and Prosciutto Skewers with Mint Vinagrette huh?
Well, here it is as well!
Melon, Mozzarella and Prosciutto Skewers with Mint Vinaigrette
(Makes approximately 12 skewers)
Skewers
1 cantaloupe
1 honeydew melon
1 8 oz. container small mozzarella balls, packed in water
6 - 8 slices of prosciutto
Vinaigrette:
2 Tbsp. sherry wine vinegar
2 tsp. honey
4 Tbsp. olive oil
salt and white pepper to taste
3 Tbsp. thinly sliced mint
12 - 16 6 inch skewers
Directions:
Cut melons in half. Using a melon baller, scoop melons into balls. Set aside.
Cutting across the grain, cut each prosciutto slice into 4 strips and fold strips in half and then fold again.
Drain mozzarella balls and pat with paper towels to remove excess moisture.
To assemble skewers, thread a melon ball onto the skewer and then a folded piece of prosciutto, a mozzarella ball, another folded piece of prosciutto and end with a melon ball. Repeat with remaining skewers. Can be made 6 hours ahead - cover skewers with a damp paper towel and place in an airtight container
For Vinaigrette: Whisk the honey and the sherry wine vinegar together in a small bowl. Season with salt and pepper. Slowly whisk in the olive oil. (Vinaigrette can be made 1 day ahead, cover and refrigerate). Just before serving stir in 2 Tbsp. of the mint. Drizzle skewers with the vinaigrette and garnish with remaining mint.