I think I mentioned that my son Matt is rather obsessed with fishing – which is a good thing. He catches them and I cook them – a win-win. But there is downside to all this – sometimes I get A LOT of fish. Biggest haul catch to date?
90 lbs.
Yes, you read that right. 90 lbs. of fish – mostly Dorado (i.e. mahi mahi), Marlin and some rockfish thrown in for variety sake.
So, needless to say, I have cooked my fair share of fish – grilled it, roasted it, sauteed it, and deep fried it – you name it and I've probably cooked it.
Which brings me to this last haul and the burning question I am sure you have been waiting with baited breath for- (ok, that was a little corny but I couldn't resist!)
what did I do with it?
Well, I did what anyone would do with fresh Pacific Coast fish – I made Baja style fish tacos – my way.
Having grown up in Southern California I've spent a fair share of time in Baja and have sampled a good number of fish tacos – some amazing and some… not. So, after all those tacos I have come up with what I think is the perfect Baja fish taco.
I know this is going to cause some controversy -whether to grill or fry the fish is a hotly debated topic – and although I love grilled fish, I really love battered and fried fish in fish tacos.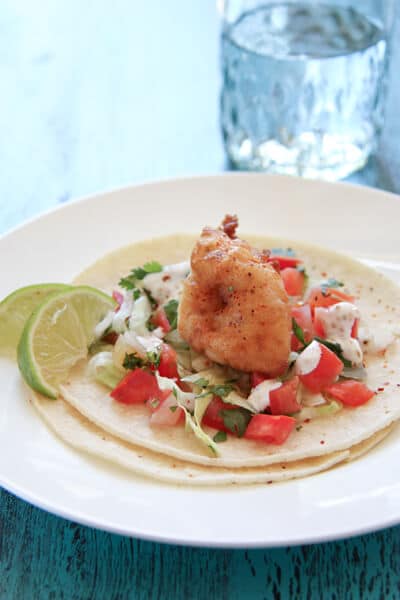 There. I said it. Phew.
Ok, so what makes these tacos "mine"? Looking at them they look pretty much like any other fish taco, right?
But they aren't – because as they say the "devil is in the details". The "devil" here is the judicious use of "salsa en polvo" – which is basically ground chile, salt and lime (in this case dehydrated lime juice). The brand I use is called Tajin and can be found in just about any hispanic grocery store and on the west coast, in many larger grocery stores. But here is the kicker – you can generally find it in produce section since it's a common condiment for fresh fruit.
If you can't find it, don't worry. Just substitute a good chile powder and make sure to drizzle the finished taco with a little lime juice. But if you really would like to have this seasoning (which I recommend!) , they sell it on Amazon!!
So, without further ado, lets get down to it… because the sooner we do, the sooner you can make these!!!!
Baja Style Fish Tacos- I call for using a Mexican crema in these which is available in Hispanic markets and in large supermarkets here on the west coast. If you can't find the crema you can substitute sour cream. If substituting, I would reduce the amount of lime juice since the sour cream is already tangy!!!

(Serves 4)
1 lb. firm white fish (snapper, rockfish, sculpin and cod are are great choices) Rinsed and cut into 2 x 3 inch pieces
2 cups flour – divided
1 – 12 oz. bottle beer (I like Sol for this but if you can't find it Corona works great)
1 tsp. salt
1 ½ Tbsp.. Tajin seasoning – divided
4 cups canola oil
2 cups thinly sliced cabbage
½ cup roughly chopped fresh cilantro
1 ½ cups Pico de Gallo
½ cup Crema Mexicana
3 limes
16 small corn tortillas (warmed or not – your choice!)
Directions:
In a medium sized bowl, place the sliced cabbage. Squeeze 1 lime over the cabbage and toss. Mix in the cilantro and season with salt and set aside.
Pour the oil into a large soup pot or dutch oven. Attach a candy thermometer and heat over medium high heat until the oil reaches 375 degrees.
While the oil is heating, combine the crema with the juice of 1 lime and 2 tsp. of the Tajin. Stir. Taste and adjust seasonings. Set aside.
In a medium sized bowl combine 1 ½ cups flour, 1 tsp. (or more!!) of the Tanjin and 1 tsp. salt. Add the beer and stir until you have a thick batter. Set aside
.Rinse the fish and dry well with paper towels. Dredge fish lightly in the remaining ½ cup flour. The fish should have just a light dusting of flour on it. Dip the fish into the batter, letting the excess drip off.
When the oil reaches 375 degrees carefully place 2 or 3 pieces of fish into the oil. You don't want to crowd the pan since this will lower the oil temperature and batter will not brown as well.
Cook until the fish is nicely browned about 5 minutes per piece.
Remove from the oil and set on a paper towel lined tray to drain while you cook the remaining fish. (Note: if you can, keep the tray close to the stove – it will help to keep the fish warm.) After removing a batch of fish, let the oil come back up to 375 degrees before cooking the next batch – this is key to nicely browned non greasy fish!
To assemble the tacos – place two tortillas (one on top of the other) on a plate. Place a small amount of the cabbage on the tortilla and then spoon about a tablespoon of Pico de Gallo on top of the cabbage. Top with a piece of fish. Drizzle with a little of the crema and dust with additional Tajin if desired. Garnish plates with a lime wedge and serve!
Baja Style Dinner
Margarita Granita with Spicy Shrimp
Baja Style Fish Tacos – My Way