Plump, briny mussels are steamed in a buttery, garlicky white wine sauce and then piled into bowls. Add in a hunk of good bread for dunking and a crisp green salad and dinner is served!
These 15 Minute Mussels with White Wine may just be the quickest "gourmet" meal ever! Never cooked mussels? No worries! I've got you covered with tips on buying, storing and cooking mussels, so you can enjoy this restaurant-worthy recipe at home!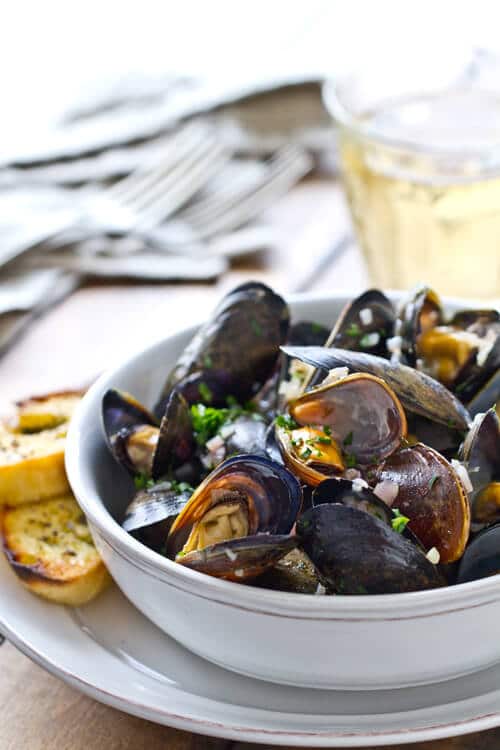 The Best Mussels Recipe
Mussels in white wine sauce is a classic combination that is hugely popular in Europe. Whether you're traipsing through France, Belgium, Italy or Spain you will definitely come across this dish on restaurant menus!
Which makes perfect sense. It's an utterly delicious and an unbelievably quick and easy recipe to make- even for beginners. I mean you can't even do drive-thru this fast - and these mussels are so much better.
So much better that after shooting this, I managed to polish off the entire bowl ... at 11:00 in the morning.
All by myself. It was that good.
Ingredients you need for making Mussels in White Wine
1 ½ pounds of live mussels
2 Tablespoons dry white wine
3 Tablespoons fresh lemon juice
1 large shallot
2 cloves garlic
⅛ teaspoon ground white pepper
2 Tablespoons minced fresh parsley
3 Tablespoons butter OR garlic herb butter
1 ½ teaspoons minced fresh tarragon (optional)
1 ½ teaspoons minced fresh chives (optional)
What kind of white wine is used for mussels?
A dry white wine, such as a Sauvignon Blanc, Pinot Grigio or even a dry style Chardonnay is typically used with mussels. You don't need to buy an expensive bottle of wine for this recipe! Just make sure to use a dry white wine that you enjoy drinking!
Do Mussels need to be cleaned?
Yes! You do need clean mussels before cooking them. If you've never cleaned them before, I've included instructions on how to clean mussels as well as how to "debeard" mussels!
How to clean mussels
There is no need to soak the mussels before cooking!
Rinse the mussels under cold running water and use a vegetable brush to scrub off any sand or mud that may be on the shells.
You may notice a brown "string" coming out of the mussel. Known as the "beard". Remove the beard by pulling it down towards the hinge and away from the shell. See my handy video below on how to do this!
Your mussels are now ready to be steamed!
How can you tell if a mussel is bad?
Making sure your mussels are safe to eat is very easy with these tips:
Mussels should smell briny - just like the sea. If your mussels have an "off" or unpleasant smell, discard them.
Discard any mussels with cracked or missing pieces of their shells since these mussels may no longer be alive.
When cleaning the mussels, gently tap any that are slightly open. If the mussel closes, then it's still alive and so safe to cook. If the mussel doesn't close, it is probably dead and should be discarded.
How to Steam Mussels
You will need a large dutch oven or soup pot with a lid to steam the mussels.
Melt the butter in the dutch oven or soup pot over medium heat. Increase the heat to medium-high and add the shallots. Cook, stirring for 2 minutes until the shallots are tender.
Add the garlic and cook for another 30 seconds,
Add the wine, lemon juice, 1 Tablespoon parsley, tarragon, chives (if using) and pepper and bring to a boil.
Add the mussels and reduce the heat to low and cover the pot.
Cook the mussels for 3 to 6 minutes depending upon the size of the mussels.
After 3 minutes, check the mussels. If the majority of shells are still closed, cover the pan and cook for another 2 minutes, shaking the pan about halfway through.
Don't overcook the mussels- remove them from the heat as soon as the mussels are opened.
Discard any shells that haven't opened.
Divide the mussels evenly between two bowls and pour the sauce over.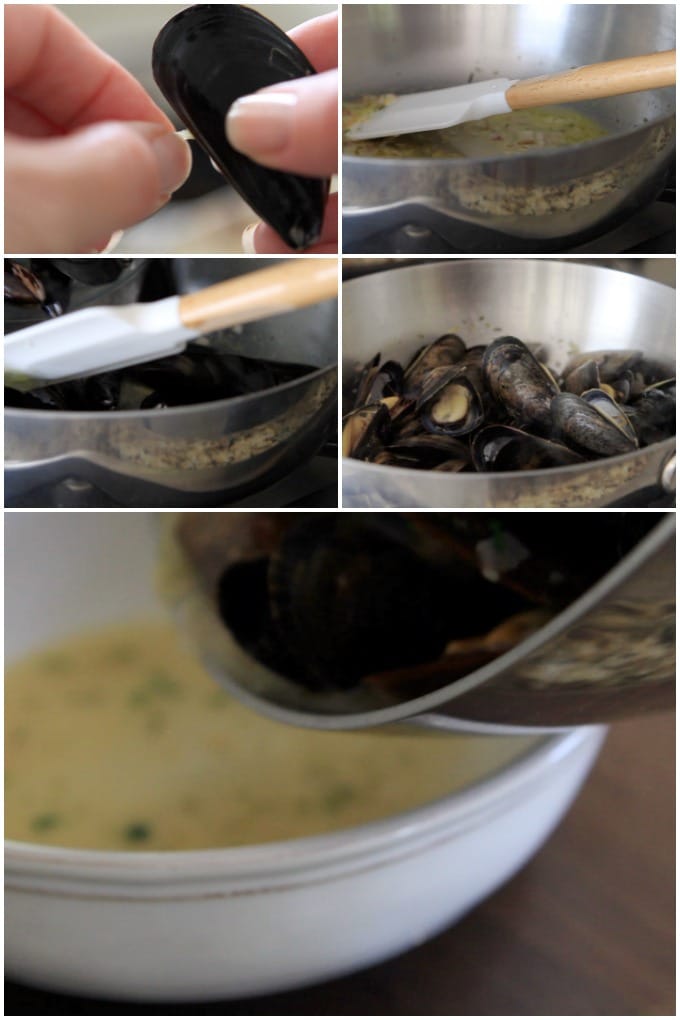 Tips for Purchasing and Storing Mussels
There are several different types of mussels available, depending on your area of the country and the season. Although they vary in size and shape, you can use them interchangeably ( adjusting for size and cooking time).
The three main types of mussels are:
Mediterranean mussels: In season during the summer and fall, these mussels have plump meat and wide shells.
Blue Mussels: these are in season in Spring and Winter and are smaller than Mediterranean mussels. These mussels also tend to have a more intense flavor.
Green lipped: so named for the green color on the edge of the shells these are the largest of the three. Cultivated extensively in New Zealand (and sometimes called "New Zealand Mussels"), they are meaty and make for a beautiful presentation.
How to Store Fresh Mussels
Remove the mussels from the bag or paper wrapping and store in a bowl with a damp paper towel over the bowl To keep the mussels alive, do not store them in water.
Depending upon the freshness of the mussels, you can store them overnight or up to two days.
And there you have it! Everything you need to make the BEST mussel recipe ever! I hope you enjoy it! If you do, please give it a 5 STAR rating! Cheers, Nancy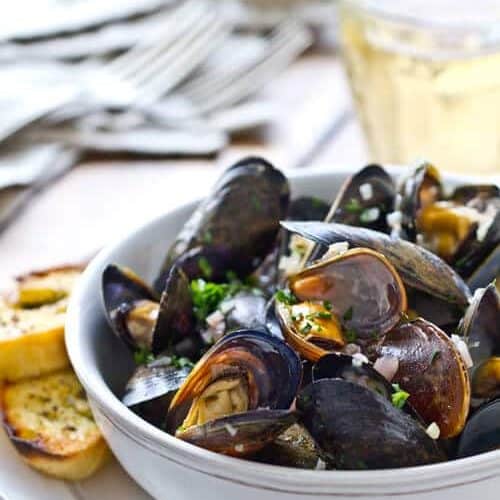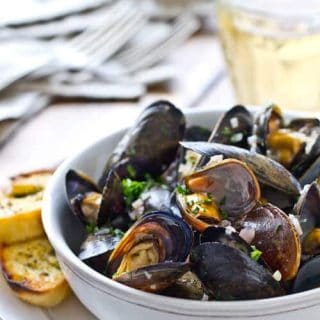 Ingredients
3

Tablespoons

Kerrygold Garlic and Herb Butter

1

large shallot

minced

2

Tablespoons

dry white wine

3

Tablespoons

fresh lemon juice

⅛

teaspoon

ground white pepper

1 ½

pounds

fresh mussels

2

Tablespoons

chopped fresh parsley
Instructions
Clean and debeard the mussels.

In a large saucepan with a lid, melt the butter over medium high heat.

Add the shallots and saute for 2 minutes.

Add the wine, lemon juice and white pepper.

Bring the liquid to a boil.

Add the mussels, cover the pan and reduce the heat to medium low.

Cook the mussels for 3 minutes, shaking the pan half way through.

After 3 minutes remove the lid.

The mussels are done when the shells have opened!

Evenly divide the mussels between two shallow bowls.

Divide the liquid evenly among the bowls.

Garnish with parsley and serve.
Recipe Notes
Depending upon your appetite and what else you are serving, I plan on ¾ to 1 pound of mussels per person. I highly recommend serving some grilled or toasted baguettes alongside to soak up all that lovely liquid.
Nutrition
Calories:
327
kcal
|
Carbohydrates:
10
g
|
Protein:
21
g
|
Fat:
21
g
|
Saturated Fat:
11
g
|
Cholesterol:
93
mg
|
Sodium:
650
mg
|
Potassium:
642
mg
|
Fiber:
0
g
|
Sugar:
1
g
|
Vitamin A:
1140
IU
|
Vitamin C:
28.9
mg
|
Calcium:
56
mg
|
Iron:
7.3
mg