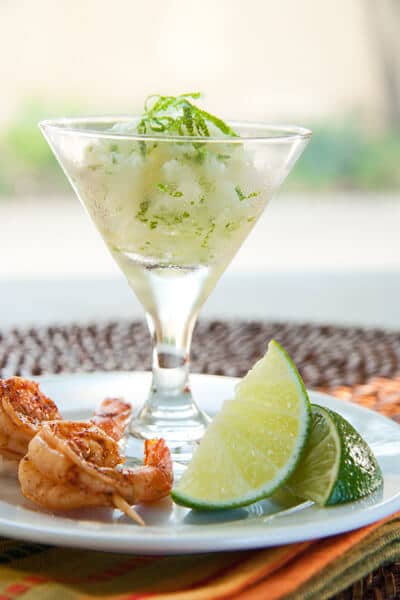 Happy Cinco de Mayo!!!
Yes, it is the day that Mexicans celebrate the Mexican Army's  victory over French forces at the the Battle of Puebla  on May 5, 1862. For the rest of us , it's about getting together with good friends and family and indulging  in some good ole Mexican American food  and washing it  down with a margarita or a bottle of Corona.
As I mentioned in my last post, I am hip deep (in more ways than one!!) in recipe development - tinkering and tuning up recipes for my spring and summer menus. So, in honor of today I came up with a snazzy little appetizer that's perfect for Cinco de Mayo or to start off any Mexican inspired feast.  It features - what else?  Margaritas - ice cold and sweet meet hot and spicy. Oh yeah.
Margarita Granita with Spicy Shrimp
Granita can be made 2 days ahead.
Serves 8
For Granita:
2 cups water
1 cup sugar
1  cup  fresh lime juice
6 Tbsp. tequila
6 Tbsp. triple sec
zest of 2 limes
For Shrimp:
16 fresh or frozen shrimp, peeled and deveined
1 tsp. smoked paprika
1 tsp. cumin
1 tsp. ground oregano
¼ tsp. ground chipotle pepper
1 tsp. salt
1 Tbsp. canola oil
Directions for Granita:
In a medium saucepan combine the water and the sugar. Stir over medium high heat until the sugar is dissolved  and bring to a boil.
Remove pan from the heat and stir in the lime juice, tequila and triple sec.
Pour into a 7 x 11 glass pyrex dish and place in freezer. Freeze for 45 minutes.
Scrape and stir mixture. Stir zest into mixture and return to freezer.
Freeze for another 1 ½ hours.
Directions For Shrimp
Combine paprika, cumin, oregano, chipotle pepper and salt. Set aside.
Heat oil in a large saucepan over medium high heat. Add shrimp.
Sprinkle with spice mixture.
Cook for 2 to 3 minutes or until shrimp are cooked through.
Remove shrimp from pan.
To assemble appetizers:
1. Scrape granita into small glasses and garnish with lime zest.
Place glasses on individual plates. Add two shrimp.
Garnish with lime wedges if desired.