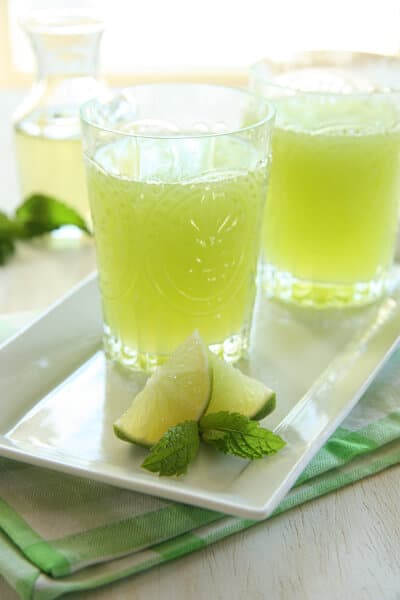 I love making beautiful food – but one of the downsides is that you sometimes have leftover "scraps". When I made these Melon, Mozzarella and Prosciutto Skewers I had beautiful melon balls …. and a lot of leftover melon pieces  that were too small even  for snacking. So I made a drink… Honeydew Mint Agua Fresca!
Ever had this problem with fruit or had fruit that was a little under or over ripe? If so this post is for you… make Honeydew Mint Agua Fresca!
Agua Fresca, in case you weren't aware, is a fruit drink popular in Mexico and South America. It is basically pureed fruit with a little water and sugar added to make a refreshing drink and it's a perfect way to use up those "scraps" or to use fruit that is just a little over or under ripe.
You can use just about any fruit or combine a couple of different ones – the possibilities are endless and the result? Gorgeous, delicious and nutritious – so what are you waiting for???
[print_this]
Honey Mint Agua Fresca
(serves 4 -6)
4 – 6 cups honeydew melon pieces
1 cup water
juice of two limes
Mint Syrup
Mint Syrup
1 cup water
1 cup sugar
1 cup fresh mint leaves, coarsely chopped
Directions:
To make mint syrup:
In a medium saucepan combine the water, sugar and mint. Stir to dissolve sugar. Bring mixture to a boil over medium high heat. Turn off the heat and let steep for 20 minutes. Strain into a small jar. Mint syrup will last for two weeks in the refrigerator.
For Agua Fresca:
Puree fruit in a blender. Strain through a sieve.
Combine strained juice with water and lime juice. Add mint syrup to taste.
[/print_this]